Super Mario 3D All-Stars is Here – Get it While You Can!
Nintendo has said it will stop selling the game at the end of March, so act quick if you're interested.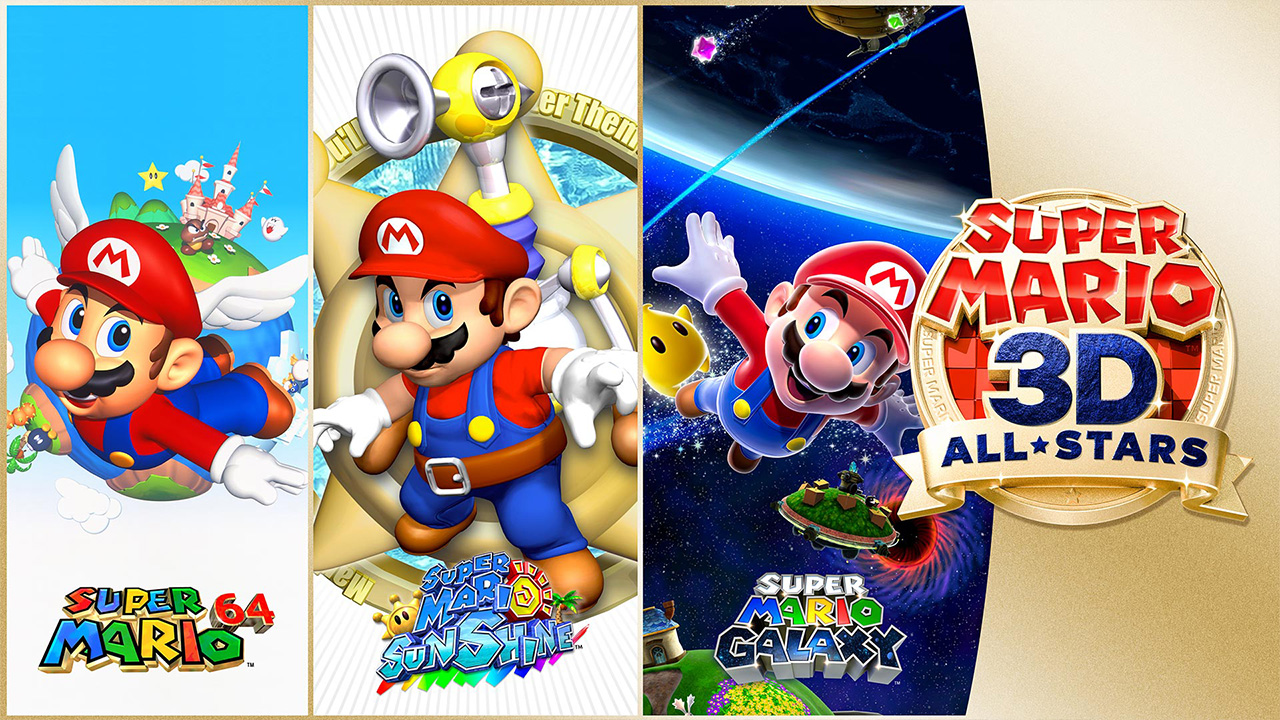 Release Date: Sept. 18th, 2020
Editions Available: Standard
Platforms: Nintendo Switch
MSRP: $59.99
Released on September 18th, 2020, Super Mario 3D All-Stars includes remakes of Nintendo 64's Super Mario 64, GameCube's Super Mario Sunshine, and Wii's Super Mario Galaxy—all for $59.99. However, Nintendo has decided to make the game available for a limited time, and after March 31st you'll no longer be able to find it on either the eShop or store shelves.
Unsurprisingly, this game is in high-demand—to the point that both Amazon and Walmart sold out while the game was still in the pre-order phase. However, at the time of this writing Amazon is taking orders that will ship in a few days later.
Order Mario 3D All-Stars on Amazon
Alternatively, GameStop and Walmart currently have the same offer available. If you need the game this minute, buying a digital copy on the eShop is your best bet.
Order Super Mario 3D All-Stars Here:
GameStop | Nintendo eShop | Walmart
It's an odd tactic for what's bound to be a popular game that could easily continue to sell for years if it remained on the market. Nintendo hasn't divulged the reasoning behind the decision, although we'd be surprised if it wasn't some sort of financial experiment to see how many people make an early purchase.
Locking the popular title away after a short duration could drum up loads of early sales, and it certainly worked for Disney back in the '90s when it operated its controversial "Vault." You can check out the Super Mario 3D All-Stars reveal trailer below:
CPJcaGWoO2c
What's New in Super Mario 3D All-Stars?
The biggest changes to the three titles come in the form of graphic upgrades and adjustments to the control scheme. All games support HD resolutions and Super Mario Galaxy will let you use the Joy-Cons in lieu of the Wii's unique Nunchuks. You'll also be able to select from over 175 soundtracks to listen to while stomping on Goombas. The only bad news is for Switch Lite owners, as they'll have to purchase detached Joy-Cons in order to play.
Beyond that one issue, the collection looks to be a great way to experience these classic titles. There's no doubt that all three of them have aged well — thanks to timeless level design — and adding a layer of polish to the graphics and tweaking the controls is all that was needed to bring them to a new generation. And, if you never had the chance to check out any of these iconic adventures, this is the perfect way to introduce yourself to Mario's 3D shenanigans.
Where to Order Super Mario 3D All Stars
Nintendo isn't one for exclusive editions, and Super Mario 3D All-Stars largely continues that trend. A few different stores offered exclusive swag as pre-order bonuses, but those were pretty much all gone come launch day.
It's also worth remembering this is a limited-run game, which means you should order ASAP if you're interested. After all, it's not clear if Nintendo will issue another batch after March. Here's where you can buy the upcoming title:
GameStop
Walmart
Amazon
Best Buy
Nintendo eShop
Target
Earn a Collectible Super Mario Bros. Anniversary Pin Set
Although there isn't a true pre-order bonus, Nintendo is giving you the chance to earn an exclusive pin set that pays tribute to 35 years of Super Mario Bros. You'll first need to purchase Super Mario 3D All-Stars, then head online and tackle a few simple missions. Most of these are straightforward and offer you a great way to celebrate the mustachio'd plumber's anniversary. Six missions are available, but you only need to complete four to earn your pin set. They are as follows:
Visit the official Super Mario website.
Take the Super Mario quiz.
Download your "This is my Mario!" image.
Try the Super Mario Music Player.
Race in the Super Mario Kart Tour event.
Purchase the Super Mario 3D All-Stars game.
Once you've finished, wait for the game to unlock on September 18th and for your account to update. As long as the missions were completed using the same Nintendo ID as you use on the Switch, everything should sync and you'll be rewarded with a pin set. Note that there is a limited supply, so it's best to knock these out before the title releases.
Other Slickdeals Pre-Order Guides
---
Any product or service prices/offers that appear in this article are accurate at time of publish, and are subject to change without notice. Please verify the actual selling price and offer details on the merchant's site before making a purchase.