Tablet Buying Guide 2015
We took a look at the most popular tablets on the market in 2015 to help you find the one that fits your needs and your budget.

Tablets have surged in popularity since the first iPad was introduced five years ago – more than half of American households own at least one tablet - but sales have begun to slump as smart phone screens grow in size. If you are in the market for a tablet, finding the best fit for your lifestyle will mean doing your homework. Not all tablets are created equal; you'll want to consider size, design and, of course, price. To help in your search, we've put together a guide with the most popular tablets and included tips along the way to help you make your decision.
iPad Air 2 (MSRP $499-$829)

Let's face it – the Apple iPad was the tablet market for some time. Despite the many competitors and declining sales, the iPad is still the most popular among consumers, making up about 28% of all tablets sold during the fourth quarter of 2014. Apple fans love the iPad Air 2 for its lightweight design (a hair short of one pound) and fast internal processor. Available in 16, 64 or 128 GB storage options, this tablet also features a 10-hour battery life and a 9.7-inch screen. The iSight camera is better than the previous model (8 megapixels instead of 5), but the camera, a faster processor and Touch ID, are the only major upgrades compared to the original iPad Air.
What about staying connected on the go? Since Wi-Fi is readily available in most places and almost everyone has a smartphone these days, you may not need that LTE service. You'll pay more than a hundred dollars extra for the Wi-Fi plus LTE model of the iPad Air 2 ($629 versus $499 for the regular Wi-Fi only model) and then have to pay for a monthly data plan on top of that. However, depending on where you plan on using your tablet, it might be worth the additional cost. For example, if you have a long train commute or travel frequently, being able to connect from anywhere could be valuable.
Ultimately, the iPad Air 2 will allow for a seamless connection across all of your Apple devices. If that appeals to you, this is a good tablet to try. However, if you don't care about the Touch ID, camera upgrade and don't need a high-speed processor, consider going with the older model. We've seen 32 GB iPad Air's selling for $350 in recent months, which is a steal for what you're getting.
Hardware options: 16GB, 64GB or 128GB storage. Wi-Fi and/or Wi-Fi + LTE.
Who's it for? The iPad Air 2 is a higher-end tablet perfect for people wanting the latest and greatest technology has to offer, seamless connectivity and access to more than 500,000 iPad apps.
See all iPad Air 2 Slickdeals here!
Google Nexus 9 ($399-$599)
This 4th generation Google tablet was the first to run the hotly anticipated Android Lollipop 5.0 operating system. The Google Nexus 9's decently sized 8.9-inch screen is crystal clear, though this back-to-basics tablet only comes in 16 and 32 GB storage options – so don't plan on installing too many apps or saving every single photo.
This tablet would be great for kids as its durability and easy to use interface makes it a beginner's dream. However, some Slickdealers, such as NIKKG, believe the lower price point is still too high for this device – especially since there is no Micro SD slot for additional storage. Waiting for the Nexus 9 to drop in price might be wise if you can be patient. Otherwise, high-quality older models of the Nexus may work just fine. Our Price Tracker tool shows the Nexus 9 being available for $325 in April, so waiting for another price drop would be a good decision.

Hardware options: 16GB or 32 GB storage. Wi-Fi and/or LTE available.
Who's it for? The Nexus 9 would be a great option for people who want a decent competitor to Apple or Amazon products without the bells and whistles.
See all Google Nexus 9 Slickdeals here!
Dell Venue 8 7000 ($399-$499)

Despite its relatively low profile, the Dell Venue 8 7000 is a super-thin tablet that is unusually suited for taking photos. The tablet's Intel RealSense stereoscopic camera was considered a big upgrade to the standard tablet camera. There are three cameras on the back that work together to capture more focal points, and the native photo editing software offers plenty of tools to explore. The tablet is not quite as user friendly as some other tablets, but a little bit of playing around will get you acclimated relatively quickly.
Dell, as a brand, is generally known as a mid-range computer maker with a decent collection of product. However, Slickdealer Metric notes that the bottom of the Venue 8 7000 feels slightly awkward due to the rear camera housing, so this table may not be as comfortable to hold for long periods compared to other tablets.
Hardware options: 16GB storage, but can expand up to 512GB via microSD card.
Who's it for? People who can't resist taking photos with their tablet will appreciate the photography features the Dell Venue 8 7000 has to offer.
See all Dell Venue 8 7000 Slickdeals here!
Samsung Galaxy Tab S ($399-499)

The sharp screen and ultra-thin design make the Samsung Galaxy Tab S a highly-sought after device for a variety of audiences, from hipsters to grandparents alike. Available in both 8.4 and 10.5 inch-size screens, the Galaxy Tab S also features an 8-megapixel camera and the SideSync 3.0 app that allows you to mirror your Samsun Galaxy S5 smartphone on your tablet. This tablet also features a fingerprint scanner for unlocking your tablet, and the ability to use it as a remote control for your TV and other electronic devices via the WatchOn app. Slickdealers agree that the S is an excellent tablet with a reasonable price, and Price Tracker shows it dropped below the $300 mark once already this year.
As mentioned before, LTE-enabled devices are not always worth the extra cost, but if you have a shared data plan, this tablet could be a great addition to it. However, keep in mind that if you're a T-Mobile customer, this tablet doesn't qualify for the free 200 MB data plan, as pointed out by antec5150 from our community.
Hardware options: Available in 8.4 and 10.5 inch screens. 16GB storage + microSD slot. LTE option available.
Who's it for? The Samsung Galaxy S would be a great tablet for those who like the idea of an iPad, but eschew anything Apple.
See all Samsung Galaxy Tab S Slickdeals here!
Nvidia Shield ($299-$399)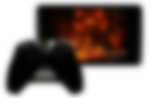 The Android-based Nvidia Shield tablet may be less expensive than its competitors, but that does not mean it is a piece of junk. The Tegra K1 processor has a decent amount of power and the add-on wireless game controller makes it a favorite of PC gamers across the board.
Many PC games stream wirelessly to the Nvidia Shield, meaning that Clash of Clans conquests can continue regardless of your location. Slickdealer niftydl enforces the notion that this is primarily a gaming tablet, saying the Nvidia Shield "really only makes sense if you are going to actually use the powerful mobile GPU it has for gaming," noting that other tablets offer better screen quality and additional features. Bottom line, if you are a gamer, this is the tablet you want.
Hardware options: 16GB (Wi-Fi only) or 32 GB (Wi-Fi+LTE).
Who's it for? Anyone who takes their gaming seriously.
See all Nvidia Shield Slickdeals here!
Amazon Fire HDX 8.9 ($379-$579)

Amazon definitely has their cult of followers and the Fire HDX 8.9 only added to the brand's fan base with a wide selection of apps and a razor-thin design. The tablet is the first to feature Dolby Atmos technology, blowing away the competition in terms of sound quality. If you are all about that bass, then the Amazon Fire HDX is for you. The Advanced Streaming and Predictions (ASAP) feature cuts down on the annoying buffering you run into every time you start a stream. It "learns" what shows you like to watch and queues them up for you.
Amazon's Mayday system – allowing users to chat with tech support – is fully integrated and the intuitive parental controls make this tablet perfect for families.
Hardware options: 16GB, 32GB or 64GB storage. Wi-Fi and/or Wi-Fi + LTE.
Who's it for? This tablet is perfect for families and anyone who uses Amazon for entertainment, productivity and shopping. Prime members, we're looking at you.
See all Fire HDX 8.9 Slickdeals here!
Microsoft Surface Pro 3 ($799-$1,799)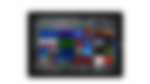 Microsoft's newest version of their Surface tablet is definitely cool – it's large 12-inch display and lightweight design is impeccable. However, despite the high-price tag, that fun keyboard that you see in the commercials is not included. If you do decide to splurge on the keyboard, this tablet could easily make your laptop obsolete.
While an i7 processor on one of these might be overkill for the average user, if you're trying to get rid of your laptop and only use a tablet, the Surface Pro 3 is not a bad move. If you don't need all that speed, go with the i5 processor instead and save a few hundred. Waiting a couple of months in order to purchase a quality-refurbished model is another option. Yes, this tablet is pretty rad – but it should really only be purchased by people who require the ultimate in productivity and portability, and who are willing to splurge on the price.
Hardware options: i3 64GB, i5 128GB or 256GB, i7 256GB or 512GB.
Who's it for? PC fans with deep pockets. For everyone else who still wants one, set up a Deal Alert or keep checking back for price drops.
See all Microsoft Surface Pro 3 Slickdeals here!
So which tablet should you get?
There is no simple answer when asking which tablet is right for you; it all depends on how it will be used and what you're willing to spend. If you are looking for an easy to use eReader that also allows users to surf the web and check email, consider the Amazon Fire HDX. Beginners or kids looking for their first tablet may also enjoy the Amazon Fire, though the Google Nexus 9 is also an affordable and easy to use option.
For tech lovers looking for a tablet with a bit more pizazz, the Microsoft Surface Pro 3 is an impressive – albeit expensive – device that takes productivity to a new level. Along those same lines, the Apple iPad Air 2 is a market leader for a reason and would make a great addition to any student or employee's technology collection. For an impressive tablet at a fraction of the cost, try the Dell Venue 8 7000 or the Nvidia Shield. These devices offer impressive photography and gaming functions respectively, giving tech fans an affordable yet powerful tablet sure to meet their needs. Bottom line – all of the tablets in this guide are perfect for certain needs. All you have to do is figure out your priorities and choose the best tablet that meets your needs.
Images courtesy of ©iStock.com/gpointstudio, Apple, Dell, Samsung, Nvidia, Amazon, Microsoft
Add a Comment