Wireless Deadzones Are No Match for the TP-Link Archer C5400X Gaming Router
TP-Link's new flagship gaming router has all the performance it needs to back up those wild looks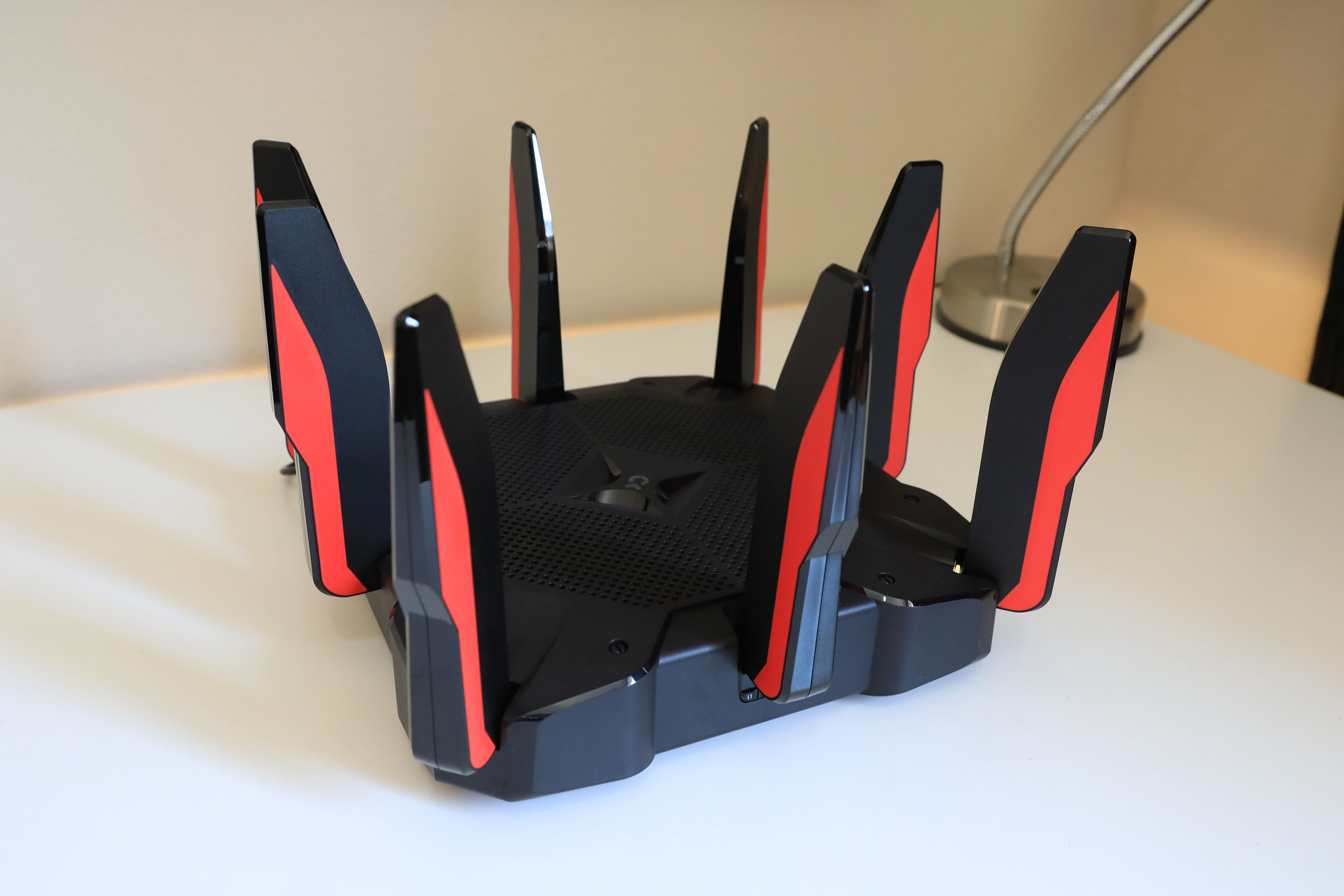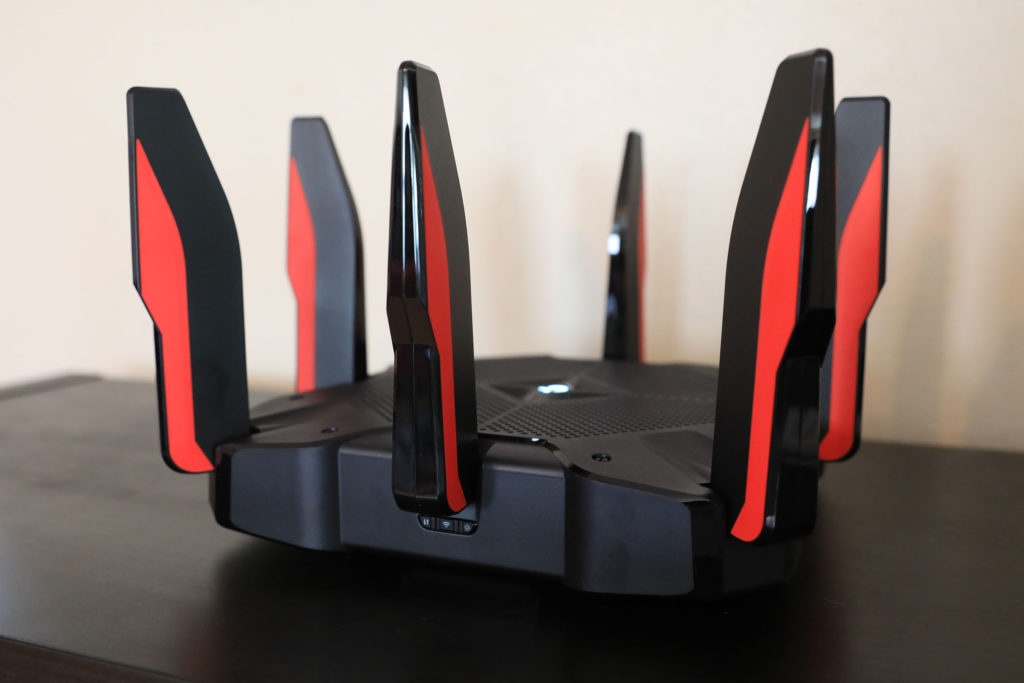 At first glance, a few things about TP-Link's new flagship router are obvious: This thing is serious about WiFi reception, and it's definitely geared toward gamers. Positioned at the other end of the spectrum from the budget-friendly Archer A7 AC1750, the Archer C5400X is TP-Link's first foray into the gaming router segment, and as such, the company isn't pulling any punches.
The Archer C5400X backs up its extra-terrestrial design with some other-worldly internals. A number of bells and whistles are designed to make the router both easier to use and enhance overall performance.
But with high-end features comes a high-end price. Does TP-Link's new flagship deliver enough performance to justify its price tag? Let's fire it up and see what this beast can do.
Related: TP-Link Archer A7 AC1750 Router Review
Product Review 30106
TP-Link Archer C5400X Specs
Tri-band AC5400 (2.4 GHz @ 1000 Mbps, 5 GHz @ 2167 Mbps)
1.8 GHz 64-bit quad-core CPU
1 GB RAM
8x Gigabit Ethernet LAN ports with link aggregation capability
1x Gigabit Ethernet WAN port
2x USB 3.0 ports
16 GB eMMC storage
8x external antennas
Bluetooth connectivity
Bold Design
If you've been looking for a router that makes a visual statement, your search is officially over. Boasting no less than eight fixed antennas dressed in red and black, the C5400X cuts an imposing figure.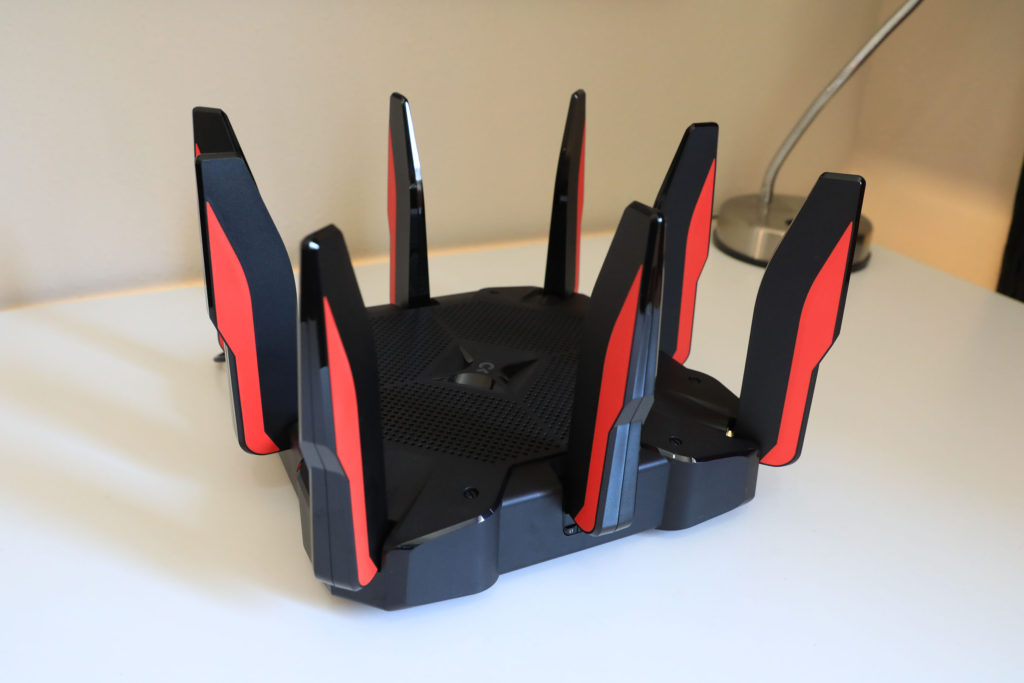 While it might not be an ideal match for your grandma's home decor, its style is in line with many modern gaming PCs. But it's also worth pointing out that while your gaming rig might be in your bedroom or office, the router is more likely to be placed in a central location, like the living room. And that may or may not jive with your aesthetic. Whether the C5400X's design is a bonus or drawback is ultimately subjective and based on your own personal style.
Form aside, this router isn't lacking for function. There's a pair of USB 3.0 ports on one side, while the back of the unit is outfitted with eight gigabit-speed LAN ports and one gigabit WAN port, as well as dedicated buttons for power and reset.
Considering its extroverted design, it's a bit of a surprise to find that the C5400X keeps things fairly low key with the lighting setup. The TP-Link logo the top of the unit is illuminated in either white, yellow or red depending on connection status, and that's about it. We dig the minimalist approach.
Effortless Setup
Like the Archer A7, the C5400X allows users to complete the setup with either a browser-based installation process or TP-Link's Tether app. We opted for the latter, which highlights another cool feature of the C5400X: Bluetooth connectivity.
While it's really only on hand for this setup procedure, Bluetooth does make the configuration process nearly effortless. Just place your mobile device near the router and it's detected at the onset of the step-by-step configuration. This eliminates the network gymnastics sometimes required to get machines on your network talking to the router in order to be properly configured and connected to the outside world.
The whole process took less than two minutes from start to finish using this method. With the configuration sorted and the router talking to the internet, it was time to put this thing through its paces.
Cutting-Edge Performance
TP-Link touts a number of technologies in the C5400X aimed at enhancing gaming performance. RangeBoost, for example, is said to improve connection quality for devices that are far away from the router. While AirTime Fairness equally divides processing between connected devices, rather than allowing certain devices to hog an unfair share of the computing bandwidth. This, TP-Link says, yields a more efficient WiFi network and better performance in turn.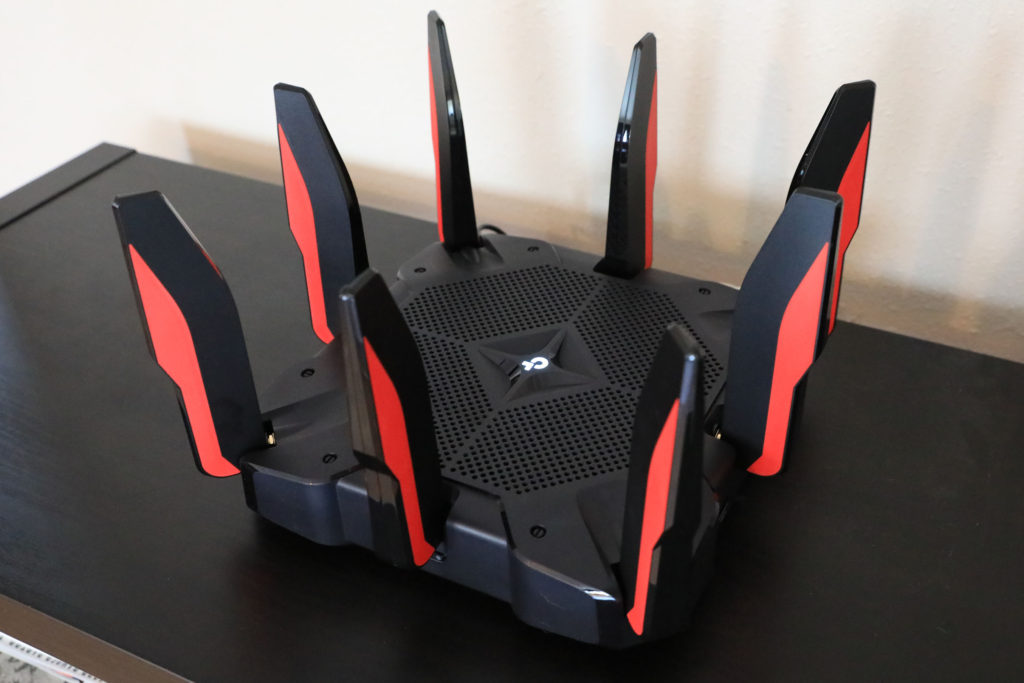 While those software solutions are undoubtedly welcome, it's what's under the hood that's perhaps most impressive here. The heart of the C5400X is a quad-core, 64 bit CPU running at 1.8 GHz, which has 1GB of RAM to minimize latency during service processing.
The C5400X is also a MU-MIMO tri-band router, which means that unlike more mainstream dual band routers, the C5400X offers two separate 5GHz WiFi networks (in addition to the standard 2.4 GHz WiFi network). This allows it to communicate with multiple 5GHz devices simultaneously, further reducing latency and the potential for lag while gaming. Additionally, a robust Quality of Service feature set allows power users to further tweak their network settings and optimize performance for specific devices. All of this bodes well for gamers and power users looking for cutting edge router performance.
Those performance-boosting features can be tricky to accurately test, though. However, what we can evaluate effectively is WiFi performance at various ranges. We tested 2.4GHz and 5GHz WiFi speeds within five feet of the router, and 2.4GHz and 5GHz speeds in our notorious office dead zone.
2.4GHz WiFi speed standing next to the router.

2.4GHz WiFi speed in office dead zone.

5GHz WiFi speed standing next to the router.

5GHz WiFi speed in office dead zone.
While the C5400X's performance is on par with other routers we've tested at close ranges – ostensibly capped by the bandwidth provided by our internet connection – it's in the office dead zone where it proves to be a true standout. It is not only substantially faster and more stable than the A7, but it also handedly bests our own Netgear Nighthawk R7000. The C5400X not only provided a far more stable connection, but WiFi speeds that are typically almost double what the Netgear router delivers. That wild antenna array ain't just for show, folks.
Should You Buy The TP-Link Archer C5400X Gaming Router?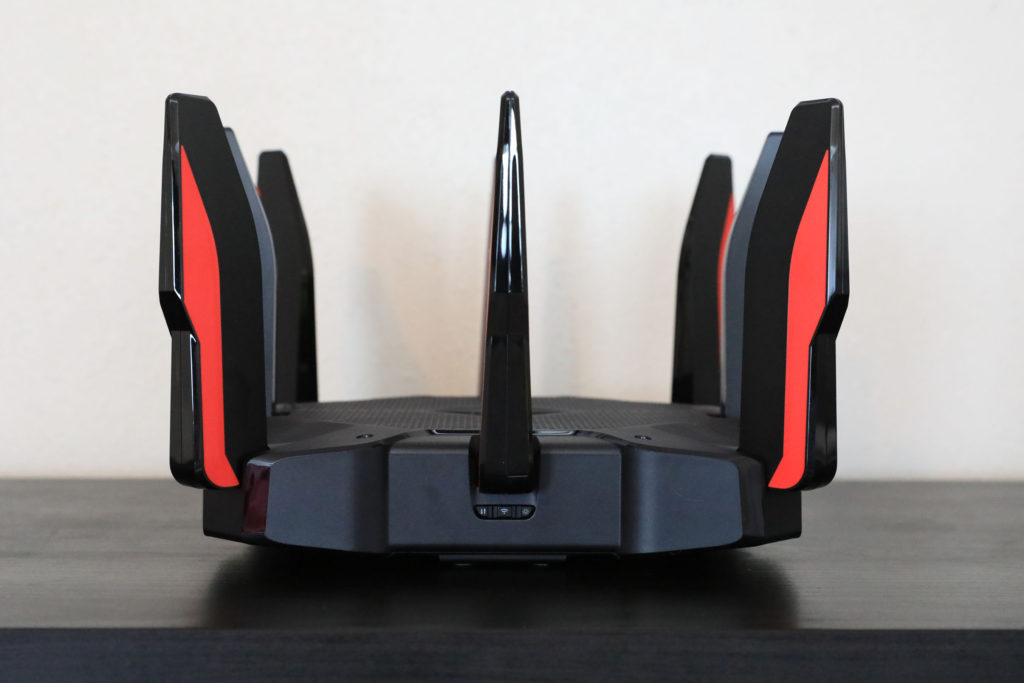 While performance was top notch, the catch here is that the TP-Link Archer C5400X retails for $399, or roughly five times the price of the A7.
Still, that price is more or less on par with other tri-band gaming routers like the Asus ROG Rapture GT-AC5300 and the Netgear Nighthawk X10, both of which offer quad-core processors, eight gigabit LAN ports, and a design focused on enhanced WiFi reception.
These routers might be overkill for some home networks, but if you're looking for uncompromised network performance for both wired and wireless devices, and you're willing to pay for it, you really can't go wrong with the TP-Link Archer C5400X.
See all Slickdeals router deals here!
Our editors strive to ensure that the information in this article is accurate as of the date published, but please keep in mind that offers can change. We encourage you to verify all terms and conditions of any product before you apply.