Ultimate Ears' myBOOM 3 Speaker Packs a Punch Along with a Personalized Design
This small speaker sounds way bigger than its size.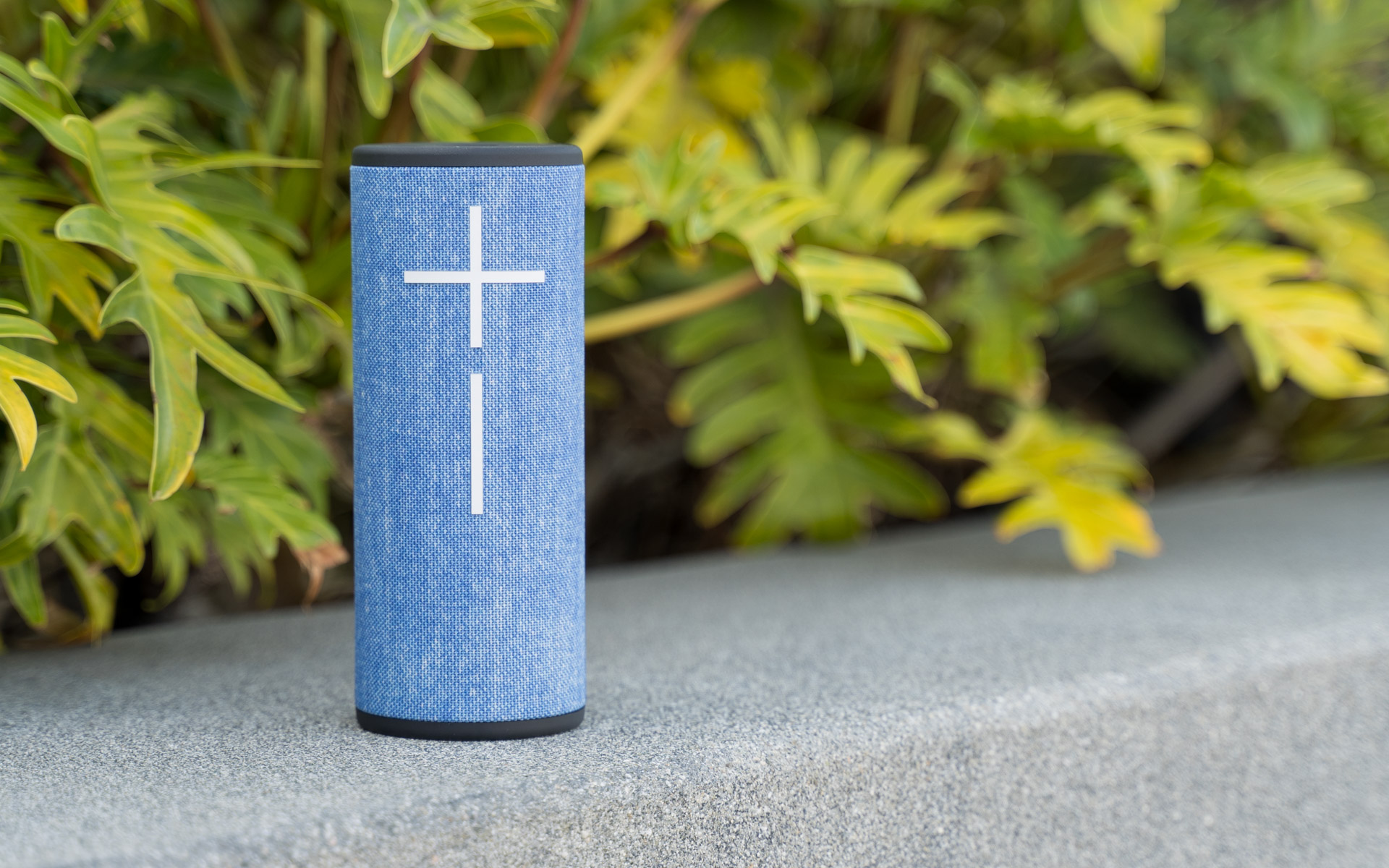 There are a lot of questions to consider when you're shopping for a portable wireless Bluetooth speaker. How much do you spend? How big should the speaker be? Is it complicated? Is it weatherproof? Does it sound good? Does it come in more than one color?
With so many options on the market, making a decision isn't always easy. But sometimes, a speaker comes along that answers many of those questions in a very satisfying way. That speaker is the Ultimate Ears myBOOM 3.
Ultimate Ears myBOOM 3 Specifications
Customizable EQ: Four different presets with tuner.
Personalized exterior design
Power: Rechargeable lithium-ion battery with up to 15 hours of battery life.
Maximum sound level: 90dBA (that means LOUD)
Speakers: Two 2" drivers and two passive radiators.
Bluetooth: Pair up to eight Bluetooth enabled source devices. Connect up to two source devices at the same time.
Bluetooth range: 148 ft.
Dimensions: Diameter: 2.8"; Height: 7.2"; Weight: 1.34 lb
Express Yourself with myBOOM Studio
First, let's clear up one thing. The myBOOM 3 speaker is simply a customized version of the BOOM 3 speaker. Nothing has been changed. Even the $149 price is the same — you just get to choose how it looks.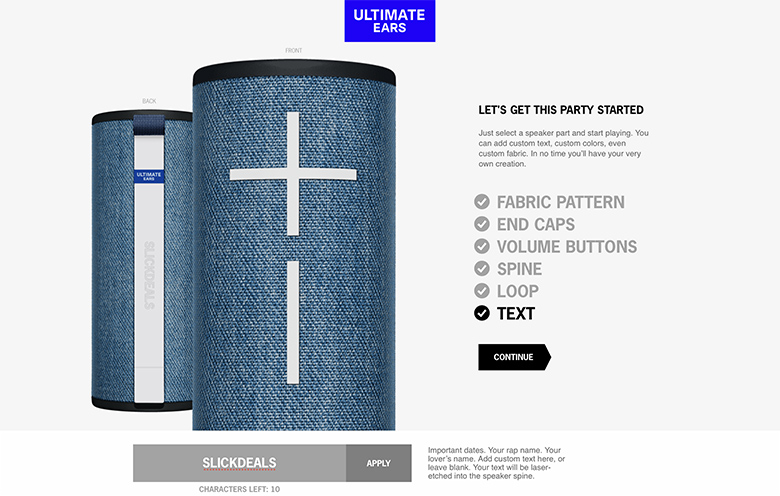 You can choose custom colors for every element of the myBOOM 3, from the fabric and end caps to the volume buttons and hanging loop. And the Ultimate Ears website will walk you through the whole process for customizing your myBOOM 3.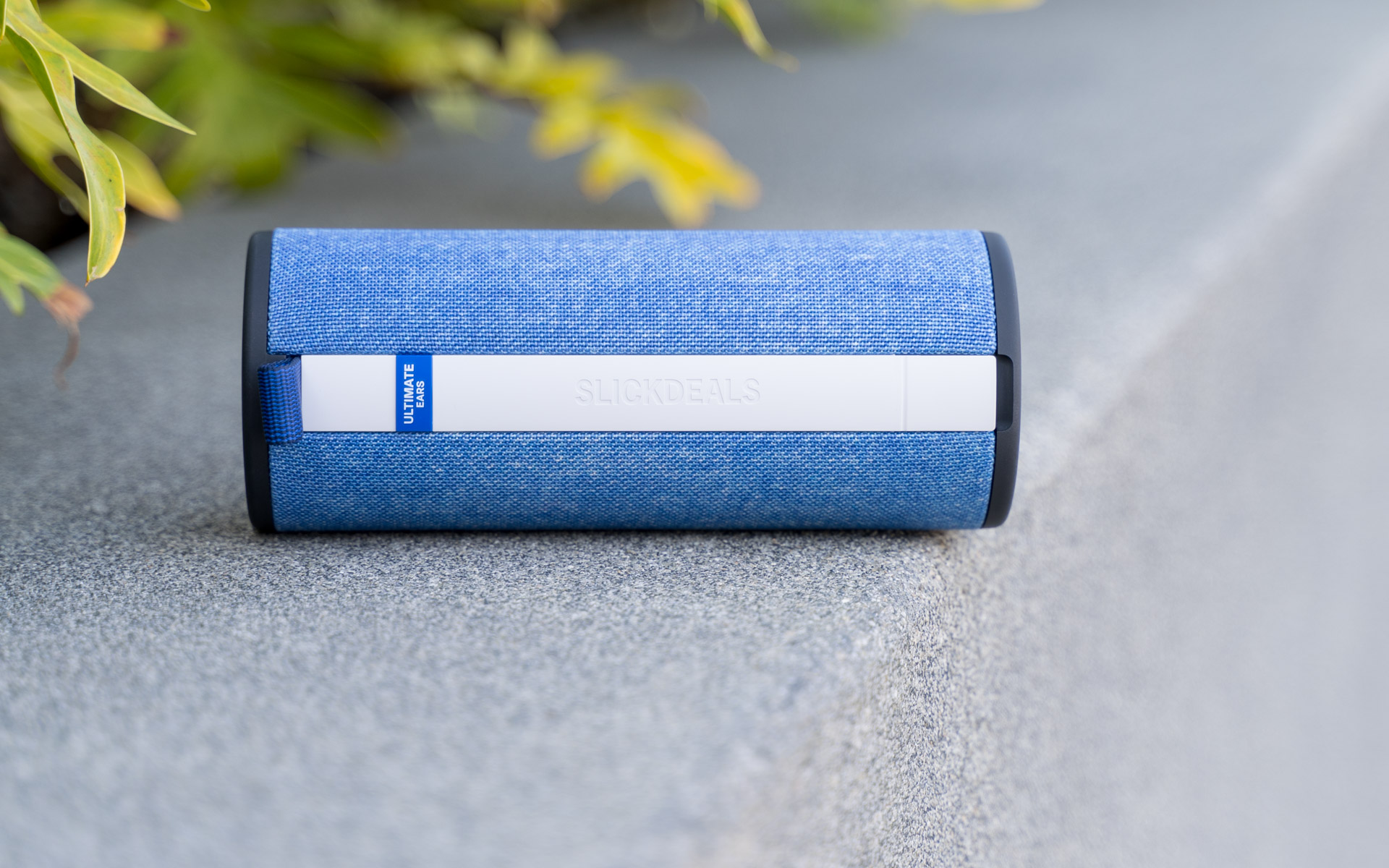 You can be conservative with your choices (I was) or go wild and choose all different colors. It's totally up to you. Plus, UE allows you to print a custom word/short phrase or name along the back spine. I went with a tasteful denim look and "Slickdeals" text for my choices.
While customizing a myBOOM 3 comes at no extra charge, it does take a few weeks to receive the speaker. With that said, it's totally worth the wait to get a unique speaker that suits your taste and personality.
Designed for an Active Lifestyle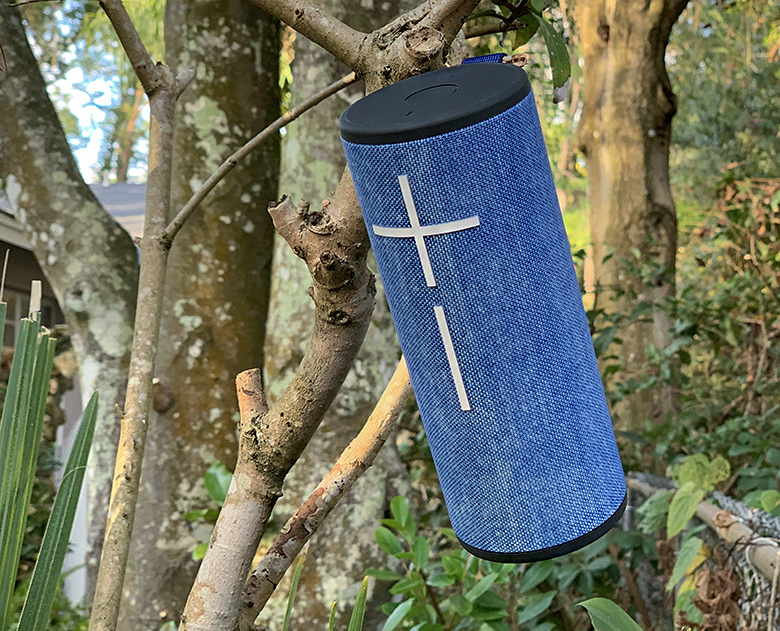 The myBOOM 3 speaker is about the size of a tall drink can. It's 360° surface is covered in an extremely durable fabric that's easy to grasp. The round shape allows audio to be directed in all directions, so it sounds good no matter where you are in relation to the speaker.
There's a small tab firmly attached to the top end cap, which is too small for a finger hold, but you could potentially attach a carabiner to it and then hook it to a backpack or hang it somewhere.
The top of the speaker houses the on/off button, a tiny Bluetooth pairing button, and a large, recessed center button that has many functions. This button is play/pause/skip, but when pressed and held, it will also call up saved Apple Music or Deezer playlists using UE's downloadable BOOM app. (Unfortunately, you can only save a total of four different playlists.) The center button basically allows you to perform commands without having to get out your phone.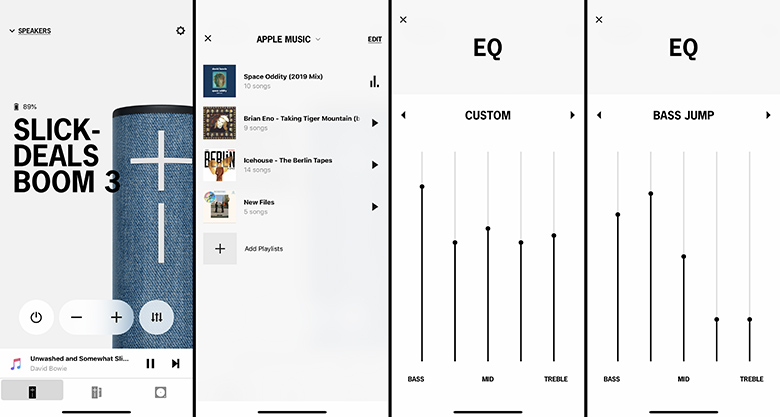 The BOOM app also lets you customize your myBOOM 3 speaker's functions and audio. There are five equalizer (EQ) settings (four plus one custom), so if you're a bass-head for instance, there's a Bass Jump setting. I wasn't a fan of the presets, so I made my own and saved it. I found that my personal EQ setting made music sound fuller and richer. Once set, I haven't felt it necessary to adjust it further.
Bluetooth pairing is a no-brainer, and my smartphone paired instantly. The BOOM app also allows the speaker's name to be customized.
The myBOOM 3 speaker has a 15-hour rated rechargeable battery — just note that battery life is dependent on volume and settings. Charging can be done either through the included micro USB port (cable included) or the optional UE POWERUP charging dock. The speaker is made to just sit on the dock and charge — it couldn't be easier.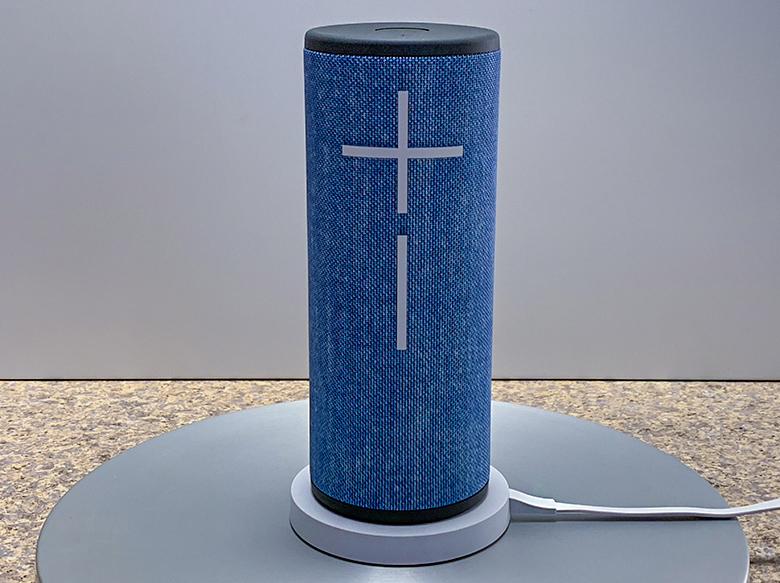 While supplies last, UE is including the $40 charger free with any BOOM 3 or myBOOM 3 speaker purchase. I just wish UE had opted to build in the faster charging USB-C, instead of the outdated micro USB.
As with other UE speakers, volume controls are huge + and — buttons on the speaker's sides. This volume button design has become iconic for Ultimate Ears speakers. And after a while, you become spoiled by its simplicity.
The myBOOM 3 is waterproof, with an IP67 waterproof and dustproof rating. It also floats, which is a nice touch since being waterproof won't help you much if the speaker sinks to the bottom of a lake. The ability to float is also extremely important because the myBOOM is a bit top-heavy. Lightly bumping it can make it fall over. However, since the speaker is made to withstand drops of up to 5 feet (and it floats), this isn't a big deal.
Ready for a Party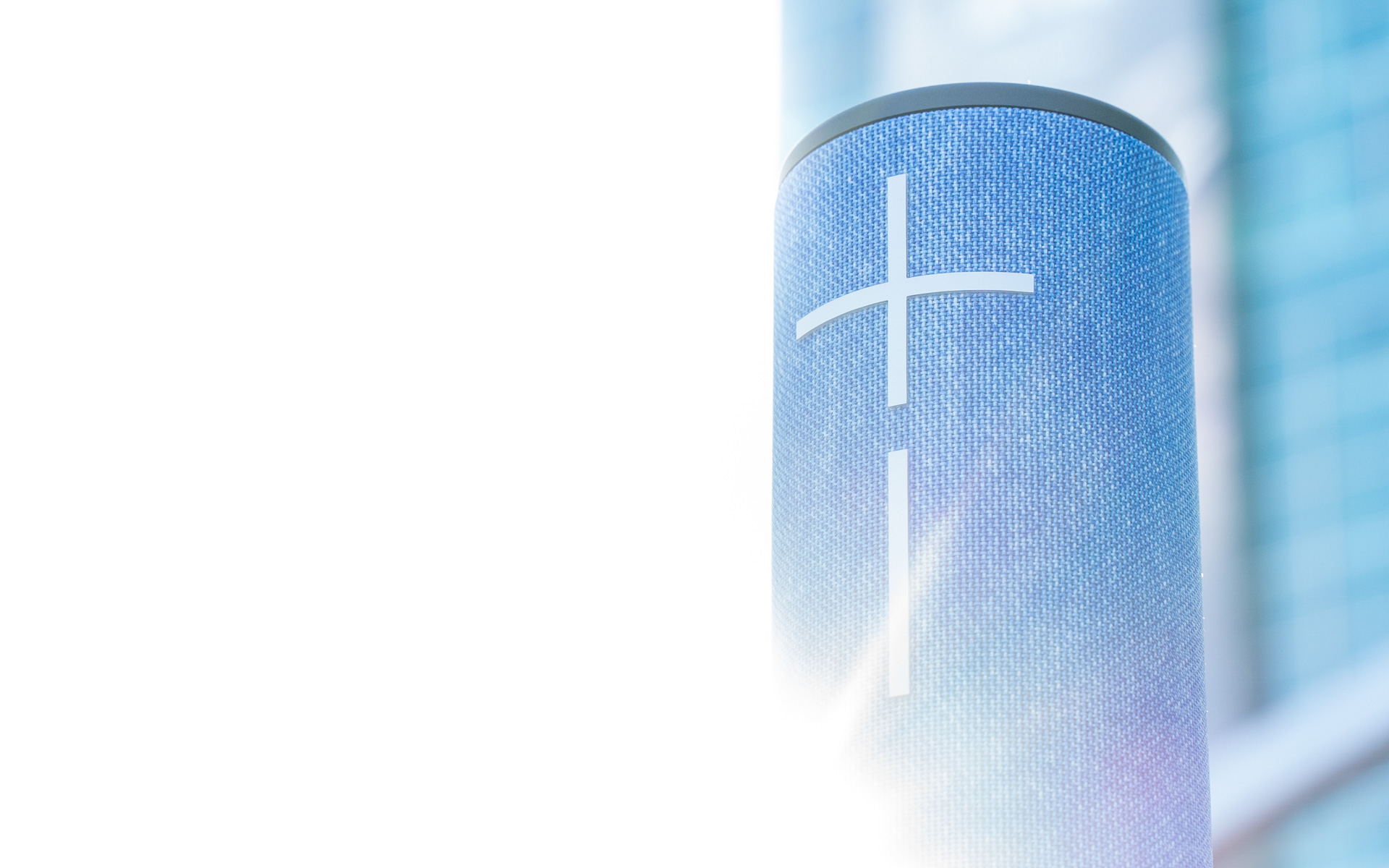 While the myBOOM 3 speaker is small in size, it is big in sound. It can sit anywhere and be paired with up to two separate devices at the same time for a varied playlist at a party. Using the BOOM app's PARTYUP feature, it can also be combined with up to 150 (yes, 150) BOOM and/or MEGABOOM speakers for surround sound — not that anyone has 150 friends with UE speakers, but it's nice to know it can be done. Note that each speaker's firmware must be up to date for PARTYUP to work.
Even though 150 speakers can be connected together, this review deals with just a single BOOM 3 speaker. And for most situations, one speaker will do. The myBOOM speaker can get loud, although volume is easy to create. The trick is being loud and also sounding good. Thankfully, the myBOOM 3 speaker does both quite well.
It doesn't matter whether I am outdoors or in the house — the myBOOM 3 speaker audibly fits wherever it's placed. And the 150-foot Bluetooth range allows you to keep your phone with you and walk away without the music skipping or cutting out.
Musical clarity is where the myBOOM 3 speaker shines. Some speakers can sound muddy, especially with the volume cranked up — but not this speaker. Even with volume maxed out, the music retains its musicality without becoming harsh-sounding or fatiguing. Also, when the volume is lowered for personal listening, the bass is retained, so you can hear the whole song and not just the treble parts. That's not an easy thing for a portable speaker to pull off. And it's this feature that makes the myBOOM 3 speaker perfect for a party of many or a party of one.
Related: Bose Noise Cancelling Headphones 700 Review
Should You Buy the Ultimate Ears myBOOM 3 Speaker?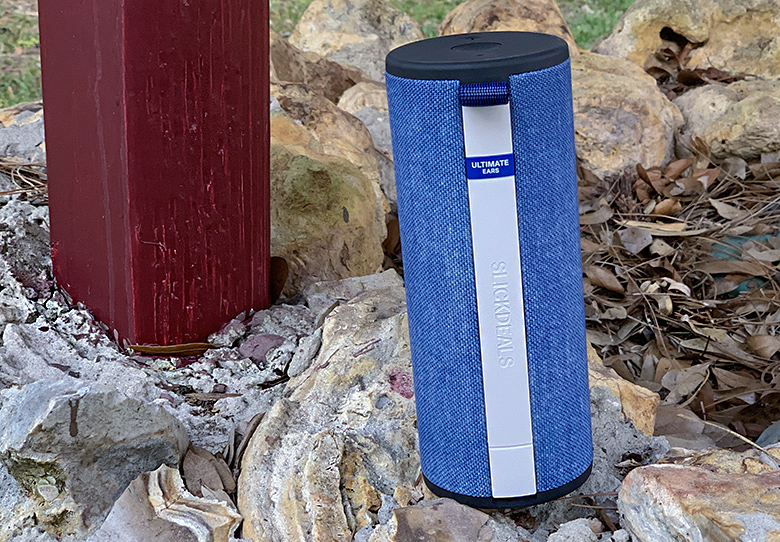 The myBOOM 3 speaker quickly fit into my daily routine. It's easy to carry from room to room, pairs instantly when turned on and those ridiculously large volume buttons make turning it up or down super quick and simple. Additionally, Ultimate Ears makes durable products, and the myBOOM 3 is one tough speaker.
While you could certainly find cheaper Bluetooth speakers out there, if you're looking for one that will withstand all kinds of abuse, sounds good even at high volumes and comes in a range of customizable colorways, the myBOOM 3 is a solid buy.
---
Get the best deal on a myBOOM 3 or other top Bluetooth speakers by setting a Deal Alert. We'll notify you as soon as a new offer is posted.
Read Next: Ultimate Ears' Wonderboom 2 Offers Good Sound in a Compact Size
And don't forget to explore today's best deals from our Tech category:
Search URL: https://slickdeals.net/newsearch.php?firstonly=1&pp=20&sort=newest&rating=frontpage&filter%5B%5D=40&forumid%5B%5D=9&hideexpired=1&r=1
Ultimate Ears myBOOM 3 Portable Speaker
$149.99
Our editors strive to ensure that the information in this article is accurate as of the date published, but please keep in mind that offers can change. We encourage you to verify all terms and conditions of any product before you apply.