Review: VAVA's 8-in-1 USB-C Hub Is an Essential Accessory for Modern Laptops
Get the most out of your USB-C-only laptop with VAVA's premium multi-port hub.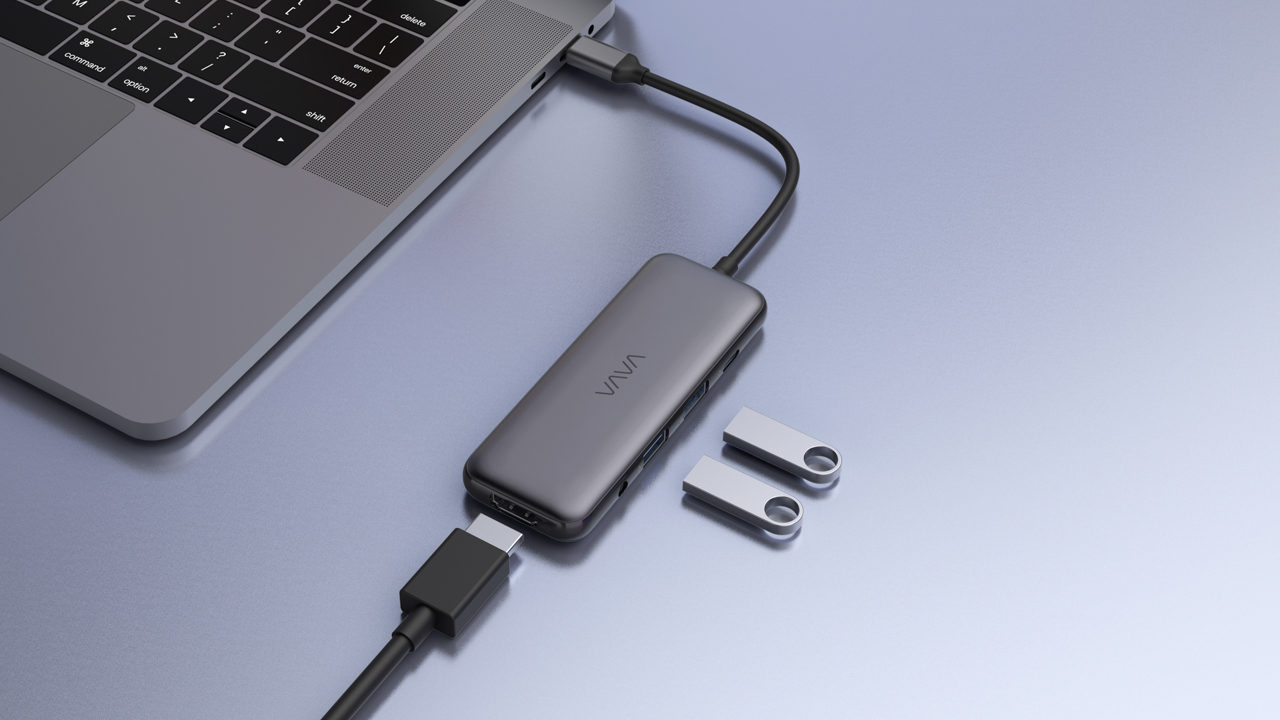 One of the most common complaints about modern laptops is surely their lack of ports. In the process of engineering ever thinner, lighter and more densely packed laptops, computer manufacturers are gradually forgoing the typical array of legacy ports that we're used to in favor of the newer and more compact USB-C (Thunderbolt 4) standard.
In a far-flung future where every device uses USB-C as standard, we can then all live in peace and harmony. But we're not even close to that yet. And so, in this very early transition period, users are faced with lumbering around a bag full of adapters and dongles needed to connect their storage, displays and other devices to their modern laptops.
That is unless you have something like VAVA's 8-in-1 USB-C Hub. This one device expands your USB-C equipped laptop, tablet or smartphone with a comprehensive array of ports. It can do video, audio, data and even pass-through charging, all through that little USB-C port.
It's small and light, fits easily into the accessory pouch of most laptop bags, and is even comfortably pocketable, if you're really in a pinch. But it has its limitations. And for the layman, knowing what this (or any) USB-C hub can and cannot do is a minefield of compatibility issues and technical caveats.
VAVA 8-in-1 USB-C Hub Technical Specifications
2x USB Type-A Gen1 (up to 5Gbps)
1x USB C 3.2 Gen 1 (up to 5Gbps)
Full side SD Card and Micro SD Card slots (up to 2TB)
HDMI 2.0 video output (up to 4K/60Hz)
3.5mm Aux port
Power delivery input (via dedicated USB-C)
Dimensions: 4.21 x 1.65 x 0.5 inches, 2.5oz
Expansion Made Easy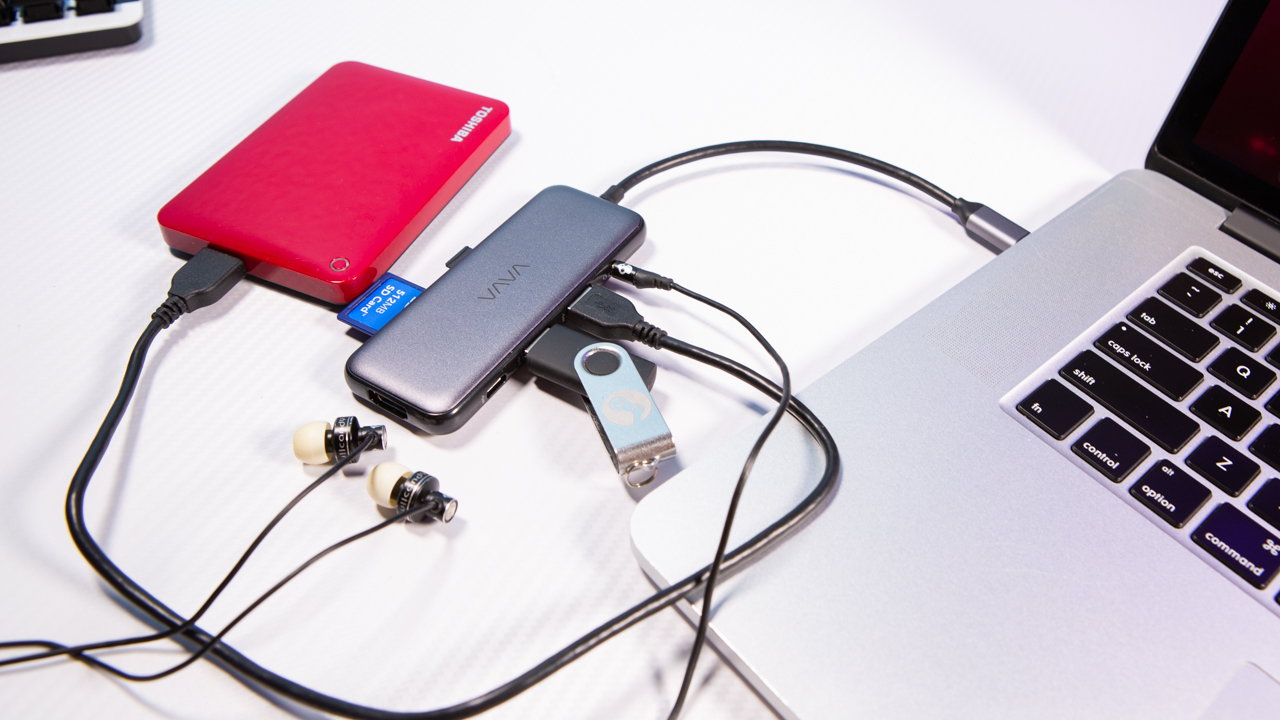 That lonesome USB-C port on your new laptop may be incredibly versatile, but it's also a royal pain when your trusty old USB stick full of important business documents suddenly can't be accessed because you didn't notice the absence of the old USB Type-A port you've used for decades.
The VAVA 8-in-1 USB-C Hub aims to solve this and a whole slew of connectivity problems with modern devices. It works with laptops and PCs, but also with select USB-C-equipped smartphones and tablet devices, too.
At a glance, the hub features two good old USB Type-A ports, a USB-C port, an HDMI 2.0 video out, a standard headphone jack, and slots for both Micro SD and full size SD cards.
That covers almost all bases. Now, you can use a mouse and keyboard, or a USB Wi-Fi dongle. Connect a camera directly, or remove its internal SD card and insert it straight into the hub. You can shun Bluetooth headphones for a few more years and use those wired headphones you know and love. And you can connect to an external display with a standard HDMI cable, without worrying about video conversion adapters or bespoke cables.
Oh, and while you're at it, you can charge your laptop too. The VAVA hub has one USB-C port reserved specifically for pass-through power delivery (PD), allowing you to attach your laptop's USB-C power supply to the hub. It will then keep your laptop charged while you use it. This lets you keep working even when that low battery warning appears, since you won't have to disconnect peripherals to free up the port for a quick charge.
But notice I said 'almost' all bases are covered. And that's because the absence of an Ethernet port is notable, ruling out the possibility of a traditional wired internet connection should you be having issues with, say, the Wi-Fi signal strength at a hotel.
Plug and Play Peace of Mind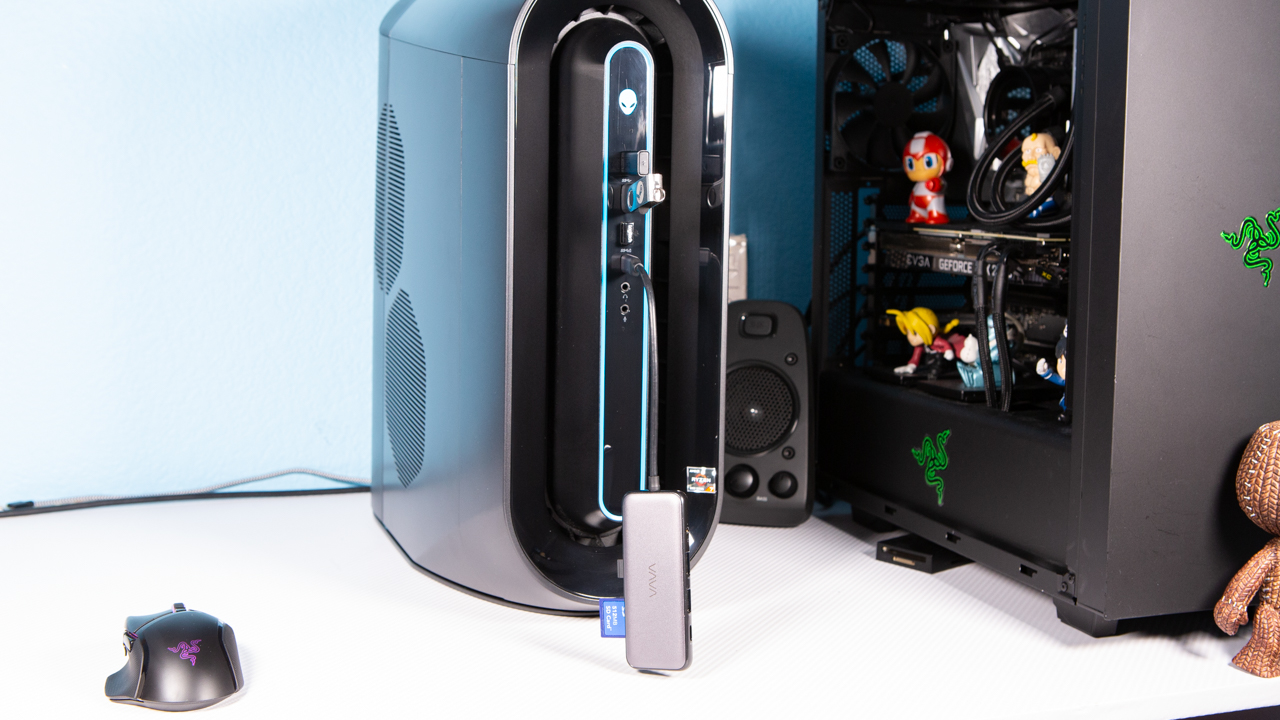 Connect the VAVA USB-C Hub to your laptop and instantly you'll have access to this clever little port's full array of capabilities. And it's all plug-and-play; there's no complicated install process.
I plugged the hub into my Windows 10 PC and all of its features were instantly recognized. The same was true when I tested it with the iPad Pro. I had the iPad broadcasting video to my 4K TV via HDMI without having to touch a single setting. It just works. The video was fast and stable, and supports resolutions up to 4K at 60Hz.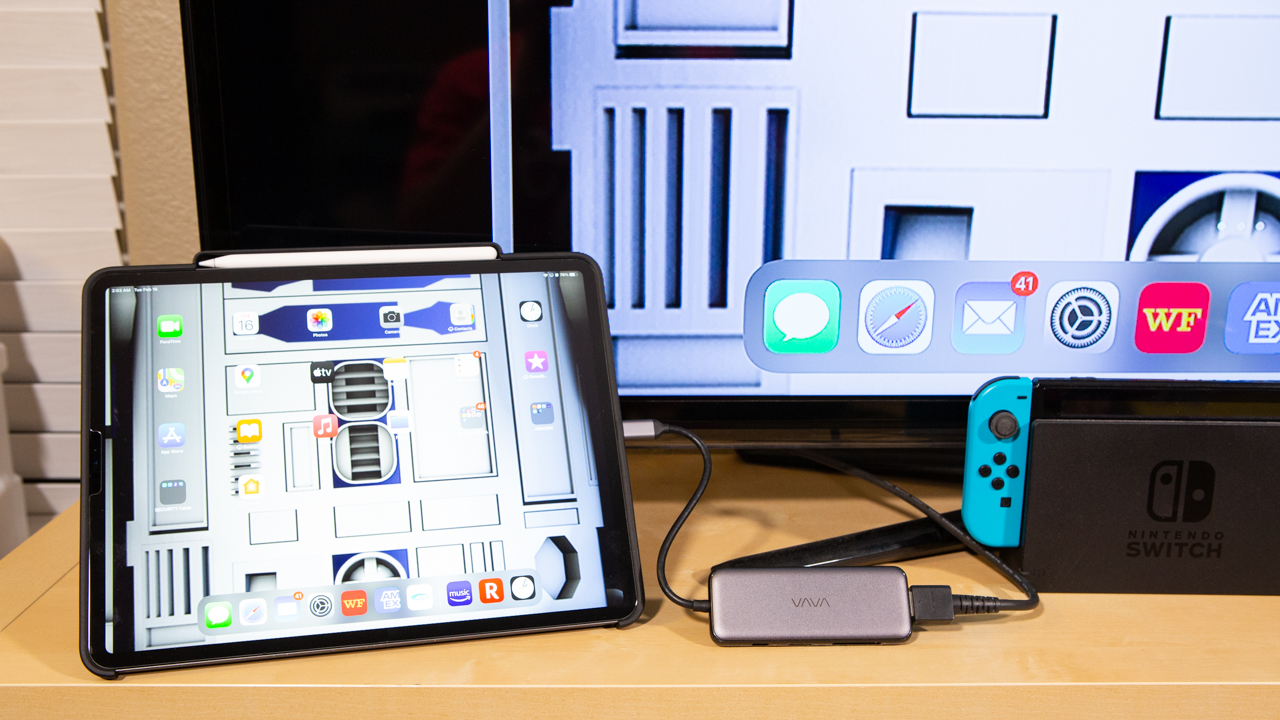 On the Windows PC side, I liked that the VAVA hub doesn't reserve a list of placeholder drive paths for ports that aren't in use, like many of the cheap generic hubs do. It only mounts storage volumes when such a device is detected. So, for example, when you insert an SD Card, the drive is mounted and appears for use. It then disappears neatly when the card is removed.
VAVA says the hub contains a powerful microprocessor that helps to manage data, control power and juggle workloads, and it certainly proved to be effective in use. You can transfer large files while using a USB mouse and keyboard, while also outputting 4K video to a monitor without one function interfering with another.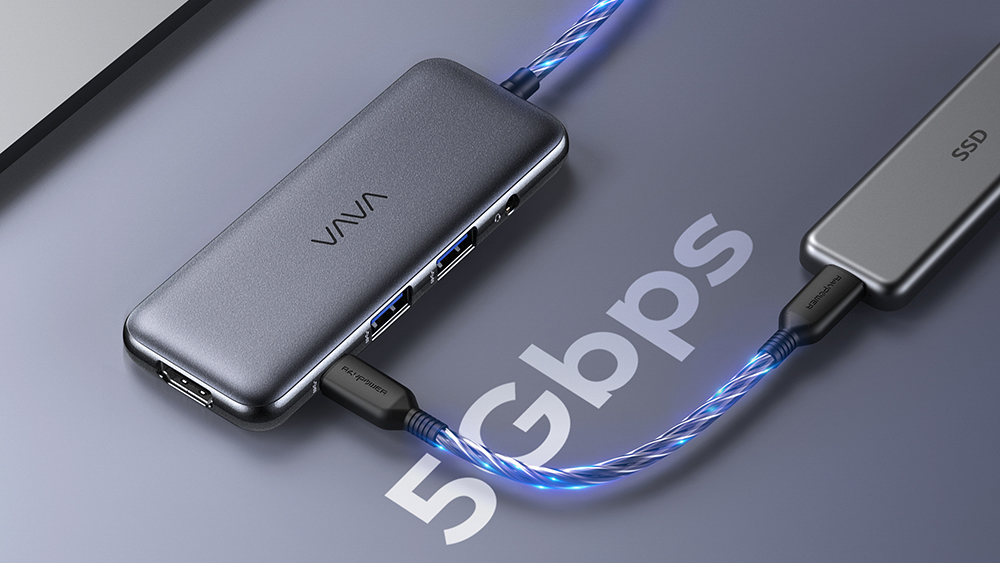 I also instantly noticed a speed difference between the VAVA hub and those aforementioned generic hubs. I could scroll through large folders full of raw photos, and open 4K video with erratic scrubbing without any of the lag I've been accustomed to with the cheaper hubs.
One Size Fits Most: Understanding Your Own Device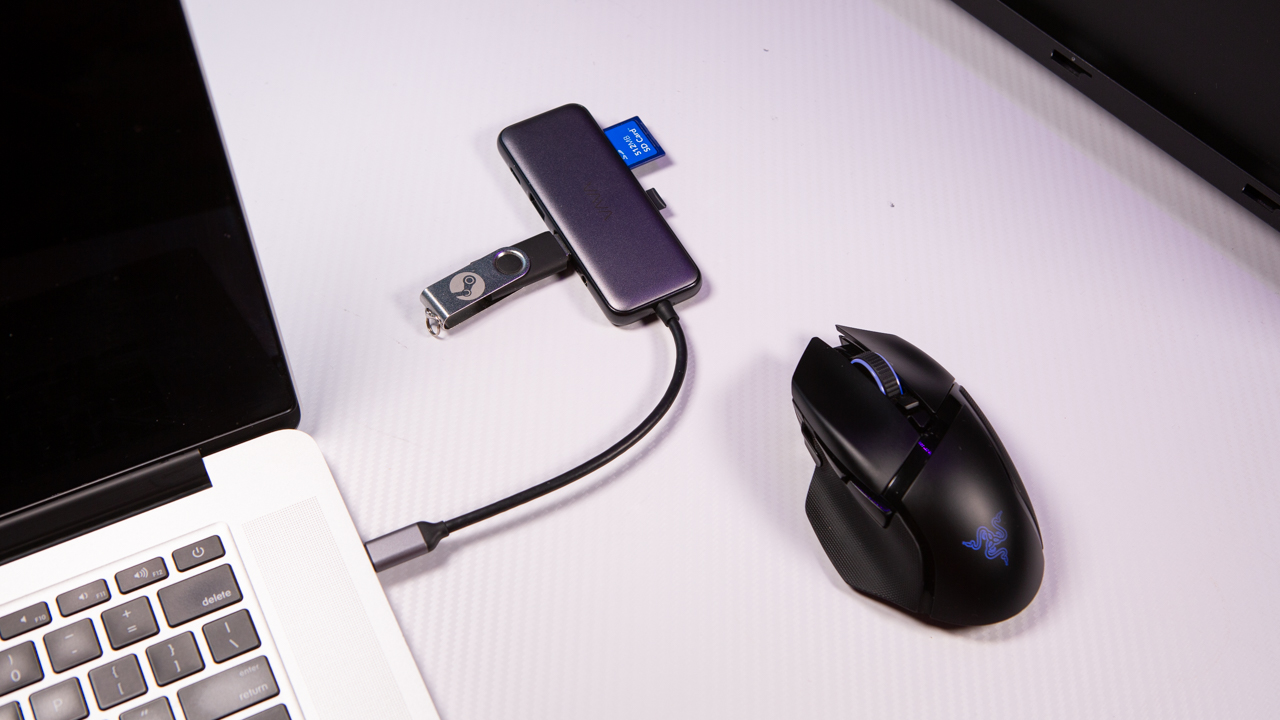 The confusing thing about USB-C ports is that they're not all made equal. Some support video output, some don't. Some can handle power delivery, while others can't.
These nuances and limitations inherent to USB-C can be confusing to those who might assume that if it fits, it should be compatible. Sadly, that's not the case.
What does this mean in more literal terms? First off, that HDMI output will only work if your device natively supports video out via its USB-C port. If you're unsure, check the device's product manual for 'DisplayPort' (or 'DP') via USB-C.
That said, VAVA warns that the HDMI out is incompatible with a long list of popular devices, including (but not limited to) the Google Pixel and Pixel 2 phones, Dell Inspiron tablets, the Asus ZenPad S8 and several others. Sadly, the hub also won't work as a portable video out dock for the Nintendo Switch, either.
Another limitation: The USB-C ports on the hub itself do not support video output, only the HDMI port does. So if you happen to already have a USB-C-to-HDMI cable that you currently use to connect your laptop to a display, you'll need to plug that directly into the laptop, and not into the hub.
And finally, the hub can only be plugged into a native USB-C port on your device. So if you still have an older laptop or PC and were hoping to extend the use of this hub to that device with a USB-C-to-USB Type-A adapter, you're out of luck. It won't work.
But it's worth noting, again, that most of these issues are limitations inherent to the ever-evolving landscape of USB-C, and not an issue that's specific to the VAVA hub.
Should You Buy the VAVA 8-in-1 USB-C Hub?
Can you find dirt-cheap USB-C hubs on Amazon that will do most of what you need? Sure. But at $39.99, VAVA presents a more premium, high-quality product, which is surely better suited to the inevitably sleek laptops and smart devices it's likely to be used with.
The VAVA hub is fast and versatile. It looks and feels premium, and is very easy to use. The lack of an Ethernet port stops it from being the catch-all of USB-C expansion devices, but it's well worth the price if the lack of wired internet is not a concern for you.
Our editors strive to ensure that the information in this article is accurate as of the date published, but please keep in mind that offers can change. We encourage you to verify all terms and conditions of any product before you apply.