ViewSonic's ELITE XG350R-C Is a Spectacular Ultrawide Curved Gaming Monitor
100Hz refresh rate, 3ms response time and custom lighting effects are notable features of this 35-inch display.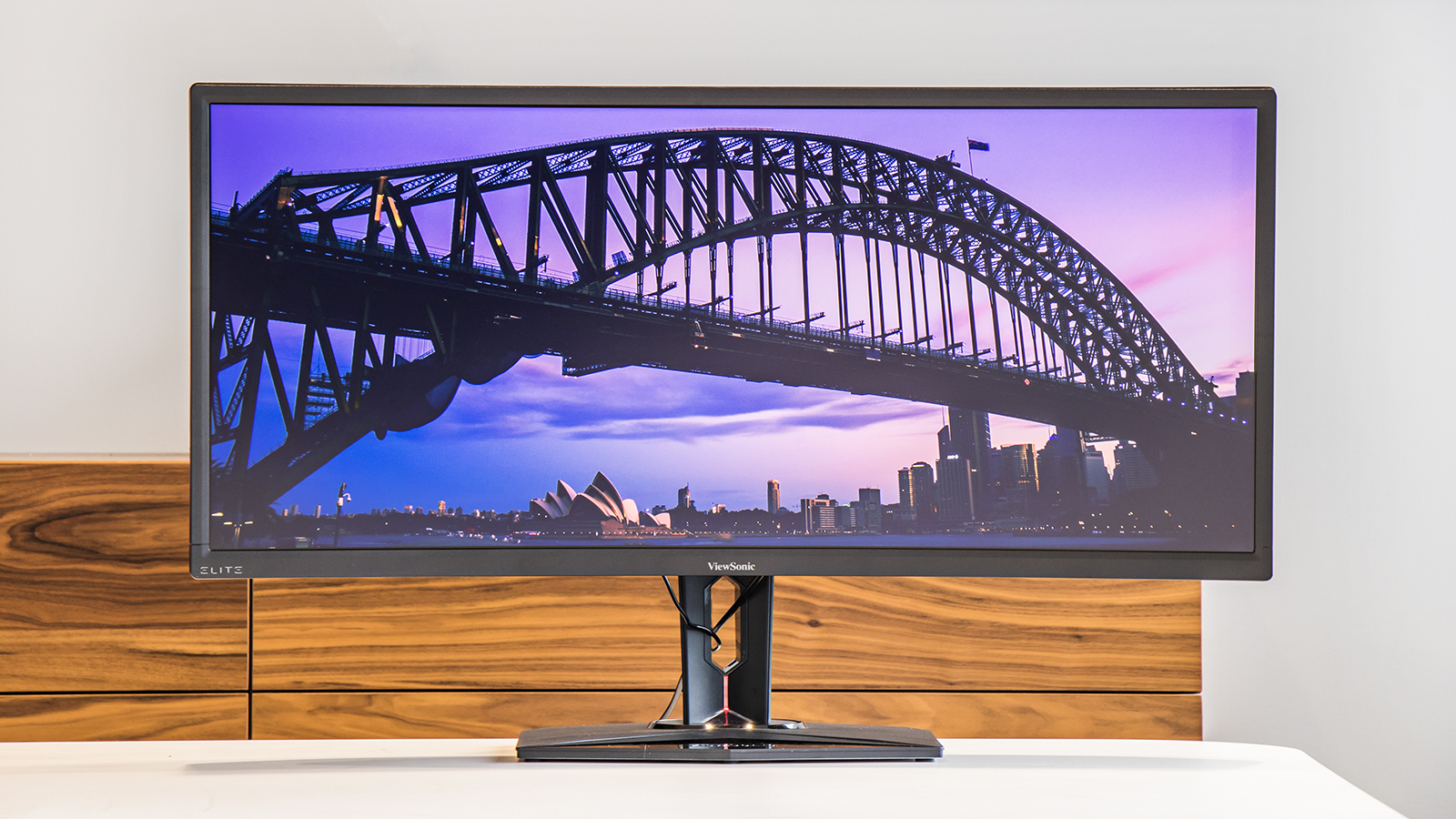 The ViewSonic ELITE XG350R-C ultrawide curved gaming monitor is a true showpiece. It's the type of monitor that steals the spotlight from some of the fanciest of gaming PCs.
Even a case with glowing fans, bright green cooling liquid and enough RGB lighting to fill a Christmas tree will be quickly forgotten as visitors gawk at the epic 35-inch curved display.
The ELITE XG350R-C is ViewSonic's latest foray into the high-end gaming market. And with a high-resolution 100Hz screen, FreeSync compatibility with AMD and NVIDIA graphics cards, and full HDR10 capabilities, it ticks all the right boxes if you're looking for a great screen to match a beefy PC setup. 
But is this monitor worthy of your desk space? We took a closer look to see where the ELITE XG350R-C shines — and where it may fall short.
Product Review 42398
ViewSonic ELITE XG350R-C Gaming Monitor Specifications
35-inch display, 1800R curvature
3440 x 1440 resolution
100Hz refresh rate
3ms Pixel response time
300 cd/m2 brightness
AMD FreeSync and HDR10 support
MVA screen type
Dimensions: 33.4 x 17.1 x 12.0
USB 3.0 Type A(x3), USB 3.0 Type B, 3.5mm Audio Out, HDMI 2.0(x2), Display Port
Get the Full Picture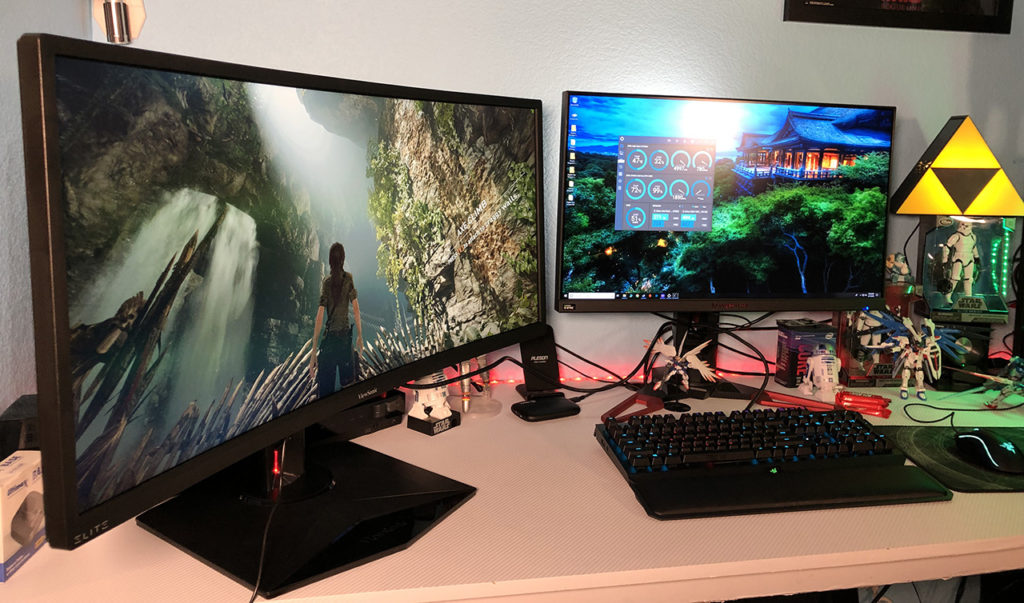 Ultrawide monitors like the ELITE XG350R-C have their own special brand of desktop flair. This expansive screen makes for one of the most completely immersive viewing experiences you can get from a computer monitor. And the benefits of its size aren't just for games, but also for entertainment and productivity. 
Ultrawide screens are excellent for movies, as the 21:9 screen ratio eliminates those ugly black borders when watching a theatrical release on your 16:9-ratio TV. Instead, movies fit perfectly from bezel to bezel. Plus, sitting two feet away with headphones up on full blast makes for spectacular viewing. 
Home office users will also benefit from the ample screen space, as there's enough real estate to efficiently replace a dual monitor setup. You can run two applications side-by-side with no compromise to usability — perfect for having an office app running alongside a YouTube video or an accompanying website. Meanwhile, video editors can use that massive width to view an entire sequence without having to zoom or scrub around. 
Users will also find plenty of ports to support their setup, with three USB 3.0 Type-A ports, one Type-B USB port, two HDMI inputs, Display Port and a standard headphone jack. 
A Gamer's Paradise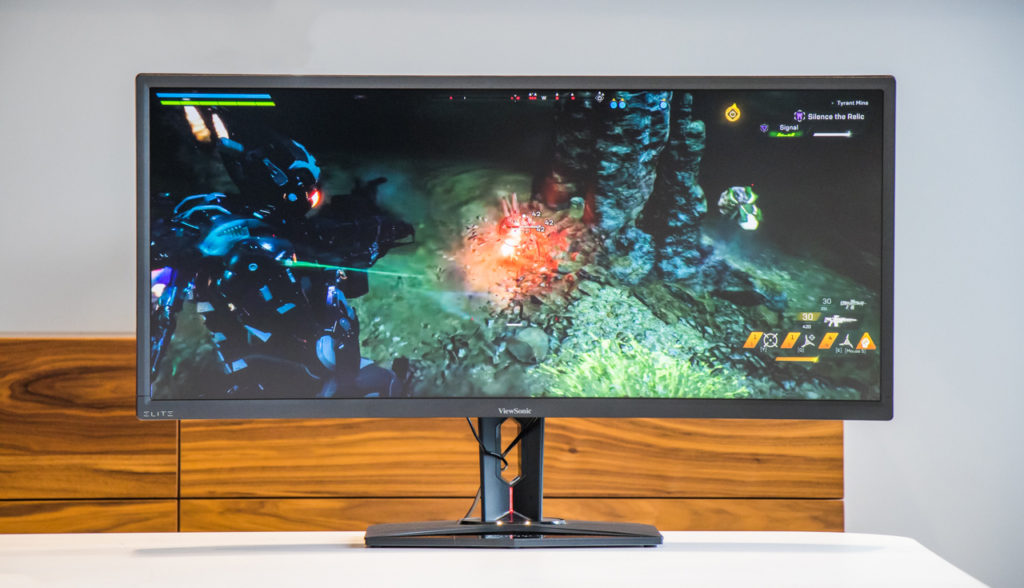 The ELITE XG350R-C's size is even more impactful when playing video games. Racing titles like Forza Horizon 4 deliver a heightened sense of speed as scenery whooshes by in your periphery. First-person shooters like Doom or Battlefield V immerse you with a wider field of view (FOV), which provides not just a greater feeling of presence, but also real gameplay benefits thanks to an improved view of the world. Real-time strategy games also make use of the extra screen space, giving you a superior perspective on the action and more space for on-screen elements. 
Ultimately, there are many excellent reasons for gamers to buy an ultrawide monitor like this. However, there are also some important points to consider.
This monitor's 3440 x 1440 resolution is best suited for a high-end gaming PC. I'd recommend an NVIDIA GeForce GTX 1080 graphics card or better to run modern games at a reasonable frame rate with most visual options set to high. Anything less than that will struggle with this near-4K resolution. 
It's also worth noting that not all games support ultrawide screen ratios natively. That means you'll either get giant black borders flanking a standard 16:9 window, or a stretched view that makes games look warped on the outer edges. Regular TV shows and most YouTube videos also only appear in 16:9 with borders. And unless the ultrawide screen becomes more ubiquitous in the near future (which is unlikely), this is something that you'll just have to live with. 
Let's Get Technical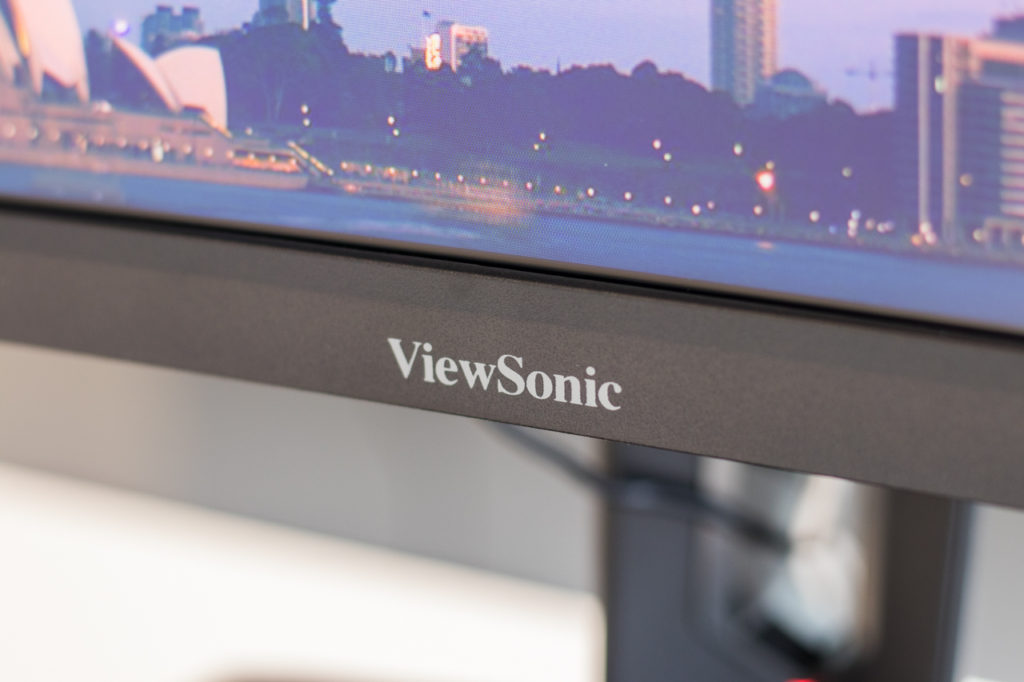 Gamers will be pleased with a high 100Hz refresh rate, coupled with the (now NVIDIA-supported) FreeSync mode that allows the screen to synchronize every frame with your graphics card output. This results in ultra-smooth gameplay, even if you dip slightly below the 60 frames per second (FPS) sweet spot. I also really enjoyed the multi-colored (RGB) accents on the back of the monitor, which is compatible with a range of customization software, including ones designed by Thermaltake, Coolermaster and Razer Chroma.
Meanwhile, ViewSonic's choice of pixel technology (called VA or Vertical Alignment) comes with its own set of pros and cons. One traditional drawback of VA panels is slow pixel response times, which result in motion blur (or "ghosting") on moving images. Additionally, brighter details often appear to darken when in motion, as VA pixels struggle to change color fast enough. 
ViewSonic touts a rather speedy 3ms pixel response time on this monitor, but it nevertheless suffers from noticeable ghosting out of the box. Luckily, while delving into the vast array of menu options, I was able to tune out some of the blurriness. This was thanks in part to ViewSonic's so-called "ClearMotion Blur Technology," which is essentially a form of backlight strobing techniques aimed at reducing the visibility of ghosting. 
I wasn't, however, able to completely eliminate the slight blurring on small text, which is another inherent trait of VA-type screens. 
But this VA display makes up for its shortcomings with impressively vivid colors, deep black levels and excellent viewing angles, which is particularly beneficial on a screen of such extreme dimensions. This makes games like Destiny 2, with its high-contrast worlds, really pop. It also serves as a great option for photography and video editing. Additionally, these traits enhance the screen's HDR10 mode, which helps deliver even more striking visuals when activated in Windows 10, and used with compatible games and movies. 
VA screens also tend to be a little cheaper than the arguably superior — but often expensive — IPS-type panels.
Should You Buy the ViewSonic ELITE XG350R-C?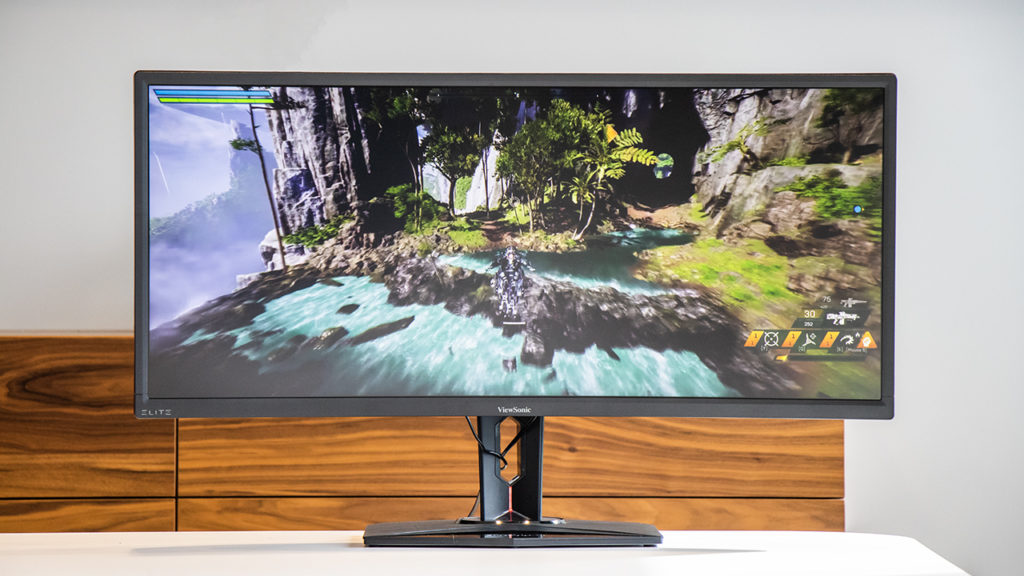 ViewSonic has delivered an excellent all-around monitor, with a full feature set that high-end PC gamers have come to expect. The huge display and slick RGB-adorned design make it a real centerpiece on your desk, while its vivid color delivery and HDR capabilities come together to produce a great multi-purpose display ideal for media and production uses. 
Offered at $699.99 right now, the ViewSonic ELITE XG350R-C falls in line with other monitors in its class, while offering a better value proposition than the more expensive IPS displays. It makes for an excellent upgrade to any gaming rig, but take it from me: You're going to need a bigger desk. 
Buy the ViewSonic ELITE XG350R-C
Stay up to date on all the latest ViewSonic discounts by setting a Deal Alert, or visit Slickdeals' Computer Monitor category page for today's best sales and promotions.
ViewSonic ELITE XG350R-C Ultrawide Curved Gaming Monitor
$699.99
Our editors strive to ensure that the information in this article is accurate as of the date published, but please keep in mind that offers can change. We encourage you to verify all terms and conditions of any product before you apply.