Wayfair Has Practical Laptop Stands for Every Budget
There are hundreds of discounted laptop stands to choose from – let us help you find the best deal.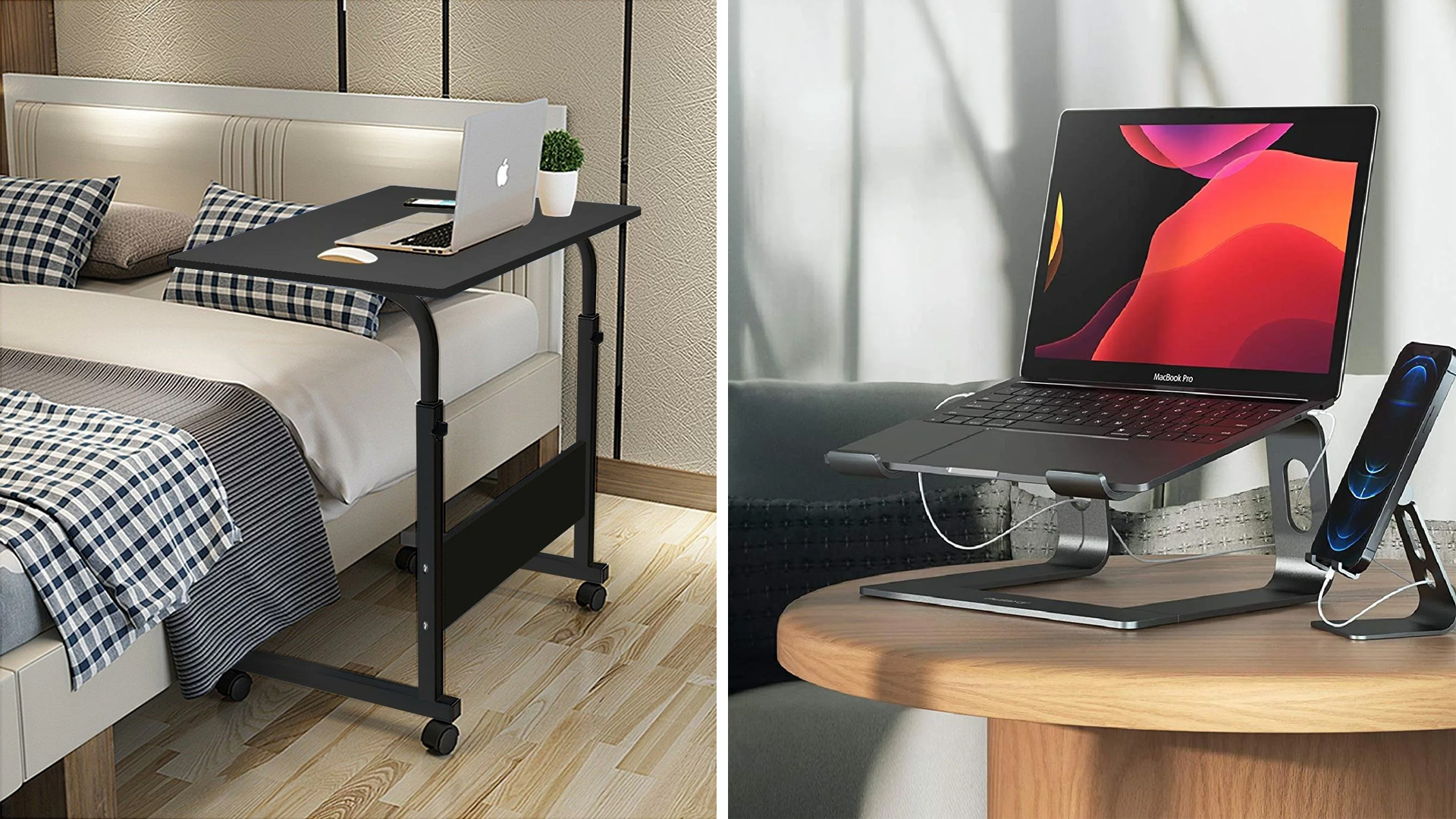 You probably don't do your best work in a cramped, uncomfortable environment. Purchasing a brand new desk is one way to make more room and prevent strain from typing, but that is an expensive solution to a simple problem. Instead, why not save money and improve your quality of life by adding a new laptop stand to your setup? Adjustable tabletop stands can serve as a space-saving structure at your current desk, or you can opt for a taller laptop cart and enjoy the flexibility of a space-efficient mobile workstation.
If you're shopping for a laptop stand on a budget, Wayfair should be your first stop. Thanks to Wayfair's massive selection and generous discounts, you can afford to be discerning in your quest for the perfect laptop stand. Not sure where to start? We've pulled together some of the best laptop stand deals available at Wayfair right now.
Top Wayfair Laptop Stand Discounts of August 2021
Laptop stands come in a wide variety of sizes and configurations. Are you looking for a portable standing desk, or would you prefer to add a laptop stand to your current workspace? Don't worry too much about the price – if you have $16 to $300 dollars to spend, you'll probably find what you're looking for.

Budget Laptop Stands Under $50
You don't need to break the bank to work (or casually browse the internet) comfortably. If you're shopping on a budget, Wayfair has got you covered with its sizeable collection of budget laptop stands under $50. New deals pop up regularly, so it's worth checking again in a couple of weeks if you aren't sold on any of these budget laptop stands.

Keep Things Moving With a Free-Standing Laptop Stand
Relive your AV club days by picking up a free-standing laptop cart. Some stands are large enough to work well as a standing desk, while others are perfect for adding extra space to your existing desk structure — even if it's your couch or your bed. Most free-standing laptop stands come with wheels, so they can be removed and relocated as needed.

Increase Desk Space With a Tabletop Laptop Stand
You can improve your posture and reduce your computer's desk footprint by adding an adjustable riser to your setup. Most tabletop laptop stands come with several points of articulation, so you can tweak the height and position to fit your space and working style.

Laptop Stands With Storage
Lack of storage space is a common complaint among standing desk users. Sure, it takes up less space — but there's less space! This can be especially burdensome if your work requires a lot of necessary peripherals or if you rely on a desktop computer. You can avoid all of these troubles by switching to a laptop stand that is specifically designed to accommodate your entire workspace.
Wayfair frequently updates its latest deals and closeout offers, so don't miss out! Set a Deal Alert for the office furniture you're looking for and we will get in touch the next time it goes on sale.
Up Next
Our editors strive to ensure that the information in this article is accurate as of the date published, but please keep in mind that offers can change. We encourage you to verify all terms and conditions of any product before you apply.