Everything You Need To Upgrade Your Virtual Meetings
Improve your computer's microphone and camera with these very affordable options.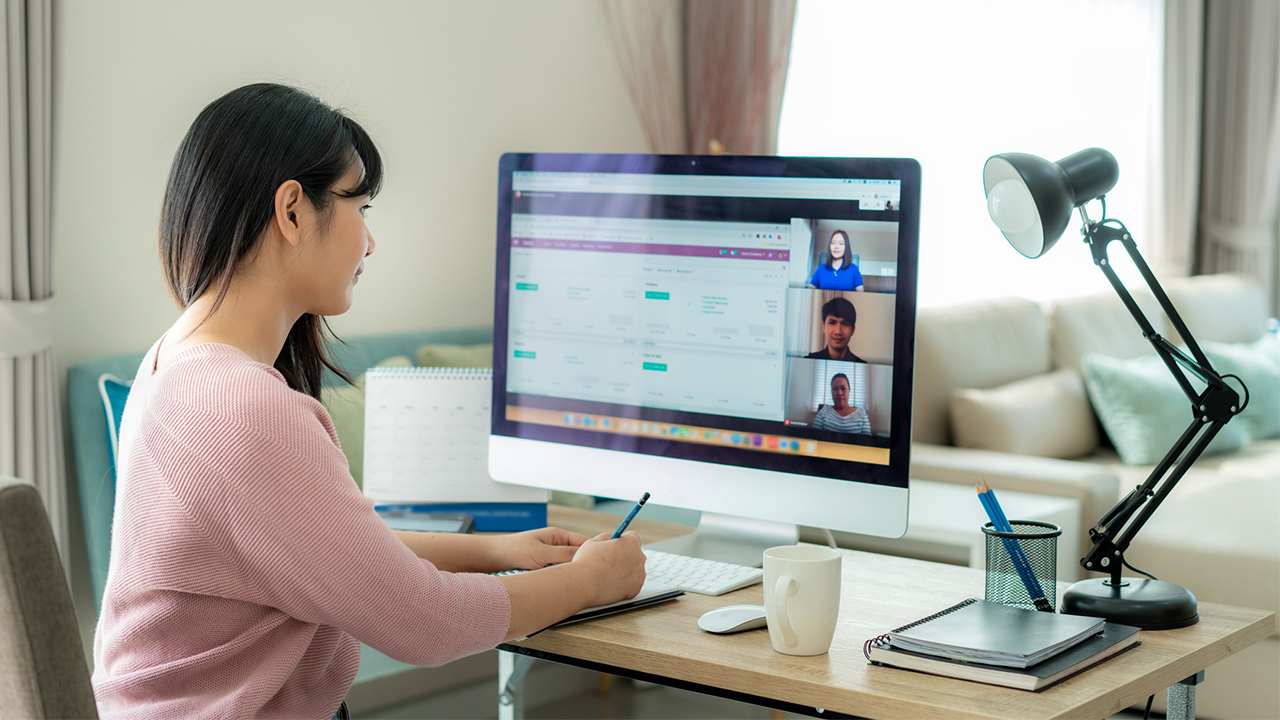 From virtual job interviews to checking in on meetings while traveling, video conferencing has become an integral part of professional life. And with countless businesses adopting longterm work from home procedures to prevent the spread of COVID-19, many rising digital conferencing trends are now necessities.
Long in short, now is definitely the time to up your webcam game.
Whether it's upgrading your computer's camera and microphone or making the space around your PC a little more business-friendly, there are plenty of easy tricks and tolls that greatly improve communication with your co-workers. We've put together a handy guide to help you bring high-quality video conferencing into your own home.
Recommended Cameras
Don't be fooled by numbers when it comes to webcams (or any camera for that matter). It's actually the overall size of the sensor that matters, not the amount of pixels on the sensor. Anything over one megapixel will deliver 1080p resolution, more than enough for videoconferencing software to work with. Even a modern laptop's webcam will deliver that much resolution. The real question you should be asking is what camera makes your specific setup look best.

Joby Gorillapod 3K Tripod
Retail Price: $79.99 | Best Recent Sale Price: $40
If you're on a budget, get the most out of your smartphone. The Gorillapod 3K starts at $80, but it can usually be found for $40 or less or in a kit with easy mount grips. With this tripod, you can attach your phone to almost anything. and the bendable legs also make it easy to find the perfect angle.
Logitech C920S HD Pro 1080p Webcam with Privacy Shutter
Retail Price: $79.99 | Best Recent Sale Price: $50
For a portable, all-in-one solution, the Logitech C920S is your best bet. Complete with privacy shutter, it usually sells for $200, but that has dropped to as low as $50. That's one of the best prices you'll get on such a reliable and popular brand, and it usually stays within $20 or so of that price.
Amazon Echo Show 8"
Retail Price: $129.99 | Best Recent Sale Price: $75
The Echo Show 8" can be put pretty much anywhere, freeing you up to use your laptop in meetings. And, even better, it's almost always on sale, often for as low as $90. It's occasionally been seen for even lower at $75 or $130 for a two-pack, you can share with a friend.
Recommended Microphones
When relaying ideas audio is just as important as video, and the most powerful webcam in the world won't do you any good if no one can understand what you're saying. All of these microphones will make it much easier for your colleagues to hear what you're saying, and most can be had without breaking the bank.

Audio Technica ATR-1100
Retail Price: $20 | Best Recent Sale Price: $5-$10
Audio Technica is a professional brand beloved for high quality and low prices, and the ATR-1100 is as simple as microphones get. It even comes with a clip to stand it up, all for $20. But you can find it below $10 at most outlets. That said, check your laptop to ensure you don't need a converter, usually $5 – $10, to connect the 3.5mm jack to USB.
AmazonBasics Portable USB Condenser Microphone.
Retail Price: $35 | Best Recent Sale Price: $6
A very simple clip-on microphone that plugs into a USB, with no drivers to install. It's also light on the budget, with deals on the usually $35 microphone dropping to as low as $6.
Blue Yeti
Retail Price: $129 | Best Recent Sale Price: $65
The standard Blue Yeti USB microphone is a sturdy choice beloved among streamers and other heavy video users, and it can be found for a fairly good price. It usually sells for approximately $100, but factory refurbished models regularly go on sale for $65 or less.
When we reviewed the updated Blue Yeti X microphone in 2019, we found it was just as good as the original Blue Yeti, but not significantly better. So if you're hoping to save a little money, you can feel secure opting for the slightly older model.
Related: Blue Yeti X Microphone Review
Tips for Video Conferencing Like a Pro
Now that you've got the right gear, it's time to think about how you present yourself while on-camera. These tips will help you cast an air of professionalism, even if you're secretly holding a meeting in your bedroom.
Set Up a Professional Space
Start with where you usually take your webcam meetings. Pick out a comfortable space with good seating and then look behind you and consider your audience. If you're just chatting with coworkers, that Metallica poster is probably fine. But if you're interviewing for your next job, perhaps it's best left out of frame.
Similarly, fire up your webcam and take a look at the wall behind you. What can be pleasant and soothing to the eye can be ugly on camera, so get a sense of how it looks, and then consider hanging a neutral tapestry or similar background element behind you.
And don't forget sound: lay tablecloths or towels over hard, reflective surfaces like desks to reduce echoes.
Light Yourself Right
Have you ever opened a webcam and wondered why you look blue? Blame your laptop. All light has what's called a "color temperature." If you have two different temperatures, your camera will correct for one, leaving in the color of the other; this leads to the blue tint seen on webcams in dimly lit rooms.
Angle of light also matters. Light coming at a downward angle tends to put shadows over our eyes, for example.
While you don't need to set up a professional lighting rig in your house, some basic light control will go a long way. If you have light streaming through your windows, for example, try to sit so the light hits you from the side and turn down the brightness on your monitor. If it's night, place a lamp next to you out of frame. Use diffused light — such as a lamp with a shade — to soften shadows (which are exacerbated by direct light).
Get The Right Angle
Webcams in laptops aren't placed to make you look good; over the monitor, dead-center, is simply the most convenient place to put them. As a result, some of us have a camera that aims straight up the nose, while others have it looking at their forehead.
Sit down with your phone in selfie mode, hold it steady, and sit comfortably. Then move it up and down, and rotate it up or down as you move it, until you find an angle that looks good to you. Have somebody else measure the height, so you know where to place your camera.
Make sure to sign up for Deal Alerts on anything you see that would improve your virtual meetings.
RELATED:
Our editors strive to ensure that the information in this article is accurate as of the date published, but please keep in mind that offers can change. We encourage you to verify all terms and conditions of any product before you apply.