What to Look for in Your First DSLR Camera
There's more to a DSLR than just megapixels. We've got tips to help you find the right DSLR for your budding photography hobby.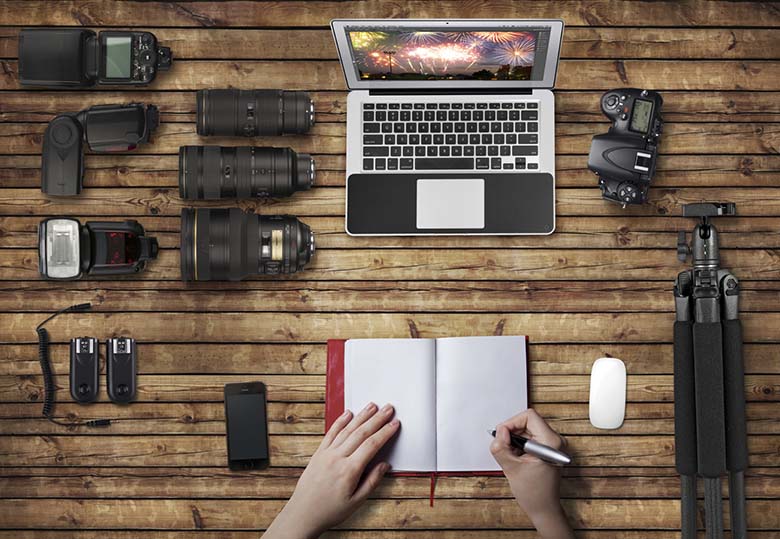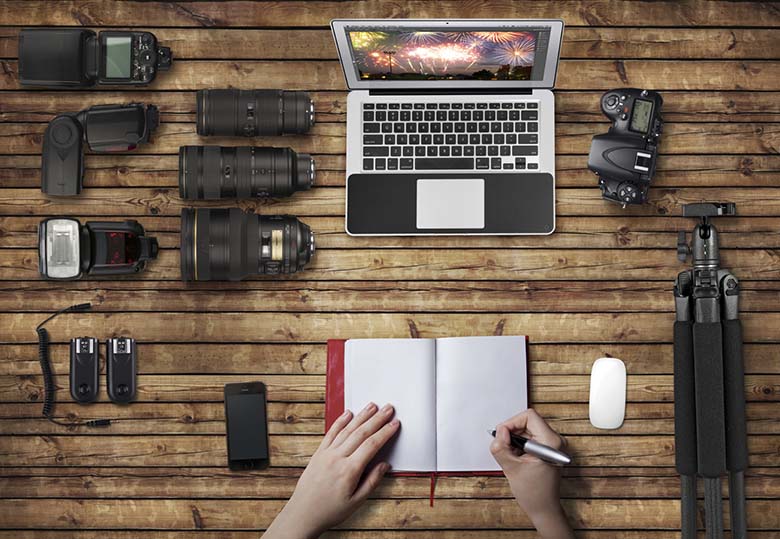 Point-and-shoot cameras are fine if you're just taking pictures of your pets or family to post online. But if you really want to up your game and take photography a bit more seriously, it's probably time for a DSLR.
What is a DSLR camera? DSLR is the initialism for a Digital Single-Lens Reflex camera, and it's the gold standard for anyone interested in digital photography. There are a lot of options for DSLR cameras on the market, and with all the in-depth camera reviews it can be easy to become overwhelmed by the jargon.
We took a look at four of the best DSLR cameras for hobbyists currently on the market, so you can find the best camera for your lifestyle and budget.
Which DSLR is Right For Beginners?
A good camera grows with the photographer. You'll want a camera that pairs with your style of photography; some are better for actions shots and some are made for low-light settings. This is where you ask yourself, "What exactly does the camera need to do to best fit my needs?"
The biggest mistake people make when they start camera shopping is looking exclusively at the megapixel (MP) count and nothing else. High resolution and a nice zoom range don't make cameras great. See, even beginner-level DSLR cameras have different strong points depending on how you want to use them, which is why DSLR comparisons are so important.
For example, someone interested in sports and action photography should look for a fast shutter speed and high sensitivity options (ISO).
If you're a nature enthusiast, you're going to want something lightweight and durable with built-in image stabilization (IS). If you want to get into wedding and portrait photography, look for fast auto-focus and high frames-per-second continuous shooting.
As far as lenses go, make sure you get comfortable using the camera in manual mode with the basic kit lens before you think about purchasing additional lenses. As we discussed in this article, once you start realizing the limits of the kit lens, you will have a better idea of what kind of lens to buy next.
There are four common types of lenses: fisheye, macro, telephoto, and wide-angle. It is not necessary to have one of each, but it never hurts to have a good telephoto and wide-angle lens on hand.
Our Top Choices for Entry-Level DSLR Cameras
Nikon D3500: MSRP $499.95
Key Features
• Produces high-quality images with fine details
• Ultra Lightweight body at only 12.9 oz.
• Well designed with large comfortable grip
• ISO up to 25,600 and over 1,500 photos per charge
• Built-in wireless and Bluetooth connections to control from a smartphone
The Best DSLR Camera For:
• Beginning photographers
• Nature/landscape photographers
• General hobbyist photographers
What We Like About It
The D3500 is arguably the best budget DSLR on the market. It's super easy to use, with a built-in Guide Mode that helps beginners learn the ropes. But the best thing about this camera is that it isn't just for the amateur hobbyist.
Once you feel comfortable, you can switch into manual mode and enjoy the ride. This camera is made to grow with the photographer as their skill improves.
The battery in the D3500 can last up to 1,550 shots, and it has a whopping 24.2 MP sensor. The D3500 uses the standard SD/SDHC/SDXC memory cards, and has a 3-inch TFT-LCD screen to boot. This latest Nikon is also one of the smallest and most portable DSLRs at only 12.9 oz.
Tips For Buying Your First Nikon DSLR Camera
If you want a new D3500 at a good price, you'll have to play the waiting game. This camera hit the market in late-2018, but look for holiday shopping discounts from your favorite retailers for a possible digital camera sale.
---
Canon EOS Rebel T7: MSRP $549.99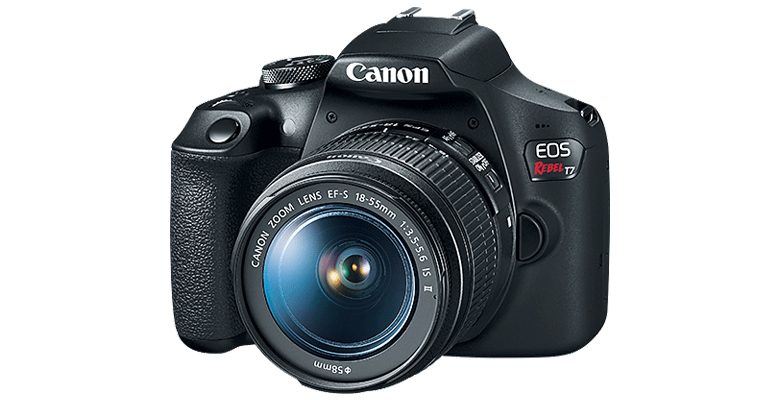 Key Features
• Lightweight and compact design
• Built-in Wi-Fi and NFC connections
• On-screen shooting guides for beginners
• Large 24.1 Megapixel CMOS sensor
The Best DSLR Camera For:
• Video enthusiast
• Beginning Photographers
• General hobbyist photographers
What We Like About It

The Canon EOS Rebel T7 is a good camera for any Canon fan on a budget. The T7 is an easy-to-use camera that's great for the budding photographer, but also has the ability to keep up with more advanced users.
This camera is a step down from the Nikon D3500 in functionality, but the EOS Rebel series finally stepped up to a 24.1 megapixel resolution and is closing the gap.
In addition, according to one Slickdealer, Starralazn, the Rebel series of cameras generally shoot better video than the Nikon. This might be the better device for those interested in capturing video, in addition to still photography.
It's no surprise that Canon was the most popular camera brand on Slickdeals last year, followed by Nikon. The newer T7 holds its own with fast and accurate 9-point autofocus system and built-in Wi-Fi.
Note that the T7 should not be confused with the T7i, which increases the price but provides additional features. This camera also includes an on-screen guide and a movie mode for those that need a little help getting started.
Tips For Buying Your First Canon DSLR Camera
You can find the T7 with an 18-55mm IS lens exclusively at Canon's online store with free shipping. As an added bonus, Canon also includes a free online photography class titled "Photo 101: How to Take Great Photos."
The T7 was released in March of 2018, so be patient and look for it to pop up at other retailers at a discounted rate. Be sure to also keep an eye out for great Canon deals and coupons by visiting our Canon store page regularly.
---
Pentax K-70 MSRP: $649.95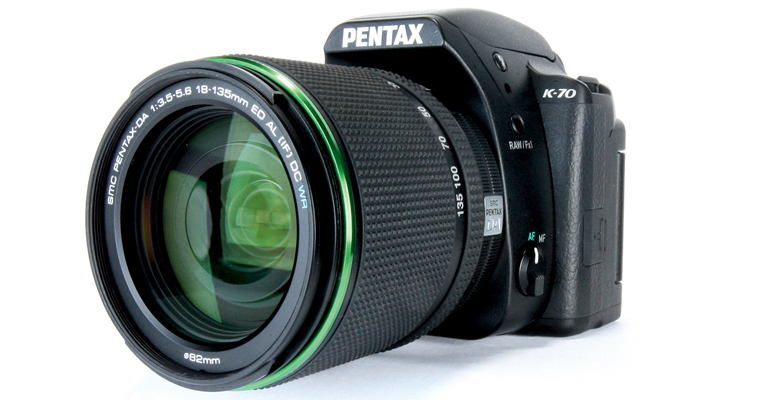 Key Features
• Weather sealed body
• 24.24 Megapixels and built-in Wi-Fi to sync with phone app
• Wide ISO range from 100 – 204,800
• Pixel Shift Resolution with Motion Correction AA Filter
The Best DSLR Camera For
• Mid-level hobbyist photographer
• Sports/action photographers
• Fashion/wedding/portrait photographers
• Travel/outdoor photographers
What We Like About It
The Pentax K-70 comes with a 24.24 MP sensor and hardcore weatherproof casing. If you are looking for a camera that travels well through the elements, this is the one for you.
The K-70 is built tough with a dust-proof and cold-durable case and Pentax SR in-body shake reduction. This bad boy can still function in temperatures as low as 14°F.
Because the functionally is not as user-friendly as the Nikon and Canon, this isn't the best device for DSLR beginners who've never used a camera before.
However, anyone with moderate experience should catch on fast enough. The K-70 is capable of taking great pictures and it comes in a couple of different colors, including silky silver or black.
Tips For Buying Your First Pentax DSLR Camera
This is another relatively new camera, but prices are beginning to drop at major retailers. You can find it at places like B&H, Amazon, or Newegg for just under $650 with free shipping. Newegg's deal includes various accessories like a memory card, extra battery, and case for just over $700.
---
Sony a68 MSRP: $599.99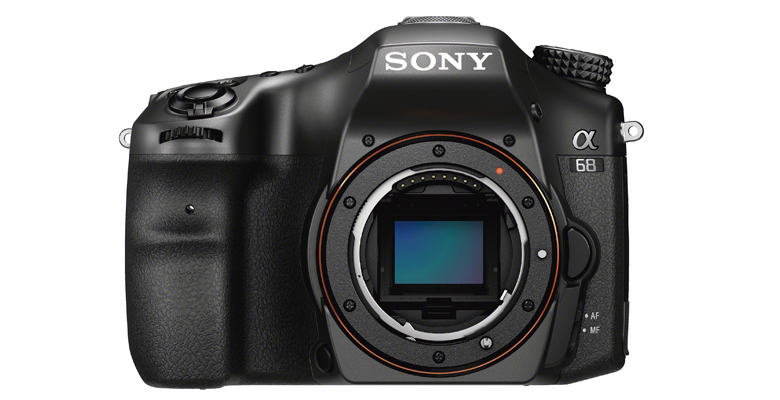 Key Features
• Lightweight and durable case
• 79-point phase-detection autofocus system
• Pull out LCD screen
• Red-eye and noise reduction software
Who Should Buy It
• Street Photographers
• Mid-level hobbyist photographers
• Travel/Outdoor Photographers
What We Like About It
If you don't want to hop on the Canon/Nikon bandwagon, then Sony is a nice way to go. The Sony a68 is a camera best suited for the hobbyist photographer with previous experience.
You don't have to be an expert to operate this camera, but you'll need to be experienced enough to navigate through the multiple levels of screen menus. The a68 is a solidly built camera that weighs about the same as the Canon Rebel.
One cool feature we love is a pull out 2.7-inch LCD screen. This makes taking over headshots easier. It has a 24.2 MP sensor and the capacity to make even the budding photographer happy.
Tips For Buying Your First Sony DSLR Camera
The price for Sony's entry-level DSLR cameras have risen and most outlets, including B&H and Amazon, have it listed for $598 (body only) with free shipping. Consider waiting for Black Friday/Cyber Monday or wait for specific retailer discounts for cameras.
B&H especially has had great discounts specifically geared towards Sony DSLRs.
When is the Best Time to Buy a DSLR Camera?
The downside to photography is that it's an expensive hobby, so knowing the best time to shop for camera deals is a necessity if you're serious about it. New camera models usually come out early in the year, which means older models get marked down to make room.
The Canon online store had an amazing deal on a refurbished Canon T6, including two lenses, earlier this summer for just $270. The best strategy here is to pay attention to new camera releases and start stalking stores about a month before the release date for sales on the older models.
President's Day weekend and Cyber Monday are two of the best times of the year for camera shopping. Amazon had several DSLR cameras marked down during the 2016 and 2017 Cyber Monday sales.
This year is sure to bring even more great sales from retailers like Walmart, B&H, Newegg, Best Buy, Target, and Adorama. Before purchasing, remember to check Slickdeals for additional sales and coupon codes that could save you even more money.
Image courtesy of Amazon.com, BestBuy.com, PentaxWebStore.com, Store.Sony.com.
---
Any product or service prices/offers that appear in this article are accurate at time of publish, and are subject to change without notice. Please verify the actual selling price and offer details on the merchant's site before making a purchase.