8 Ways to Save Money at Whole Foods
Who says shopping at Whole Foods has to break the bank?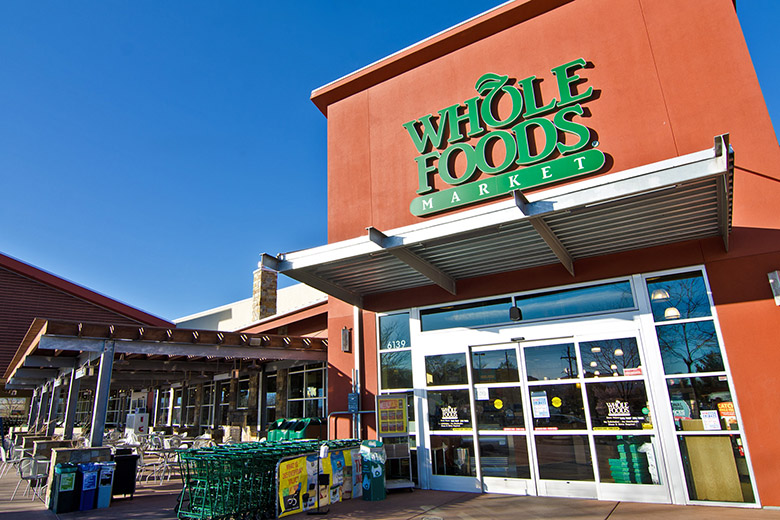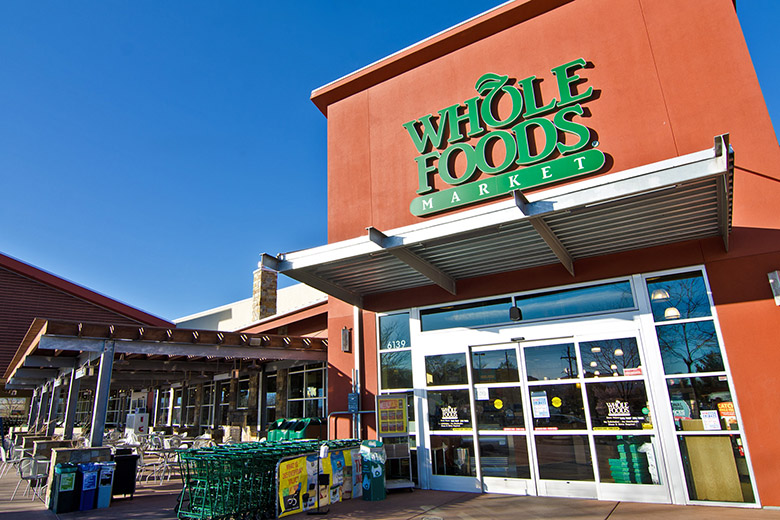 Whole Foods doesn't exactly have a reputation for being the most budget-friendly grocery store, but do they really deserve that label? As a health-conscious mom (and wife to a Paleo-addicted husband), I'm always on the lookout for fresh, organic grocery items, from hormone-free meats to local produce to non-GMO snacks.
My neighborhood Whole Foods recently invited me in for a private "value tour." Here, an insider tipped me off to some simple ways to make the most out of my grocery budget. Ready to unpack the goodies? Here are eight easy ways to save money at Whole Foods.
1. Save 10% When You Buy in Bulk

I'm a huge believer in the power of bulk shopping. (My Costco membership saves our family over $650 per year.) Stretch your dollar further at Whole Foods by bulking up on your favorite products. Buy a case of pretty much any product — including cases of wine — and they'll knock 10% off your bill. Speaking of wine, their selection is pretty on point; I came across a number of artisan bottles for under $10. Opt for six, which makes up a case, and you'll snag that 10% discount.
2. Sample Everything Before You Buy
Not sure if you really want to drop your hard-earned cash on a box of organic cereal bars? The good news is that the store lets you taste test virtually any product to see if you like it before buying; all you have to do is ask an employee.
3. Create Custom Product Portions (and Prices!)

A lot of us end up losing money due to waste (i.e. throwing away food that spoils before you get the chance to eat it). In many Whole Foods departments, you can actually request specific item portions. Only need half a melon? Or a 2 oz. chunk of cheese? Or a single fish fillet? Just ask; they'll usually accommodate and then price accordingly. When it comes to shopping organic, these little savings add up quickly.
Not every store has this, but my Whole Foods also has a separate bulk section where you can portion out your own granola, nuts, dry fruit, candy and more. My local farmers' market, for example, sells big bottles of local honey for $10; I was able to get a slightly smaller bottle for $5 at Whole Foods by selecting my own size and pouring it myself. A little sticky? Sure, but totally worth it.
4. Take Advantage of Whole Foods Coupons and Storewide Savings
Near the store entrance, Whole Foods displays their latest coupon book. The current collection offers more than $45 in savings, like $2 off their 365 natural laundry detergent and $1.50 off any 12 oz. box of Whole Catch frozen fillets or steaks. In addition to coupons, great deals are also hiding in their weekly circular — like almost $3 off bundles of select blackberries, half-off organic chicken sausage and more. During my tour, wild-caught Key West pink shrimp was marked down from $14.99 per pound to $9.99, which I probably would have overlooked if I hadn't seen the circular.
5. Download the App
This is a biggie, as it unlocks even more savings. The Whole Foods app offers exclusive coupons, such as $5 off a $20 fresh produce purchase, $2 off house-made guacamole, or $5 off fresh or frozen meat and poultry. You can find Whole Foods store hours, locations, and special events in the app as well.
6. Opt for the Salad Bar Over the Produce Section
In-the-know Whole Fooders on the lookout for smaller portions often bypass the produce section all together. The salad bar is a great pit stop for a whole slew of ready-to-eat (or cook) grocery items. Expect everything from cooked corn to rice to berries and more.
7. Buy Seasonal Fruits and Veggies

Buying in-season produce is a great way to cut cost at any grocery store. Whole Foods' prices are usually the lowest during peak harvest time, thanks to the overabundance. In Florida, we're at the tail end of strawberry season. During my tour, bundles of organic strawberries were on sale for $3.99, which is about $2 cheaper than my regular local grocery store.
8. Ask About Local Store Promotions
Check with your local Whole Foods store to see if there are any on-going promotions. For example, my neighborhood Whole Foods store hosts a monthly Yelp Check-In Tuesday, where they give away a full-size Whole Body product to anyone who visits the store and checks in on Yelp. Free body care products? Yes, please!
*****
At the end of the day, Whole Foods may not be the cheapest grocery store around, but shopping there certainly doesn't have to break the bank. There are actually some great savings to be found for those who are willing to invest a little time and energy into their shopping approach. For many of us, buying local, organic grocery items is important, so every little bit helps.
My private value tour definitely convinced me that my local Whole Foods is a bit of a hidden gem. For things like organic meats, eggs and milk, Costco is pretty tough to beat, but Whole Foods definitely wins out over my local big-chain supermarket where organic produce, snacks, condiments and household products are concerned. Their prices, especially for their in-house 365 brand, are the same, if not cheaper, and their selection is way more comprehensive.
What do you think? Is Whole Foods worth exploring for budget-minded shoppers? Share your thoughts in the comments below!
Our editors strive to ensure that the information in this article is accurate as of the date published, but please keep in mind that offers can change. We encourage you to verify all terms and conditions of any product before you apply.