Our Favorite Black Friday 2021 Tech Deals
Did you snag any of the top-rated Black Friday tech deals of 2021?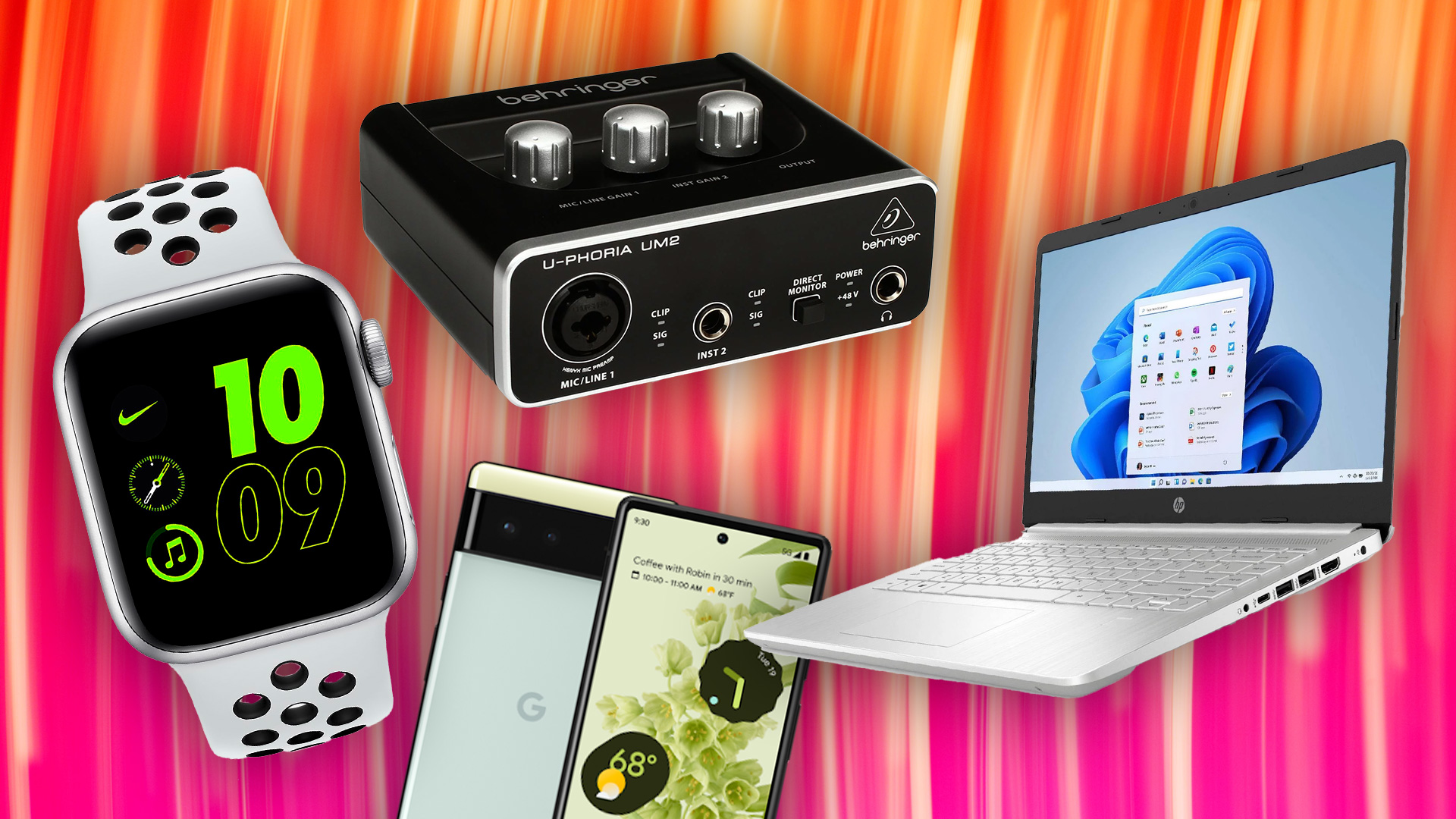 Now that packages are finally arriving and the season of holiday gift-giving is soon to be underway, we can finally look back on Black Friday in retrospect and assess which deals stood out from the rest. The global supply chain disruption may have changed the shape of this year's Black Friday season, but longer sales don't necessarily mean lesser savings. From big-ticket items like smartwatches to microSDXC cards and other utilitarian tech accessories, we've analyzed this year's most popular posts to find the most popular deals posted on Slickdeals throughout the Black Friday shopping season.
The Most Popular Black Friday Tech Deals of 2021
It's impossible to objectively quantify which Black Friday deals were the best, so we rely on community metrics to determine the top Black Friday and Cyber Monday deals of 2021. In order to find the best deals from the holiday shopping season thus far, we've compared Deal Scores, total page views and user engagement across every Black Friday deal thread on the site.
Based on what we've found, these are the top-rated holiday deals according to the Slickdeals community:
14TB WD easystore External USB 3.0 Hard Drive

Sale Price: $249.99 | Reg. Price: $419.99
You can't put a price on the peace of mind that comes with knowing that your data is secure and easily accessible, but $200 is a downright steal for 14 terabytes of external HDD storage — especially from a brand as reputable as WD. Thanks to Best Buy's ongoing storage recycling promotion, a few Slickdealers were able to apply a 15% coupon to the sale price, bringing the total down to $169.99.
It's also worth mentioning that WD's easystore drives are a popular choice for data hoarders looking to save a few bucks on pricy WD Red internal drives. If you're handy, you can shuck the easystore drive out of its enclosure and use it as internal storage for another compatible device (and save a couple hundred dollars in the process).
256GB Samsung EVO Select Plus microSDXC Card

Sale Price: $24.99 | Reg. Price: $39.99
Budget-conscious photographers and gamers are always on the hunt for storage that strikes a good balance between reliability and affordability, so it makes sense that Amazon's 37% discount on 256GB Samsung EVO Select microSDXC cards was well received by the Slickdeals community.
The card's V30 designation means that write speeds will never fall below 30MB per second, ensuring consistent high speeds for video projects and other data-intensive activities. This is the all-time lowest price we've seen on this relatively new product from Samsung's EVO series, even cheaper than most slower, older 256GB Samsung microSD cards.
Apple Watch Nike SE 40mm GPS Smartwatch
Sale Price: $200.78 | Reg. Price: $279
This 40mm Nike-branded Apple Watch dropped to its all-time lowest price on Cyber Monday, a rare treat for those who have spent the year white-knuckling through meager $15 to $30 discounts in search of a better deal. The 40mm Nike Apple Watch SE was already 10% off before any other discounts were applied, but accessing this deal required a Nike+ membership (which is free to join) and a Cyber Monday coupon code. Some particularly industrious users were even able to combine this Nike store offer with third-party cashback offers that kicked back 10% to 20% of the total.
128GB Google Pixel 5a, Unlocked

Sale Price: $399 | Reg. Price: $449
There may not have been many substantial discounts on the brand new Google Pixel 6 smartphone, but this record-breaking markdown on its most recent predecessor more than makes up for it. The Pixel 5a comes with IP67 water resistance, top-rated cameras, nearly 10 hours of battery life and even a 3.5mm headphone jack — a widely-beloved feature that has become nearly impossible to find in 2021. For what it's worth, the Google Pixel 6 certainly doesn't have one.
HP 14″ Laptop with Intel Core i3 11th Gen Processor, 4GB RAM Memory and 128GB SSD
Sale Price: $269.99 | Reg. Price: $469.99
Simply put, you'd be hard-pressed to find a better deal on a budget PC laptop than this pre-Black Friday HP deal from Target. Slickdealer Deelseaker put it best in the original deal thread:
This is absolutely a front page deal. The RAM and the storage are on the low end, but it has the quad-core version of an i3 (vs. a dual-core in most budget laptop deals). If I had to settle for a budget laptop, I'd rather have a faster CPU and an IPS screen. Especially if RAM and SSD can later be upgraded (which I haven't verified).
There were plenty of deals on serviceable, inexpensive PCs during Black Friday, but separating the worthwhile machines from last year's leftover parts can be a gamble – especially if you're a tech novice just looking for a decent social media scrolling machine that costs less than $300. This laptop's quad-core Tiger Lake i3 processor came out less than a year ago and seems to have a good reputation, so you can rest assured knowing that your new budget laptop is well worth the price.
Amazon Fire TV Stick 4K Max Streaming Device with Alexa Voice Remote (2021 Model)

Sale Price: $34.99 | Reg. Price: $54.99
Black Friday is historically a great time to get a lower price on once-expensive new tech from the previous year, but you might get lucky and score a 36% discount on the most recent (and advanced) addition to the Amazon Fire TV Stick lineup, the Fire TV Stick 4K Max. Packed with 8GB of storage, 2GB memory, Wi-Fi 6 support and 4K Dolby Vision support, the Fire TV Stick 4K Max is one of the most versatile and capable streamers currently on the market — even at full price.
Three Month Xbox Game Pass Ultimate Membership

Sale Price: $24.99 | Reg. Price: $44.99
Xbox Live Gold provides unlimited access to more than 100 titles across multiple devices. A three-month subscription is a decent deal at $45, but it's a downright steal for just $25. Most current Xbox users don't qualify for the three-month free trial offers that tend to crop up around the holidays, so this deal was a popular pick for Xbox gamers and those who love them. Quantity was limited to three per customer, but luckily GameStop wasn't the only one offering the deal. By shopping this Xbox Game Pass deal at other retailers like Target, some industrious gamers took home over a year of Xbox Game Pass Ultimate.
Nintendo Switch Pro Controller

Sale Price: $49.99 | Reg. Price: $69.99
Nintendo may not offer many discounts on the Nintendo Switch Pro Controller, but Target picked up the slack by knocking it down to its all-time low price on Cyber Monday. The Pro Controller is designed with long term player comfort in mind and has joysticks less prone to wandering than that of the Joy-Cons, which frequently require replacement. For Switch fans sick of buying new Joy-Cons every year, this Pro Controller deal was long overdue.
Behringer U-Phoria UM2 USB Audio Interface
Sale Price: $19 | Reg. Price: $73.50
The Behringer U-Phoria UM2 may not be super expensive at full price, but don't underestimate the sheer ecstasy musicians and podcasters must have felt upon finding a trustworthy audio interface from a respected brand for nearly 75% off. The U-Phoria UM2 comes with two channels, +48V phantom power and a sleek, svelte chassis that can travel and doesn't take up much desk real estate. Even if your mini USB interface takes a beating over time, it only costs $20!
Select Amazon Accounts Get $10 off $20+ Orders with Amazon Hub Pickup

This Amazon deal was technically posted a couple days after Black Friday and Cyber Monday ended, but it could be a valuable tool in your holiday shopping arsenal if you qualify for it. When you use Amazon's 10PICKUPCODE coupon code, you can save $10 on your purchase of $20 or more by opting to pick up your shipment from an Amazon Pickup Hub location. This offer runs through December 31st, so it's worth checking out as you prepare for the holidays.
Black Friday might be over for 2021, but don't underestimate those last-minute holiday crunch deals. If you set a Deal Alert for something you'd like to buy on sale, we'll notify you when someone posts a deal you might like.
More to consider:
Our editors strive to ensure that the information in this article is accurate as of the date published, but please keep in mind that offers can change. We encourage you to verify all terms and conditions of any product before you apply.