This Holiday's Best PlayStation 4 Bundle Deals
Get great discounts on Call of Duty: Black Ops 4 and Spider-Man bundles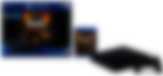 Sony's PlayStation 4 (PS4) game console is entering its fifth holiday season since a 2013 release, and is still going strong in both popularity and sales. If you're looking to pick up Sony's market-leading console this Christmas, there are three excellent hardware deals on offer, including options for both the PS4 Slim and the higher-end PS4 Pro, which is better suited to today's 4K TVs.
PlayStation 4 Slim 1TB Call of Duty: Black Ops 4 Bundle for $299.99
Several retailers are offering this great bundle deal - at $299.99 you're essentially getting Call of Duty: Black Ops 4 at no additional cost with a 1TB PS4 Slim console in Black. Here's a quick list of links to all the retailers currently offering this bundle deal:
PS4 Slim 1TB Spider-Man Bundle

Two outlets are offering a discount on the Spider-Man PS4 Slim bundle, which comes with the Sony-exclusive game packed with a 1TB console in black. Prices vary between retailers.
B&H Photo - Has the cheapest price we've seen at $319.99, with free expedited shipping.
Walmart - Same bundle but for $329.61, and only regular shipping is free, but you can opt to pick up locally.
Red Dead Redemption 2 PS4 Pro Bundle for $399.99
Red Dead Redemption 2 was just about the most hotly anticipate game of the holiday season, and you can essentially get it for free with the purchase of the Red Dead Redemption 2 PS4 Pro bundle for $399.99. GameStop and Best Buy are both offering said deal, and it's pretty much the best deal we've seen on Sony's high-end console.
Buy Now from Gamestop Buy Now from Best Buy
---
Any product or service prices/offers that appear in this article are accurate at time of publish, and are subject to change without notice. Please verify the actual selling price and offer details on the merchant's site before making a purchase.