The Best KitchenAid Mixers of 2019
We're looking at five options to help you decide which KitchenAid mixer is the best fit for your kitchen.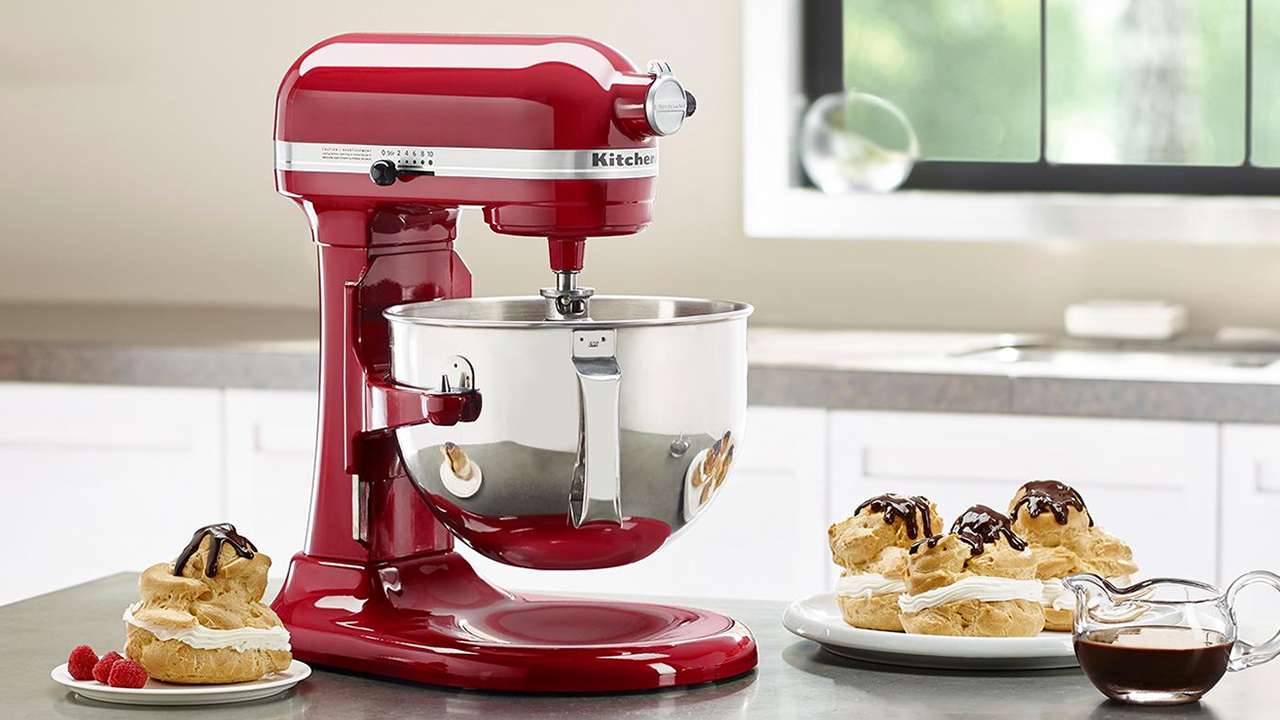 If you're still mixing dough and grinding meat with your hand-mixer, it's time to treat yourself — and we don't mean with your own baked goods. A KitchenAid mixer is a welcome addition to any kitchen, no matter what you're whipping up.
From cheesecakes to breads to meats or even noodles, the following KitchenAid mixers all excel at different arts. Some are heavy and designed for the toughest of jobs; while others are lightweight or proffer a modest price tag.
To help you find the best KitchenAid mixer to suit your needs, we're taking a look at five different models, examining pros, cons and everything in between.
KitchenAid Mixer Buyer's Guide
Pro Line 7 Qt. Bowl-Lift

Big Batch Friendly

Classic 4.5 Qt. Tilt-Head

Best Value

Commercial 8 Qt. Bowl-Lift

Industrial Strength

Artisan 5 Qt. Tilt-Head

Most Versatile

Professional 600 6 Qt. Bowl-Lift

Best for Bread
KitchenAid Pro Line Series 7 Qt. Bowl-Lift Stand Mixer
The Verdict: For the serious pastry chef that frequently needs a larger mixer for big batches of baked goods.
Pros: Bowl-lift system allows for stability with large batches of ingredients. Attachments and bowl are easy to clean.
Cons: Defective units have been received by some consumers. Price is very high at $629.99.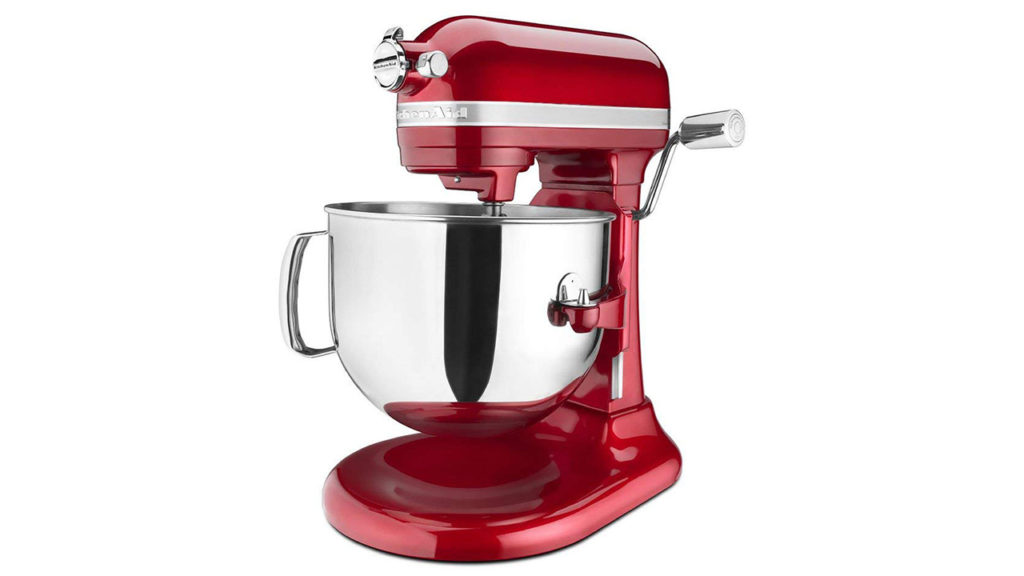 By mixer standards, the Pro Line series' 1.3-horsepower motor is very robust, and allows for consistent mixing of both modest and massive amounts. Its 14 available attachments transform this stand mixer into everything from a pasta maker to an ice cream machine.
The bowl-lift design assures support for large or heavy ingredients, while the bowl itself is elevated into an ideal position to create stability, even when you're doing that triple batch of cookies. As an added bonus, the accessories are dishwasher-friendly, making cleanup easy as… pie. However, this mixer is priced high at roughly $630, and it's likely overkill for the casual baker.
KitchenAid Classic Series 4.5 Qt. Tilt-Head Stand Mixer
The Verdict: Great value and convenience. This small mixer is inexpensive (in comparison) and will satisfy the cook that doesn't need a mixer daily.
Pros: Kneads dough and beats competently. Mid-size offering with a mid-size price tag of $259.99.
Cons: Large and heavy for the smaller bowl size. Head not easy to adjust, making adding ingredients in after the fact more difficult.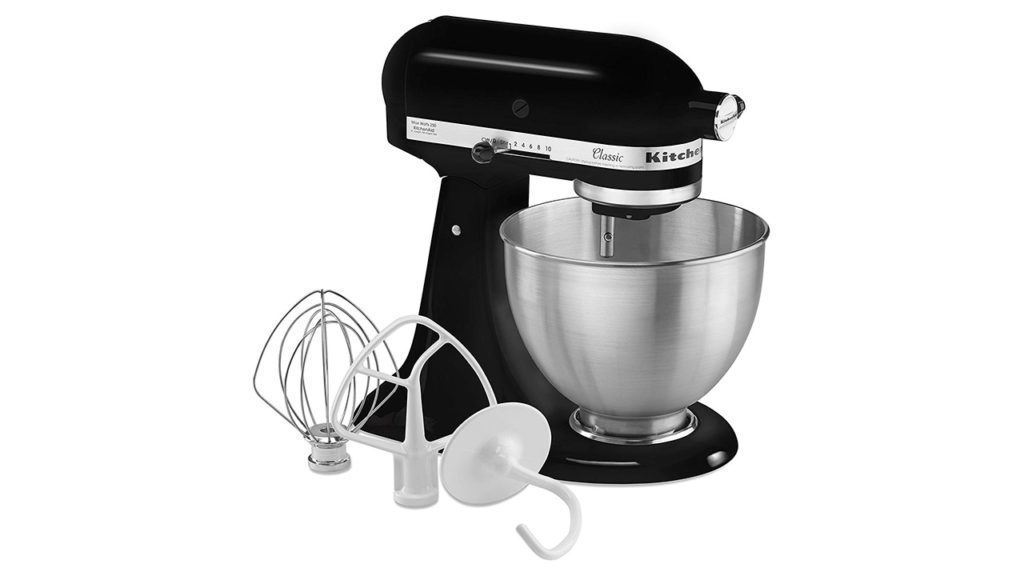 A great value and friendly for small kitchens, this mixer from KitchenAid boasts 10 speeds and 10 optional attachments. It's also designed with a "Soft Start," which keeps the cook from getting covered by ingredients that are churned too quickly at the start.
This offering is smaller than the 7 qt., but claims that it can make up to six-dozen cookies in a single batch. Its strength lies in its usability for bakers, especially those who enjoy making bread. This mixer kneads dough well and is a godsend for cheesecakes and cookies, according to some users.
KitchenAid NSF Certified Commercial Series 8 Qt. Bowl-Lift Stand Mixer with Stainless Steel Bowl Guard
The Verdict: Massive and powerful mixer designed for frequent use. Not perfect for an actual restaurant, but industrial enough to make your kitchen feel like one.
Pros: Steel bowl guard prevents unwanted tidbits from entering bowl. Industrial size makes large batches easy to work through.
Cons: High risk of breaking, according to consumers. Not ideal for casual use, and expensive at $749.99.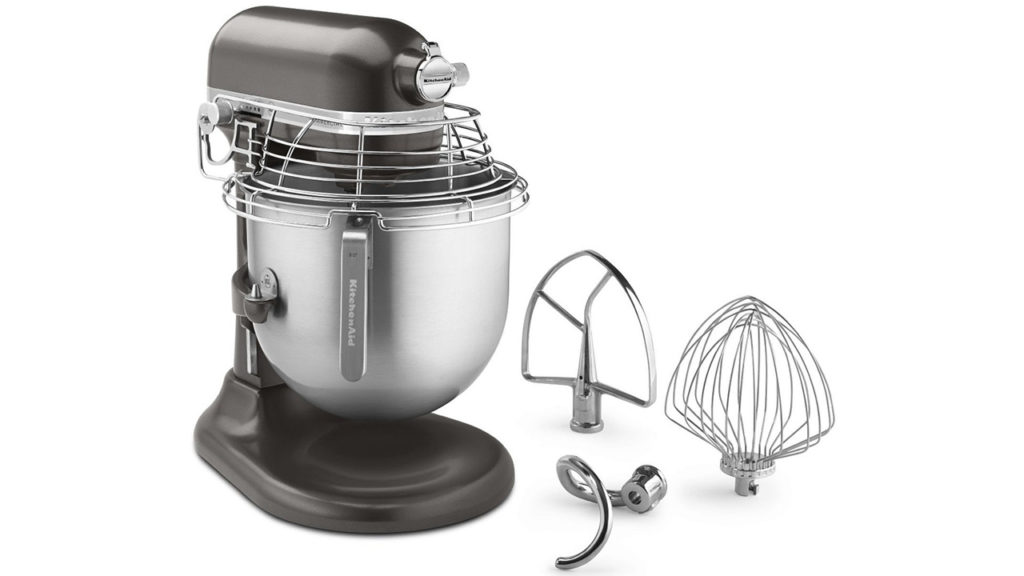 The name's a mouthful, but this heavy-duty mixer is one of KitchenAid's more industrial offerings priced at $749.99. Like the 7 qt. mixer, this product has a 1.3-horsepower motor, which is efficient and long-lasting. Given its price and size, this mixer is definitely not for casual use. And while it would likely not keep up with the needs of a restaurant, it would be ideal for a home-based business.
Additional features include a flat beater, a stainless steel wire whip and a spiral dough hook. This mixer will power through impressive amounts of dough and batter, where smaller mixers may falter. The bowl guard needs to be unscrewed to be thoroughly cleaned, but does help keep unwanted items from getting inside during use.
KitchenAid Artisan Series 5 Qt. Tilt-Head Stand Mixer
The Verdict: Offers flexible use cases for those with a wide range of cooking/baking interests. This modest offering features a mid-range price point and a variety of attachments that will handle everything from dinner to dessert.
Pros: Versatile for multiple types of cooking. Includes pouring shield with purchase. Many color options.
Cons: Bolts and pins known to not last, according to some consumers. May not hold up as well for long-term use.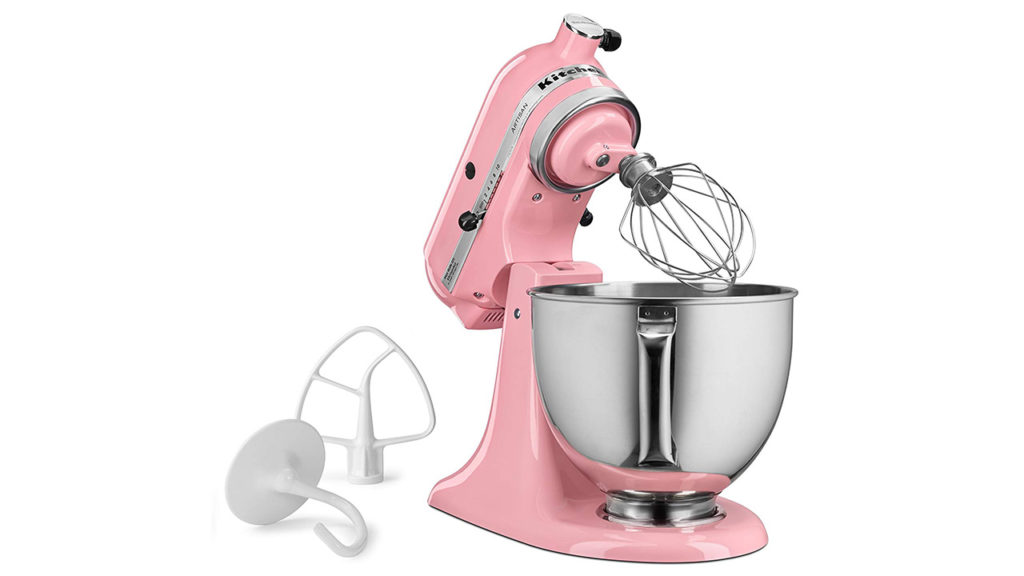 This popular mixer from KitchenAid's Artisan series carries a smaller footprint and excels in its ability to transform for multiple uses, although some reviews note that it may not last for the long term. Attachments range from those that can mash burgers to roll out pasta. The stainless steel bowl is dishwasher safe, making cleaning up the chaos easy and quick.
This mixer comes with a coated flat beater, a coated dough hook, a six-wire whip, and a pouring shield. The pouring shield is normally a $20+ separate accessory, providing extra incentive to invest in the $379.99 value of this product.
KitchenAid Professional 600 Series 6 Qt. Bowl-Lift Stand Mixer
The Verdict: Ideal for baking bread and grinding meats. The power and size of this mixer make it a good match for heavier ingredient loads that might otherwise challenge smaller mixers.
Pros: Capable of handling dense mixtures. Can use food grinder attachments. Quiet and efficient.
Cons: Beater position makes it difficult to whip anything in. Initial quality is questionable, according to some consumers.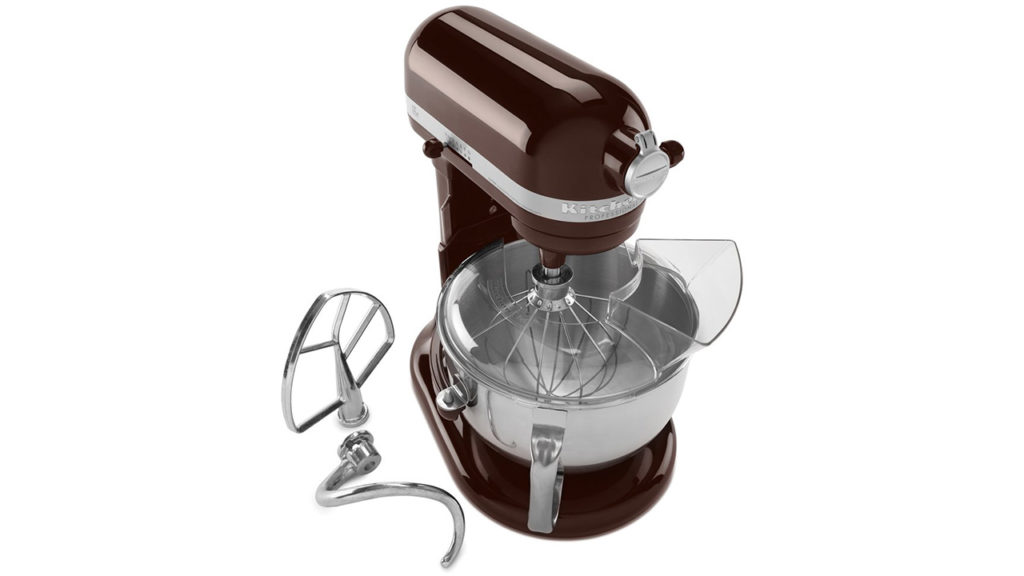 Helpful for general food prep, this powerful and quiet "professional" variant comes in at $499.99 and offers a wide variety of colors. It also features 67-point "planetary mixing action." This mixer handles grinding meat and kneading heavy loads of dough well, according to consumers. More than 15 optional attachments help to transform this mixer into whatever your kitchen needs.
Quality may, unfortunately, be an issue with this mixer. Many consumers have reported issues concerning the mixer overheating or cracking. Still, this KitchenAid offers 10 speeds, and accessories include a coated flat beater, a coated spiral dough hook, and a wire whisk.
Find the best deals on mixers and other cookware on our Kitchenware Deals page. Alternatively, set a Deal Alert for your favorite KitchenAid mixer to make sure you get the best price.
Our editors strive to ensure that the information in this article is accurate as of the date published, but please keep in mind that offers can change. We encourage you to verify all terms and conditions of any product before you apply.