The Best Vacuums of 2019
These are our top five recommendations for vacuum cleaners based on value and performance.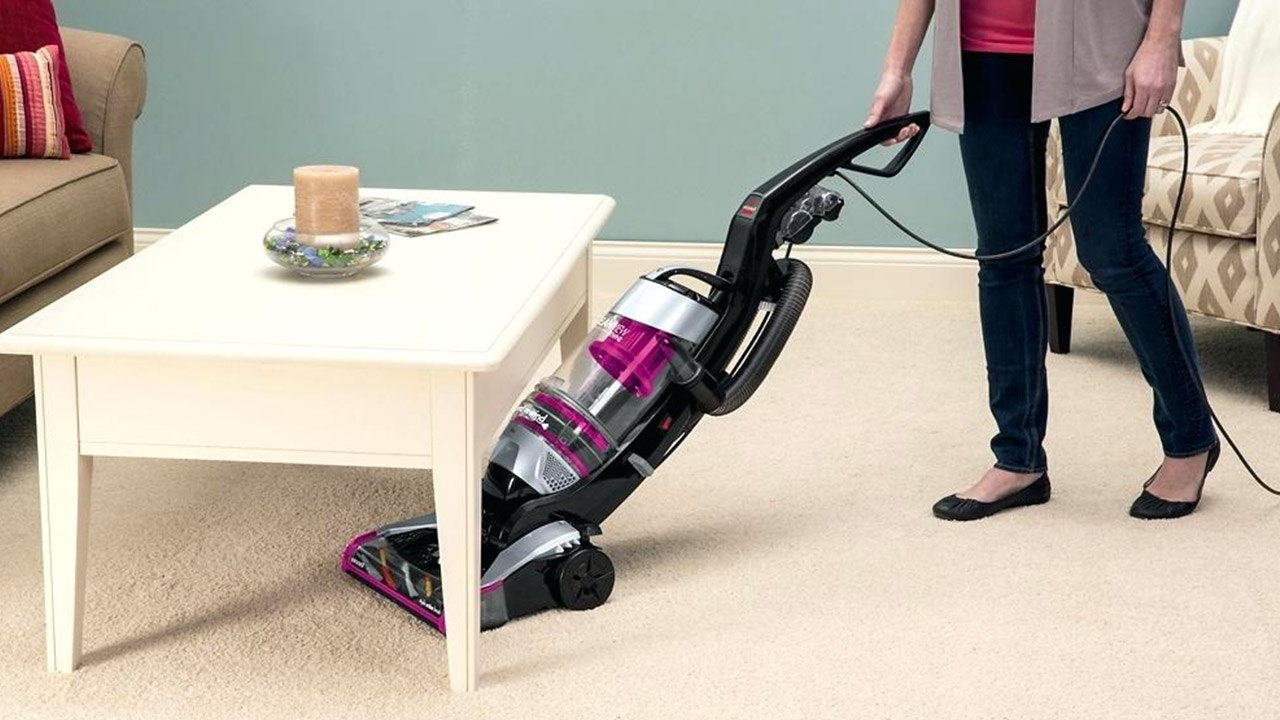 Because vacuum cleaners are used on a variety of surfaces and for different objects and allergens, it's important to have the right type of vacuum for the job. Some vacuums are designed specifically for removing pet hair from carpet. Others work best on non-carpeted floors, like wood and tile, or offer versatility to clean in difficult spaces.
To help you narrow down your options, we've performed extensive research — which includes reviewing owner experiences — and outlined five of the best vacuum cleaners on the market. We'll look at the pros and cons of each model so you can find the perfect vacuum to suit your needs.
Vacuum Cleaner Buyer's Guide
Dyson
Ball Multi
Floor 2

Best for Allergens

BISSELL
CleanView Deluxe Pet Rewind

Pet Hair Removal

Shark
Navigator Lift-Away Speed Zero-M

Most Convenient

Hoover
WindTunnel T-Series Rewind Plus

Best Value

Shark
APEX DuoClean with Zero-M

Powerful Suction
Dyson Ball Multi Floor 2 Upright Vacuum
The Verdict: A great investment for those with low-pile carpet and wood or laminate flooring, or those with multiple stories in their home.
Pros: Designed to work on a variety of flooring. Lightweight and easy to navigate around furniture.
Cons: Doesn't work as well on thick carpets and rugs because the powerful suction makes it difficult to push. Priced high at $399.99.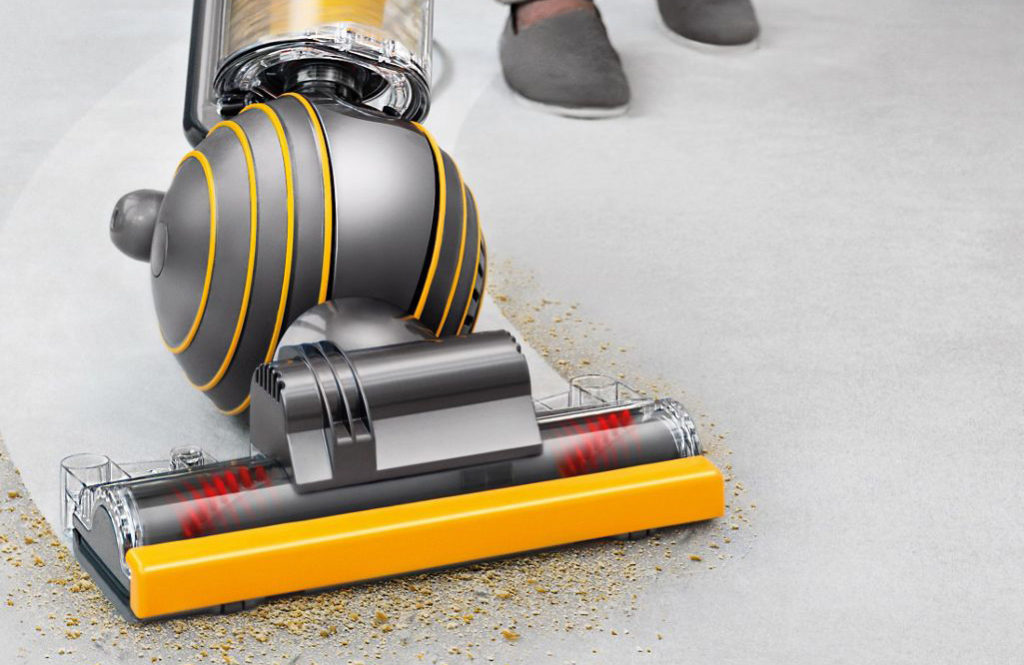 The Dyson Ball Multi Floor 2 vacuum cleaner starts at $399.99 and boasts certification from the Asthma and Allergy Foundation of America. Its "ball" design means it's easy to navigate throughout your home, even if you have a lot of furniture. Unfortunately, the powerful suction you'll find on this model also means that it requires a bit of strength to push it over thick carpets and rugs.
This Dyson comes with a washable lifetime filter and multiple tools, such as the stair tool and the combination tool for getting cobwebs out of corners. Weighing in at just over 15 pounds, this vacuum cleaner is a true powerhouse in a convenient package.
BISSELL CleanView Deluxe Pet Rewind Vacuum Cleaner
The Verdict: A solid machine for picking up Scruffy's hair tufts at a reasonable price.
Pros: A great value at just $129. Ideal for removing pet hair from large areas of flooring. Convenient automatically rewinding power cord.
Cons: Inefficient design makes cleaning parts like the dirt tank difficult. Clogs frequently.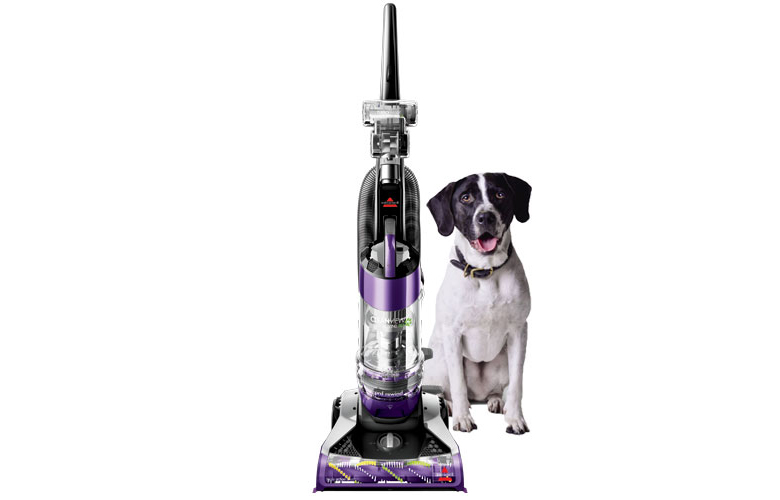 Lightweight and powerful, the CleanView Deluxe Pet Rewind Vacuum Cleaner is specifically designed for cleaning up after your lovable, albeit hairy, pets. This vacuum includes a 27-foot power cord that automatically rewinds. Additionally, tools like the Pet Hair Eraser and the Pet TurboEraser help remove hair from upholstery and stairs.
The CleanView Deluxe starts at $129 and has been seen as low as $99.99. For a home that needs end-to-end cleaning across a variety of different surfaces, its Multi-Cyclonic Suction System helps get the job done. However, the value comes at a cost. Several reviews noted that this model needs frequent maintenance to perform well, and, unfortunately, it's not very easy to clean the interior components.
Shark Navigator Lift-Away Speed Zero-M Upright Vacuum
The Verdict: A powerful vacuum that's easy to maintain. Ideal for people with limited mobility looking for something light and convenient. Cleans both carpets and hard-surface floors.
Pros: Lightweight and detachable for heightened maneuverability.
Cons: Self-cleaning brushroll may not actually be self-cleaning.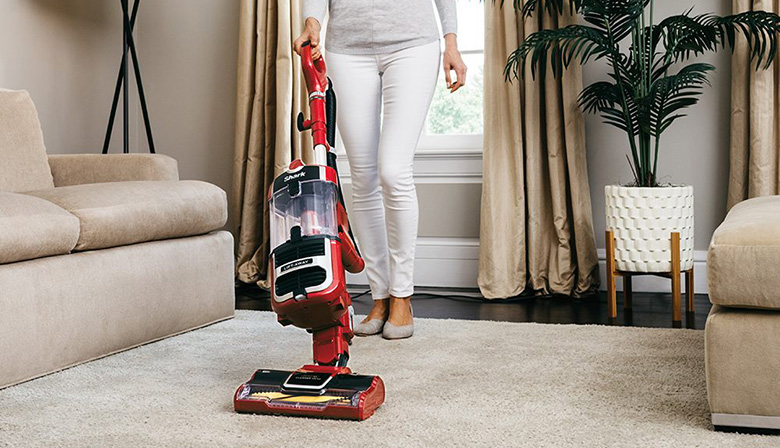 The Shark Navigator Lift-Away Speed Zero-M Self-Cleaning Brushroll Upright Vacuum starts at $229.99 and offers a free five-year limited warranty. A big feature of this vacuum is embedded in its name: the self-cleaning brushroll. Unfortunately, this technology disappointed many hopeful users, and should not be counted on when deciding on this vacuum.
However, this vacuum does come with Anti-Allergen Complete Seal Technology and the lauded Lift-Away mode. This makes for an easy-to-use cleaner that gets to places above the floor and successfully traps dust and other allergens. Powerful suction makes deep cleaning possible on both carpeted surfaces and surfaces like linoleum.
Hoover WindTunnel T-Series Rewind Plus Upright Vacuum
The Verdict: A good choice for a multi-purpose vacuum cleaner for day-to-day cleaning.
Pros: Mid-range pricing at $154.99. Five-position height adjustment makes for easy cleaning on everything from carpet to wood.
Cons: Requires regular maintenance for long-term ownership.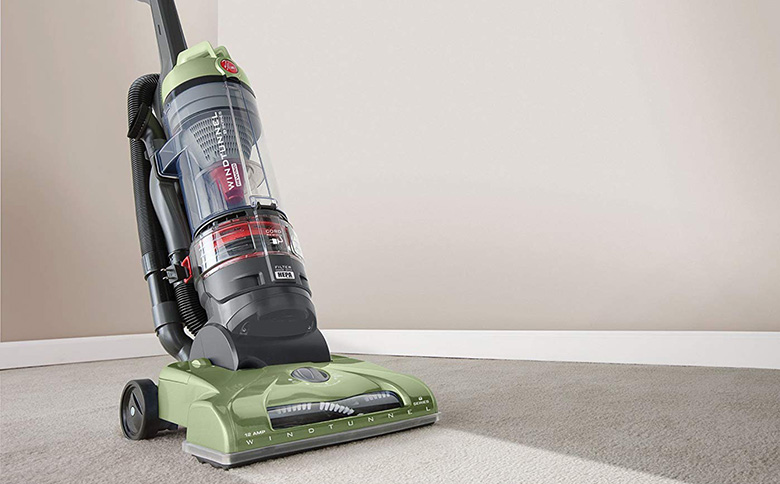 The WindTunnel T-Series Rewind Plus Upright Vacuum is a modestly priced Hoover offering starting at $154.99. It includes a HEPA Media Filter and a System Check Indicator, which tells you if there's a clog or if the filter needs to be checked.
This model features a retractable cord and comes in at just over 16 pounds, making it only slightly heavier than some of the other offerings in our guide. Additionally, the filter is both washable and replaceable, meaning maintenance is simple and cost-effective.
Shark APEX DuoClean with Zero-M Upright Vacuum
The Verdict: Built tough and loaded with features, this is a great tool for cleaning large households with children or pets. Price point and weight are both on the high end.
Pros: Extremely powerful suction. Easy to put together, and has detachable canister for cleaning difficult areas like stairs.
Cons: Starts at $299.40, plus any accessories you choose. Heavy at 25 pounds.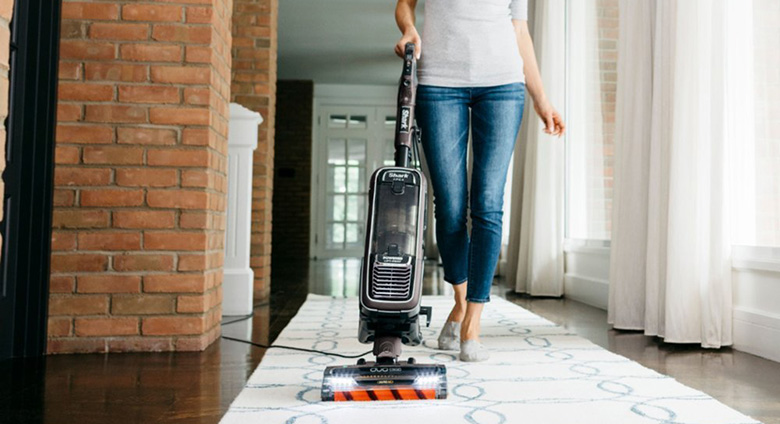 The Shark APEX DuoClean with Zero-M Self-Cleaning Brushroll Upright Vacuum starts at $299.40, but if you're lured by the various upgrades and attachments available, you may end up spending quite a bit more. The base model does come with a bonus MultiFLEX Under-Appliance Wand, however, as well as an upholstery and a crevice tool.
The dual brushrolls handle everything from summertime sand to crackers and snacks ground into carpet. And the Lift-Away mode means you can remove the pod for above-floor cleaning, such as on windowsills. At 25 pounds, this vacuum cleaner is no joke, but if you're willing to carry it, it's willing to clean.
Find the best deal on your next vacuum cleaner on our vacuum deals and coupons page!
Our editors strive to ensure that the information in this article is accurate as of the date published, but please keep in mind that offers can change. We encourage you to verify all terms and conditions of any product before you apply.