Breaking Down the Three Most Popular Streaming Media Sticks
Everything you need to know about the Fire TV, Roku & Chromecast sticks.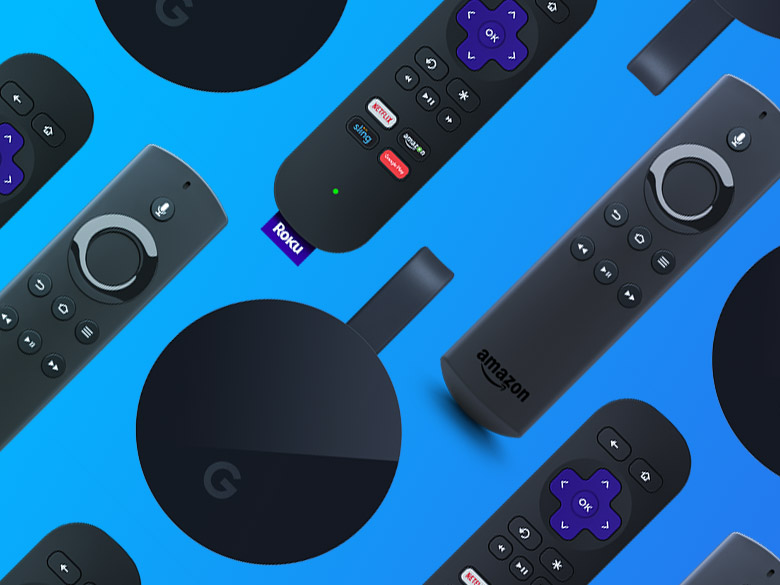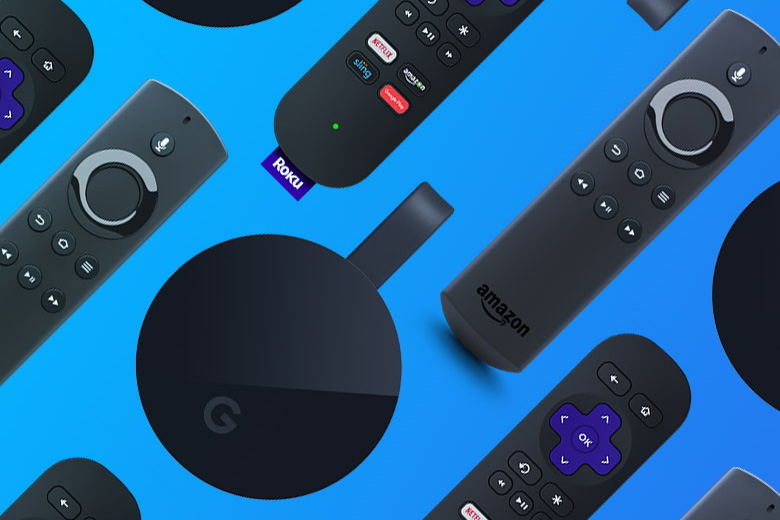 When it comes to streaming content, there's no shortage of devices to choose from. If you're looking for a portable, simple, cost-effective setup, going with a streaming media stick is probably your best bet. However, before you pull the trigger on a new streaming device, you'll want to consider the apps you need, any special features you'd like and, of course, your budget. We're zeroing in on the biggest players, picking apart the pros, cons, and everything in between.
Fire TV Stick with Alexa Voice Remote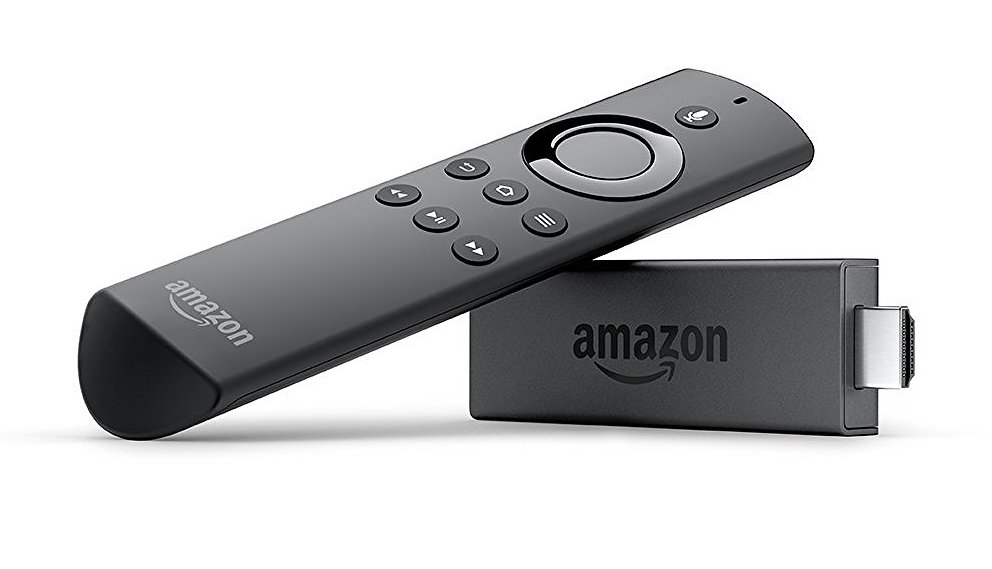 Price: $39.99 via Amazon or Best Buy
Pros: Several of my family members have this device, and they all love it. The interface is so user friendly, my 4-year-old nephew can pretty much navigate it with his eyes closed. It seamlessly streams everything from Netflix to HBO to Amazon Video and beyond.
This is a second-generation device that comes with some nice upgrades from the original. The Alexa voice-activated remote gets all the love, as it essentially turns your TV into an Amazon Echo. You can use it to do cool things like book your next Uber or order a pizza. If you're already an Amazon Prime household, you can also use the voice remote to order directly from the site. With 8 GB of internal storage, the Fire TV Stick is an easy-to-use streaming media device that's ideal for cord cutters.
Cons: It's currently out of stock on Amazon until March 2. (You can, however, order it now from Best Buy with free shipping.) While the overall speed is superior compared to the original Fire TV Stick, some Slickdealers have reported occasional lagging here and there. One other thing that might be a deal breaker is that it doesn't support 4K content. For that, you can either opt for the Fire TV Media Player for $89.99 or consider the Google Chromecast Ultra. (More on this in a bit.)
How to find the best deal: Since this just debuted a few months ago, we haven't seen tons of deals. The price did drop by $10 during Black Friday, but that's the best we've seen so far. We'll have to wait and see if this summer's Prime Day brings about any discounts. If last year is any indication, it's probably safe to expect a $15 markdown.
Roku Streaming Stick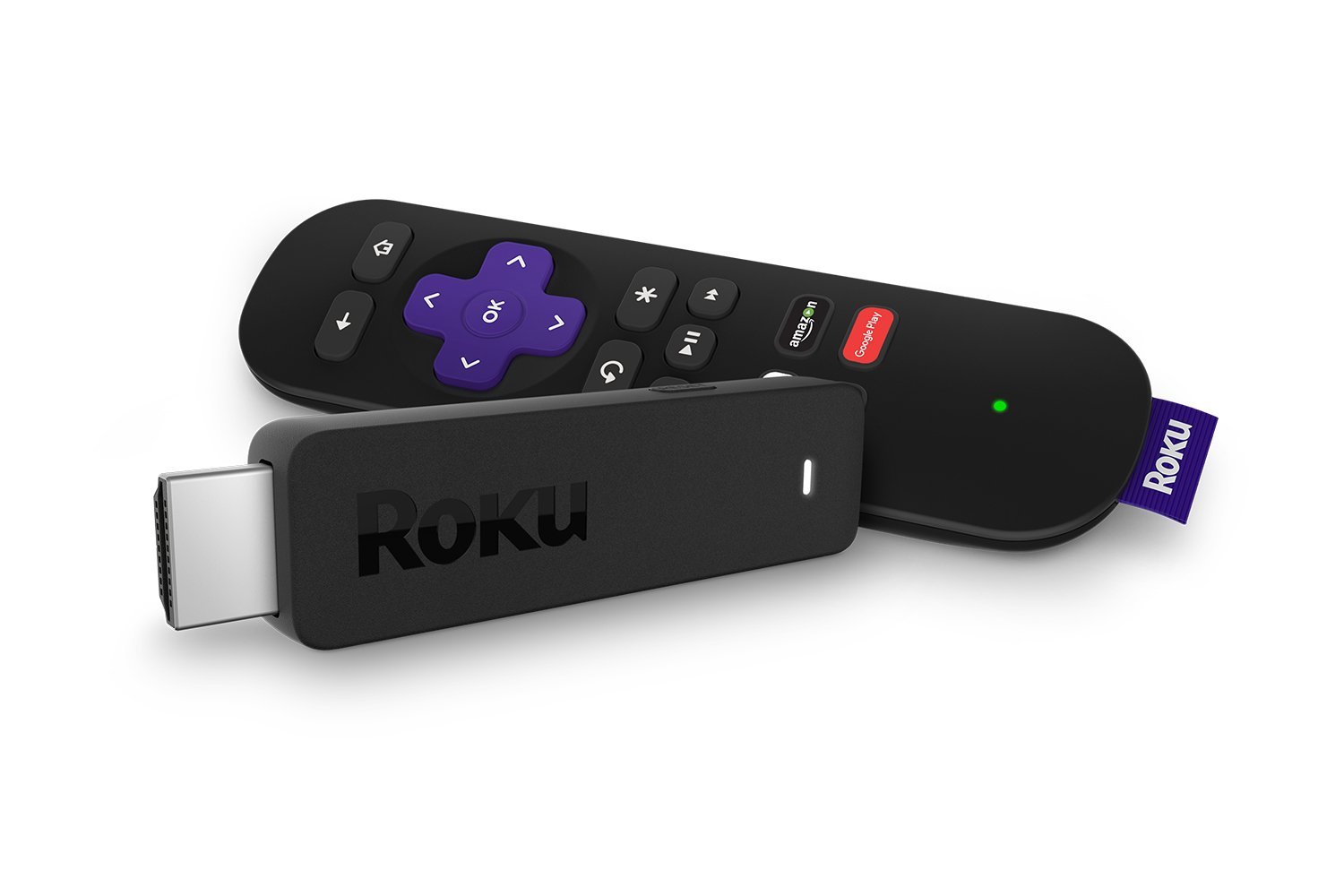 Price: $49.99 from Roku (no free shipping unless you hit the $50 mark); roughly $50 from Amazon and Target, both with free shipping; $39.95 from Walmart with free shipping.
Pros: Tech Hive cleverly refers to the Roku Streaming Stick as "the best cheap way to make a dumb TV smart." Like the other devices on this list, you can use it to access your favorite platforms (Hulu, Netflix, Amazon Video and the like,) in addition to many lesser-known apps. It's also got a top-notch user interface, toggling between apps at lightning speed. Speaking of speed, that's one big advantage here; its quad-core processor makes it one of the fastest streaming sticks on the market today.
Another cool thing is that you can access Roku via a smartphone app, which makes private listening possible — you can sling the audio directly from your TV to your smartphone or tablet.
Cons: Similar to Amazon's Fire TV Stick, 4K is out. (You'll have to upgrade to the Roku 4 for that.) There's also no voice-searching ability within the remote. Additionally, because there are so many apps available on the Roku, not all of them are polished or reliable.
How to find the best deal: Sling TV has run deals in the past where signing up for one month of service ($20) snags you a free Roku Streaming Stick. Jet.com has also marked it down to $33.53 in one past promo; $27 in another. Both Target and Amazon are known to run deals to coincide with Black Friday and Cyber Monday, with prices dropping to around $30.
Google Chromecast Ultra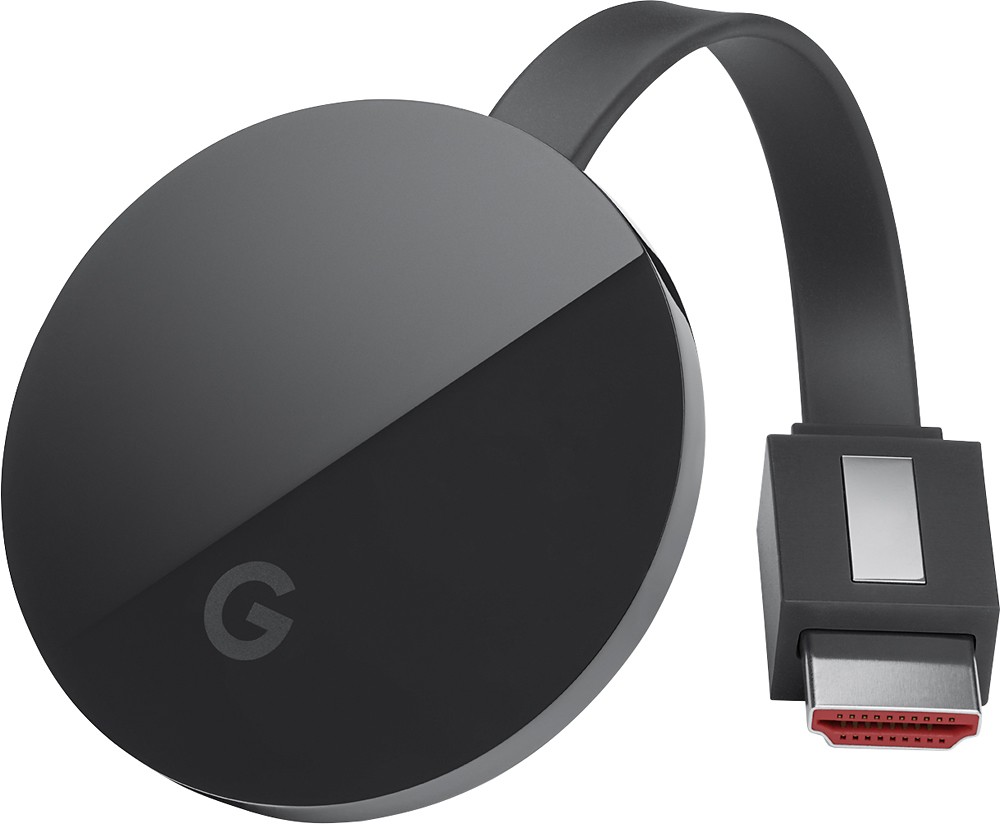 Price: $59 at Best Buy and Newegg; $69 at Target.
Pros: There's one big pro of going with the Chromecast Ultra — it's got 4K and HDR capabilities, making it stand out from the pack. This makes it easy to sync it up with your 4K TV for quick, high-quality streaming of all your favorite content. This disc-like dongle, as PC Mag points out, relies heavily on ethernet connectivity. (There's an ethernet jack built right into the power cord.) And just as the Fire Stick is compatible with the Amazon Echo, the Chromecast Ultra can sync up with Google Home.
Cons: Because of its 4K/HDR capabilities, the Chromecast Ultra has a bit of a higher price tag. But, when compared to traditional, non-stick media streamers, it's actually on the lower end of the price spectrum. Unlike the other two streaming sticks on this list, the Chromecast Ultra does not come with a remote. Instead, you'll have to use a smartphone, tablet or computer that's enabled with compatible apps to get it rolling. One other downer — Amazon Video isn't supported by Chromecast, which is a major let-down for some.
How to find the best deal: Look out for bundle deals. Target currently offers $15 off if you buy Google Home and Chromecast together. Best Buy recently promoted a price of $149 for Google Home, Chromecast Ultra and six months of Google Play Music when bought together with Visa Checkout.
Have you used any of these (or other) streaming media sticks or are you considering one in the future? Share your thoughts in the comments below!
Images courtesy of Amazon, BestBuy.com.