Sponsored
Dell's XPS 13 2-in-1 is Equal Parts Versatile and Reliable
This portable laptop packs quite a punch considering its lightweight profile.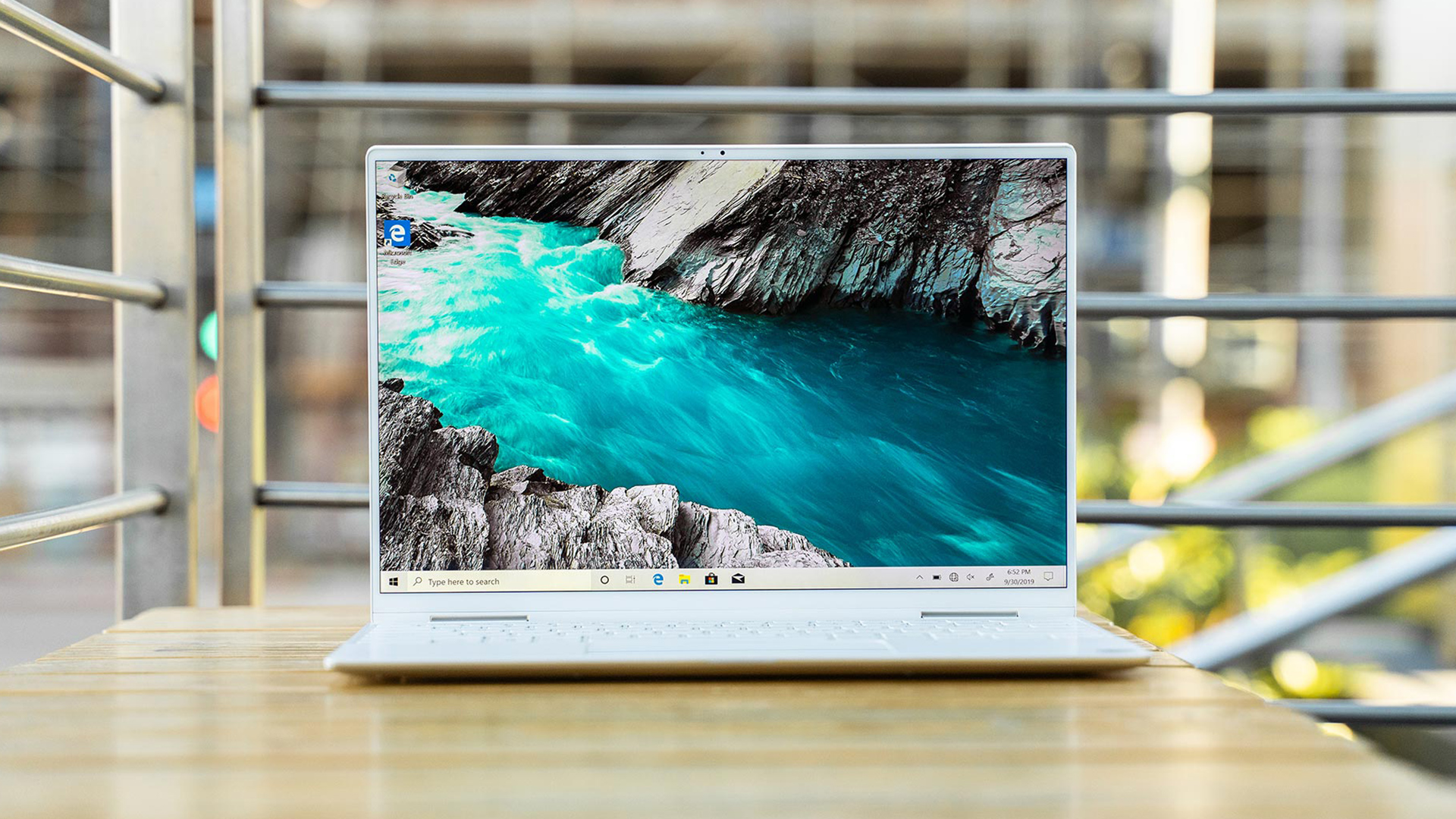 When it comes to productivity, 2-in-1 laptops are the workhorses of the computing world. The ability to take handwritten notes or draw detailed diagrams is a boon for students or professionals. And when this versatility is coupled with powerful hardware, 2-in-1s can be the perfect fit for anyone seeking a computer that can do it all.
The added range of abilities keeps 2-in-1 laptops' prices relatively high, and the best options tend to come attached to price tags above $1,000. However, Dell is currently discounting its XPS 13 2-in-1 by 17%. Entering the promo code SAVE17 at checkout brings the total price down to $813, making it one of the best laptop deals currently on the market.
Dell XPS 13 2-in-1 Specs
Display: 13.4″ FHD+ (1920 x 1200), InfinityEdge Touch
Processor: 10th Gen Intel Core i3-1005G1 (4 MB cache, up to 3.40 GHz)
Operating System: Windows 10
RAM: 4GB LPDDR4 Memory
Graphics Card: Intel UHD
Hard Drive: 256GB SSD
Wireless: Killer Wi-Fi 6 AX 1650 (2 x 2) and Bluetooth 5.1
Battery: 4-Cell 51 WHr (Approximately 12 hours of battery life)

Powerful and Portable
Not only is the XPS 13 2-in-1 powerful, it's got an impressive design to match. Dell has optimized the torque hinge design on the XPS, meaning you can easily open the laptop with one hand, and you can even flip the screen all the way around to operate it like a regular tablet.
As for the screen, the XPS 13 is among the best in its class. It features an HDR 400 certified display — meaning it can show over 16 million colors — and includes a layer of anti-reflective coating to cut down on screen glare. Dell has also reworked its innovative InfinityEdge display technology, giving the XPS 13 an improved screen-to-body ratio, which translates to more viewing space for spreadsheets, Word documents or even streaming TV shows and movies.
If you opt for the Dell Premium Active Pen — which we highly recommend if you'll be taking notes or creating works of art — it's optimized to work with the XPS 13's display, meaning it can detect the exact amount of pressure and even the angle at which you're drawing on the screen.

Bigger on the Inside
Dell is known for its high-quality, professional products, and the XPS 13 2-in-1 is a perfect example of this expertise. Despite its portable size, it features a spacious screen, the latest technology under the hood for fast processing and the versatility to take notes or run multiple programs at once. All this makes it an ideal laptop for anyone who wants to work efficiently.
Even at full price, the XPS 13 brings a lot to the table. This model includes a 10th Generation Intel Core i3 processor, giving you the power needed to run multiple applications at once. We're also fans of the 4-Cell 51 WHr integrated battery that lets you get work done all day long without needing a recharge. And of course, Windows 10 comes pre-installed.
Given the price point, the included 256GB SSD is a wonderful surprise. Not only are you getting a massive amount of storage for a device that's just over half an inch wide at its thickest point, you'll also be able to access your content in the blink of an eye thanks to the improved speeds of the solid state drive
Dell's popular XPS 13 comes in a variety of configurations. This version of the 2-in-1, with the i3 processor, hasn't seen many significant discounts in 2020. If you've been on the fence about picking up a new laptop, we recommend taking a look at this offer before it disappears.

Full-On Smartphone Integration
One of the biggest joys of using a 2-in-1 laptop is having your PC double as your tablet. To make things even simpler, Dell Mobile Connect allows you to pair your smartphone with your XPS 13 and access all your data in one place. This means you can send texts, make phone calls or receive push notifications without having to look away from your main screen. And if you have a photo or video you'd like to show off, you can mirror your phone on your PC to instantly pull it up on a larger device.
Dell Mobile Connect works with both iOS and Android devices. What's more, the link is established via a point-to-point, secure connection that ensures your data is protected at all times.
Even if you don't plan on using the features mentioned above, you'll still likely appreciate the ease in which Dell Mobile Connect allows you to transfer videos, photos, music and documents to and from your phone. It eliminates the need for cables, as well as the hassle that comes with uploading all your files to a cloud.

Upgradable for Improved Performance
If you love everything about the XPS 13 but wish it had more power, you can still cash in on the savings.
Dell offers this product in several configurations to fit a wide variety of customers. Here are some of the eligible upgrades.
Note: all sale prices reflect additional SAVE17 promo code discount. 
10th Gen Intel Core i7, Intel Iris Plus Graphics and 16GB RAM – Sale Price: $1,260.76 | Regular Price: $1,557.98
10th Gen Intel Core i7, 16GB RAM, Intel Iris Plus Graphics and 512GB SSD – Sale Price: $1,626.79 | Regular Price: $2,007.98
10th Generation Intel Core i7, 32GB RAM, Intel Iris Plus Graphics and 1TB SSD – Sale Price: $1,825.99 | $2,257.98
Bundle for More Savings
If you're looking to build a complete workstation, the XPS 13 can be bundled to save 10% on dozens of great accessories—just use promo code BUNDLE10 at checkout. From keyboards to monitors and docking stations, there are a lot of nice options that will help you finish up your workspace. Be sure to browse the entire, extensive collection, but we found these to be especially appealing for the XPS 13.
Dell Premier Sleeve – Sale Price: $24.89 | Regular Price: $49.99
Dell Mobile Pro Wireless Mouse – Sale Price: $35.99 | Regular Price: $44.99
Dell Thunderbolt Dock – Sale Price: $246.59 | Regular Price: $345.99
Dell Premium Active Pen – Sale Price: $76.49 | Regular Price: $99.99
Dell Premier Wireless Keyboard & Mouse – Sale Price: $64.79 | Regular Price: $99.99
Dell 27 UltraSharp Monitor – Sale Price: $323.99 | Regular Price: $499.99
Note that the BUNDLE10 savings only works for one item, but will be applied to the item that provides the most savings. At the same time, many products sell for less than MSRP when they're bundled with the XPS 13, so you're still be getting a good deal on everything you choose to order.
Our editors strive to ensure that the information in this article is accurate as of the date published, but please keep in mind that offers can change. We encourage you to verify all terms and conditions of any product before you apply.