How Open Box Deals Work and What to Know to Save Up to 50% on Big Ticket Purchases
Calling all bargain hunters looking to save hundreds!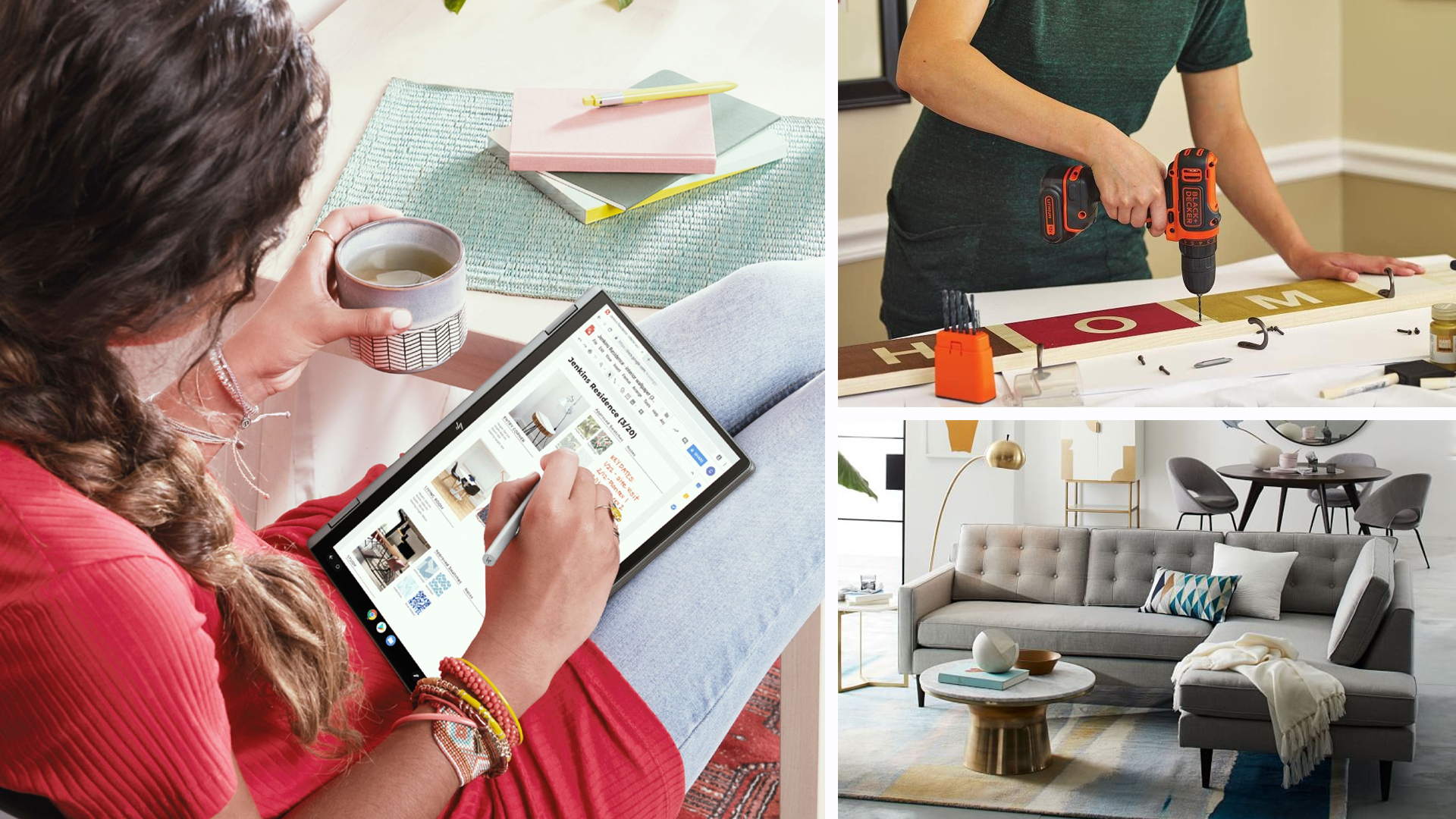 Nothing is more rewarding than getting a huge discount. The thing is, these finds aren't always front and center when you click over to a website. They often require a bit of research, but if you don't want to take the time to scroll around, open box deals are almost always guaranteed to save you up to 50% on big ticket purchases. From electronics and large appliances to rugs and furniture, you can potentially save hundreds if you keep an eye out for these deals and know where to look online. If you want to know more about what does open box mean and how can you use it to your advantage, ahead is an explanation of "open box" along with what to expect from open box products and which large stores have the best open box policies and deals.
---
What Does 'Open Box' Mean?
Don't worry, an open box doesn't mean it's defective. What it does mean is that the box was previously opened by another customer and then returned back to the company (often quite quickly once they realize the item won't fit their needs). Sometimes this could even mean it was delivered to someone's home and they simply changed their mind on the color, or it wasn't exactly what they pictured, or the size was wrong –or who knows, maybe they just couldn't get it through a doorway. Whatever the reason may be, it typically doesn't mean there's anything wrong with the item, it's basically brand new and most of the time, it still includes the manufacturer's warranty, parts, and often (though not always) the protective plastic, wrap and/or internal box packing to cushion and protect the items during shipping and handling.
All things considered, you can definitely land an extra low sale price by opting for these barely used products. Scroll through below to see which stores offer this unique shopping experience and where to find the best open box bargains.
Slick tip: We focused on large brands and stores with an open box section online you can browse and order from. For those true deal hunters, it's a great way to easily search for large tickets items you know you need or want, and then pounce on them once they show up on the store's website.
---
Where to Get the Best Open Box Deals
Amazon

Open Box Deal: Black + Decker Cordless Drill/Driver
Open Box Price: $29.64 | Regular Price: $49.99
Are you a frequent Amazon shopper? Bookmark this section on the site called "Amazon Warehouse Sales" where you can score great deals on open box items. Lifehacker confirms that "in most cases, these are items that haven't been used at all, or if they have only minimally, but the fact that the original packaging is open reduces the price fairly significantly."
Depending on what you buy, it can be worth the savings to opt for the open box. For instance, how many times are you really going to use those home improvement tools? If you need a drill just to hang a few shelves like the cordless Black + Decker above, you can certainly get away with something that's been gently used.
Wayfair

Open Box Deal: Summerhill 3 Piece Picnic Table
Open Box Price: $390.55 | Regular Price: $520.73
Wayfair has tons of discounts all the time. Skip those sale tags and head straight to the brand's clearance open box deals for even bigger markdowns. One thing to keep in mind is that this inventory changes constantly, so don't take too long to make a decision.
Several users on Reddit also pointed out that you shouldn't be nervous about the quality, and if you have a problem, Wayfair does have a reliable customer service line. "I just bought an open box that was clearly never opened (marked as refused delivery)," too_wit shared on the platform. Personally, I think it's important to note what you'll be using the home goods for. While you should splurge for the living room set you'll constantly be using, it may be wise to settle for heavily discounted patio furniture that will quickly get worn down anyway.
Best Buy

Open Box Deal: HP Touch-Screen Chromebook
Open Box Price: $499 | Regular Price: $629
For those who love to stay up-to-date on the latest technology, Best Buy's open box deals were made for you. Since you'll likely replace your gadget sooner rather than later, don't overpay simply because it's the most current model.
Whether it's been returned by customers or used as display models, it's time to consider these quality secondhand products. Don't stress because these items undergo proper inspections before being resold, they still include their original parts and are covered by any available manufacturer's warranties. Currently, you can get a huge $130 discount on an opened HP Touch-Screen Chromebook along with plenty of other devices.
Newegg

Open Box Deal: ROG Zephyrus Gaming Laptop
Open Box Price: $1,214.99 | Regular Price: $1,699.99
Newegg is known for their significant savings on computers. Browse through the site's open box hot spot and you'll instantly notice that you can grab up to 50% off on gadgets you've always wanted. If you're looking for a second gaming laptop or hoping to upgrade without burning a hole in your wallet, Newegg is hands down worth checking out.
Slick Tip: Before finalizing your purchase, sign up for Newegg's free 30-day Premier Membership trial and enjoy complimentary expedited shipping.
West Elm

Open Box Deal: Drake 2-Piece Terminal Chaise Sectional
Open Box Price: $1,449.97 | Regular Price: $2,898
It's no secret that West Elm can be pricey. Luckily, this fancy store has the same open box deals like all the stores on this list. Stop paying more than you have to for your forever furniture and start taking advantage of this page on the site. As of now, nearly everything is 50% off in the section including a gorgeous Drake 2-Piece Terminal chaise sectional. Are you ready to get thousands of dollars off your dream picks?
Slick Tip: Don't forget to add yourself to West Elm's e-mail newsletter to get an additional 15% off coupon sent straight to your inbox.
Saving money has never been easier. Set a Deal Alert so that you can be notified when items go on sale.
Up Next:
---
Any product or service prices/offers that appear in this article are accurate at time of publish, and are subject to change without notice. Please verify the actual selling price and offer details on the merchant's site before making a purchase.