How to Save at Six Flags This Summer
With park locations around the country, you're never too far from a good time.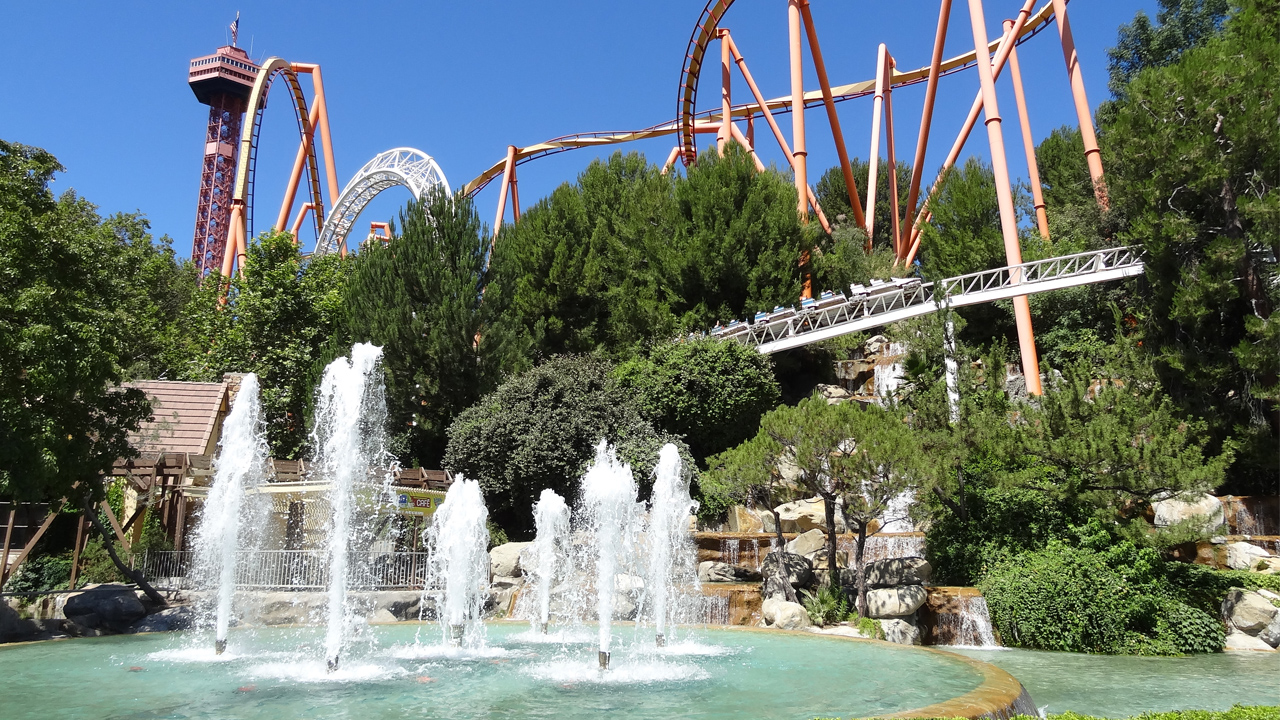 Six Flags is one of the most popular theme park chains in the country, serving millions of guests every year. And it makes sense, going to Six Flags is an easy way to keep a group entertained for a whole day.
Visiting an amusement park isn't always cheap, though, especially if you're bringing the whole family. To that end, we've put together these tips and tricks to help you save at Six Flags during your next visit.
How to Save on Six Flags Tickets

Tickets are going to be one of your biggest expenses when visiting any theme park, including Six Flags, but there are still ways to save. Six Flags ticket deals pop up all the time, but doing a little research beforehand can go a long way towards getting the biggest discount possible.
1. Bring a Coke to the Park
As part of Six Flags' collaboration with Coca-Cola, you can get $20 off your ticket when you trade-in any Coke product at the gate while purchasing your ticket. The Coke product can be full or empty, but must be surrendered at the gate.
This offer lasts for most of the summer season, but the specific end date depends on location, and ranges from September 2nd and December 31st. Check with your preferred Six Flags to find out more about this offer.
2. Use Six Flags Promo Codes
You can also take advantage of the Coca-Cola promotion when you buy tickets online. Just enter the code COKE at checkout to receive up to $25 off of your tickets, depending on the date.
3. Buy Tickets Online
Buying your tickets online is significantly cheaper than buying at the park. Prices vary by location, but tend to run $13 t0 $18 cheaper online than at the gate.
4. Go During the Week
Ticket prices at Six Flags change by the day, and weekends are typically more expensive than weekdays. Save yourself a few bucks by going on a Wednesday instead of a Saturday if you can. Of course, prices vary by location, so check with your local Six Flags first.
5. Enroll Your Child in the "Read to Succeed" Program.
The Six Flags Read to Succeed program offers free tickets to children who complete six hours of recreational reading. The program is available to kids in grades K-6, but it must be run through a school or teacher.
6. Save With a AAA Membership
AAA members get up to 30% off online tickets, as well as 33% off processing fees. If you buy tickets at the gate, you'll get $5 off or $2 off at Six Flag water parks. Membership also gets you 10% off all gifts, candy and photos.
7. Bring Young Children for Free
Children 2 and under are allowed in the park free of charge!
8. Sign Up for the Six Flags Newsletter
The newsletter is a great way to get exclusive deals and discounts. You'll also be eligible to win two free Six Flags tickets, with no purchase necessary. You can find the enrollment form at the bottom of the Six Flags homepage.
9. Save With Military Discounts
If you're an active service member or veteran, you can get a 20% discount on your ticket when you show your military ID at the Guest Services Center.
10. Groups Pay Less
Save up to 45% on tickets if you opt for one of Six Flags' group deals packages. You'll just need to have at least 15 people in your group.
11. Enter the "Face the Intensity" Contest to Win VIP Tickets for Four and More
In tandem with Takis, Six Flags is running a Face the Intensity competition, and giving away four free tickets as prizes, along with parking passes and a month supply of Takis. Sign up before June 30th to be eligible to win.
12. Enter the Welches Fruit Snacks Season Pass Giveaway
Six Flags and Welches are teaming up again for their annual season pass giveaway. For a chance to get two season passes or other prizes, sign up for the contest before July 31st.
13. Visit the Six Flags Coupon Page at Slickdeals
Slickdeals has a page dedicated to Six Flags coupons, and new offers are added regularly. Check out which deals are active now, or browse through expired deals to get a sense of what new offers might be around the corner.
Alternatively, set a Deal Alert and we'll notify you when a new offer goes live.
14. Take Advantage of Holiday Sales
Six Flags has plenty of holiday-specific deals to take advantage of during the big spring and summer holidays. You can often get up to 60% off season passes and park memberships during these sales events.
Additionally, you'll usually often gain access to a slew of exclusive perks, like free parking and in-park discounts. Dining pass prices are also frequently knocked down by up to 64%, while Flash passes see big discounts as well. Visit the Six Flags Season Pass webpage to learn more about current offers.
Other Ways to Save at Six Flags

Tickets are just the tip of the iceberg when it comes to park expenses. Thankfully, there are still more ways to save once you get inside the park, especially when it comes to food and drinks.
Get a Dining Pass
Even Six Flags admits that its food is expensive, which is why they've rolled out their exclusive Dining Pass. This offer is only for season pass and membership holders, and there are two options.
The Basic Dining Pass, which runs upwards of $160 depending on location, includes one free lunch and one free snack every time you visit the park. The Deluxe Dining Pass includes two meals and a snack, plus a free all-season drink bottle.
It typically costs more than $200, but holiday sales can cut the Basic and Deluxe Dining passes by more than 50%.
Check Out The Discount Meal Deals
If you're looking to save money on food without a long term commitment, check out Six Flags' Discount Meal Deals. Combos start at $13.99 and must be purchased online before you visit.
Purchase a Flash Pass to Get the Most From Your Visit
If you don't want to miss out on any rides due to long waits, it might be worth it to nab a Flash Pass. The virtual queue allows you to save your spot in line while you explore other areas of the park.
Single-day Flash Passes start at $35, while seasonal passes start at a whopping $599.00. If that last number gave you a heart attack, remember that buying during holiday events can get you discounts of up to 78% on the Flash Pass.
Bring Your Own Water Bottle
Water is a necessity at any theme park, especially when you're visiting during the summer. Don't get gouged by the concession prices, bring your own refillable water bottle to save some cash.
If you're gearing up for a visit to your local Six Flags, set a Deal Alert to get updates on the latest offers, or check our Six Flags Coupon page for current offers.
Images courtesy of Six Flags and Wikimedia Commons. 
Our editors strive to ensure that the information in this article is accurate as of the date published, but please keep in mind that offers can change. We encourage you to verify all terms and conditions of any product before you apply.