How to Use the Target App to Boost Your Savings
Make the most of the store's mobile deals.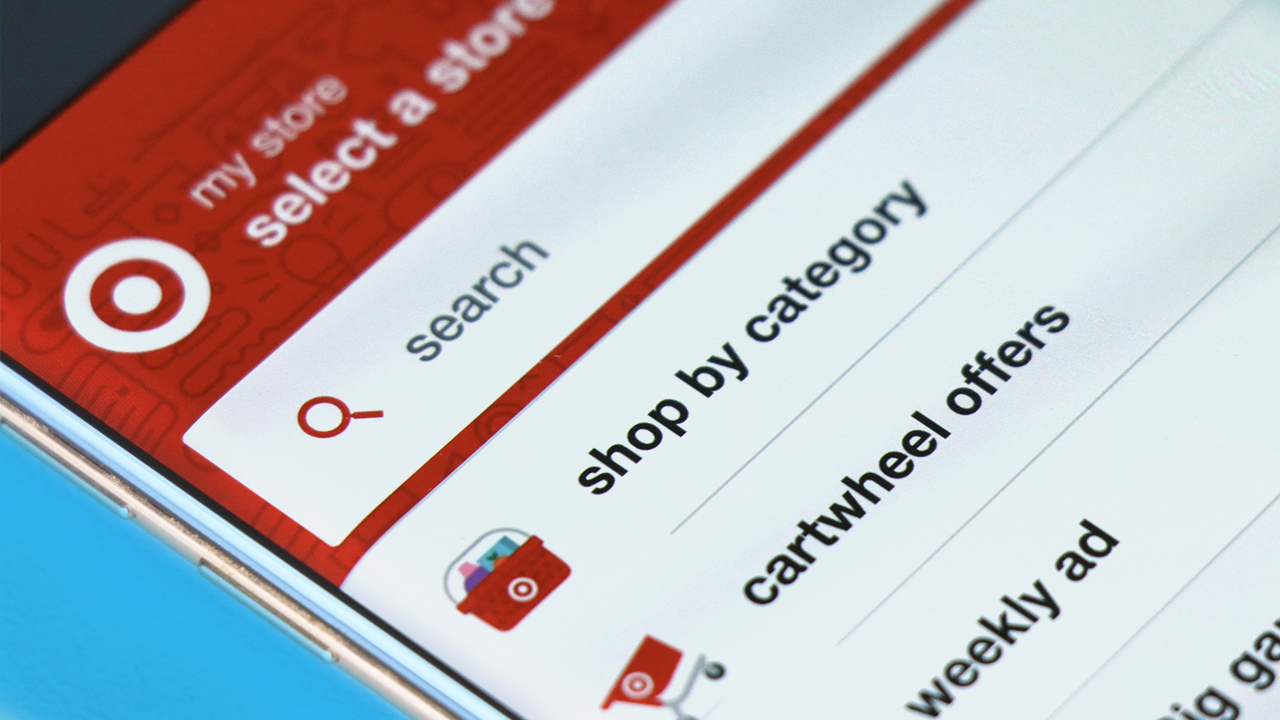 Last year, Target officially integrated the popular Cartwheel savings program into its main mobile app and proved that change can be a wonderful thing. We're taking a look at all the ways this new and improved system can help you save even more at one of your favorite retailers.
1. Download the Target app.

First things first: You'll need to download and set up the store's mobile app. From there you can either create a new account using your email address or merge an existing one into the latest version of the app. If you already have a Target.com account, simply log into the app using those same credentials to gain instant access to your account, including past orders, local store info, etc.
If your old Target Cartwheel app was linked to a social media account like Google or Facebook, you'll be able to transfer your old account information by clicking "Migrate Account" at the bottom of the mobile app home screen.
2. Load your wallet.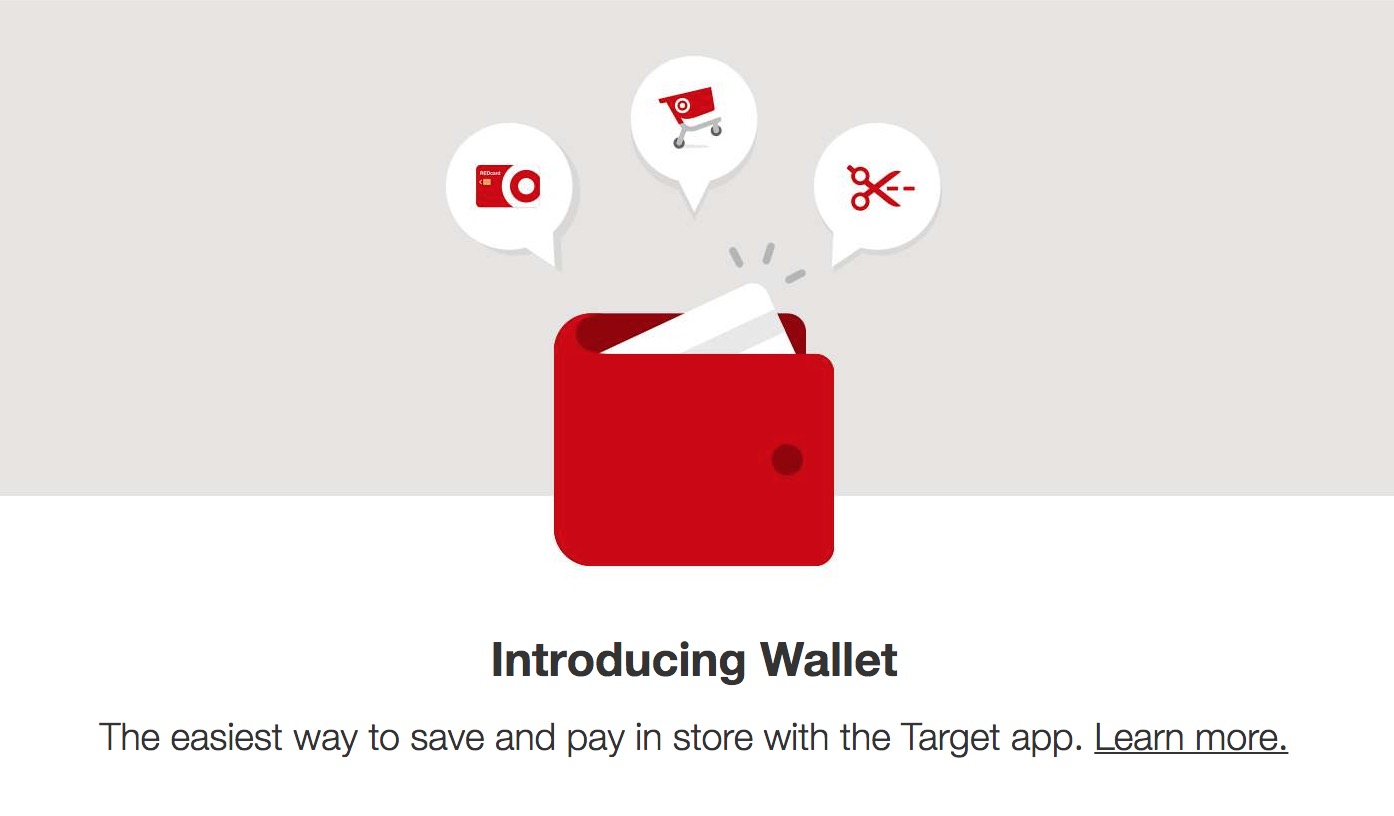 If you're a Target credit or debit REDcard holder (more on that below), you can link your card to the app's digital wallet for a speedier (and thriftier) checkout. Just click on the "Wallet" icon located along the bottom toolbar and add your REDcard info. From there, you can use the scannable barcode to redeem any saved Cartwheel offers and pay instantly at checkout. Target claims that using this method is up to four times faster than using any other payment type — yes, they timed it.
Just be aware that scanning the barcode in the app's wallet automatically charges your REDcard, so you'll want to avoid this method if you're using Target gift cards as a payment method (or just give the gift cards to the cashier first). Gift cards are rumored to be coming to the app soon, but until then… beware.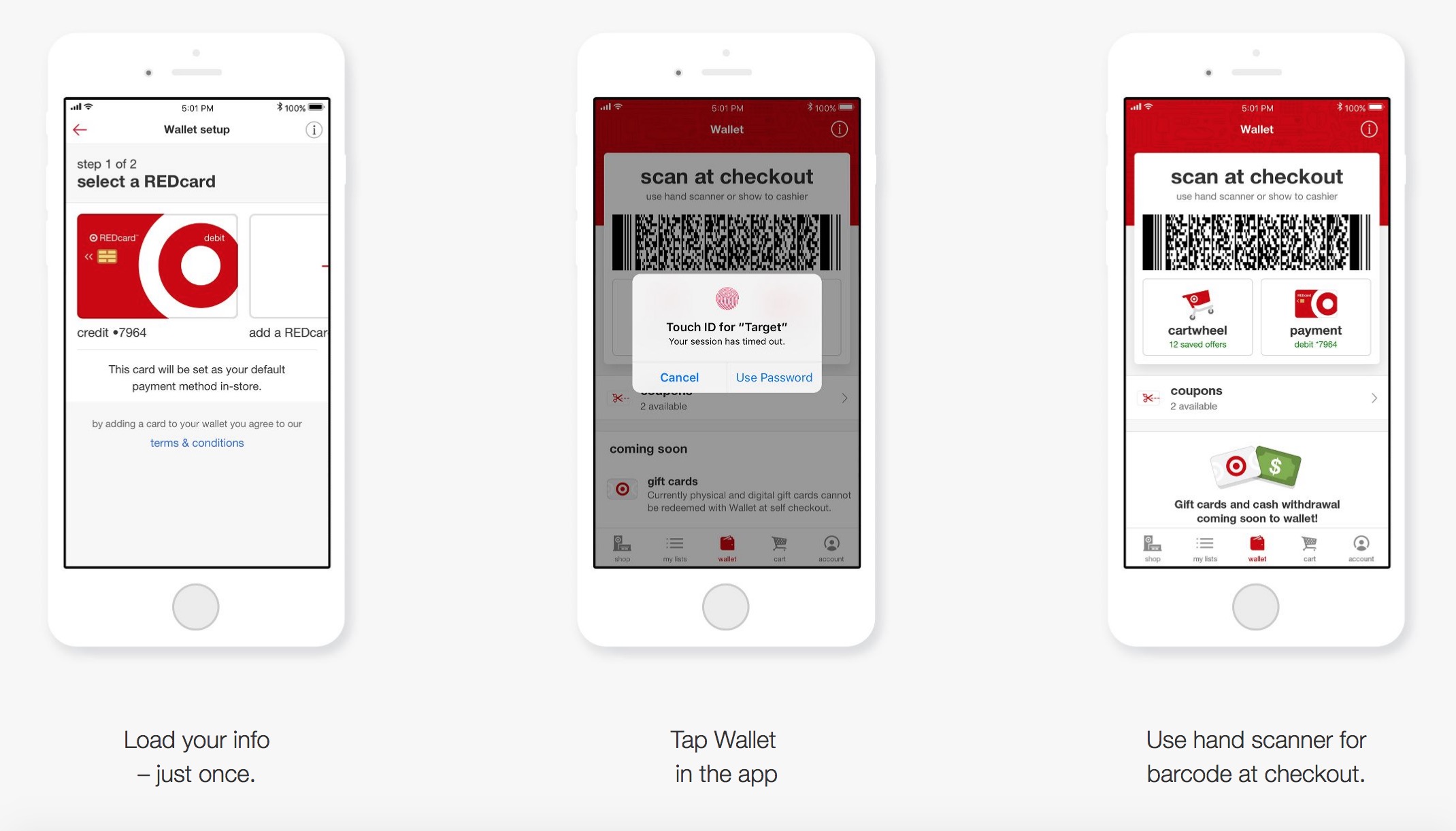 3. Consider going RED.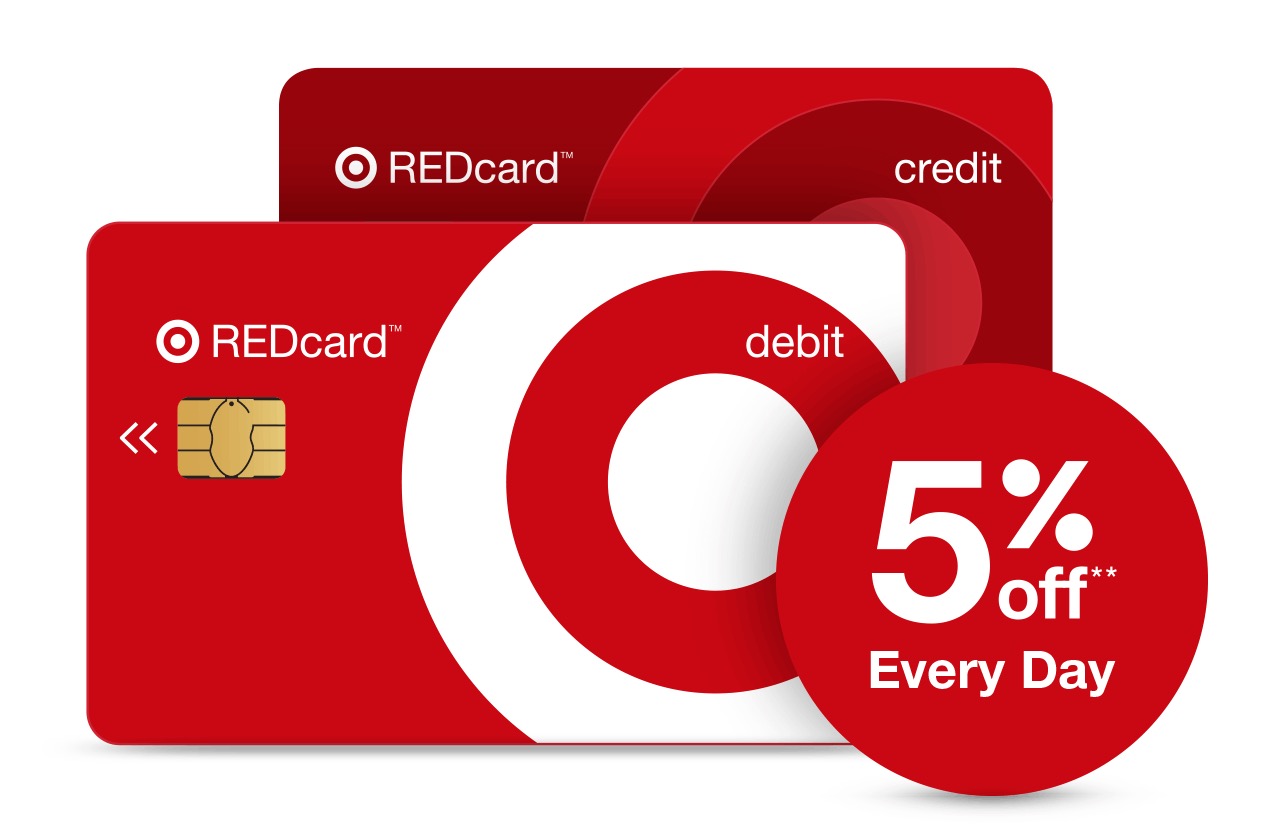 Speaking of the REDcard, it's an excellent way to boost your savings each and every time you shop at Target.
You can actually choose between a standard credit card or a debit card linked to your existing checking account. Either way, you'll save 5% on every transaction when you use your card. Other perks include free shipping on most Target items, as well as extended returns and a 10% off coupon on your REDcard anniversary.
4. Browse the Cartwheel offers.

If you're familiar with the old Cartwheel app, you'll find the new version pretty familiar. And if you're not, it's definitely worth a look. You'll find tons of discounts on all types of products, from apparel and beauty to electronics, household supplies, food and more. You can browse these deals by category, view exclusive themed collections or search for a specific item to see if it's linked to an available Cartwheel offer.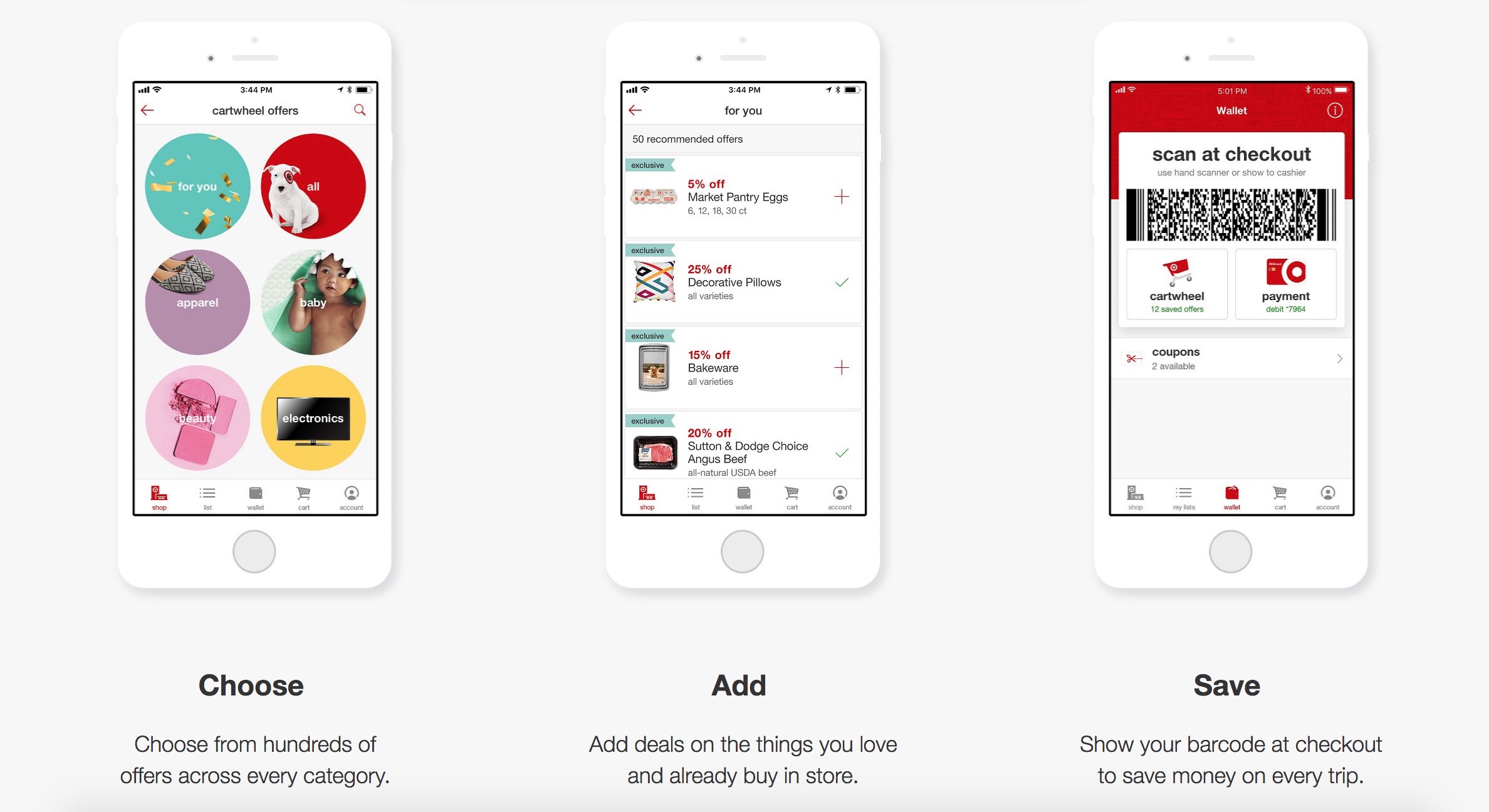 Here are some Cartwheel basics to keep in mind:
You can save a maximum of 50 Cartwheel offers in the app, and you're limited to six Cartwheel barcode transactions per day.
Cartwheel deals are only valid in-store unless noted otherwise.
You can use each Cartwheel offer on up to four qualifying items per transaction.
Unfortunately, Cartwheel offers cannot be combined with price matches.
Target routinely adds new Cartwheel offers every Sunday morning. Typically, offers lasts at least one week, while some last up to a month.
You can also browse Target's coupon page via its website, but it's really just a limited collection of the Cartwheel coupons you'll find on the app. Right now, Target has 147 printable coupons online versus 480 in-app Cartwheel offers.
5. Look for mobile coupons.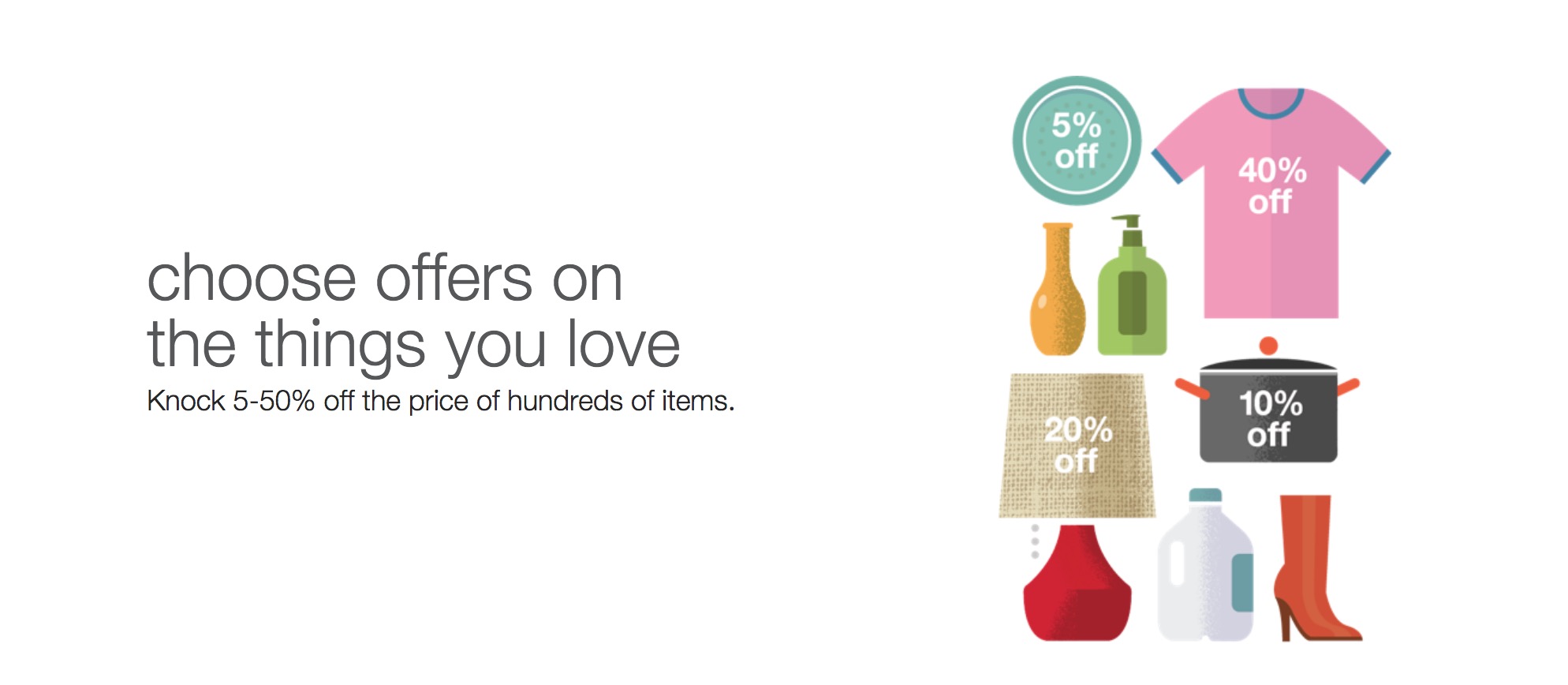 The Cartwheel section isn't the only place in Target's app to find coupons. The homepage is typically filled with an overview of the store's top weekly deals and promotions. You can also go directly to your wallet and click on the "Coupons" section to find available in-store discounts like bonus gift cards, free gifts with select purchases and $-off deals. Swipe left to browse the current offers, and then scan each coupon's barcode at checkout.
6. Check for specific discounts.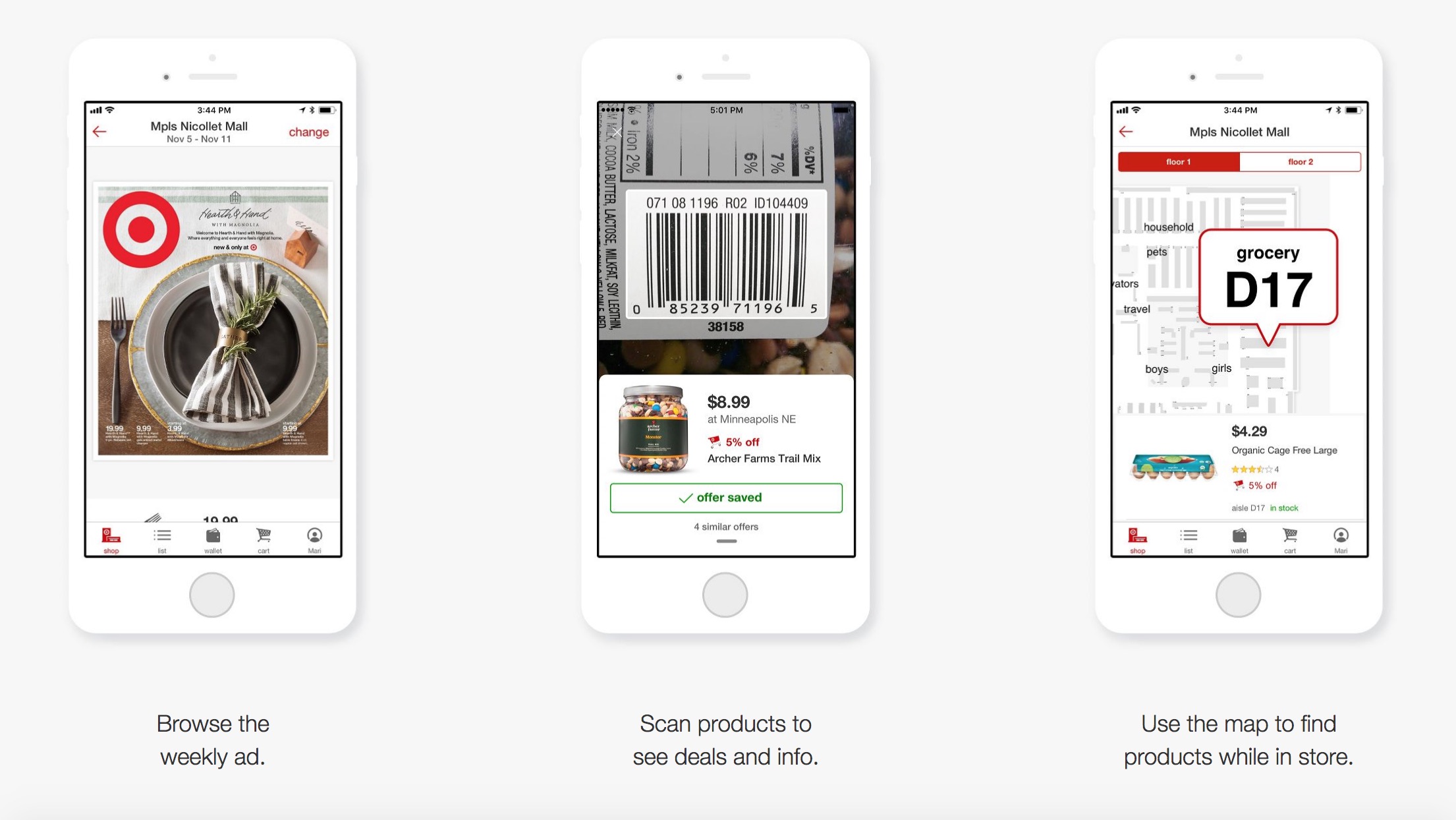 When you use the app to search for a specific product on your shopping list, you'll see a red shopping cart directly below the item if it's eligible for a current Cartwheel discount. Add the item's coupon for quick and easy savings.
When you're shopping in-store, just use the app's barcode scanner on anything and everything you add to your cart to check for qualifying Cartwheel deals, as well.
Whatever you're buying, keep in mind that Target-owned brands like A New Day, Archer Farms, Market Pantry, Merona and Mossimo (here's the complete list) often see more frequent discounts and coupons.
7. Compare prices.
If you love to price match, then the Target app will serve you well. Many customers actually use the app alongside other competitors' store apps to compare prices based on product barcodes. If you find a cheaper price elsewhere, just ask for a price match.
8. Check your local store.
When you click on the Target app, you'll get an instant overview of the store's top deals, as well as access to the current weekly ad. This is a great way to plan your shopping trip or double-check that your local Target has a specific item in-stock. (It even tells you what aisle it's in for a faster Target run.)
Another way to save? Scroll down the app's homepage to look for any in-store events scheduled in your area. These events are known to include free gifts, promotional discounts and exclusive coupons.
And while it may be tempting to use the app to place an order for in-store pickup, you won't be able to use any eligible Cartwheel offers when you do.
9. Stack your deals.

So which deals stack at Target… and which don't? Here's the 411:
You can combine one manufacturer coupon (paper or Cartwheel digital), one Target coupon (paper or digital) and one Cartwheel offer per item.
If a coupon says "one coupon per purchase," that means you can add three more identical coupons per transaction for a grand total of four uses (unless otherwise noted on the coupon).
You can stack dollars and percents. Target's coupon stacking is actually very similar to Kohl's in that you can combine %-off Cartwheel offers with $-off manufacturer coupons. (You can review Target's complete coupon policy here.)
You can use these discounts along with Target gift card promotions for even bigger savings.
*****
Are you a fan of the Target app, and do you use it often? Let us know in the comments section, and check out our 7 Tips for Shopping at Target for more ways to save!
---
Any product or service prices/offers that appear in this article are accurate at time of publish, and are subject to change without notice. Please verify the actual selling price and offer details on the merchant's site before making a purchase.