Save on Everything You Need to Watch March Madness
Whether you're watching the tournament on your phone or from the couch, these deals will help you keep up with all the action.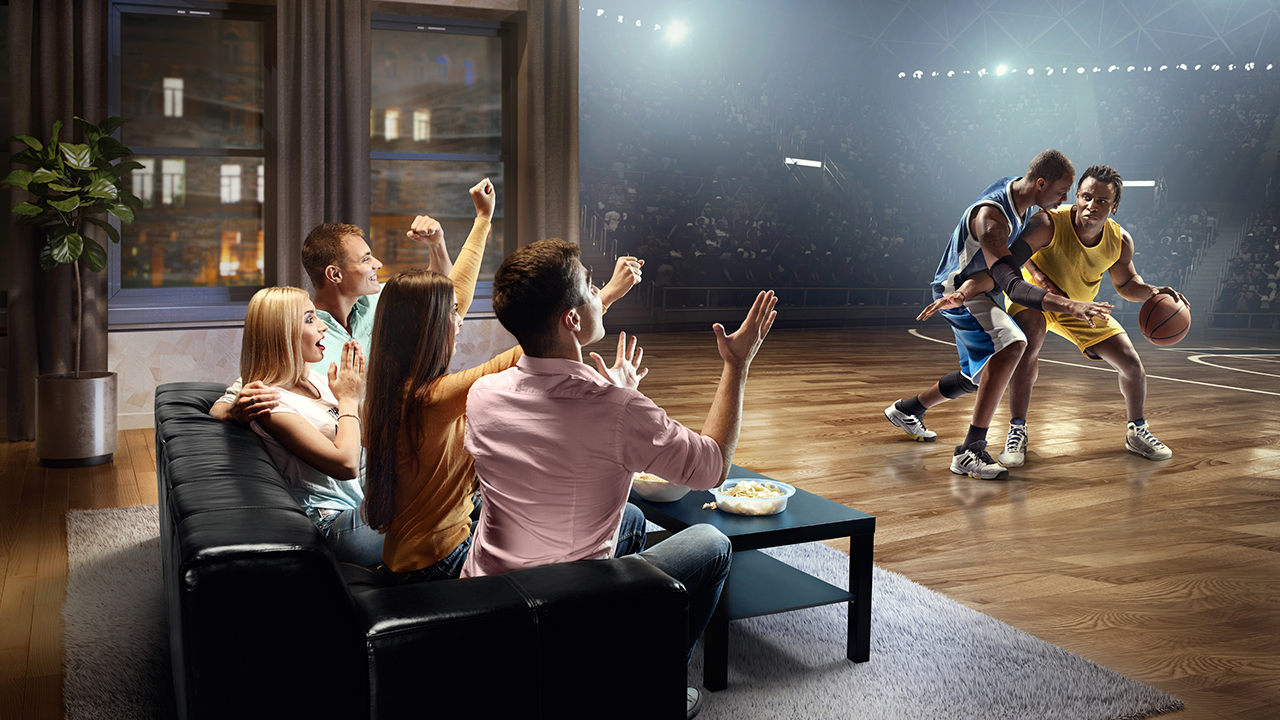 The first games of March Madness will air on Tuesday, March 17th, but gathering everything you need to watch the tournament is enough to make anyone go truly mad. The tournament will be airing on CBS, TBS, TNT and truTV, and finding the right streaming service and all the gear you need to watch can get pricey. To help you prep, we're highlighting some of the best and most cost-efficient ways to up your home entertainment setup in time for March Madness.
Knowing where to shop and which brands to buy are half the battle, but we've also got the info that will make your shopping decisions a whole lot easier. We've also covered how to stream March Madness for free, so you can funnel all your hard-earned money towards a new big screen TV or high-end tablet.
Save on Gear to Watch March Madness
Let's start with the basics. If you're planning on making a big-ticket purchase, you're going to want to search around for the best deal possible. That can take some time, which is why you should consider shopping at retailers that have price match guarantees. Big box stores like Walmart, Target and Best Buy all have price-matching programs, while Amazon does not. These programs are great if you find an amazing deal at Walmart but have a gift card or rewards membership for another store.
You might also want to consider sticking with trusted brands that offer longterm value. While it can be hard to resist a super low price, it's often safer to invest in a recognizable brand that costs a little more than to take a gamble on an unknown supplier, especially if we're talking about tech purchases like smart TVs and audio equipment. Brands like Vizio, TCL and Samsung usually have budget options that (for the average watcher) are virtually as good as their higher-end models.
Displays

It might be a little tough to watch March Madness without some sort of screen, and those can get pretty pricey. If you're looking for a new display, whether it's a smart TV, a projector or something else, here are some affordable options:
Smart TVs
Projectors
Streaming devices

There are a ridiculous number of streaming devices on the market, and too many options can lead to indecision. To make things easier, we're highlighting some of the most popular devices at their lowest current prices. Also check out our list of the best streaming devices of 2020 to find the one that fits you best.
Shop Streaming Devices on Amazon
On-The-Go Devices

Since so many games are going on through the tournament's first weekend, more and more fans are watching March Madness on the go. Here are some options for getting the best quality mobile-viewing experience possible so you don't miss any action while out running errands.
If you're traveling abroad, you might also want to consider getting a VPN service that will allow you to stream March Madness wherever you are. If you're on a budget you'll want to take a look at KeepSolid VPN Unlimited, which is currently offering a lifetime subscription for $15. Just put the item in your cart and apply the promo code VPNFEB15 and the discount will be automatically applied.
Audio Equipment

Whether you're watching the game on the go or basking in the glory of your home theater setup, you'll want to have a crisp audio experience. Here is a quick selection of deals on headphones, sound bars and everything in between.
If these options didn't quite cover everything you need to enjoy the game, you should try setting a Deal Alert for whatever item you're missing. That way we can notify you whenever the right deal for you hits the web.
---
And you can always find great tech deals on our Frontpage:
Search URL: https://slickdeals.net/newsearch.php?firstonly=1&pp=20&sort=newest&rating=frontpage&filter%5B%5D=40&forumid%5B%5D=9&hideexpired=1&r=1
---
Any product or service prices/offers that appear in this article are accurate at time of publish, and are subject to change without notice. Please verify the actual selling price and offer details on the merchant's site before making a purchase.