This Budget Cruise Line Lets You Visit a Private Island for $150
MSC Cruises is breaking into the Caribbean market in a big way.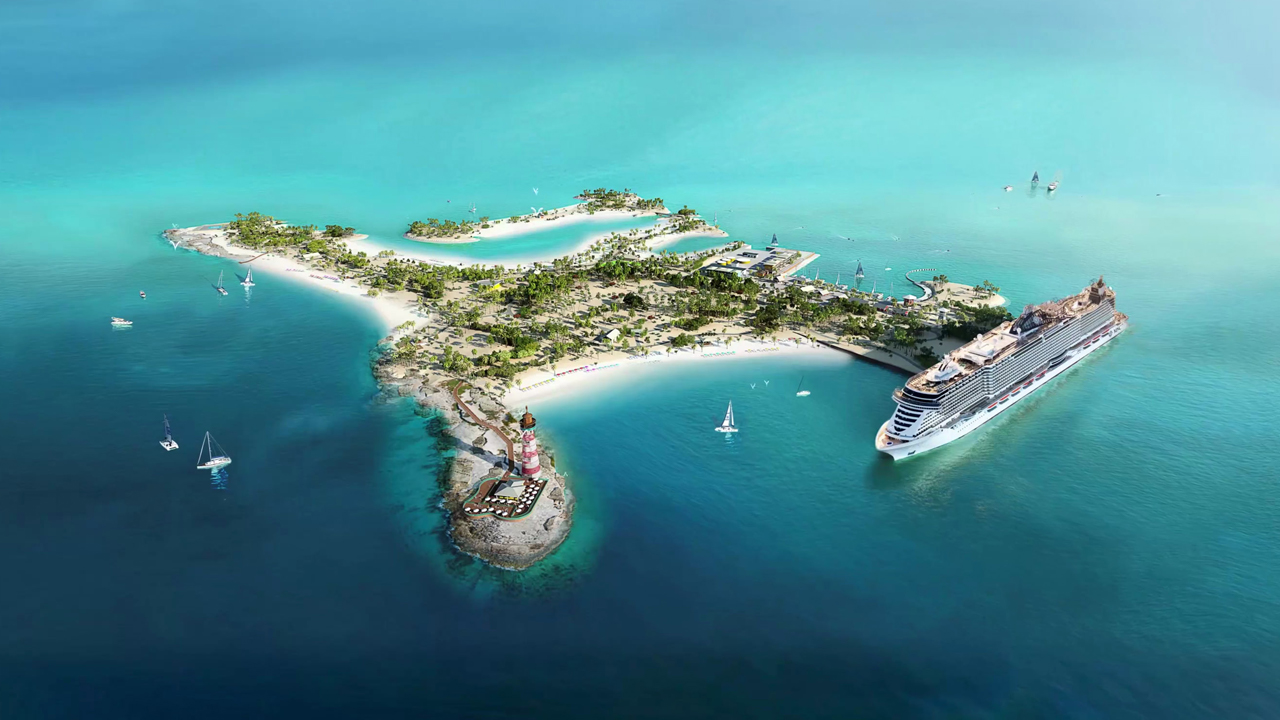 When you travelers to list the most popular cruise lines in the Caribbean, brands like Carnival, Royal Caribbean, Celebrity and Norwegian Cruise Line usually come to mind. However, MSC Cruises is beginning to make a major impact on the Caribbean market.
As of publish time, MSC Cruises has four ships operating in the Caribbean sea, including the Divina, Armonia, Meraviglia and the popular Seaside. One of the biggest boosts for MSC Cruises in the past year, however, is the opening of its new private island — MSC Ocean Cay Marine Reserve. This cruise stop, which is exclusive to MSC guests, will replace Nassau and other ports on some Caribbean itineraries.
Personally, I love this cruise line, having cruised with them nine times in the Caribbean, the Mediterranean and Northern Europe over the last four years. With this new stop, families score their own visit to a privately owned island in the Bahamas with crystal clear water and activities galore. So what exactly can you expect from an MSC Cruises trip to Ocean Cay? We're covering everything you need to know, including information on their seriously low prices.
Visit a Private Island for $150 Per Person
While MSC Cruises is known for its budget cruise offerings, fares on some of its Caribbean routes with a stop at Ocean Cay are downright cheap. For example, you can book a four-day, three-night cruise on the MSC Divina starting at just $150 per person, plus port taxes and fees. For the sake of comparison, a similar three-night cruise to the Bahamas on Royal Caribbean usually starts at $210, but can easily climb up to more than $300 per person.
That price is for an interior room and based on double occupancy. Additionally, note that kids ages 11 and under cruise free on select MSC Cruises' itineraries (although you'll still have to pay port taxes and fees for kids.)
RELATED: 14 Companies You Probably Didn't Know Let Kids Travel for Free
You'll leave Miami and cruise to Freeport in the Bahamas. From there, the ship stops in Ocean Cay from 7:00 a.m. until almost midnight. This means you'll have all morning, afternoon and evening to take in everything MSC Cruises' private island has to offer.
What to Expect on MSC Ocean Cay Marine Reserve
You'll find plenty of free things to do on Ocean Cay, including swimming and sunbathing in the crystal clear (and strikingly blue) Caribbean Sea. You can use beach loungers for free on the island, but umbrellas and cabanas cost extra.
Once you're on the island, you can dine for lunch at the main buffet and food trucks for free. Options from the buffet include jerk chicken, barbecue ribs, hot dogs and brats, grilled Mahi and more, along with a full salad bar, fruit and dessert bar. Food trucks scattered around the island serve hamburgers, hot dogs, veggie burgers and fries, among other basic offerings and snacks.
I was happy with the food choices at Ocean Cay, even as a vegetarian. Not only did they have veggie burgers and fries on offer, but they had an extensive selection of fresh produce, desserts and vegetarian snacks. Another plus is that the drink package from your cruise also works on Ocean Cay. You can enjoy all the tropical drinks you would normally get on the ship, on land, and without any added fees.
At night, Ocean Cay also hosts its own light show on the island, along with a Junkanoo parade. This was easily my favorite part of our trip to Ocean Cay since the nighttime weather is beautiful and the light show was such a unique experience.
What's Included in an MSC Cruise?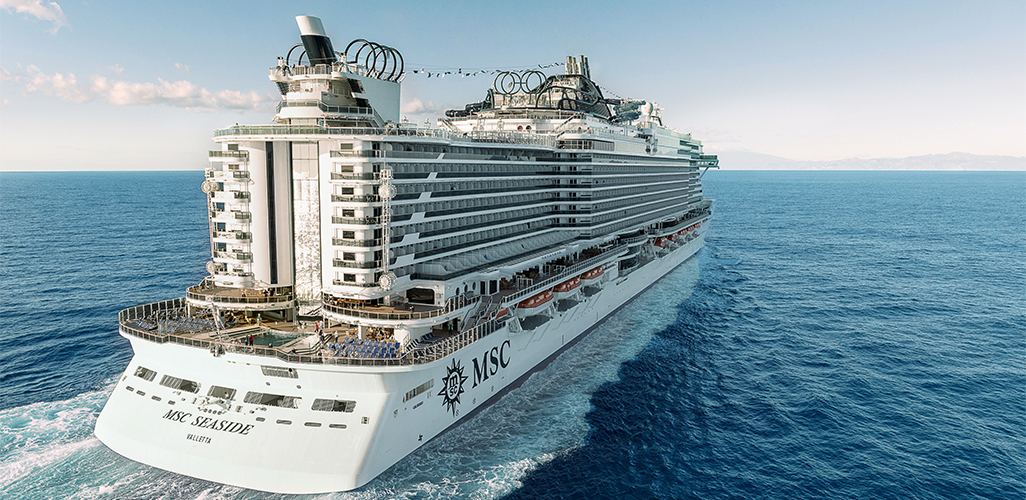 One big benefit of cruising is the fact that a huge component of your travel is included for a single rate. You'll get all your meals included with your cruise fare, including main cabin and buffet dining throughout the day. You'll also get a cabin-style room to sleep in, transportation from Miami to your cruise ports and all the free entertainment you can soak up.
As an example, MSC Cruises offers nearly non-stop entertainment and live music in its bars and common areas. You'll also find activities on the pool deck and nightly Broadway-style shows.
What's not included? You'll have to pay for most drinks beyond water, coffee and tea. And you'll definitely fork over a pretty penny for alcoholic drinks. You'll also owe government-mandated taxes and port fees, which typically add up to a few hundred dollars per guest.
Lastly, like all cruise lines, MSC Cruises charges a daily "tipping fee" that lets you avoid having to carry cash to tip room stewards, servers and other workers on the ship. With MSC Cruises, you'll pay a $12.50 per night charge per adult, and $6.25 per night for children ages 2 to 11. Kids under the age of 2 aren't subject to this service fee.
The Bottom Line
If you're ready to get away to somewhere tropical and warm, a short Caribbean cruise starting at just $150 is a hard deal to beat. You'll escape from the minutiae of daily life and get to spend a day on a private island that's absolutely gorgeous. It's perfect for rest and relaxation, water sports or some plain ol' beach partying.
Of course, while cruising is usually fairly frugal, your vacation will be significantly less expensive if you're able to avoid airfare to the cruise port. Additionally, you'll obviously pay more if you want to take a longer cruise or splurge for extras like a drink package, onboard internet access or fancy excursions at each of your ports. At the end of the day, budget cruise lines pave the way for an affordable cruise with plenty of included perks, but you can still spend more than you planned if you're not careful.
My advice? Look for a cheap cruise to Ocean Cay Marine Reserve, eat all the free food you can get your hands on and take advantage of all the free activities you can find on the ship and on land. Ultimately, when you're cruising the Caribbean on a giant floating resort, you don't have to spend a lot to have fun.
---
On the lookout for more cruise deals? Set a
Deal Alert
and we'll notify you as soon as a new offer is posted. You can also find deals on hotels, flights and more on our
Travel Deals
page.
UP NEXT: 
Our editors strive to ensure that the information in this article is accurate as of the date published, but please keep in mind that offers can change. We encourage you to verify all terms and conditions of any product before you apply.