Save $200 on the Galaxy Note20 Series at B&H
Several great deals are already available, as Samsung tries to promote its next flagship device.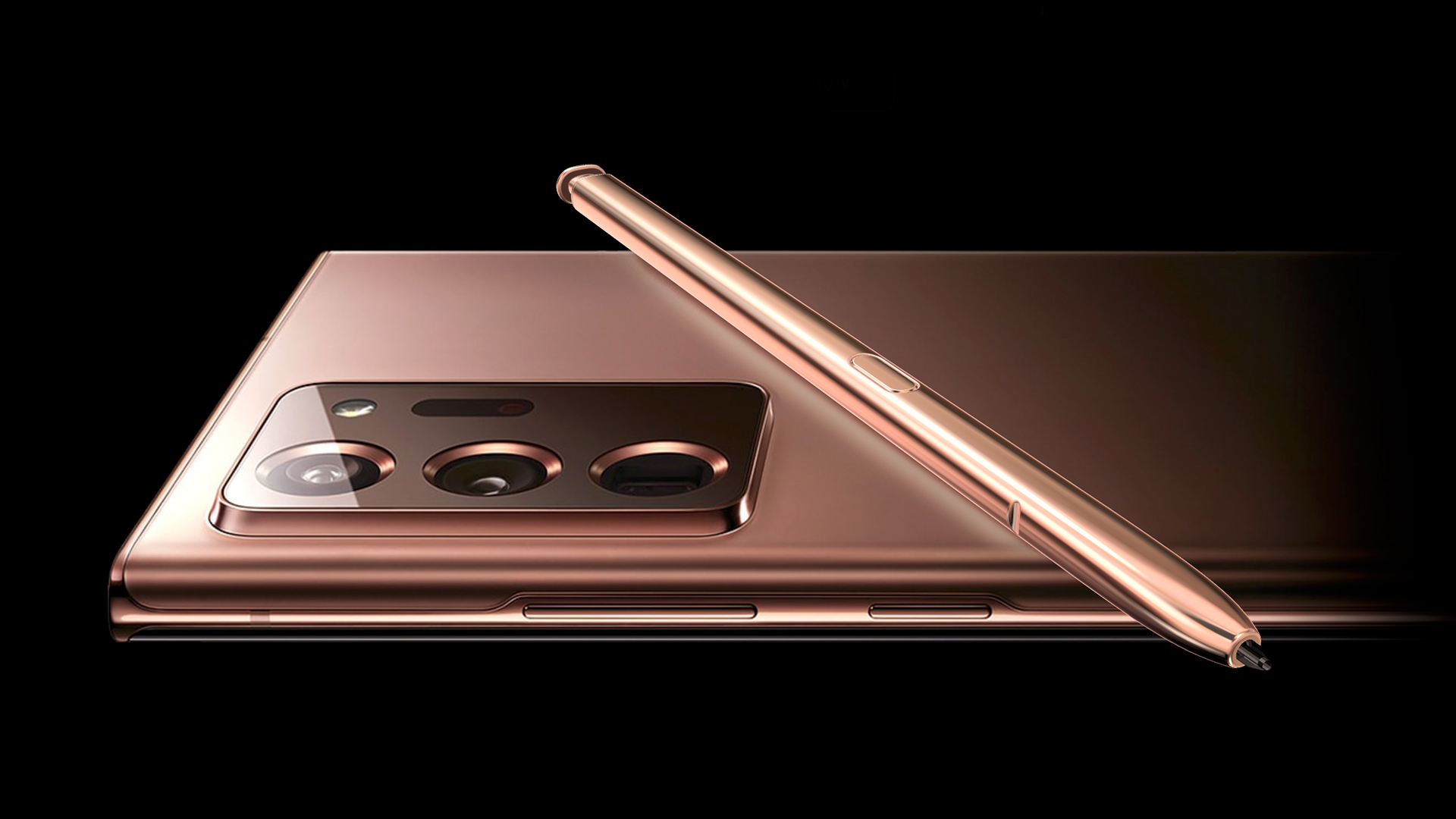 For a limited time, B&H Photo Video has the Samsung Galaxy Note20 and Note20 Ultra on sale for $200 off, with prices starting at $799.99.
No matter which model you spring for you'll be getting one of the best Samsung products on the market. Both phones have 5G connectivity, super-fast charging and 8K video recording.
The Note20 series launched on August 21st, and seem to perfectly bridge the gap between work and play. The Note20 features a 6.7-inch screen, and the Note20 Ultra has a. 6.9-inch screen for those who want something bigger.
Take a look below to see which is best for you.

The Best Deals for the Note20 & Note20 Ultra
Retailing for $999.99 and $1299.99, Samsung's new phones definitely aren't the most budget-friendly options on the market. However there are several promotions available to help make the price a bit more palatable. First and foremost, many retailers are offering some form of trade-in discount for customers interesting in upgrading to the Note20.
B&H Photo Video
Best Possible Sale Price for Note20: $799.99
Offer: While this isn't the biggest discount on our list, it is totally contract-free and applies to both the Note20 and Note20 Ultra.
Note20 Offers
Note20 Ultra Offers
Samsung
Best Possible Sale Price for Note20 5G: $274.99
Offer: Samsung is offering an instant trade-in credit of $650 for qualified devices, and $400 for qualified devices with cracked screens. .
If you're a teacher, first responder, government, business or member of the military, you can save up to an additional $75, bringing the total price down to $274.99 if you have the right phone to trade in. Check out Samsung's discount program page to see if you qualify for additional savings.
Verizon
Best Possible Sale Price for Note20 5G: $449.99, BOGO
Other Potential Bonuses: $150 Samsung Credit, $150 Verizon Gift Card
Offer: There are a lot of bonuses for purchasing the Note20 from Verizon. The best deal of all is the buy one, get one free promotion. One thing to be aware of before ordering: the free phone will be added as a new line. You can also save up to $550 with select trade-ins, earn up to $150 in Samsung Credit with your order, and get a $150 Verizon Gift Card when you switch to Verizon on Unlimited.
Xfinity Mobile
Best Possible Sale Price for Note20 5G: $499.99
Offer: Order either phone to receive a $100 Samsung Credit. You can also get $400 off your purchase if you are transferring a line from a different provider. Xfinity Mobile does give trade-in credit for old phones, but you'll need to go to your local Xfinity Mobile retailer in order to get a quote. If your phone is accepted, you'll receive a check in the mail within the next 30 days.
Check Offers at Xfinity Mobile
AT&T
Best Possible Sale Price for Note20 5G: Free
Other Potential Bonuses: $150 Samsung Credit
Offer: If you switch to AT&T, add a line or upgrade an AT&T line, you can get up to $1000 off the Note20, which basically makes the base version free. However, to get maximum savings, you'll have to join an unlimited plan and trade in your old phone, and not all trade-ins hold the same value. If you have a device that's several years old, don't expect to get a Note20 for free. Like many other retailers, you'll also be eligible for up to $150 in Samsung Credit when you order.
T-Mobile
Best Possible Sale Price for Note20 5G: BOGO
Offer: Like AT&T, T-Mobile is giving customers a chance to pick up the Note20 for free. They'll need to purchase it on a monthly payment plan, purchase a second Note20 on another payment plan, and then they'll receive 24 monthly bill credits that come to a grand total of $1000. Just don't cancel your line before the two years are up, otherwise you might be on the hook for the entire price of both devices.
Best Buy
Best Possible Sale Price for Note20 5G: $299.99
Other Potential Bonuses: $150 Samsung Credit
Offer:  Save up to $700 with a qualified activation, trade and purchase. You can also get up to $150 in Samsung Credit to buy more Galaxy gear. Check out the extensive details on Best Buy's official site.
US Cellular
Best Possible Sale Price for Note20 5G: $300
Offer: Sign up for an Unlimited Everyday or Even Better plan, start a new line, or transfer an outside line and you'll be eligible for $700 off your new Note20. It'll come to you in the form of monthly bill credits, but that's still $700 you get to keep in your pocket.
Galaxy Note20 Full Specifications
Both devices are incredibly powerful, but anyone looking for the next leap in handheld technology will want to look closely at the Galaxy Note20 Ultra. Here's the complete rundown for each phone:
Samsung Galaxy Note20
MSRP: $999.99
Display: 6.7 inches
Chipset: Snapdragon 865 Plus +Exynos 990
RAM: 8GB
Storage: 128GB
Battery: 4,300 mAH
Rear Camera: 12MP, 64MP Telephoto, 12MP Ultrawide
Galaxy Note20 Ultra
MSRP: $1299.99
Display: 6.9 inches
Chipset: Snapdragon 865 Plus + Exynos 990
RAM: 12GB
Storage: 128GB or 512GB
Battery: 4,500 mAH
Rear Camera: 108MP, 12MP Telephoto, 12MP Ultrawide + Laser Focus Sensor
Other Recently Announced Galaxy Products
On August 5th, Samsung held its highly anticipated Galaxy Unpacked event, announcing not one, but five new Galaxy devices, including a new tablet and true-wireless earbuds.
Beyond the Note20, Samsung revealed a few other Galaxy products. None of them have as many discounts available as the flagship phone, but they're nonetheless worth a look.

Galaxy Tab S7 & Tab S7+
The next iteration of the Galaxy Tab released on August 21st, with multiple models available. The latest versions feature Wi-Fi and 5G connectivity, up to 512GB of memory and all-day battery life. We still haven't seen many deals for this one, so set up a Deal Alert if you're interested in the Tab S7.
Explore the Galaxy Tab S7 at Samsung
Samsung

Galaxy Buds Live
Samsung's sleek, new true-wireless earbuds are now available and come in three different colors (Black, White, Bronze). The Buds Live are a step up from Samsung's Galaxy Bud Plus earbuds, with active noise cancellation and larger audio drivers. They also feature a unique bean-looking design. Several retailers are sold out of the popular White and Bronze versions, so you might have to shop around a bit.
Samsung
Best Buy
Verizon
AT&T
T-Mobile
Galaxy Watch3
This version may be slimmer than the last Galaxy Watch, but its price is just as massive. The smartwatch also has an FDA-cleared heart monitoring EKG app along with other health features. The Watch3 is now available at most retailers.
Explore the Galaxy Watch3 at Samsung
Samsung
Trade in your old phone, watch or tablet and earn up to $150 in credits towards your new Watch3.
Best Buy
Verizon
Get up to $100 off when you trade in an old Galaxy Watch. You'll also get another $100 off when you purchase it with a Samsung smartphone.
AT&T

Z Fold2
More info on Samsung's highly-anticipated, foldable smartphone will be announced on September 1st, which is also the date that pre-orders will begin. However, we expect it to retail for nearly $2000 and to release sometime early in 2021.
If you want to keep an eye out for any future sales on these Samsung products, make sure to set up a Deal Alert and we'll help you save some cash.
Here's a recent smartphone deal from our Frontpage:
Search URL: https://slickdeals.net/newsearch.php?firstonly=1&pp=20&sort=newest&rating=frontpage&filter%5B%5D=37101&forumid%5B%5D=9&hideexpired=1&r=1
Our editors strive to ensure that the information in this article is accurate as of the date published, but please keep in mind that offers can change. We encourage you to verify all terms and conditions of any product before you apply.