Sephora Sale Alert: Save Up to 20% During the Beauty Insider Appreciation Event
It's time for a fall beauty haul.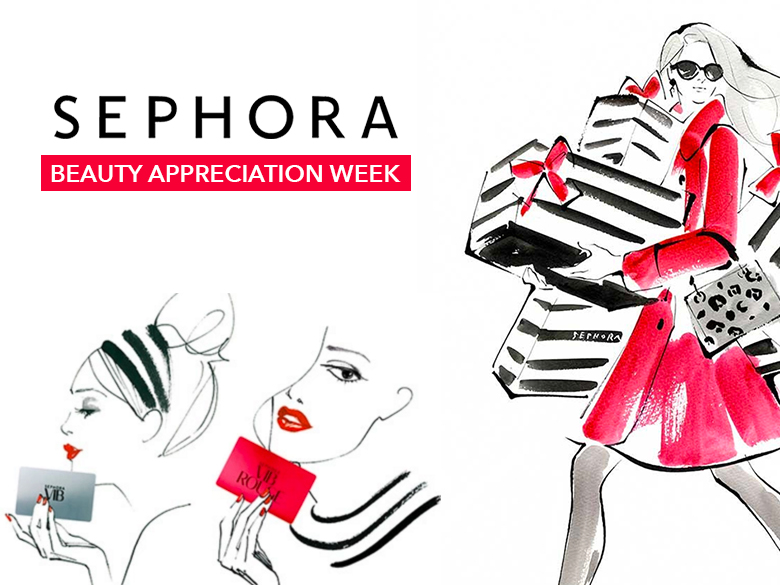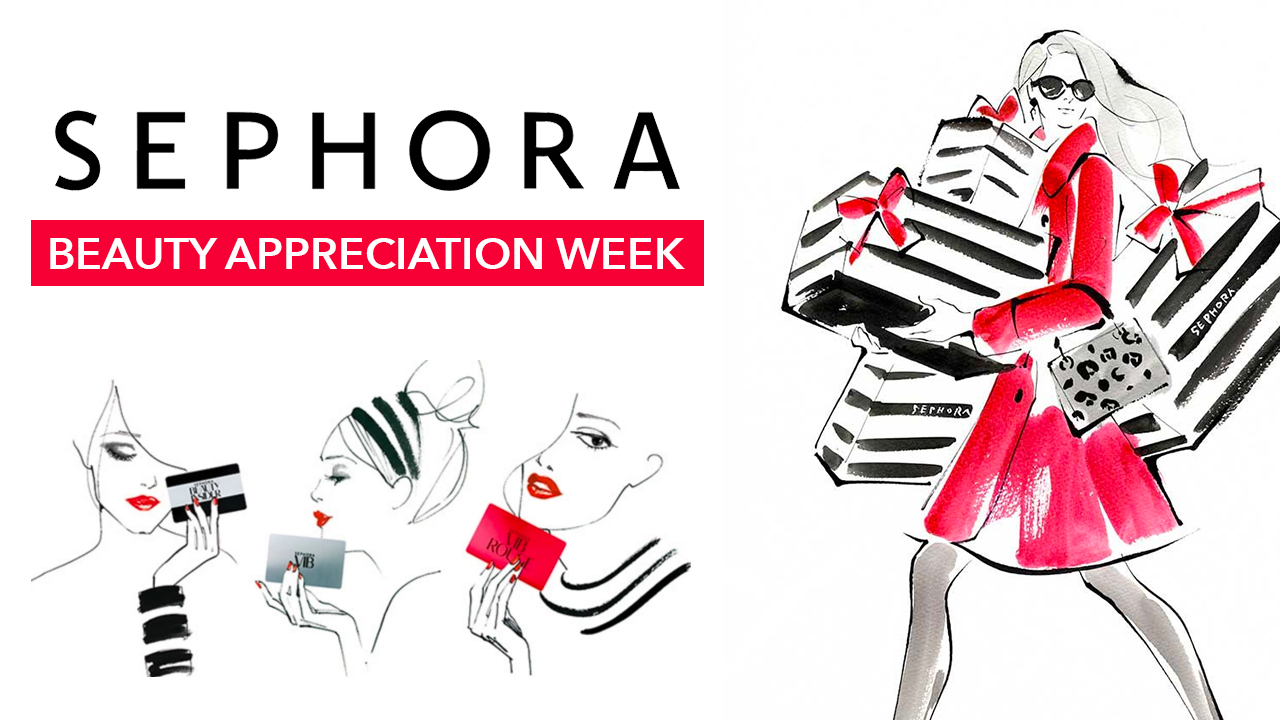 Mark your calendars, Sephora shoppers. The store is giving its Beauty Insiders up to 20% off during its upcoming Beauty Insider Appreciation Event. We're giving you all the details of what to expect during this special Sephora sale (including some big changes to the rewards program itself).
Sephora Sale Overview: What Is the Beauty Insider Appreciation Event?

This highly anticipated Sephora sale officially kicks off on Friday, Aug. 24 for Rouge members only. These top-tier customers get to enjoy six extra days of the sale, and they can take 20% off almost anything they want in-store and online. VIBs and Insiders can take 15% off and 10% off, respectively, starting Aug. 30 instead. The sale runs through Monday, Sept. 3, but you'll want to shop early to get your hands on your favorite products and preferred rewards.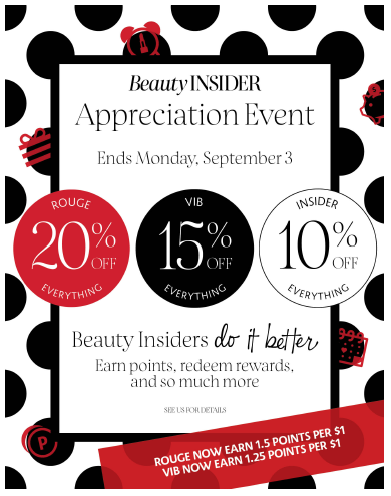 One caveat with this year's sale? You can use your coupon in-store as many times as you wish, but you can only use the coupon code once online. Use the following codes at checkout, depending on your membership level:
20% off for Rouge: YESROUGE
15% off for VIB: YESVIB
10% off for Insider: YESINSIDER
Also, keep in mind that the Sephora sale is valid inside JCPenney stores but not on jcp.com.
What Is Sephora's Beauty Insider Program?
If you're not yet a member of Sephora's Beauty Insider program, now's the time to join. Once signed up, shoppers earn rewards based on how much money they spend at Sephora throughout a calendar year. The store offers three different membership levels:
Insider: FREE to join
VIB: Spend $350-$999/year
Rouge: Spend $1,000+/year
Members can redeem their rewards points at any time by choosing items from the Rewards Bazaar. Those items ship free with any order, and individual rewards of 750 points or more ship free with no purchase required. Members also receive birthday gifts, free beauty classes, mini makeovers and seasonal savings (like the discounts offered at the Beauty Insider Appreciation Event).
Sephora's New & Improved Rewards
According to Sephora, the upcoming sale is aimed at celebrating Beauty Insiders, as well as recent changes to the Beauty Insider program. But don't worry — most of these changes are definitely for the better. Here's the complete breakdown: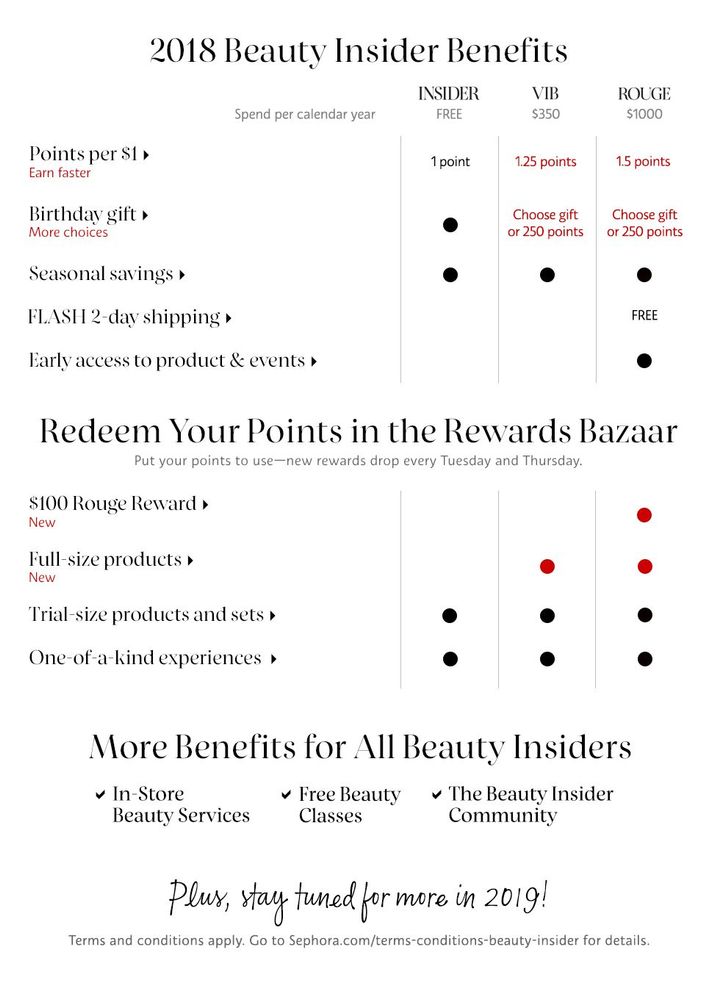 As you can see, the membership tiers are still figured the same: Insider membership is free, while VIB and Rouge statuses require $350 or $1,000 expenditures throughout the calendar year, respectively. Here's what's new and improved:
Faster points: In the past, all Beauty Insiders earned points the same, i.e., $1 = 1 point. Rouge members will now earn 1.5 points per $1 spent, while VIBs will earn 1.25 points per $1 spent. (The ratio for Insiders will remain at 1 for $1.) These points never expire as long as you're an active Beauty Insider member.
Better birthday presents: Sephora always gives its Beauty Insiders a little something special during their birthday month, but the store is now offering more gift options to its top customers. All members will still receive birthday gifts, but VIB and Rouge members can choose between the standard gift or having 250 extra points added to their accounts.
More rewards: Sephora's Rewards Bazaar now contains five times more rewards, including a brand-new $100 Rouge Reward and even two or three full-size products for VIB and Rouge members each month. As for that $100 Rouge Reward, it's all yours when you redeem 2,500 points (which equals $1,667 in purchases). You can use it like a gift card on any Sephora products of your choice.
One negative? The store's two-day shipping now costs $15 per year for Insiders and VIBs (although it's still free for Rouge members). That's a $5 annual increase, but it's worth considering if you need your beauty essentials delivered in a flash.
9 Slick Ways to Save Money at Sephora

Splurge with confidence. The store is known for its generous return policy, and you get to keep the rewards you earned on returned items.
Score free samples. If you're shopping in-store, ask a sales associate for a sample of any product you're on the fence about. Shopping online? Choose three free samples before you complete your Sephora order regardless of how much (or how little) you spend.
Personalize your buys. Thanks to Sephora's Color IQ system, you never have to worry about buying the wrong foundation shade again. Just have a sales associate scan your skin tone, and then shop for items based on your specific shade number. (It takes all of one minute, and it will save you so much time in the future.)
Check out what's on sale. Each week, Sephora offers a "Weekly Wow" with limited-time deals on select products in-store and online. Each discount is only available for seven days (and only while supplies last). The store also has a sale section with lots of pretty prices, so give it a once-over to see if something you love is currently reduced.
Shop value sets. Before you buy that pricey moisturizer or bottle of perfume, it's always a good idea to check Sephora's Value Sets first. These gift collections let you buy two or more products for one low price.
Enjoy FREE mini makeovers. Beauty Insiders can take advantage of complimentary makeovers inside Sephora stores. Just ask an associate for a quick tutorial on how to do your makeup or hair.
Skip the mini sizes. You know, the ones that Sephora has right in front of the checkout stand. They're usually more expensive per ounce than their full-size alternatives, so do the math before you commit. If it's something you haven't tried before, you're better off asking for a free sample instead.
Check out the Sephora Collection. Yes, Sephora has its own line of products (and yes, they're amazing.) The Sephora Collection includes makeup, skincare, fragrance, haircare, bath and body essentials, brushes and men's products — and prices start at just $5.
Join PLAY! Sephora's monthly subscription box includes five trial-size samples, one beauty bonus item and a pass for 50 Beauty Insider points all in a collectible bag. It costs $10 per month to subscribe, and it's a great way to try different products without spending a fortune.
threadID: 11860355

Will you be shopping the upcoming Sephora sale? Do you like the changes the retailer has made to its Beauty Insider program? Sound off in the comments section below!
Images courtesy of Sephora.
Our editors strive to ensure that the information in this article is accurate as of the date published, but please keep in mind that offers can change. We encourage you to verify all terms and conditions of any product before you apply.