10 Tech Products You Should Only Ever Buy On Sale
Get the best for less.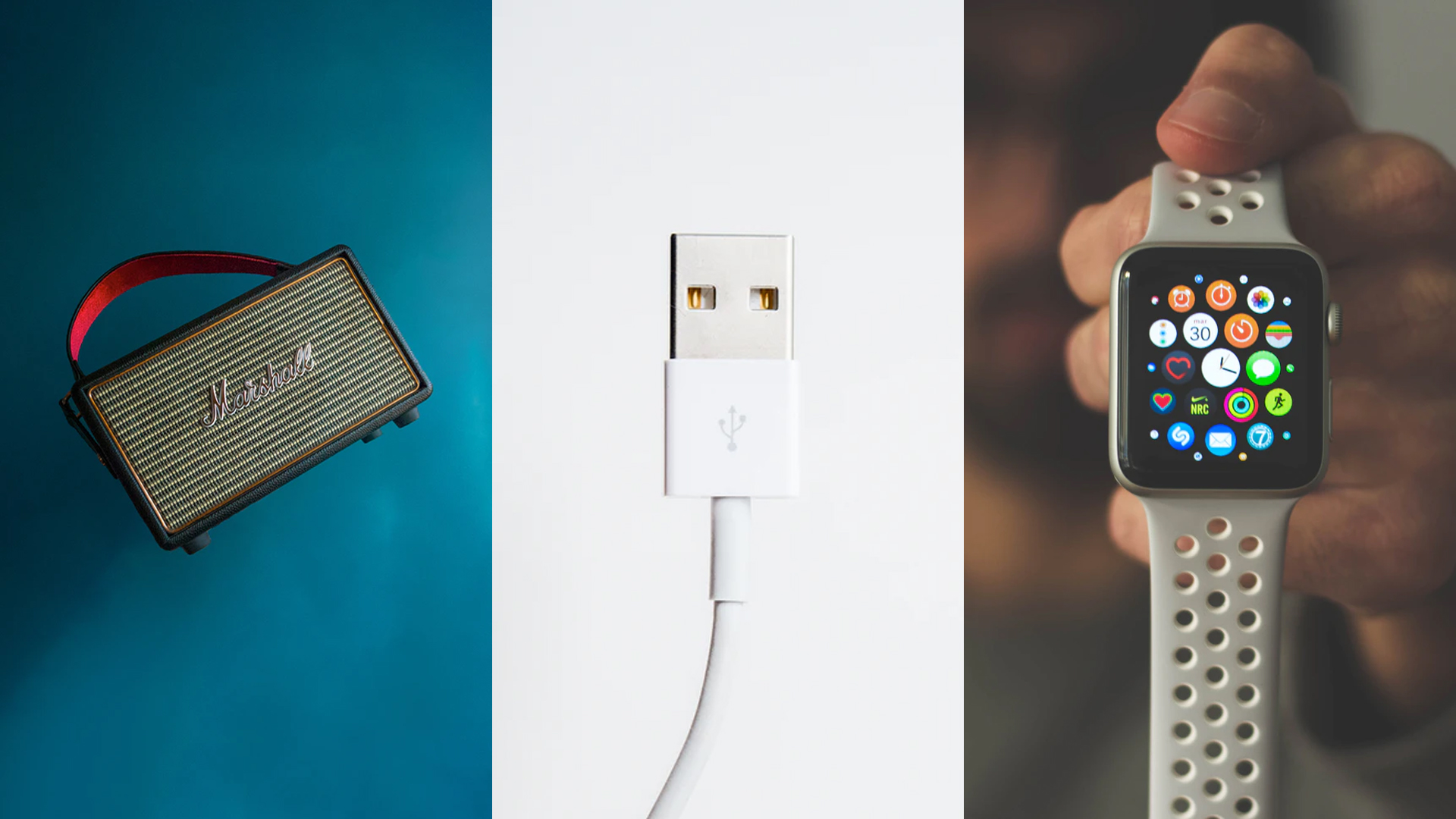 You can save yourself a lot of money if you know what tech products frequent the deal market. While it can be tempting to bite the bullet and hit the buy button on that full-price gadget you've been eyeing for the sake of convenience, you might be inadvertently passing up on a hot deal that's just around the corner.
This is not to say you should never shop tech products full price — some rarely go on sale, so it isn't worth your time to sit around hoping the price tag goes down.
The trick is knowing what products are basically guaranteed to go on sale regularly, as these are the ones you should never buy at full price. Considering the high price tags on products such as Apple Watches and laptops; even waiting a little bit for a single deal can save you a pretty penny.
To give you a better idea of what is worth a (brief) wait, we've rounded up a list of the top tech devices you should always get at a discount.
Don't Spend Full Price on These Tech Products
1. Accessories (Adapters, Plugs, Cables)

As your small army of technological devices continues to grow, so does your mess of charging cables, power blocks and adapters. Not only do you need to have them to operate your devices, but they are also shockingly easy to lose (or break if they are cheaply made).
Thankfully, the universal need for these inexpensive peripherals has led to a larger variety of brands and products to choose from. Of course, you should always be discerning and do your research to determine the speed of an HDMI cable or the sturdiness of an iPhone charger, but the large selection also means that these brands need to hold regular sales to remain competitive.
The deal hunter's ethos is best defined by a community-driven determination to unlock savings on every purchase, no matter how small. You can learn a lot about an unfamiliar brand (and whether or not it's any good) by checking out current (and past) Deal Threads, which offer a wealth of information and opinion. In addition, downloading the Slickdeals browser extension is a surefire way to make sure that you're getting the best possible price on your new USB-C charger, even if it costs less than $10 at the regular price.
2. Apple Watches

Unless you are a hardcore Apple fan who needs to have the latest and greatest technology as soon as it comes out, there's no reason to spend full price on an Apple Watch. New generations are released at least once a year, so the relatively short life cycle ensures that the newest model will become "obsolete" and go on sale. Seeing as you can still buy a refurbished or like-new first-generation Apple Watch from 2015, there's little reason to balk at buying last year's model for $100 off (as long as you don't mind having a limited selection of colors to choose from).
Not sure if a too-good-to-be-true Apple Watch deal is legitimate? Take advantage of the vibrant and ever-opinionated Slickdeals community. You can learn a lot about certain retailers' refurbishing practices and customer service issues by browsing the forums. If you're like mikeforman4724, you might even find out that you qualify for a class-action lawsuit that entitles you to a free screen repair.
3. Batteries

Modern technology has come a long way, but the Li-ion and alkaline batteries of yesteryear are still the golden standard for powering our devices. As long as we need to be cognizant of whether or not batteries are included, they will remain a household staple. Luckily, you don't have to spend a whopping $20 on a handful of AAA batteries in the grocery checkout line when you can buy twice as many for less than half as much during a sale.
By making a habit of browsing tech deals on Slickdeals, you'll find that it's hard not to find a steeply discounted pack of Duracell or AmazonBasics batteries. If you have a kid with lots of battery-hungry toys, consider setting a Deal Alert for your preferred size or brand.
4. Laptops

While some of these products are best to buy on sale due to the frequency of new deals, laptops do not go on sale as often as an HDMI cord. Instead, there are a few consistent "sale seasons" where you can expect to see the top deals of the year. Broadly speaking, the deepest discounts (especially on popular and high-end models) crop up during the back-to-school season (early summer through September), the holidays (late September through the new year) and the early springtime (late February through April).
Back-to-school is the best time to buy an inexpensive workhorse laptop designed for transport and workflow, while the early springtime sale is perfect for shoppers interested in finding an introductory deal on a brand new model. The holidays are more of a wildcard in terms of availability, but you can get some unbelievable deals by taking advantage of doorbuster deals and stackable coupons.
Having a hard time figuring out which brand of laptop is right for your needs and your budget? Between the wealth of community-supplied information available in Deal Threads and forum posts and our regularly updated brand overview articles, you shouldn't have too much trouble determining which laptop works for you (and how much you're willing to pay for it).
5. Security Cameras

The smart security camera market has exploded over the last few years, giving consumers a broad range of features and price points to consider. There are two major arguments for buying your next security camera on sale — the ever-growing number of brands need to offer a lot of value (also known as hot deals) to remain competitive, and the relatively recent emergence of the market means that earlier models are still widely available at rock bottom prices.
Depending on your needs and the layout of your home, not everyone needs to shell out for state-of-the-art security equipment. If you want a simple tool to monitor your package deliveries, you can get a serviceable security camera for under $50 with a little bit of research and sale shopping.
If you require a higher-end setup but have no clue where to begin, take some time to see what your fellow community members think of their security systems. You can get custom notifications, read helpful posts and browse the site on your mobile device by downloading the Slickdeals app for iPhone and Android.
6. Smart Home Components

The concept of a "smart home" is still quite recent, even if you have long forgotten how to turn your lights on and off manually. As smart home technology continues to progress, new generations of Google Nest hubs and Echo speakers will continue to crop up and knock their predecessors down onto the sale shelf.
Major retailers like Best Buy and (especially) Amazon are practically giving away new Echo Dots during major sales events, so you might even get away with spending no money at all if you play your cards right. These rock bottom price drops tend to fall closer to the holiday shopping season, but stock is often limited – stay ahead of the pack!  Staying prepared is as easy as setting a Deal Alert for the brand or product you're interested in buying.
7. Smartphones and Cellular Plans

Apple, Samsung and other major smartphone manufacturers typically update their respective signature smartphones every year. So if you're looking for a preorder deal on the latest model or a tidy markdown on the soon-to-be-obsolete version, this consistent release schedule ensures that you'll always have a few months to get your finances in order.
If you don't mind buying a phone that is over a year old, you'll have an even easier time finding a sale — cellular providers and major tech retailers regularly have deals on refurbished older models. Some providers have offers where you can trade in your old phone for a discount, like Verizon's recent iPhone trade-in event where you could bring in an older iPhone and get $700 back towards purchasing a new one.
Unfortunately, many carrier-based plans tend to come with quite a bit of fine print. You can save a lot of time and energy by reading through an offer's Deal Thread — or even posting your own if there isn't one already.
8. Speakers

Whether you're on the hunt for home theater surround sound or a budget Bluetooth speaker for the backyard, a little bit of patience can save you hundreds of dollars on your next speaker purchase. Retailers like Best Buy and B&H Photo Video routinely offer bundle deals where you can get a heavily discounted soundbar or surround speakers with the purchase of a new TV.
Bluetooth speakers don't have a predictable sale schedule, but third-party Amazon brands release new coupons pretty often to compete with mainstays like JBL and Anker (which go on sale less often but tend to have more consistent quality for the price). Since most of these speaker deals don't adhere to a consistent schedule, you will have the best shot at getting a good deal by choosing a few brands you like and setting a Deal Alert.
9. Streaming Devices

There's no reason to pay full price for a streaming device like Amazon's Fire Stick or Roku's line of affordable streamers. Cable cutting in favor of on-demand streaming has become the standard in many American households, which explains why streaming deals are some of the most popular posts on Slickdeals. Because of their widespread popularity and relatively affordable cost of entry, streaming devices are heavily featured during Prime Day and many tech retailers' holiday sales.
10. TVs

TV manufacturers operate on a pretty consistent sale schedule, similar to that of smartphones. The holiday shopping season is usually the best time to get a good deal on the latest model, as the sales are competitive and the TV is just a few months away from becoming obsolete. However, if you want to save on last year's model, it's worth waiting through those few months and making your purchase in the early springtime after the new version hits the shelves.
You don't have to lift a finger to find the most valuable TV deals on Slickdeals — we update our list of the best 4K TV deals on a monthly basis. At any given time, there are so many live TV deals that we have to sift through the glut of affordable OLED screens to find the absolute best ones available right now. On top of that, our buying guides even help you decide which deal is right for your household.
If you haven't already set a million new 
Deal Alerts
, here is your final reminder. After all, setting a Deal Alert is the quickest and easiest way to stay up to date on the latest deals and discounts.
More to consider:
Our editors strive to ensure that the information in this article is accurate as of the date published, but please keep in mind that offers can change. We encourage you to verify all terms and conditions of any product before you apply.