The Holiday Gift Guide for Photographers
We've got the scoop on the best presents for the photographer in your life, no matter your budget.

The holiday season is fast approaching, which means the clock is ticking to find the perfect gifts for your loved ones. Photographers can be a picky lot, with a wish list that is not only out of their price range, but probably out of yours as well. Despite the fact that photographers dream big, there are still plenty of products within your budget to make even the pickiest photographer happy.
Whether you go with a fun novelty item or some useful photography gear, just keep in mind who you are shopping for. A lens-shaped coffee mug may be cute, but it's not everyone's cup of tea.

Budget Buys
Mini Double Lens Flashlight Keychain $3
This cute little flashlight keychain is the perfect stocking stuffer for any photography lover. It even makes the adorable shutter noise when you turn it on.
Bundle Packet of Lens Caps $7
If you're buying for a forgetful photographer, this is the gift to get. This 10 piece kit comes with 5 lens caps and 5 keeper leashes so you don't have to worry about losing a lens cap. The bundles can be purchased in different sizes, so be sure to verify the right size is selected before purchasing.
Level Camera Cube $15
This tiny 1 inch cube easily slides into the camera hot shoe for a convenient way to level out a photo, and it's made to level out photos at any angle. It's such a simple accessory that can make any photographer's life a little easier.

Outdoor Photography and Popular Photography Magazine Subscriptions $24
While a one year subscription to both Outdoor Photography and Popular Photography normally retails for $24, Slickdeals user Brisar recently posted a great deal on these for only $8. With Black Friday right around the corner, you might be able to find a similar deal coming up soon.
8GB Camera Shaped USB Drive $5
This adorable 8GB USB drive is the perfect gift for under $10. Photographers go through USB drives like candy; they can never have enough. What camera enthusiast wouldn't be happy to see this cute USB drive in their stocking?

Vintage Camera Organizer $14
This vintage camera organizer is for the photographer in your life that needs a little help with organization. Make note that this product is made of a sturdy cardboard cutout that you assemble yourself, no tools required. It's made to hold basic desk clutter and look sophisticated while doing it.
Understanding Exposure by Bryan Peterson $16
This is a great book for anyone trying to learn the ropes of a DSLR camera. Bryan Peterson covers everything an aspiring photographer needs to know about aperture and shutter speed with his latest edition. If you know someone that needs a little push to stop using auto mode, this may be the gift for them.
Mid-Priced Presents
Crash Plan $60 a year
Photographers have nightmares about hard drives crashing with all of their work lost forever. The Crash Plan is a data management system for backing up files. This plan offers unlimited storage with easy to use software that will automatically create a backup of your work. This may not be the most glamorous gift, but one that will help a photographer sleep better at night.

Beanie with Lens Cap Pocket $39
This product might seem a bit silly to those on the outside, but it's ridiculous how easy it is to lose a lens cap. If you have a photographer who already wears beanies, this one comes with a super useful pocket for a lens cap. It's useful and it'll keep your head warm on a outdoor shoot.
WhiBal Neutral White Balance Card Pocket Kit $30
The purpose of this card is to help achieve accurate white balance. It's shaped to slide conveniently into a bag or back pocket. It's one of those products that most photographers don't realize they need, but can't live without once they have one.
BlackRapid Sport Camera Strap $74
If you want to buy only the best for the photographer in your life, consider investing in a BlackRapid camera strap. Any photographer that has had to carry their equipment around their neck for any length of time will tell you that replacing the camera strap is on their to do list. This camera strap is not only super comfortable, but also comes with a few small pockets to store camera accessories.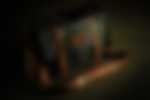 Portage Waxed Messenger Camera Bag $90
If your loved one is asking for a new camera bag, then may we suggest this sexy genuine leather messenger bag by Portage. The quality and design of this bag are enough to please any photographer. It's made with a premium waxed canvas and has enough room to carry a camera, two lenses and a laptop or tablet. Plus, it's currently marked down more than 50 percent, so you're getting a great deal.
Splurges for That Special Someone
"Nifty Fifty" Lens aka 50mm fixed Lens $99 - $300

A 50mm fixed lens is a popular and versatile piece of equipment that many photographers swear by. It's a superb lens for everything from food photography to portraits. This lens is not a one-size-

fits-all, so be sure to note what camera the recipient is using first.
Pico Flex Dolly Kit $100
A tripod is usually one of the first accessories photographers purchase, but chances are pretty good that they won't have a Flex Dolly yet. This neat little contraption is a light weight stationary dolly, which comes in quite handy when attempting shots you just can't get any other way. It even comes with a convenient travel kit and iPhone Clip.
La Sardina Camera and Flash Belle Starr $199
This gorgeous Victorian-style 35mm camera is the toy that every photographer wants, but just can't justify buying. This camera comes with Fritz the Blitz External Flash, four color filters, lens cap, La Sardina book and a poster. If you are trying to buy a photographer's love, this is the way to go.

What are you getting for the photographer in your life (or for yourself)? Are there any other products you would recommend? Let us know in the comments!
See all photography Slickdeals here!
Images courtesy of Thinkstock/Fabiano Mesquita, Amazon, Photojojo, B&H, ThinkGeek.