Attention Members: Make Sure You Don't Miss Out on Costco's Amazing Travel Deals
You can see more of the world for less with Costco Travel.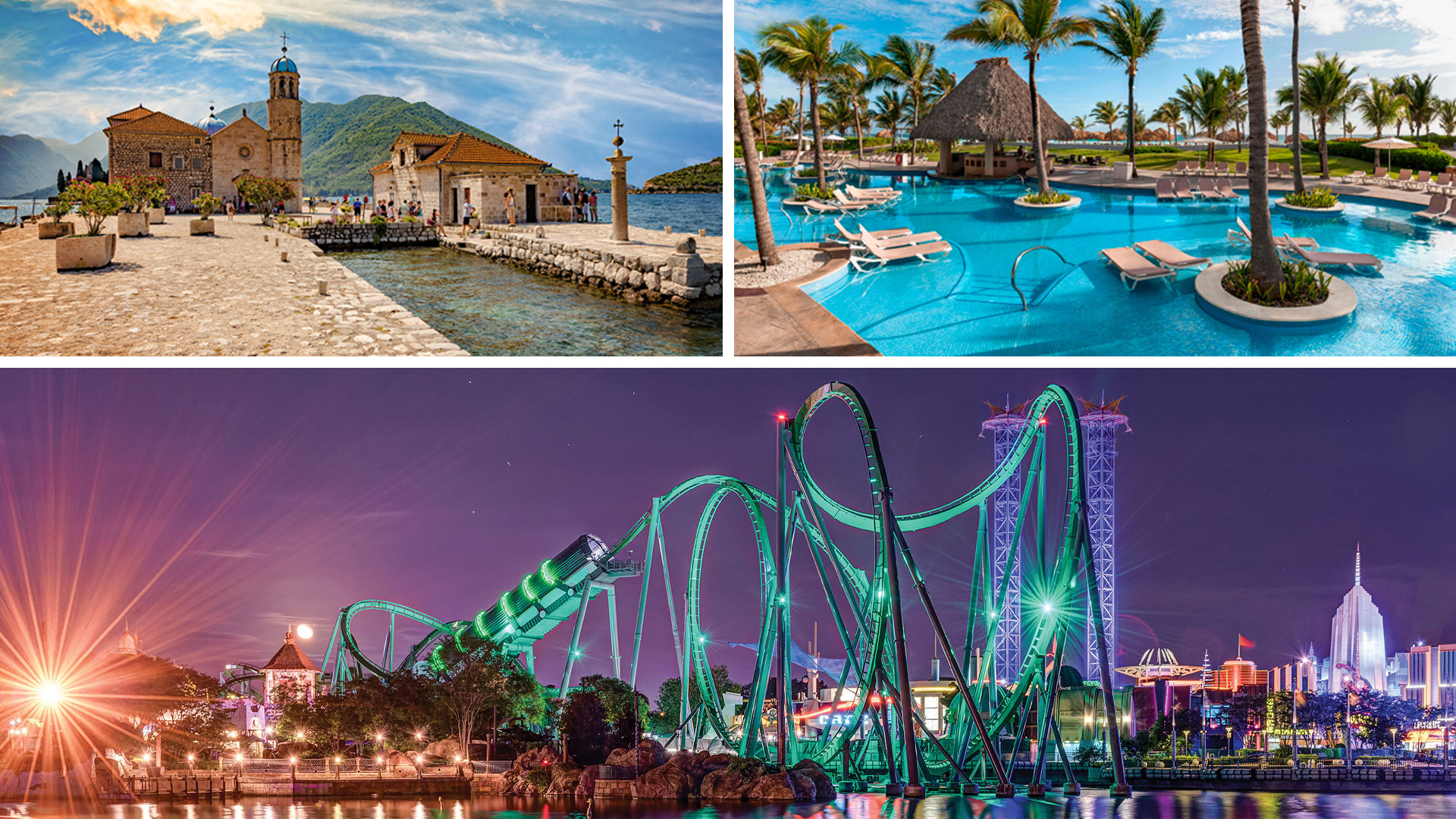 When it comes to savings, Costco members have it all. Beyond major discounts on food, electronics, furniture and much more, there's an often overlooked avenue of bargains all deal hunters should know about. Enter the retailer's unbeatable travel deals.
And with the world opening back up, there's no better time to learn of this hidden gem. Whether you're looking for a budget-friendly all-inclusive vacation for your squad or an affordable rental car to finalize that family vacation, Costco Travel has everything you need and more. You'll be shocked at the range of deals available with your membership. Level up and start enjoying your Costco membership perks in ways you likely never have before. And if you're not already a Costco member, we wouldn't be surprised if you signed up after reading this.
Sign Up for a Costco Membership

What is Costco Travel and How Does It Work?
First things first, let's break down exactly how Costco Travel can be useful for travelers. Members can click through the site to find lower prices on hotels, cruises, rental cars and, if you prefer, vacation packages with all of the above. You'll be able to browse by destination and indicate if you want to go to a theme park, beach or other destinations.
In addition, there's a "Featured Destinations" section that currently highlights places like the Key West, Nashville and more.
Don't worry, there are no gimmicks or fine print catches when you opt for Costco Travel. Costco's community of members is what makes these deals possible, as apparently, the company "uses its buying authority to negotiate the best value in the marketplace and then passes on the savings to Costco members." Plus, the solid deals in-stores are proof that the travel ones will be just as good.
Your Membership Tier Makes a Difference
If you're not yet a Costco member, a basic Gold Star memberships costs $60 a year. If you do the math, that's as little as $5 a month and there are always promotions happening, like special student discounts, first-time member credits and more that the Slickdeals community never fails to point out.
For $60 more, you can opt for Costco's Gold Star Executive or Business Executive Membership. Both of these plans cost $120 annually, which only ends up being $10 per month. And while the price difference between these options and a basic membership may seem like a lot, the upgrade could be worth it if you make the most out of the benefits.
On top of getting exclusive premium discounts, Executive members are eligible to receive a 2% reward on all Costco and Costco Travel purchases, which is applied once the trip is completed. The amount excludes any taxes, fees, surcharges, gratuities, trip protection and third-party extras. Rewards aside, Executive members also have the chance to enjoy room upgrades or exclusive food and beverage credits.
Costco's Convenience is Next-Level
Instead of booking your flights, hotel and whatever else you may need on a number of different sites, Costco Travel makes things easy by having it all in one place. As mentioned, the site even takes things one step further by providing user-friendly vacation packages.
And convenience isn't the only benefit to Costco Travel, there are can't-miss savings within these packages. For instance, this Tahiti and Bora Bora Buyer's Choice Romance Package includes economy class airfare and a week-long stay in five-star hotel accommodations at the InterContinental Bora Bora Resort & Thalasso Spa. Other amenities include daily breakfast, a romantic dinner for two, bottles of wine and the list goes on, all for the affordable price of $3,879 per person (dependent on dates). While you'll have to fly out of LAX, a quick Kayak search shows that flights alone can be nearly $3,000, while booking a stay at the same resort through a site like Bookings.com would likely run you at least $7,000, proving just how great the savings are for this deal. Lucky for you, there are plenty of package options to choose from.

Opt for a Road Trip
Members can also save big on car rentals at Costco Travel. The site is a catch-all for popular rental companies like Alamo, Enterprise and more. This makes things easy as you won't have to do multiple searches to find the best prices. Costco Travel will do all the hard work for you. As of now, rentals are only offered in Canada, France, Germany, Ireland, Spain, the U.K. and the U.S. (including Puerto Rico and the U.S. Virgin Islands).
You just have to make sure that the primary driver is a Costco member and remember to take your Costco card with you, as you may have to prove membership at pick-up. Executive members are able to add one additional driver to the reservation at no extra cost, alongside waived cancellation fees and a 2% reward.
Cruise With Costco
Interested in cruises? As a Costco member, brace yourself for the ultimate VIP treatment when you're on board. There's a separate Cruises tab that breaks cruises down by destination or cruise line. Typically, the listed prices include accommodations along with meals, snacks, entertainment and activities onboard.
Spending increases when you factor in gratuities, specialty restaurants, alcoholic beverages, spa treatments and everything in between, which are often not included with the base prices. To offset these fees, Costco Travel often gives members Costco shop cards that you can use towards future purchases, in addition to the 2% rewards for Executive members.
These benefits tend to be associated with Kirkland Signature Savor and Spa Cruises and Buyer's Choice Cruises, which as of now, are Royal Caribbean Cruises with included extras. Currently, another steal is Holland America Line's Alaska: Alaskan Explorer Cruise starting at just $1,079 per person for seven nights, which includes a Costco shop card of up to $165.
Note: These are exclusive, Costco member-only cruise prices. It's a hack that's not available to anyone else and is extra handy for last-minute deals, as cruise prices tend to drop the closer you are to the departure date. Just don't wait too long as the best room options tend to go first.
How to Cancel Your Costco Travel Booking
We get it, things happen. If you need to cancel your trip for whatever reason, the Costco Travel team is here for you. Call the help center as soon as possible at 1-866-921-7925 and have your booking confirmation number ready. While cancellation fees may apply for vacation packages and cruises, you won't have to bear any additional costs for rental cars.
In some cases, you may even be able to cancel things online, making the process a breeze. However, here are some terms and conditions to immediately keep in mind:
Revisions, cancelations, and refund policies vary by airline, cruise line, hotel, and other suppliers.
In all instances, no-shows are nonrefundable.
Cancelation of your vacation package will result in supplier fees, if applicable.
Cancelation of the flight(s) portion of your vacation package may be nonrefundable and nontransferable.
Occasionally, the value on the canceled airline tickets may be used to rebook future air travel at a later date. Airline fees will apply on a rebooked ticket. The rebooked ticket must be on the same airline. Travel must be completed within one year of the date that the original ticket was issued.

Current Costco Travel Deals
Are you ready to dive into the deals? Costco Travel is currently slashing prices on highly coveted vacations with instant savings of up to $250. From Mexico to Hawaii, these vacations couldn't be more perfect for summer or even later on in the year, especially if you live in a place with freezing winters. Below are a few standout deals to have on your radar:
Looking for more ways to save? Right now you can also get a $500 Alaska Airlines gift certificate for only $449.99. While a limit of 10 per member is in place, there are no travel restrictions, blackout dates or expiration dates. Codes are delivered via e-mail within 24 hours of purchase, but may take additional time if bought on holidays or the weekends. Thanks to Slickdeals user JoeJ9362 for alerting us to that deal.
---
Want to make sure you don't miss out on any new Costco Travel packages or deals? Set a Deal Alert and we'll keep you updated the moment a new discount hits our forums.
Up Next:
Our editors strive to ensure that the information in this article is accurate as of the date published, but please keep in mind that offers can change. We encourage you to verify all terms and conditions of any product before you apply.