How to Get the Most Out of Your Smart TV
We've gathered expert tips to help improve your smart TV experience, from picture quality to finding the perfect app.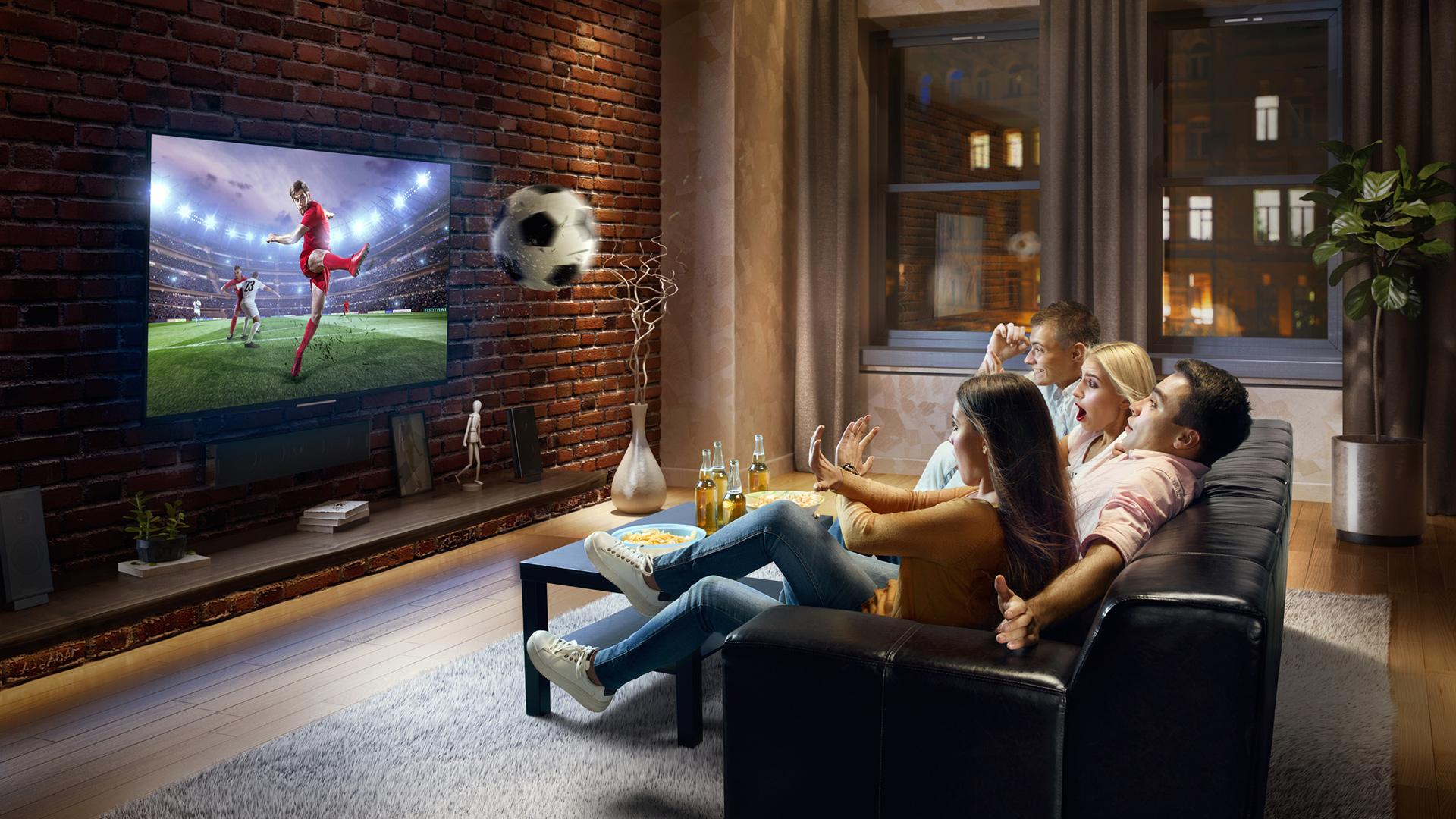 Are you using your smart TV to its full potential? After years of bulky CRT televisions and underwhelming flat-screen plasma sets, the fact that our smart TVs can connect to the internet is impressive. However, TV tech has grown to impressive heights over the past few years. It's to the point that picking out your next set often feels more like shopping for a computer.
Related: Cheap Vs. Expensive 4K Televisions: Are High-Price TVs Actually Worth it? 
Here are a few hidden settings and other helpful tricks that can improve your smart TV experience. That way, you get the best bang for your buck.
1. Link Up Your Virtual Assistants
Many smart TVs come equipped with virtual assistants like Alexa, Google Assistant, Siri as well as brand-specific smart assistants like LG's ThinQ and Samsung's Bixby. These tools make it easier to find what you are looking for. Even if your TV doesn't come with a virtual assistant, you can likely just use with your phone's assistant or Alexa setup.

2. Control the TV From Your Phone
Sick of trying to find that dang remote? If your remote lacks features that would enhance your smart TV experience, you can try using your smartphone instead. Roku, Amazon Fire and Apple TV all have apps that can communicate with your television. Apple TV users can even use the handy Remote app built into their iPhones. It might not work on every smart TV, but it's also worth checking out third-party remote apps like Universal Remote TV Smart.
3. Look for Free Channels and Exclusive Content
Plenty of smart TV manufacturers offer a diverse suite of free channels, movies and streaming services. If you hit the bottom of your Netflix watch list and want to find something new, it's worth flipping through Vizio's WatchFree catalog or Samsung TV Plus. This content is often exclusive to the platform and the offerings change regularly, so it's worth checking out every now and again.
4. Step Up Your Game with Gaming Mode
The gamers among us have suffered high latency and jitter for long enough. Nowadays, plenty of smart TVs are designed with fluid, responsive gameplay in mind. Televisions loaded with High Dynamic Range (HDR), 120Hz frame rate and 4K resolution are likely to perform well, even using new-gen consoles like the PS5 and Xbox Series X. Some smart TVs have tailor-made gaming features like Auto Low Latency Mode, Game Mode and variable refresh rate.

5. Connect Your Video Game Controller
Why stop at internal gaming mode features when you can fully integrate your console into your smart TV setup? Your mileage may vary with this trick, but many TVs that offer Bluetooth support can connect to a PlayStation or Xbox controller and recognize it as a remote control. You have to enable pairing on your console and your smart TV —  some smart TVs even come prepared with a controller pairing menu.
6. Improve the Picture With HDMI 2.1
HDMI 2.1 is a feature that isn't guaranteed to be a part of your smart TV. This new and improved connector is slowly becoming an industry standard. The cable and connector are identical to your old HDMI cord, but using an HDMI 2.1 connection can bump your frame rate up to 120 frames per second, with resolutions as high as 10K. As it stands, there isn't a lot of content that would noticeably benefit from an HDMI 2.1 connection.
Check the back of your TV to see if you have an HDMI 2.1 port (if you have a newer set, you likely have at least one). However, if you don't own a new-gen console or a fancy graphics card, you probably don't need to worry about HDMI 2.1 connectivity yet.
7. Check Out the Apps
Streaming services and cable subscription apps are among the most common (and valuable) features of any smart TV. You might use them every day, but you might be missing out on cool free apps exclusive to your brand of television. You can find tons of specialty channels, foreign language options, games and more hidden features provided by Vizio WatchFree, Samsung and other popular 4K TV vendors.
8. Curate the Vibe With Ambient Mode
A massive black screen can be a challenge to fit into your nice living room setup. Fortunately, many smart TVs can turn into wall art with the click of a button. Some newer smart TVs come equipped with a setting called "Ambient Mode," "Art Mode," or "Gallery Mode." Using an image, video or background that suits your environment, you can give your smart TV a screensaver. This protects your screen from unintentional burn-in and adds a decorative touch to your TV room.
9. Customize Your Home Screen
How many of the apps do you use on your smart TV's home screen? Instead of endlessly scrolling to find your favorite streaming service or app, check your smart TV's settings and set your home screen. Smart TVs like Android TV, Google, TV, and Apple TV allow you to customize home screen setups. Older smart TVs might not have the option to strategically place each app on your home screen, but you're still likely able to select favorite apps, cutting your scrolling time in half.

10. Find the Perfect Audio Setting
You're watching your favorite movie and the conversations are crisp, yet action scenes are noisy and overwhelming. Music is bright and lively, but minor but meaningful sound effects get lost in translation. Changing the volume can help to a certain degree, but did you know that most smart TVs offer decent EQ options for a better viewing experience?
Many smart TVs come with audio preferences set to "Standard," but many also come with preset audio modes for the likes of cinema, sports and music, making it easy to enhance any viewing experience. Audiophiles can really take control of their experience and manually tweak EQ settings, adjust volume levels of input devices such as a Blu-ray player or gaming console and set up multiple speakers for the full home theater experience.
11. Stream Your Own Files
We've all experienced some sort of choice paralysis scrolling through unlimited streaming options. Thanks to viewing algorithms, you are likely being recommended similar content, making the search for something to watch even more tedious. Try switching out the go-to content apps and stream something of your own, like old home movies or slideshows of your last vacation. Newer smart TVs have an HDMI 2.1 input, which has an improved bandwidth nearly three times the speed of HDMI 2.0 The good news is, even if you have an older smart TV with an HDMI 2.0 input, you can still take advantage of streaming your own content.
Many smart TVs actually have regular old USB 3.0 ports, in which case you can just load up a flash drive and avoid streaming altogether.
12. Integrate Your TV Into Your Smart Home
Like to keep things streamlined? Why not incorporate your smart TV into your smart home? Many virtual assistants and smart home devices, like Google Assistant and the Ring Doorbell Pro can integrate seamlessly with your smart TV. You can answer the doorbell, check on the baby monitor and preview your emails with a single click, right from the comfort of your couch.
​Are you bored with your "dumb TV" and looking to enjoy some of these hidden smart TV features? Set up a Deal Alert and we'll let you know when your dream 4K TV goes on sale.
Read Next:
Our editors strive to ensure that the information in this article is accurate as of the date published, but please keep in mind that offers can change. We encourage you to verify all terms and conditions of any product before you apply.