15 Cities With the Biggest Drop in Rent Prices Since COVID
Want to move to a bustling metropolitan area? Then now is the time to jump on a place with cheaper rent.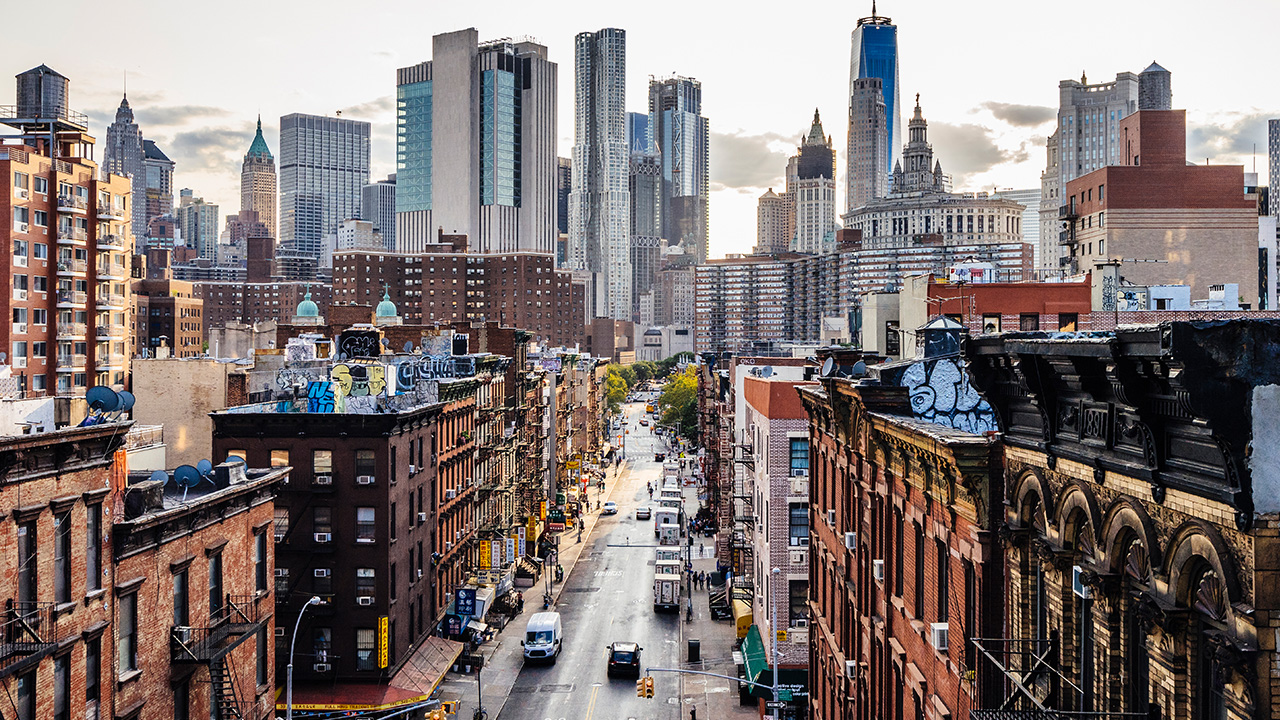 In addition to changing how Americans both save and spend money, the Covid-19 crisis is transforming the cities we call home. Once seeking out populated metro areas for work and housing, increasing numbers of people are relocating to less populated residential spaces.
This emerging trend has led to empty rental units in major cities across the U.S. with property owners adjusting the cost of rent to outpace the decreased housing demand. According to research from Construction Coverage, the cities experiencing the biggest drops in rent prices during the pandemic have some things in common. And if you're looking to move to one of these areas, now may be the perfect time.
What Types of Cities Are Experiencing Rent Decreases?
Cities experiencing the biggest drops in rent costs are affluent metro areas with higher percentage of tech and finance workers. The research shows that on the national level, the median household income for renters is $42,479, while the average household income for renters in metros with declining rent prices is $56,510.
While 14% of the U.S. workforce is employed in technology, finance and information, an average of 18% of renters in metros with falling rent prices are employed in these industries.
15 Cities With the Biggest Drops In Rent
Construction Coverage shows that the cities with the biggest drops in rent are the following.
| | | |
| --- | --- | --- |
| Metro Area | Rent Change | Median Renter Household Income |
| New York-Newark-Jersey City, New York-New Jersey-Pennsylvania | -7.2% | $55,272 |
| San Francisco-Oakland-Berkeley, California | -6.2% | $84,041 |
| Boston-Cambridge-Newton, Massachusetts-New Hampshire | -5.5% | $56,498 |
| San Jose-Sunnyvale-Santa Clara, California | -5.3% | $96,072 |
| Seattle-Tacoma-Bellevue, Washington | -2.9% | $62,421 |
| Washington-Arlington-Alexandria, Washington, D.C.-Virginia-Maryland-West Virginia | -2.3% | $68,791 |
| Austin-Round Rock-Georgetown, Texas | -1.9% | $54,871 |
| Chicago-Naperville-Elgin, Illinois-Indiana-Wisconsin | -1.8% | $44,814 |
| Los Angeles-Long Beach-Anaheim, California | -1.4% | $56,396 |
| New Orleans-Metairie, Louisiana | -1.4% | $33,805 |
| Denver-Aurora-Lakewood, Colorado | -1.0% | $57,548 |
| Minneapolis-St. Paul-Bloomington, Minnesota-Wisconsin | -0.9% | $46,718 |
| Miami-Fort Lauderdale-Pompano Beach, Florida | -0.5% | $44,612 |
| Houston-The Woodlands-Sugar Land, Texas | -0.5% | $44,328 |
| Urban Honolulu, Hawaii | -0.1% | $64,573 |
Related: These States Save the Most and the Least Money
How Much Rent Fell in Certain Cities
Median rent prices fell by 7.2% in the expansive metro area spread across New York, New Jersey and Pennsylvania from $2,827 in March to $2,624 in September. The median household income for renters living in this metro is $55,272, and 19.6% of people work in finance, information and technology.
San Francisco-Oakland-Berkeley, where many Silicon Valley workers live, experienced the second highest drop in rent prices at 6.2%. In this metropolitan area, 26.1% of people work in finance, information and technology, and the median household income for renters is $84,041. The median rent in September 2020 was $3,117, while it was $3,323 in March 2020.
Median rent prices dropped the least in Honolulu, Hawaii, which saw a slight 0.1% decrease since March 2020. As of September 2020, the median rent there was $2,086.
Save Money With Slickdeals
If you're looking to move to one of these metropolitan areas, it could be time to pack your bags before the rent starts going up again. To figure out the perfect place to relocate, you can dive deeper into the study to determine where you can call home.
By turning to Slickdeals for help with saving money, you can easily afford your rent wherever you choose to live next. For instance, you can download our browser extension, which will automatically search for coupons and deals so you don't have to anymore. Navigate to Slickdeals to find information on credit card and bank bonus offers, too. There are a variety of ways to save with Slickdeals; all it takes is one click to get started.
Our editors strive to ensure that the information in this article is accurate as of the date published, but please keep in mind that offers can change. We encourage you to verify all terms and conditions of any product before you apply.