4 Things You Need to Consider Before Buying Your Next Outdoor Grill
Itching to buy a new grill this summer? Check out this advice first.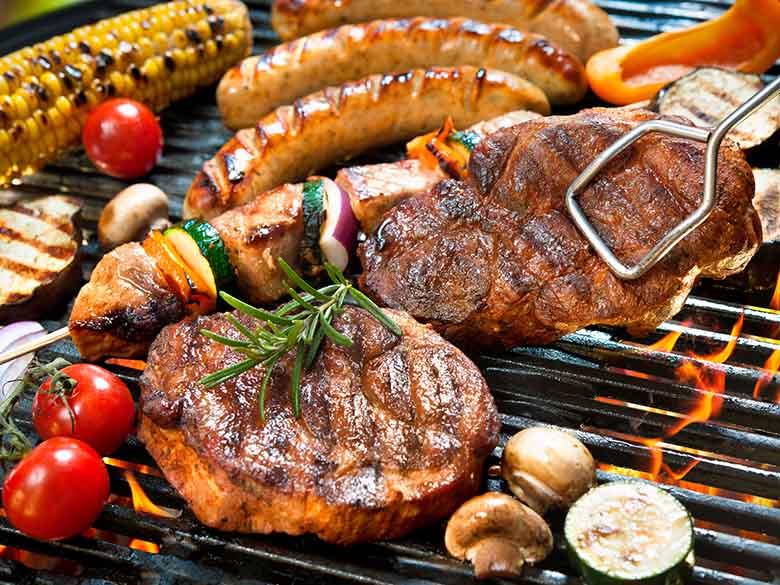 With summer right around the corner, backyard barbecues are top of mind. But, as we highlight in our Grill Buying Guide, the best grill deals are actually to be found at the end of summer. This means you've got a couple months to do your homework, which should include gathering some expert advice.
Lucky for you, we rounded up a handful of grill connoisseurs to share their insider secrets for purchasing the perfect grill. Here's what they had to say.
Don't Skimp on Quality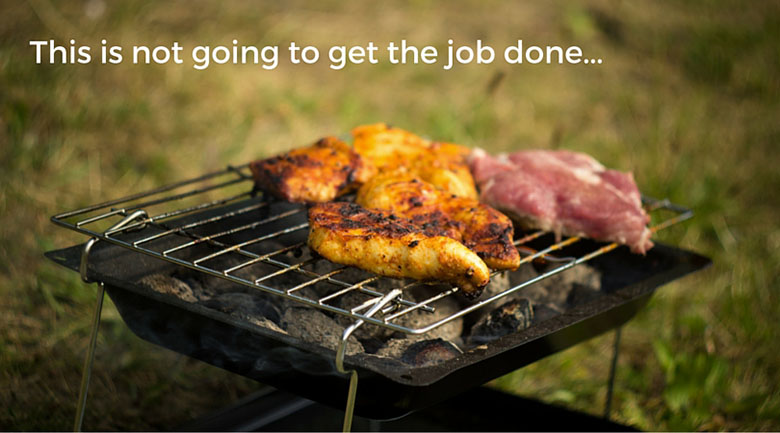 This seems pretty obvious. How would you break this down for the everyday consumer?
Heath Hall, pitmaster and co-founder of Pork Barrel BBQ: "Basically, you want it to be made well. If you buy something that's cheap, you may have to replace it in two years. So the thickness of the material is very important. Some of the cheaper grills have very thin metal and over a period of uses, it starts to eat away at that metal. Eventually, you'll burn a hole or two in it and will have to replace it. You get what you pay for; if you spend $100 on a cheap grill, you may have to replace it three or four times over the course of 10 years. So you're actually spending $300 to $500. Whereas if you spend a little more and buy a really good grill for, say, $300 to $400, you may never have to replace it."
Dave Joachim, grill expert and author of Grill School: Essential Techniques and Recipes for Great Outdoor Flavors: "Thin steel not only warps and wears away sooner than thick steel, it also doesn't hold heat as well. Thick, heavy steel (or ceramic) retains heat better and makes it much easier to maintain a steady temperature, which is the real trick to successful grilling."
Understand That Size Matters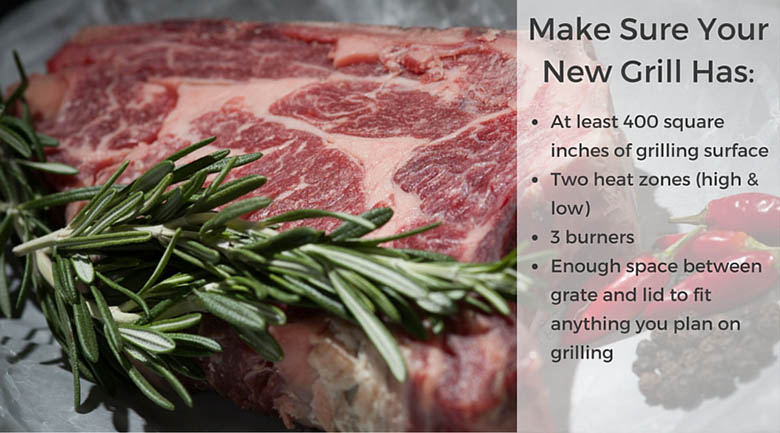 When it comes to space, how much do people really need?
Dave Joachim: "Think first about how much food you typically grill and how much space it takes up. Then go slightly bigger and make that the minimum size grill you get. For most backyard grillers, that means at least two burners (preferably three) in a gas grill, or a minimum of 400 square inches of grill space in a charcoal grill (roughly 22" diameter). Be sure that the grill is big enough for you to have two heat zones (high and low), which helps avoid burning and flare-ups, and allows you to cook different foods (like steak and veg) all at once.
"Having lots of grill space is priority number one. If you have to sacrifice bells and whistles like sear burners and side burners to stay within your budget, go for the grill space over the fancy add-ons."
Elizabeth Karmel, founder of Girls at the Grill: "A lot of times, people go looking for a grill and they look at this piece of equipment and think it's too large. But think about this: if I want to grill a turkey in here, is the lid high enough? If I want to make beer-can chicken (which I make once a week because it's the best-roasted chicken I've ever eaten), I need to make sure that the lid is high enough and the food can't touch the top of the lid. To that end, when you go looking, there are lots that have multiple shelves. That looks like it would be a really good idea, but not necessarily. If the height is only four or five inches between the bottom cooking grate and the first shelf, then the only thing you can put there are very thin foods."
Heath Hall: "Are you cooking for just you? Or you, plus your spouse and kids? Capacity is something to really consider. Even if you're doing something fast like a hamburger, if you don't have enough space, you're going to end up cooking in batches, which will lead to cold burgers.
Gas or Charcoal?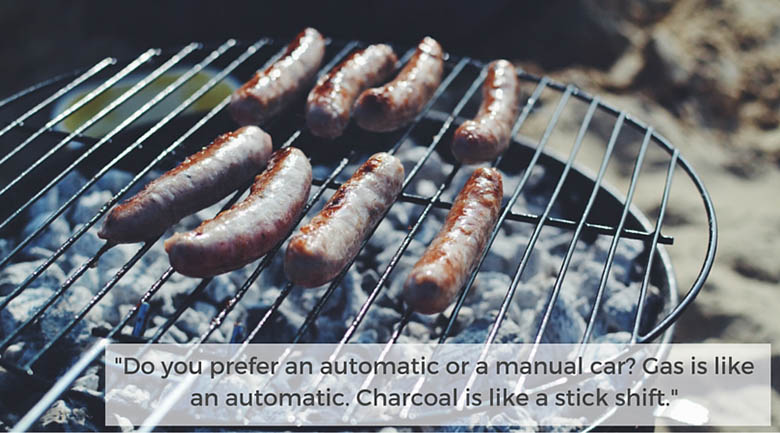 At the end of the day, what's the difference?
Dave Joachim: "Do you prefer an automatic or a manual car? Gas is like an automatic. Charcoal is like a stick shift. If you like the convenience and speed of automation, go for a gas grill. If you prefer the thrill of being directly involved in making things happen, go for charcoal."
Rich Wachtel of Grilling with Rich: "Both are great and have different uses. I love to use my charcoal grill because it provides that nice, smoky flavor to my food, but the negative to using a charcoal grill is that you have to wait some time to get the temperature to where you want it to be; and clean up is annoying. With a gas grill, you really will taste the food, not the 'additional' flavors from the charcoal smokiness. In addition, by using a gas grill, it will not take long at all to heat up, and a gas grill can be used for quick grilling, like on a weekday night after a long day at the office. Personally, I love using my charcoal grill, and to me it is worth the wait!"
Elizabeth Karmel: "If you want to have that hands-on experience of tending the grill on an ongoing basis, then charcoal is totally for you. If you don't and just want to set it and forget it, then a gas grill is the one for you. If you're a real barbecue hobbyist, you need both gas and charcoal."
Research the Best Brands
Far and away, Weber seems to be the top pick among experts. Anything to add for people in the market for a new grill?
Jason Day: "In terms of quality for an everyday backyard grill, it's hard to beat Weber. They have phenomenal customer service and warranty policies. Their product lines contain everything from a simple kettle grill all the way up to huge outdoor kitchens. Replacement parts are also readily available at almost every hardware store."
Heath Hall: "A grill I highly recommend and completely endorse — one of the two main grills I use at home — is called the PK Grill. It's in the $350 range and made of cast aluminum. This grill will be here 100 years from now; I'll die before it dies. It's also a really cool retro-looking grill that sits on a base with two wheels and has a table on the side where you can put things like a cutting board or plates. It's very simple and very portable. You can easily disassemble it and take it to the beach or camping, for example. The same can't be said for something like a Big Green Egg, which is very heavy and very fragile. With the big ones costing between $700 and $1,000, the last thing you want to do is crack one while moving it.
"Weber also makes a small smoker called the Smokey Joe for around $50 or $60. It's not super big, so there's not a lot of capacity, but it's a nice portable grill. Another great brand I highly recommend is Traeger. They're doing a lot of cool stuff with some of their new smokers."
Robyn Lindars of Grill Girl: "I think Weber makes great products. I also like the Big Green Egg for its versatility. The Pit Barrel Smoker is a cool alternative to your standard grill that makes grilling and smoking easy and affordable. I also recommend using the Thermapen for reading internal temps of meat — this lets you take the guesswork out of grilling so you don't over or undercook your meat."
Dave Joachim: Weber makes high-quality grills that last, and they are moderate in price. For a bit less money but still a great value for the quality, check out Broil King, a Canadian brand sold in Lowe's in the U.S. If you like the smoky taste you get from a charcoal grill, but don't like waiting for the coals to heat up, look for a charcoal grill with gas assist, like the Weber Performer. You get the best of both worlds — the convenience and speed of gas, plus the smoky flavor and deeper searing of charcoal. You could also just buy a couple cheap charcoal chimneys (around $15) to go along with your charcoal grill. They get the coals lit in about 15 minutes."
Elizabeth Karmel: "I feel very strongly that Weber makes an excellent grill. If you buy a good grill, your heat is more consistent even than your indoor oven. My favorite is the original Weber Summit grill. Mine is probably 15 years old, and I still love it and would never get rid of it!"
What Slickdeals Has to Say
As you soak up the grill wisdom mentioned above, consider these other important factors:
When to buy: The closer we get to Labor Day, the harder retailers will be pushing outdoor grill deals. Late July into September is typically the best time to buy.
Where to buy: Keep your eyes peeled at major home stores like Lowe's and Home Depot. Our experts also say that Sears, Sam's Club, and even Kohl's have gotten in on the game in recent years.
Brands to look for: Weber is, indeed, a solid brand, but keep in mind that they rarely go on sale. Our team has found that the Weber deals that do make the Slickdeals cut are usually in-store clearance deals that weren't promoted online.
One other bit of wisdom; if you're in the market for a smoker, but don't want to drop a ton of cash on the famous Big Green Egg, some Slickdealers say that Char-Griller's Akorn Kamado Kooker Charcoal Grill is a good alternative. What's more, the price can sometimes be up to 25% lower.

Our editors strive to ensure that the information in this article is accurate as of the date published, but please keep in mind that offers can change. We encourage you to verify all terms and conditions of any product before you apply.