Organize Your Closet this Weekend with These Hacks
You don't need a bigger closet. You just need better organizational tools.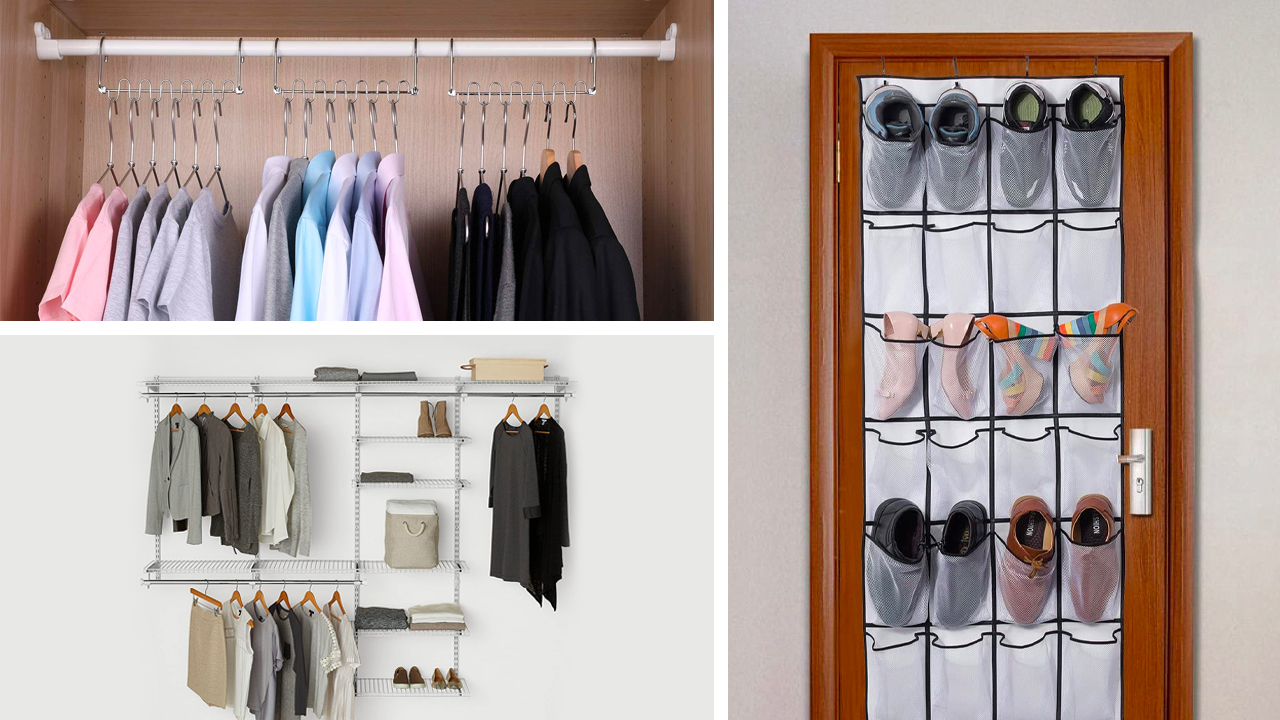 Closets are prone to disorganization and can easily become jam-packed with too much stuff.
Thankfully, it typically only takes a weekend to fix the issues and organize your closet into a much more functional space. Try these easy weekend hacks to successfully organize your closet for cheap.
Take Your Shelving Up with Rubbermaid Closet Configurations

Sale Price: $98.99 | Regular Price: $114.66
When we first moved into our home, we were very disappointed with our closets. With 12-foot ceilings and one builder-quality shelf hung bout six feet high, so much potential organizing space was wasted. This was an easy and inexpensive fix with the Rubbermaid Fasttrack system, which comes in several different configurations for under $100.
Even if you don't have high ceilings, removing the standard shelf that came with your space and replacing it with two or three shelves instead will help immensely. And adding some fabric totes to corral similar objects will help keep your closet functional and clean.
Repurpose a Cube Shelf
Sale Price: $36.98 | Regular Price: $69.99
Moving a cube shelf to your closet could also give you a quick storage solution and free up valuable real estate in your home. You can find cube storage in a number of different configurations from three cubes to 12.
Combine a cube shelf with fabric cube bins, and it will act like a compact and easy-to-organize dresser.
Pro tip: If you want a 12-cube organizer, it's often cheaper to buy two six-cube organizers instead.
Add Another Hanging Rod
Regular Price: $25.99 for a pack of two
If you want to double your closet space without drilling holes in the wall, then a hanging closet rod is the solution for you. Just adjust the bar to the height and width you want and hang it to your existing rod. It is that simple.
Pro tip: Adding another bar to your child's closet is also extremely helpful. Now they can reach their clothes without relying on you every morning.
Use Over the Door Shoe Organizers for Other Storage Needs

Sale Price: $12.34 | Regular Price: $12.99
If you lack closet space, then you should be utilizing your door space too. Over the door shoe organizers are not just for shoes. The pockets can hold just about everything, including:
Jewelry and accessories
Washcloths and cleaning supplies in a linen closet
First aid, gift wrap and odds and ends in a hall closet
Stuffed animals, toys and art supplies in a kid's closet
And, of course, shoes
Utilize Hooks to Get Clutter Off the Floor
Regular Price: $13.99
Take a look in your closet for any nooks and crannies that would benefit from a hook. Use hooks to hang handbags, robes, jewelry, belts or hats. You can even use a hook to hang a compact laundry bag to keep dirty clothes from piling up.
Use Space-Saving Hangers
Regular Price: $8.99 for four
Hang up five shirts or dresses in the same amount of space it takes to hang up two with compactible hangers. Many reviewers said these S-curve hangers helped them save half their closet space and organize their wardrobe by color or item type.
Similarly, these non-collapsible S-curve hangers can hold five pairs of pants or scarves using very little room.
Stack Hanging Baskets Together

Sale Price: $14.98 | Regular Price: $18.47
If you have a wire shelf in your closet, then these ClosetMaid hanging baskets are a perfect organizational add-on. You can stack two or more shelves together for even more compact storage.
Use these baskets for folded sweaters or loungewear in a personal closet or to store sheets and towels in the linen closet. If you don't have wire shelving, this basket slides onto a wood shelf instead.
Store Purses in a Dedicated Organizer
Sale Price: $22.95 | Regular Price: $29.99
If you have a purse collection you're proud of, don't just shove them all in a basket on the floor. Instead, hang them up neatly with a dedicated organizer.
One reviewer said they were able to get their 23-purse collection into just one of these LONGTEAM organizers. If you don't have that many purses, you can use the organizer to home folded sweaters or pants alongside your purses.
Divided Bins Make Items Easy to See
Regular Price: $15.87 for a four
Typically these divided bins are used in drawers to organize undergarments. That is a great use for them, but they can also be used for your closet organization, too. For your personal closet, use these divided bins for ties, belts, scarves, camisoles and other accessories.
You can also use them for non-clothing items, such as washcloths and hand towels or other knickknacks that live in the closet, like vacuum attachments, gift wrapping essentials and extra light bulbs.
Label the sides of these organizers so you can stack them neatly on your closet shelf and always know what is inside.
---
Don't forget to set a Deal Alert for your favorite organizers or stores so you can be alerted when new products go on sale.
UP NEXT:
Our editors strive to ensure that the information in this article is accurate as of the date published, but please keep in mind that offers can change. We encourage you to verify all terms and conditions of any product before you apply.