Budget Friendly Mixers for Re-Creating Your Favorite Cocktails During Quarantine
Turn your home bar into the new place to be.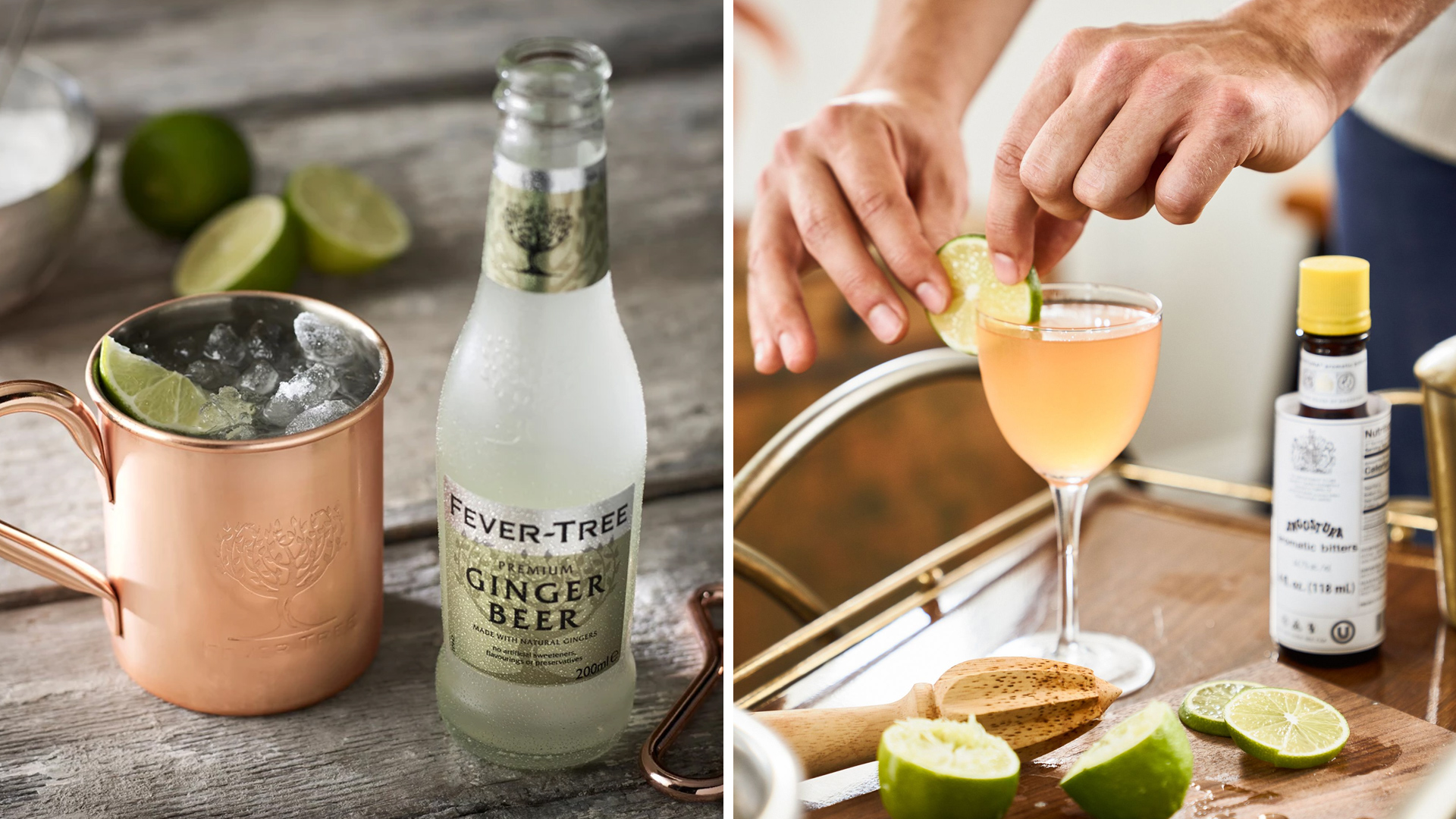 Coronavirus may have put all of our social lives and after-work happy hours temporarily on hold, but that doesn't mean you shouldn't still be able to enjoy your favorite drinks.
And while trying to gather all of the ingredients that go into that artisan cocktail from your favorite bar can get pricey, there are a variety of craft cocktail mixers out there to help you recreate your go-to bar orders on the cheap.
Sodas and tonics may do the trick in a pinch, but these mixers take the hassle out of creating unique concoctions from scratch. There's no excuse not to mix up something tasty while stuck in quarantine. Best of all, these mixers are affordable, and most can be found in your local superstore or market.
Tres Agaves Margarita Mix
Price for 1 L bottle: $9.99

Already known for their tequila, Tres Agaves has perfected the margarita mix. It's kept simple and organic, combining the three key ingredients of agave nectar, lime juice and a hint of orange citrus.
It gives you the perfect baseline every time while also allowing you the freedom to dress up your margarita with additional flavors if you so choose.
2 oz tequila
3 oz margarita mix
Fresh lime wedge
Fever-Tree Premium Ginger Beer
Price for 4-pk/200 ml bottles: $4.99

There's little else more refreshing than a well-made Moscow mule. And to make that happen you need a great ginger beer.
Fever Tree combines three different types of ginger root and no artificial sweeteners to give you that crisp, clean ginger taste that pairs so well with vodka and whiskey alike. It also goes down smooth as a standalone drink.
50 ml vodka
150 ml ginger beer
Lime juice
Zing Zang Bloody Mary Mix
Price for 32 oz bottle: $4.49

Spice up your stay-at-home Sunday brunches with Zing Zang. Well balanced with medium heat, Zing Zang is rich in flavor without being too "tomatoey."
It's blended to cut the burn of the alcohol so you only taste the good stuff, and it pairs perfectly with a plate of strawberry covered waffles.
1 oz vodka
4 oz bloody Mary mix
Mr. & Mrs. T's Sweet and Sour Mix
Price for 1 L bottle: $3.38

If you're looking for the best of both worlds, look no further than Mr. & Mrs. T's Sweet and Sour Mix.
Fresh flavors of lemon, lime and orange are balanced perfectly within this versatile mixer that pairs well with the likes of vodka and whiskey, or stands alone perfectly well as a virgin cocktail.
Whiskey Sour recipe:
1.5  oz whiskey
2 oz sweet and sour mix
1888 Dirtiest Martini Premium Spanish Olive Juice Mix
Price for 500 ml bottle: $12.99

Made with hand-pressed Spanish olives, you'll be hard pressed to find another dirty martini mixer that captures freshness quite like 1888 does.
This mixer will give you a perfect olive finish with each sip of a gin or vodka martini, without an overwhelmingly salty aftertaste.
2 oz vodka or gin
1 oz dirty martini mix
Fee Brothers Simple Syrup
Price for 12.8 oz bottle: $8.99

Simple syrup is, as the name suggests, simple. But that doesn't mean that it has to cut corners. Fee Brothers uses real cane sugar which dissolves easily, and its recipe is never granulated, so you don't get the textured grit of artificial sweeteners floating around in your drink.
And best of all, it can be used in literally any cocktail of your choosing to add just a touch of sweetness.
Roland Grenadine
Price for 25.4 oz bottle: $6.98

No list of mixers would be complete without the inclusion of grenadine. Flavored with the taste of pomegranate's, it can just as easily mix well with a simple soda pop as it can strong spirits.
It also makes a fantastic ice cream or cake topping. The possibilities are virtually endless, thus making grenadine a must have staple of any home bar.
ANGOSTURA Aromatic Bitters
Price for 4 oz bottle: $6.98

Around since 1824, ANGOSTURA has crafted and refined arguably the most stellar bitters recipe out there.
Generally used sparingly as an aromatic addition to a drink recipe, bitters are still as flexible an option as the mixologist that uses them. And sitting at 35% alcohol by volume, bitters can be useful in providing a little extra bite on the back end of a cocktail.
Master of Mixes Pina Colada Mix
Price for 1 L bottle: $10.99

Pina Colada mix is a summer essential that makes it super easy to create this classic cocktail in a matter of seconds.
Combining the perfect ratio of pineapple and coconut, this mix has already done the leg work for you. All that's left for you to decide is which beach to drink it on.
2  oz rum
4 oz pina colada mix
Largo Bay Mojito Mix
Price for 1.75 L bottle: $14.99

Skip all the muddling and squeezing associated with traditional mojito making. Largo Bay makes it unbelievably easy – and just as tasty – with their mix that already includes the rum, lime, mint and simple syrup in one bottle.
Just pour it over ice and you're done. Clocking in at only 15% alcohol by volume, it's light enough to sip a few down as a refreshment. Or, of course, you can always add in your favorite rum to turn it up a notch.
---
Make sure you're getting the best price around by setting a Deal Alert. We'll let you know whenever a new offer is posted for your favorite product or retailer.
Additionally, don't forget to browse our Drink Deals page for discounts on all of your favorite beverages.
Up Next:
Our editors strive to ensure that the information in this article is accurate as of the date published, but please keep in mind that offers can change. We encourage you to verify all terms and conditions of any product before you apply.