10 Immeasurably Useful Grill Accessories for Under $30
Elevate your BBQ game on the cheap with these cool gadgets.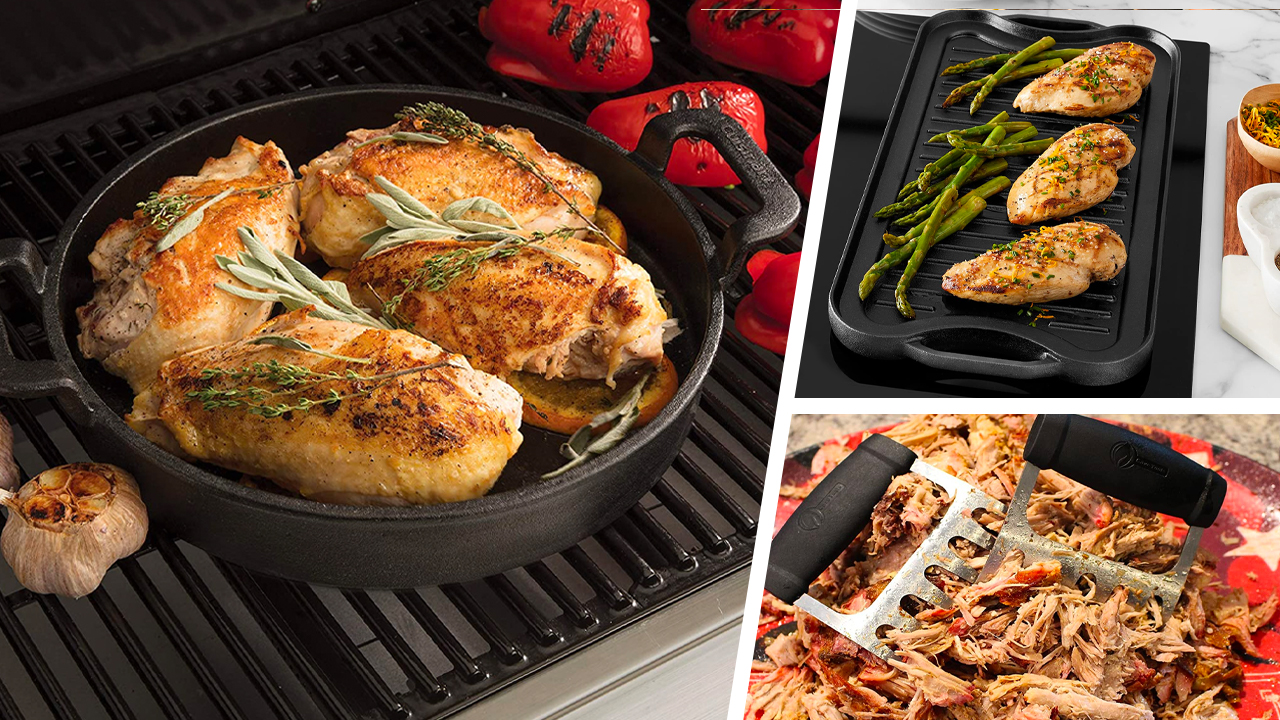 As soon as the weather goes above 75 degrees, I can hear the BBQ call my name. We've gathered 10 must-have and affordable grill accessory deals to make your next cookout even better.
Our Favorite Affordable Grill Accessories
1. Smoker Box

Regular Price: $17.99
You don't have to buy a standalone smoker to get that delicious smoky flavor on your favorite cuts. Instead, a heavy-duty smoker box sits on your grill or just underneath the grill plates.
And of course, wood chips come in a variety of flavors, including cherry, apple and hickory.
2. Pizza Grilling Stone
Regular Price: $24.99
If you haven't grilled pizza, you are missing out. It's the best way to get a slightly charred, crispy crust while infusing the whole pizza with a minor smoky flavor that can only come from the BBQ.
When using a pizza stone on the grill, it's important to literally put cornmeal or flour on the stone to prevent sticking (if you are using fresh dough). You also want to avoid making your crust too thin or your pizza too heavy.
3. Chicken Leg/Wing Rack
Regular Price: $13.95
Grilling chicken legs and wings can be a pain since they are prone to stick to the grill or fall through the grates. A chicken leg rack is an affordable grill accessory that can hang up to 12 poultry pieces at once and doesn't take up much room on your grill.
4. Kabob Baskets

Regular Price: $22.88 for a pack of four
Ever have a kabob skewer fall apart on you on the BBQ? It's messy and annoying! A kabob basket is a good alternative to the skewers because you get the same taste without having to balance pieces of food on a stick.
5. Rib Rack
Sale Price: $20.99 | Regular Price: $22.99
Cook four racks of ribs at the same time without taking up space on your grill. A rib rack is a must-have for entertaining, and allows the ribs to cook evenly. You can also use a rib rack in the slow cooker, too.
6. Reversible Cast Iron Griddle
Regular Price: $29.99
A reversible cast iron griddle offers cooking flexibility for indoor and outdoor use. Use it to cook steaks in your kitchen on non-optimal weather days, prevent your stuffed burgers from oozing out on the grill, or take it camping.
7. Griddle Pan

Regular Price: $24.99
A grill-compatible pan can make heating up a side of beans or cornbread quick and easy. You can also use a griddle pan for making s'mores.
8. Locking Grill Basket
Regular Price: $20.99
Grill baskets that lock are easier to move around without worrying about your shrimp and vegetables flying out. Use a grill basket for smaller cuts of chicken, fish, shrimp, mussels, vegetables, fruit and more.
9. Meat Claws
Regular Price: $17.99
Unleash your inner Wolverine and shred pork and chicken quickly and safely. Meat claws are extremely useful for meal prepping a week's worth of meat in just a few minutes. Use shredded meat for sandwiches, pasta, salad, tacos and more.
10. Meat Injector

Regular Price: $24.99
Meat injectors have a Sci-Fi look to them, but they are surprisingly easy to use and can pack a lot of flavor into your favorite cut of meat.
For even more great BBQ deals, set a Deal Alert for your favorite brands and stores.
READ NEXT:
Our editors strive to ensure that the information in this article is accurate as of the date published, but please keep in mind that offers can change. We encourage you to verify all terms and conditions of any product before you apply.