Peloton Alternatives: 5 Great Indoor Stationary Bikes that Cost Way Less
Before you spend over $2,000 on a Peloton, check out these options that are just as good.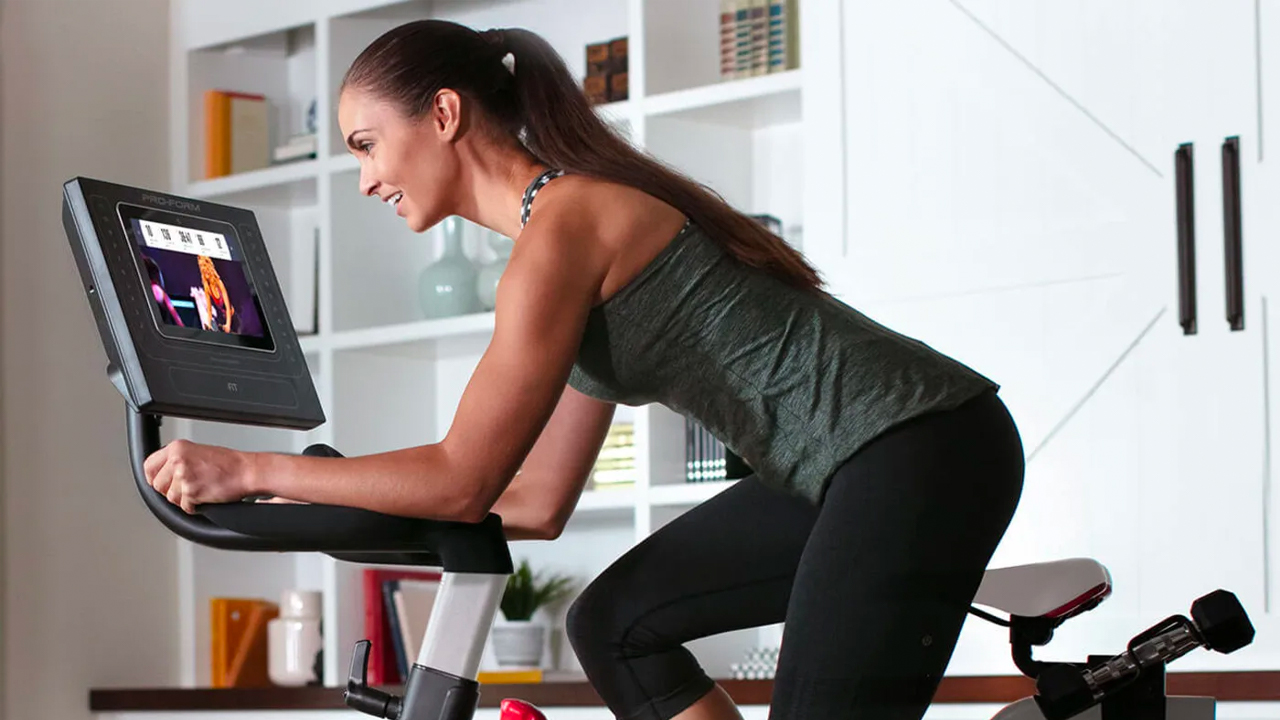 While I'm the last to say Peloton isn't cool or sexy — it totally is — I also know that at $2,245 plus a mandatory $39/month membership, investing in a Peloton is just not realistic for many (if not most) people. If you're itching for an indoor bike, but can't bring yourself to drop nearly $2,300 on a Peloton, take a look at these five Peloton alternatives that are just as great, but cost far less.
Bowflex C6 Indoor Bike

Price: $949 | Savings over a Peloton: $1,296
At $949, the Bowflex C6 Indoor Bike is one of the least expensive at-home stationary bikes available. But its low price doesn't reflect its quality. The Bowflex C6 Indoor Bike features pedals with toe cages for stability, a backlit LCD display, 100 micro-adjustable magnetic resistance levels and a Bluetooth-enabled heart rate monitor. It also comes with a free stability mat so your new bike doesn't ruin your floors, and shipping is free.
Plus, you can connect the Bowflex bike to a number of fitness apps, including the Peloton app. So if you're dying for Peloton classes, but don't want to splurge on the bike, simply choose this bike instead.
And while you'll still be on the hook for the Peloton Digital ($13/month) membership, you'll save more than $1,500 overall when you consider the difference between the price of the bikes and the cost difference between Peloton All Access and Peloton Digital over the course of a year.
Shop the Bowlfex C6 Indoor Bike
ProForm Studio Bike Limited

Price: $1,999 (FREE for a limited time) | Savings over a Peloton: $446
A high-end indoor stationary bike, the ProForm Studio Bike Limited hovers at a list price of around $1,999. And while it's actually free right now (with a three-year iFit membership) for a limited time, for the purposes of this guide, we'll stick with the $1,999 average list price.
The ProForm Studio Bike Limited is powered by iFit, a fitness app that integrates with ProForm, NordicTrack and Freemotion fitness equipment. And when you buy the ProForm Studio Bike Limited at the list price (not the free special), it includes one year of an iFit membership. After your year is up, iFit costs $39/month.
Between the iFit app and your ProForm bike, you can choose from a variety of classes, including studio cycling, road cycling and non-cycling workouts, such as bodyweight HIIT and yoga. The bike itself features everything you could want or need on an indoor bike, including a magnetic silent flywheel and a large swiveling touchscreen display.
Shop the ProForm Studio Bike Limited
NordicTrack S15i Studio Cycle

Price: $1,599 | Savings over a Peloton: $646
NordicTrack shares the same parent company as ProForm (ICON Health & Fitness), and just like the ProForm Studio Bike Limited, the NordicTrack S15i comes with a one-year membership to the iFit app. After your year is up, iFit costs $39/month or about $33/month if you prepay annually.
At $1,600 for the bike itself, you'll save a good bit compared to the $2,445 Peloton, and still get a lot of great features. The NordicTrack S15i features a mechanical shaft that makes it feel more like a real bike, and during live classes, your instructors can remotely adjust your incline and decline. This means you can focus more on cycling instead of dealing with controls.
With 22 resistance levels, a 14-inch touchscreen display and silent magnetic resistance, the NordicTrack S15i offers a great suite of essential features for a middle-of-the-road price.
Shop the NordicTrack S15i Studio Cycle
Echelon Smart Connect EX3 Bike

Price: $1,040 | Savings over a Peloton: $1,205
If any indoor, at-home fitness equipment company rivals Peloton, it's Echelon, and that shows in the Echelon Smart Connect EX3 indoor bike. The design looks sleek and futuristic, and the bike features ergonomic handles, clip-in pedals with toe cages, a large backlit display, and a competition-style seat.
You can either purchase the Echelon Connect EX3 in full, or choose to finance for $46/month over 36 months. There is also a membership option for Echelon products, with which you can stream live studio classes or choose on-demand classes.
An Echelon membership ranges from $20 to $40 per month depending on your plan. Compared to Peloton, having membership options (rather than a required $39/month) could be a huge benefit for people who may not want extra perks like live classes and prefer to cycle on their own terms, such as with on-demand classes.
While the Echelon app experience seems to be very similar to the Peloton app experience, this EX3 bike does have one big downfall: it requires you to bring your own screen, such as your phone or tablet, and place it in the holder in front of the bike. The bike's lack of screen hardware is probably the reason for its low price, but it's still worth looking into if you want the option to, say, read a book on your tablet while cycling.
Shop the Echelon Smart Connect EX3 Bike
MYXFitness MYX Bike

Price: $1,199 | Savings over a Peloton: $1,046
The MYX bike is yet another option that mimics the Peloton in all the best ways. The 21.5-inch touchscreen display, sleek black-and-white coloring and ergonomic design make it look and feel as luxurious as the Peloton.
The MYX membership is separate and costs $29/month. Like the other membership apps on this list, MYX includes a variety of fitness classes, featuring both cycling and non-cycling workouts. This bike also comes with a Polar OH1 optical heart rate monitor, which is one of the best heart rate monitors on the market and typically costs $80.
You can pay for the MYX Bike in full or finance for as low as $34/month for 36 months with 0% APR if you qualify. If you're hesitant to try out an indoor bike, the MYX is a good option because it comes with a 30-day trial, so you can try it out for a month and return it for a full refund if you don't like it.
---
If you still want in on Peloton's slick branding and live studio classes, for a limited time, you can get the Peloton app free for 90 days as part of Peloton's response to making at-home fitness accessible during the COVID-19 pandemic.
Once you decide on which indoor bike is right for you, set a Deal Alert so you can be notified as soon as a new offer is posted. Additionally, you'll find discounts on all types of exercise equipment on our Fitness Equipment Deals page.
UP NEXT:
Our editors strive to ensure that the information in this article is accurate as of the date published, but please keep in mind that offers can change. We encourage you to verify all terms and conditions of any product before you apply.