11 Unique Ways People Use This $24 Amazon Selfie Ring Light
It's more useful than you think, and it's 50% off.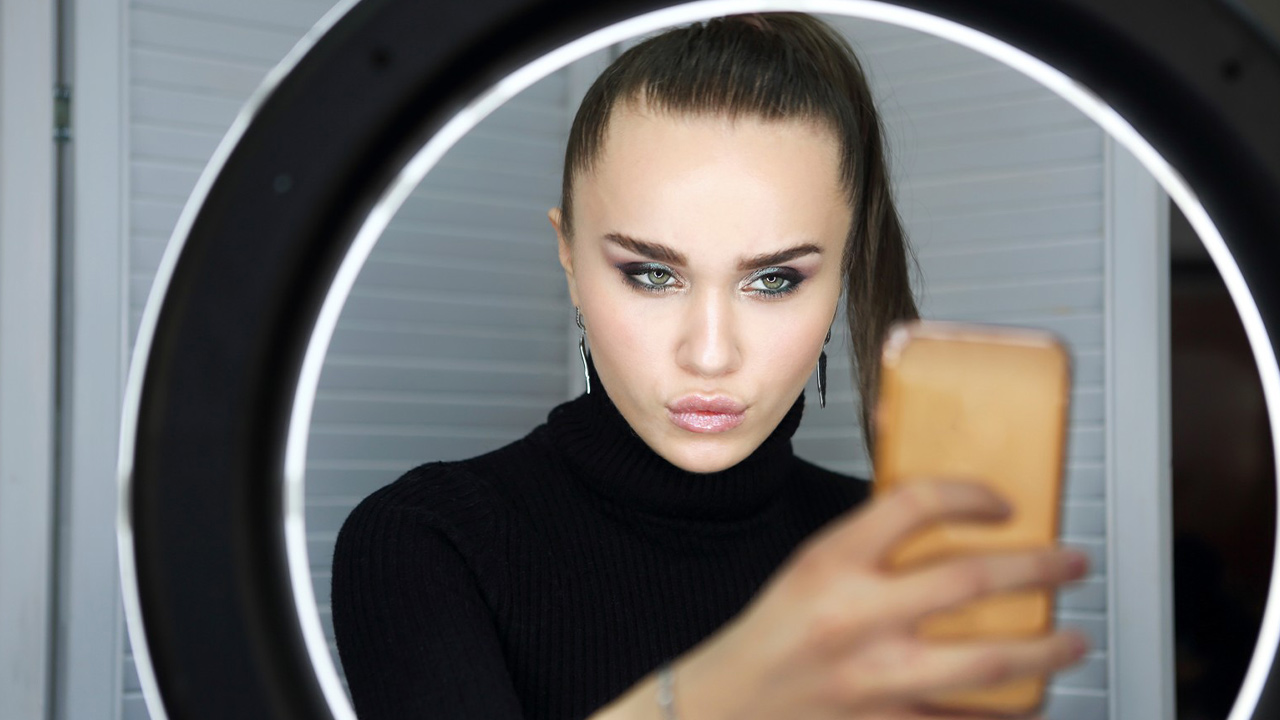 Good lighting can be hard to come by. Whether you're applying makeup, taking pics for Instagram or simply want to look more presentable on those Zoom calls, it's likely that the current setup you have requires more light. Instead of just opting for a standard lamp that stays in one place, this selfie ring light that's now half off on Amazon may be more up your alley.
The cheap ring light is extremely versatile with over 800 Amazon customer reviews of people all over the world raving about the different ways they've been using it. Originally, the ring light costs $49.99, but according to Slickdeals user TitanicSync, customers can snag it for just $24.74 with the current Promo Code 50MZ9K1T and also applying the$5 instant coupon offered.
Each order comes with a 12-inch LED selfie ring light with three color lighting modes, a tripod stand, cellphone holder and a remote compatible with iOS and Android, making it extra easy to control your phone with one button. And yes, free shipping is included. See exactly how it works below, and check out the creative ways you can incorporate the ring light into your daily life.
Actual Amazon Buyers Share Creative Ways to Use This Affordable Ring Light

1. Give Your Plants Extra Light
Plants need light, too. Not only can the ring light take good photos of your plants, but you can also use it if your space doesn't get enough natural sunlight. "It's a good ring light, it is large, bright, easy to assemble, lightweight and sturdy enough," Tatiana V. commented. "The only thing I didn't consider is that the phone is placed not in the ring, but below it. Anyway, I make much better photos of my plants with this light. And also it works as a grow light for them."
2. Teach a Class with It
If you're teaching an online class, make sure your students can see you or else they may stop paying attention. "Excellent quality for teaching virtually and when we go back to the classroom," teacher Ben wrote in a comment. "I love how the tripod can be so many different heights. Great lighting is the key to look professional and this is it."
3. Easily Apply Makeup and False Lashes
The bright ring light makes it a breeze to put on a full face of makeup (false lashes included) and apply nail polish. Moreover, the ring light has a USB charger and can even be plugged into a portable charger, so you can easily do touch-ups no matter where you are. "Nice for lighting as I do makeup or my nails," customer Sharon said. "I don't do videos, so cant say how that would be. But probably ok. But it has to be plugged with a USB charger type, not a conventional old fashion electric plug in. Nice feature of different light brightness and tint."
4. Improve Your Online Sales

If you're selling items on eBay, Facebook Marketplace, Instagram or whatever platform it may be, having stunning photos could lead to more sales. Investing in this setup could definitely put more money in your pocket. "This is my first ring light. I am an Ebay seller, and I wanted to use it to make my products look good when I take pictures," five-star rater Jimmy Byun mentioned. "Overall, pretty good for the price especially with the discount available. Buy something bigger if you need the size for portrait photos, but for my purpose, this was a good fit."
5. Create Your Own Family Holiday Card
The holidays will be here before you know it; get ahead by gathering your loved ones in front of the ring light for a family holiday card photo. "Love it," Carole Yu excitedly said. "Now we can take family photos without a photographer."
6. Add Additional Lighting to Any Project
Again, if your home doesn't get enough light, this is the solution you've been looking for. "I needed extra illumination in my living room when I do my projects or to cut my friends' hair, and this gives me enough light in a house that's doesn't have many windows," user Richard said. "I'm very impressed of the size too, I'd thought it'll be smaller but it's actually a good size ring light."
7. Be the Star of Your Next Conference Call
Since the ring light can be plugged right into your computer, some have started placing it on their desks for remote work meetings. "Exactly what I expected," Josue shared. "The ring connects to any standard camera rig, so I have it hooked to my computer monitor stand for my web conference calls. I wish the light button controls were not backlit — I unplug it at night as my desk is in my room. Otherwise, works great and is just what I needed to make sure I have good lighting for my web training video calls."
8. Update Your Headshot
Consider updating your LinkedIn, Instagram and all of your social media profiles with a proper headshot. You'll look more professional, and your viewers will undoubtedly take you more seriously. "I blog and take lots of photos for my website and Instagram," reviewer Harpers5 revealed. "I have always wanted a light like this. I'm so glad I bought it. It is easy to use and not too hard to set up. It is a bit top-heavy, so I have to make sure it's stable before I take photos. It really lights up my objects with no shadows. It even has a level on it so you can level the stand!"
9. Become a YouTuber in 2 Minutes

Mom Jaclyn Starr mentioned how her kids started making YouTube videos, and this ring light was a lifesaver. It made the process really easy and allowed them to get to the fun part of filming much quicker. "My boys have started making videos for YouTube and they love this light!!," she said in her review. "It has different settings for the light to make it different colors and brightness. It was very easy to assemble, it took about 2 minutes!"
10. Take Hand-Free Selfies

Have a hands-free experience with this ring light. You simply use the controls on the remote when you're ready to snap a photo, and voila! "Controls are awesome, you can choose if you want the light warmer or cooler," user Deby pointed out. "I also like that a control to access your phone is included it makes it easier to shoot if you want hands off before you start shooting."
11. Take Your TikTok Up a Notch
Instagram or Facebook live streams and TikTok videos are easier to film with hands-free devices. Thanks to the ring light's remote, you can do it all without having to press the record button on your phone. User Nightfall emphasized that the "Bluetooth connected remotely for handsfree photo taking."
Who knows how long this deal will last, so if you're not planning on purchasing this soon, set a Deal Alert to be alerted the next time it goes on sale.
Read Next: Review: Google Pixel Buds Are a Must-Have for Android Enthusiasts
Our editors strive to ensure that the information in this article is accurate as of the date published, but please keep in mind that offers can change. We encourage you to verify all terms and conditions of any product before you apply.