Wear an Ugly Holiday Sweater and You Could Win Free Flights with Alaska Airlines
Kick off 2020 right with a free trip for you and a friend.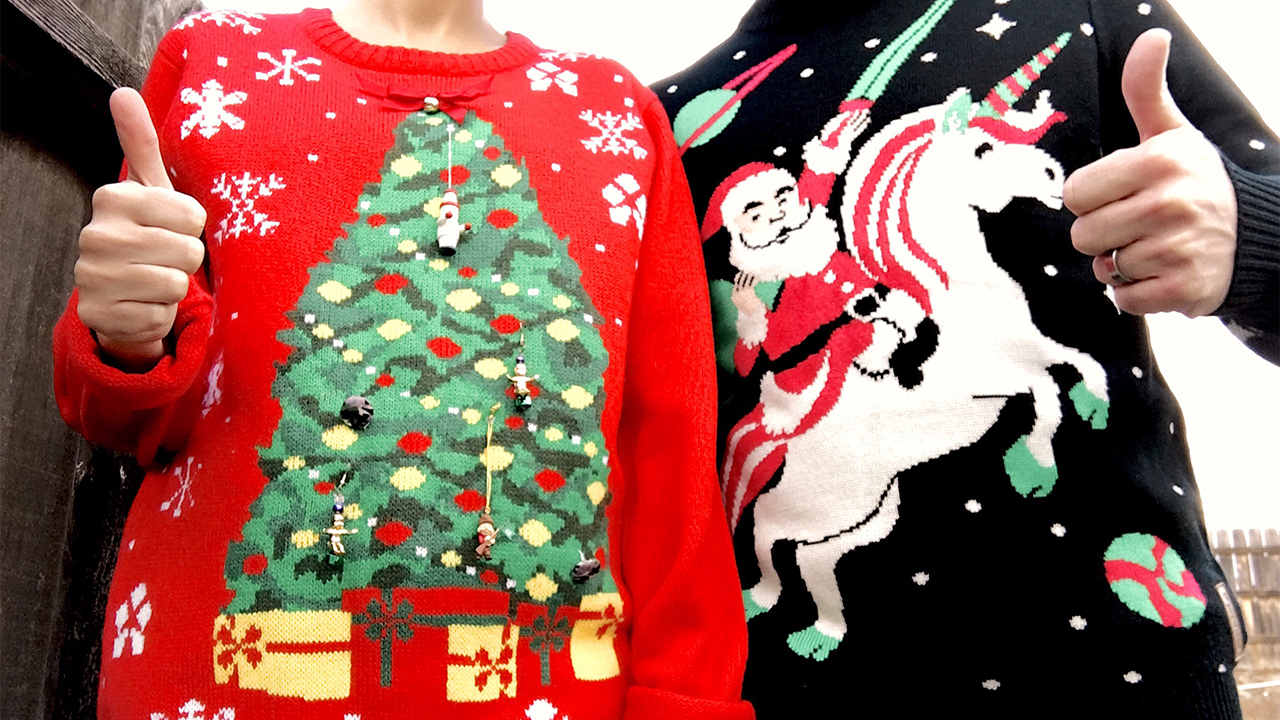 For the price of just one ugly sweater of your own design, you can win an exclusive holiday sweater and two round trip flight vouchers from Alaska Airlines. It's not entirely free, as you need to make the ugliest and most magnificent sweater to be considered, but you don't have to buy anything flight-related.
This sweepstakes is courtesy of a partnership between Alaska and the University of Washington, so you might get special consideration if your sweater is Husky themed.
The contest ends at 11:59PM PST on December 23rd, 2019, and the winner will be announced on December 27th.
Enter to win by taking a picture of yourself in your best ugly sweater and submitting it through this form:
What Would I Win?
A "round trip flight voucher" is a vague designation, and there are some specific things you should know before you start planning a luxurious international vacation.
According to the terms and conditions, the winner receives two round trip, coach class certificates to the "destination of your choice," so long as the total cost of each ticket is $800 or less. You can book your flight through Alaska Airlines, Horizon Airlines and specific Skywest Airlines flights.
Alright, So What's the Catch?
As long as you adhere to the $800 approximate retail value of each ticket, there aren't too many exclusions to worry about. Unless you find a total steal in our Travel Deals, your chances of booking a complicated trans-Atlantic vacation within the budget are not great. It's not impossible, though!
A few other terms that you should know about:
You can't collect any Alaska Airlines Mileage Plan miles with these flights, but you can use your First Class paid upgrades and meal plan upgrades.
The first bag is free for Alaska Airlines Visa Signature cardholders.
You have to pay your own individual travel taxes.
You have three months from the date of issue to use your travel certificate.
You can't fly between December 18th and January 2nd, 2020.
You have to live in the 48 mainland states/Washington D.C. to qualify. Isn't it ironic that Alaska residents aren't eligible?
This is par for the course compared to other travel sweepstakes, so it looks like a pretty good deal. You can go nearly anywhere in the United States for free, and especially enterprising deal hunters can cross oceans using only a glue gun and some pom poms.
And don't forget to set a Deal Alert with us to stay on top of the latest travel deals and discounts.
UP NEXT: Is the Alaska Airlines Mileage Plan Worth It?
---
Any product or service prices/offers that appear in this article are accurate at time of publish, and are subject to change without notice. Please verify the actual selling price and offer details on the merchant's site before making a purchase.