Alienware's Concept UFO Wants to Be the Nintendo Switch of Gaming PCs
Here's everything we know so far about the UFO handheld concept, and how it stacks up against the Nintendo Switch.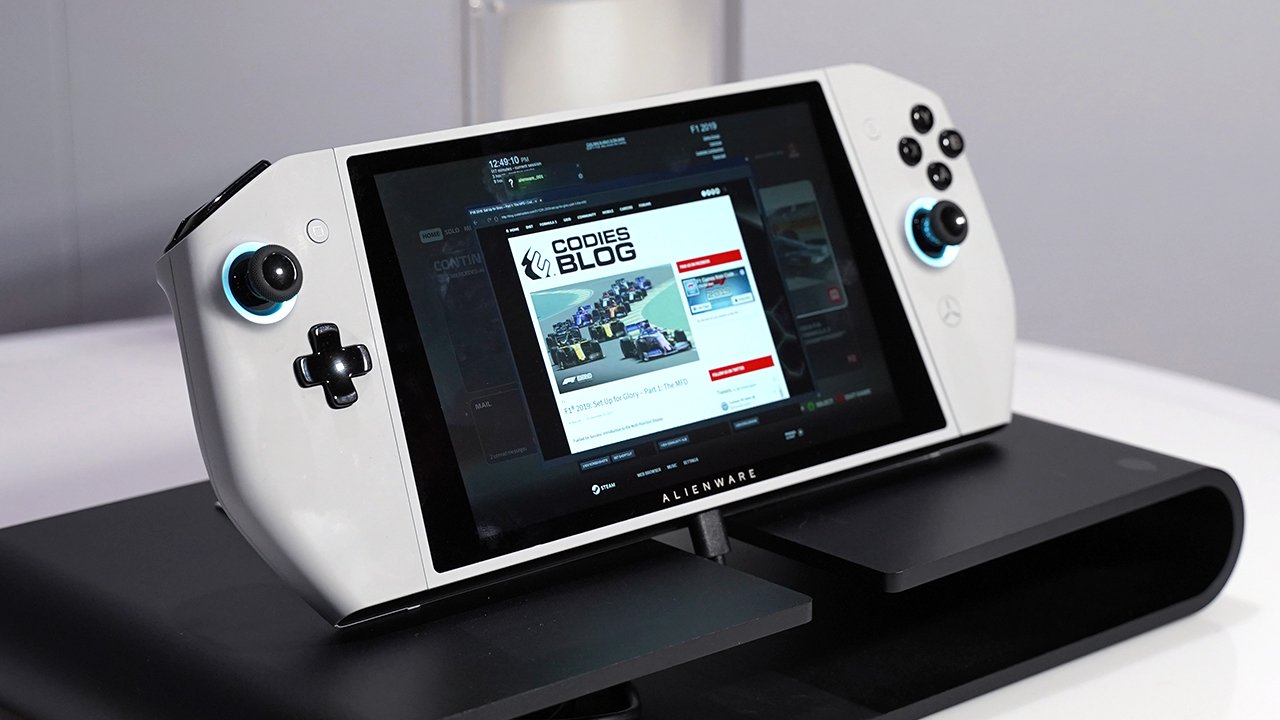 When it comes to portable gaming, the Nintendo Switch is definitely the household name. But Alienware seems to be looking to steal a little of the spotlight with its latest PC gaming handheld device, the Concept UFO.
Revealed during CES 2020, the Concept UFO takes some very obvious inspiration from the Nintendo Switch — it features detachable controllers and a built-in stand. Despite the similarities, Alienware showed off certain improvements to continue pushing the boundaries of gaming, including a screen that's actually HD (whereas the current Switch model can only reach 720p resolution when in handheld mode).
Since the comparisons are inevitable, we went ahead and stacked the Concept UFO's reported specs against the current Nintendo Switch build to see how the two devices fare in a head-to-head competition.
RELATED: Slickdeals Editor's Choice CES 2020: Add These to Your Wish List Right Now!
Concept UFO Vs. Nintendo Switch
Physical Construction
It's clear Alienware has its sights set on one-upping the Nintendo Switch's build-quality. This seems like a smart move — Nintendo has never been known for its cutting-edge hardware (remember how the Wii's standard resolution was 480p?) and conversely Alienware's name is synonymous with gorgeously-designed powerhouse PCs.
In this field, the Concept UFO's advancements start with its 8-inch, 1200p display (versus the Switch's 6.2-inch 720p screen). And as per Alienware tradition, the UFO features intergalactic designs and RGB lighting.
The UFO is bigger than the Switch, so naturally it is also heavier with a weight of roughly two pounds. While that doesn't seem like much, it is quite a jump from Nintendo's 10.48 ounces. While the extra pounds might scare off some commuters, the UFO's weight is justified by higher performance and increased functionality.
Although the UFO has detachable controllers, it doesn't seem like they are meant for two-players like Nintendo's Joy-Con controllers. Instead, it seems like they can be combined with an extra controller grip so you can play while the device rests on its built-in stand.
Software and Functionality 
One of the biggest differences between Alienware's Concept UFO and the Nintendo Switch is the UFO's capabilities as a PC. With Windows 10 built-in, the machine also has ports for a keyboard and mouse so you can use it like a computer. The USB-C ports on the device can also let you connect to an external monitor.
Since this is a prototype, a lot of the UFO's specs are still up in the air. Som CES attendees were able to demo the device to play games like Rocket League, Mortal Kombat 11 and F1 2019. Given the small form factor of the device, it likely won't be as powerful as Alienware's flagship gaming rigs. However, testers found the gameplay smooth and still graphically superior to the Nintendo Switch.
Pricing and availability are also unknown for the UFO, as it's still very much a work in progress. At this point, no one's even sure if the device will actually make it to the market. Even so, Alienware's presentation as impressive, and the device marks a bold step forward for the PC gaming industry.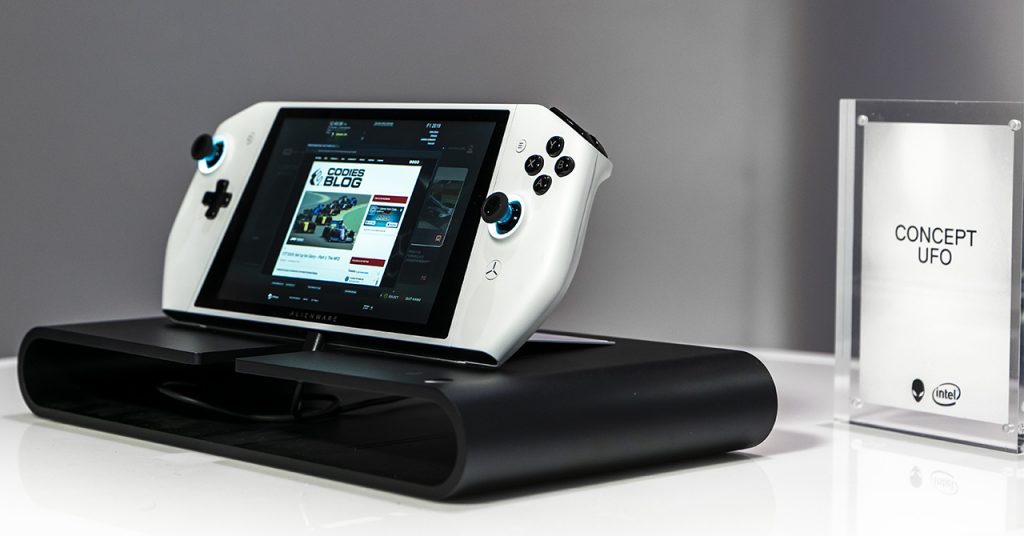 Other Mobile Gaming Products on the Horizon
New Nintendo Switch Model
While Alienware's Concept UFO is getting quite a lot of buzz, Nintendo may already be making preparations to defend its handheld crown. Rumor has it a new Switch is set to launch in the middle of this year.
Following the likes of PlayStation, gaming experts are expecting a Pro version of the Switch with higher resolution, better graphics and cartridges that can hold larger games. This is all hearsay for now but a Nintendo Switch Pro would add great balance to the product line now that the Switch Lite is available.
Razer Kishi Gamepad
Despite the success of the Switch, the most ubiquitous mobile gaming device is something you likely already own — your smartphone. Touchscreens don't necessarily give you the best control playing games but Razer plans to change that. The premium gaming brand is launching a mobile gamepad called Kishi that can up your cellular gaming experience.
Designed similarly to Joy-Con controllers, the device basically turns your phone into a Switch. Razer first took on this endeavor back in October 2019 with the announcement of Junglecat but the product was limited to just four Android devices. However, the new Razer Kishi is slated to work with most Android devices and even iPhones.
The company expects to launch this product in early 2020 but the price is currently unknown. But with the MSRP of the Junglecat at $100, we can expect the Razer Kishi to be roughly the same. And with game streaming advancements like Project xCloud on the horizon, it seems like the Razer Kishi could be a very viable option in 2020.
If any of these up and coming mobile gaming products enticed you in any way, make sure to set up a Deal Alert to get notified of its sale or discounts instantly.
UP NEXT: The Coolest, Most Bizarre and Most Expensive Tech We Saw at CES 2020
Enjoy this hot video game deal from our Frontpage:
Search URL: https://slickdeals.net/newsearch.php?firstonly=1&pp=20&sort=newest&rating=frontpage&filter%5B%5D=309&forumid%5B%5D=9&hideexpired=1&r=1
Our editors strive to ensure that the information in this article is accurate as of the date published, but please keep in mind that offers can change. We encourage you to verify all terms and conditions of any product before you apply.