Sponsored
Surprising Amazon Items that Are FSA and HSA Eligible
Use your FSA or HSA card on Amazon to shop lots healthcare essentials.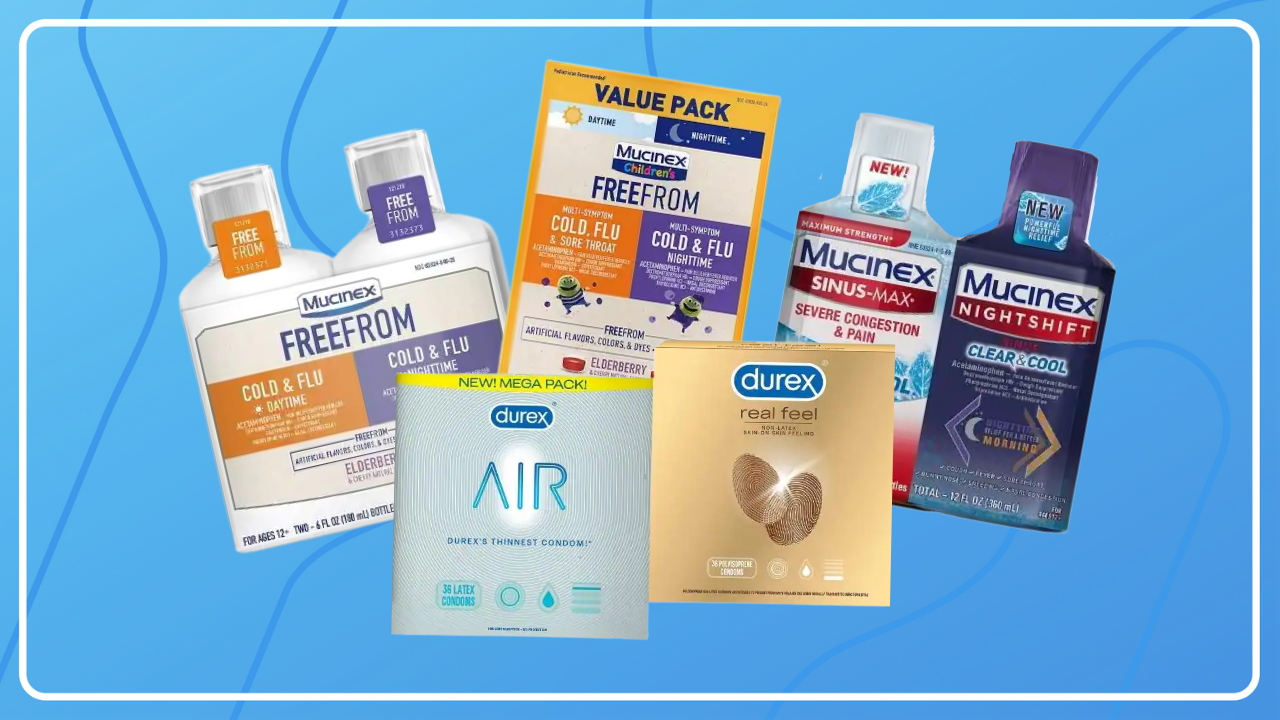 As you may know, Amazon accepts Flexible Spending Account (FSA) or Health Savings Account (HSA) cards as a means of payment on certain FSA-eligible healthcare products — but you might be surprised at what's included in the mix. At the Amazon FSA store, you're not limited to just cold meds, glucometers and crutches.
With a new year underway, now's a good time to check out all the Amazon FSA-eligible health savings at your disposal. Your purchases (even SPF) could be essentially "free" if you apply your unused card balance on an active FSA or HSA debit card. If you find yourself with leftover FSA funds in your FSA account, stocking up on health and wellness products is one way to ensure you don't lose out on the money you're setting aside. We've rounded up some unexpected Amazon FSA-eligible product pages to give you a better idea of what you can pay for with your workplace healthcare payment method.
Surprising FSA & HSA Eligible Products at Amazon
1. Day and Night Cold, Flu, Sinus Relief

With spring bringing around spontaneous weather and temperature fluctuations, the risk of catching a cold or flu tends to be higher. Luckily, FSA and HSA accounts can help you get select Mucinex medicines from Amazon to combat those microscopic invaders. Get relief day and night for the entire family with the following products:
2. Contraceptives

A big part of healthcare is taking preventative measures. For your protection, you can get select products from Durex—the leading condom brand—on Amazon via FSA and HSA accounts as well. Use it on Value Packs to get the best "bang for your buck" and choose from a wide assortment of specialty condoms like:
3. Skincare

LightStim for Acne – $169
Several acne light therapy devices are eligible for workplace FSA or HSA cards. But that's not all — you can also grab lip balm, face wash, lotion, sunscreen and more.
Here are just a few examples:
RELATED: You Can Buy This Celeb-Endorsed Light Therapy Beauty Treatment on Amazon
4. Humidifiers

HealthSmart Aromatherapy Essential Oil Diffuser and Cool Mist Humidifier – $36.99
Humidifiers are another unexpected addition to Amazon's FSA-eligible medical supplies list. Pick up a 2-in-1 humidifier/diffuser to improve your air quality and eliminate odors with the help of your favorite essential oils (which can also boost your mood or help you sleep better).
5. Contact Lens Care & Reading Glasses

Biotrue Contact Lens Solution Twin-Pack – $15.98
Contact lens solution isn't cheap. But the vision-impaired will be happy to know that you can pay for over-the-counter brands using your FSA and HSA accounts. Select reading glasses are eligible, as well.
6. Kids' Allergy, Cold & Flu Items

Boogie Wipes, Unscented Wet Nose Wipes for Kids and Baby, 30 Count, Pack of 12 – Sale Price: $40.20 | Reg. Price: $43.96
Amazon also carries several cold, allergy and flu essentials for little ones, like bundled sets of saline wipes for stuffy noses.
7. Support Pillows & Even Baby Monitors

Acid Reflux Wedge Pillow – Sale Price: $147.70 | Reg. Price: $179.95
Working from home (i.e., bed)? Select support mattresses and pillows on Amazon are eligible, too. Also eligible under the "bed & mattress" section of the FSA/HSA store is a "baby movement monitor" and more unexpected items.
8. Condoms & Pregnancy Tests

LifeStyles Ultra Sensitive Natural Feeling Lubricated Latex Condoms, 40 Count –  $10.99
Amazon's assortment of HSA- and FSA-eligible condoms includes value packs from popular brands like LifeStyles, Magnum and Trojan. You can also find eligible pregnancy tests from Clearblue and First Response, as well as ovulation test strips.
9. Prenatal Vitamins & Gummies

SmartyPants Prenatal Formula Daily Gummy Multivitamin with Vitamin C, D3 and Zinc for Immunity – $27.95
Some multivitamins are also HSA and FSA eligible expenses (yes, even the gummy varieties).
10. Baby Essentials & Must-Haves for New Mothers

Owlet Duo Smart Baby Monitor with HD Video, Oxygen, and Heart Rate – $399
Alternatively, many baby essentials like bottles, breast pumps and postpartum girdles are available for purchase using your FSA and HSA funds. That means new parents can save big on a variety of must-haves (as well as pricey but popular safety devices like the Owlet Smart Sock).
Here are just some of the baby items up for grabs:
11. First Aid Kits

Rapid Care First Aid 80095 4 Shelf ANSI/OSHA Compliant All-Purpose First Aid Cabinet, Wall Mountable, 1,110 Pieces – $138.76
You can never have too many Band-Aids, and thankfully bandages are eligible for purchase with your employer reimbursement plan. Keep your family protected in any emergency with FSA- and HSA-eligible first aid kits. Many include face masks and alcohol pads, as well.
12. Alcohol Wipes

Acme United First Aid Only Alcohol Cleansing Pads, 20 Count – $5.09
Alcohol cleansing wipes and pads are a must for keeping things sterilized as needed, and many on Amazon are HSA- and FSA-eligible.
13. Home Health Monitors

Lumiscope Soft Quick-Read Digital Thermometer with Flexible Tip – $6.66
Due to the COVID-19 pandemic, many essential workers are advised by their employers to check their temperature before heading to work. Fortunately, select digital thermometers on Amazon are HSA/FSA eligible. You can also find eligible blood pressure cuffs, fingertip pulse oximeters, sleep trackers and even bathroom scales to help monitor your health at home.
14. Orthotics & Foot Massagers

Foot Circulation Plus Foot Massager Machine – $199.99
We found several FSA/HSA eligible foot massagers on Amazon — plus everyday orthotics like Dr. Scholl's inserts to help alleviate foot and leg fatigue.
15. Feminine Care

Cora Organic Cotton Unscented Tampons (72 Count) – $27.99
Feminine care essentials like tampons and pads are FSA/HSA eligible, as well. Shop best-selling brands like Always, Tampax, Cora, U by Kotex, Playtex and more.
16. Keto Test Strips

Perfect Keto Test Strips – $7.95
Watching your carbs? You don't have to pay out-of-pocket. We spotted select keto test strips in Amazon's FSA store to help you measure your ketones and stay in ketosis.
17. Heating Pads

Sunbeam Heating Pad for Fast Pain Relief – Sale Price: $30.99 | Reg. Price: $39.99
Ahh, the instant relief of heating pads. Select heating pads from brands like Sunbeam are FSA and HSA eligible, making it easier to soothe aches with fast heat therapy when you need it most.
18. Dental Care Supplies (Even Whitening Strips)

Crest 3D White Professional Effects Teeth Whitening Kit – Sale Price: $47.59 | Reg. Price: $49.99
White strips are expensive, so taking advantage of their FSA/HSA eligibility is a slick idea. Amazon also includes tons of other dental care items, including toothpaste, toothbrushes, mouthwash, floss and picks, denture care essentials and teeth grinding guards.
19. Stuffed Animals

Thermal-Aid Zoo Mini Baxter Bunny Kids Hot and Cold Pain Relief Heating Pad – $7.99
Okay, so not all stuffed animals are FSA/HSA eligible. But we did find this cuddly stuffed rabbit that doubles as a cold ice pack or a warm compress as needed.
---
How to Save No Matter When or Where You Shop
Navigate multiple sales at once by setting Deal Alerts on Slickdeals for items you want and need. While you're at it, check our coupon pages for current promo codes for your favorite stores.
You can also download the Slickdeals browser extension to help save you money when you shop online. It auto applies coupon codes before you check out and can also show you any active deals our community of over 12 million active deal hunters has found as you visit any of the hundreds of supported stores.
Download the Slickdeals Extension Now
Read Next: 
Images courtesy of Amazon.
Our editors strive to ensure that the information in this article is accurate as of the date published, but please keep in mind that offers can change. We encourage you to verify all terms and conditions of any product before you apply.