Children (and Fun Adults) Can Pre-Order the New Kindle Kids Edition Today
No apps, no ads — the Kindle Kids Edition is the good kind of screen time.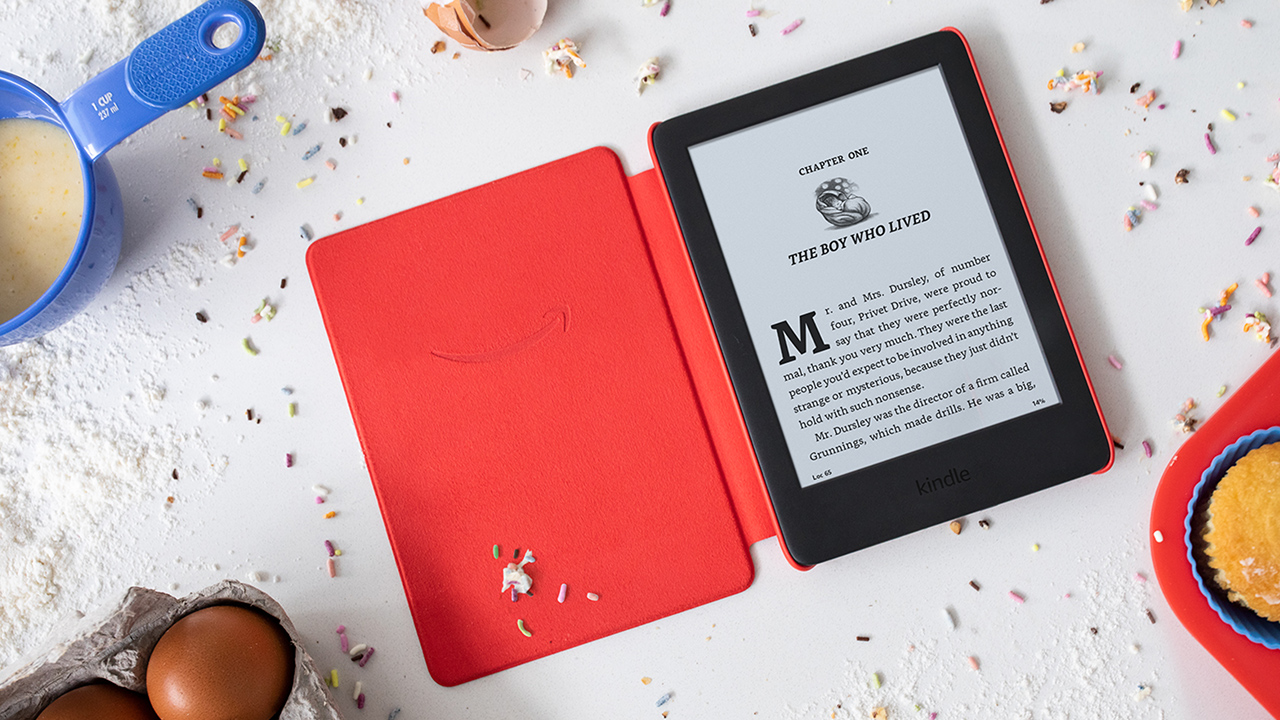 On October 30th, Amazon's new Kindle Kids Edition will be released. You can pre-order it now and receive it on release day if you select "Two-Day Shipping" before checkout.
Pre-Order the Kindle Kids Edition
While the new Kindle Kids Edition retails for $109.99 (or five monthly payments of $22) you save 25% if you order two devices at once. This $55 discount will be automatically applied at checkout. If you have multiple kids and want to spare yourself the inevitable screaming over Kindle custody, this offer is especially attractive.
What Makes the Kindle Kids Edition Special?
Other than the cute, child-friendly exterior, the most prominently advertised feature of the Kindle Kids Edition is the lack of games, ads, apps and videos. In an effort to simulate the experience of reading a physical book, Amazon has removed all of the distractions from the machine, aside from the modular Word Wise and Vocabulary Builder tools built into the text of each book.
While your kid might be bummed about the lack of games, there are thousands of books available for download, so they definitely won't be bored. What's more, the Kindle Kids Edition is currently being packaged with one free year of Amazon FreeTime Unlimited, a cloud service that hosts all the books your children could ever want.
After the year is up, your subscription will automatically renew for $2.99 a month, so be sure to cancel after 12 months if you aren't in love with the service. Either way, you're basically getting a $36 service for free, so it's worth testing out if you plan on picking up one of the new devices.
The Kindle Kids Edition comes with a durable magnetic cover and is covered by a two-year warranty, making it quite child-proof. It has 8GB of storage space and is advertised as capable of holding a charge for as long as four weeks. According to Amazon, it will have audiobook streaming capabilities at some point in the future.
How Does It Compare to Other Amazon Devices?

If you're interested in the Kindle Kids Edition's parental control features, it's probably worth it for you to shell out the full $109.99. However, if you're just trying to help connect your kid with a good e-book, there are plenty of other good (less expensive) options on the market.
Older Kindle Models
Older edition or refurbished Kindles regularly sell on Amazon for under $100. And since Kindles don't change too much from generation to generation, you're not missing out on much if you don't have the latest model. Sure, your kid's Kindle won't look as cool as the new ones, but once they've opened a book it'll be pretty much the same.
Here are a few models to consider:
Kindle Paperwhite (5th generation) – Reg Price: $33.75
Kindle Fire HDX (refurbished, 3rd generation) — Reg Price: $51.13
Kindle (2019 model) with 3 months of Kindle Unlimited – Reg Price: $89.99
Fire HD 10 Kids Edition 
The Fire HD 10 Kids Edition is more of a companion to the Kindle Kids Edition than the previous option. It offers many of the same functions with overall more content at nearly double the price ⁠— $199.99, or five payments of $40.
The Fire HD 10 has a higher storage capacity (32GB) and shorter battery life (up to 10 hours), and the main difference from its Kindle Kids counterpart is the presence of apps and web browsing. This content is provided by FreeTime Unlimited, so it is still monitored and kid-friendly. However, it may not be the best option if you are trying to make your kids read books (and not just play Toca Kitchen 2). 
Want more great discounts for your kids? Set up a Deal Alert, so you can always stay in the loop.
---
Deal Value: Pre-order the Kindle Kids Edition for $109.99.
Timeframe: Available for order now, with expected arrival on or soon after October 30th.
Things to Remember: It comes with a two-year warranty. After the first year, you will have to pay for FreeTime Unlimited, starting at $2.99 a month.
You also might like this hot Amazon deal from our Frontpage:
Search URL: https://slickdeals.net/newsearch.php?firstonly=1&pp=20&sort=newest&rating=frontpage&filter%5B%5D=12029&forumid%5B%5D=9&hideexpired=1&r=1
NPC9ALFuaJU
Image Credit: Amazon
Our editors strive to ensure that the information in this article is accurate as of the date published, but please keep in mind that offers can change. We encourage you to verify all terms and conditions of any product before you apply.