A Salute to Our Past: Remembering the Best Dog Tweets from Prime Day 2018
The online retailer knew the only way to placate enraged customers was with adorable doggos — and it kind of worked.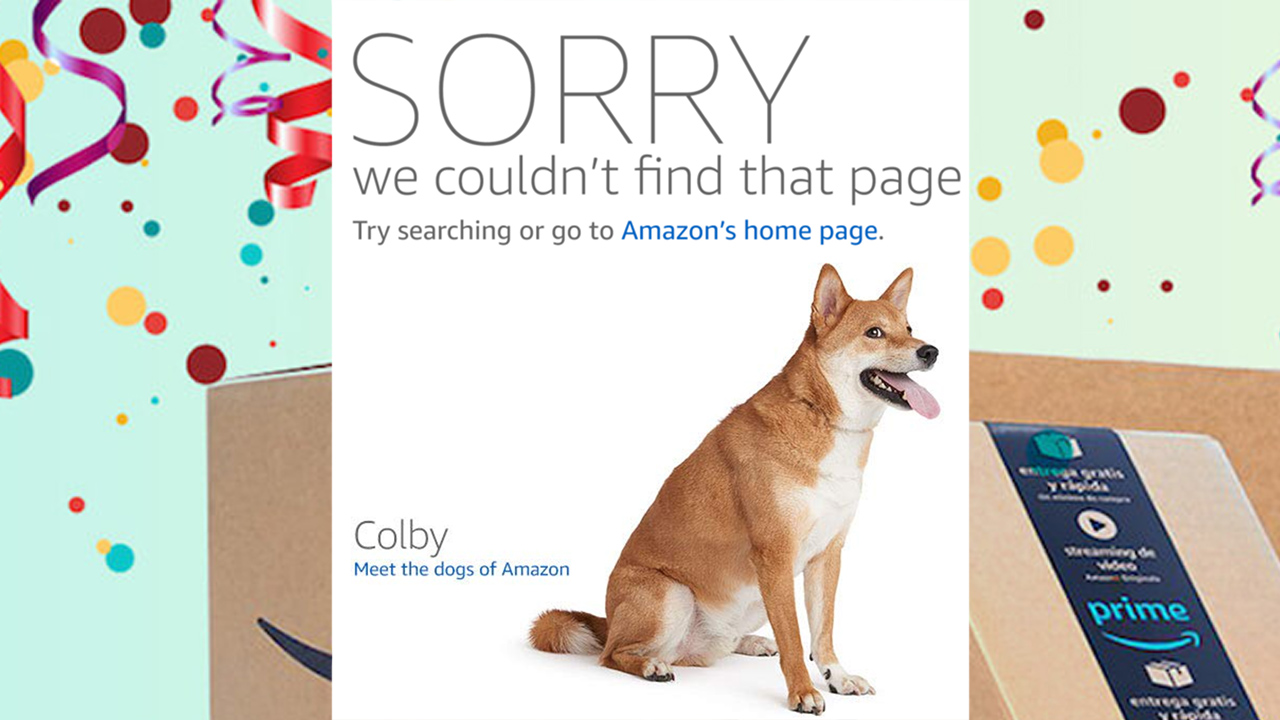 Amazon has the ability to make or break the internet. And when the site's server suffered a glitch on Prime Day 2018, leaving many of its product links broken, the company knew there was only one solution to assuage customer rage: dogs.
Though many Amazon Prime deal pages popped up errors, would-be deal grabbers were entertained with photos of dogs in all shapes, sizes, moods and colors every time the error page refreshed.
By most accounts, Amazon's strategy worked. Some Prime shoppers took to Twitter to express their annoyance, but with a blend of sarcasm and delight at the retailer's clever use of canine therapy. Prime users threw shade, posted memes and even started sharing pictures of their own pets.
Ultimately, it turned what could have been a frustrating experience into a collection of funny Prime Day dog tweets. Will we see something similar for Amazon Prime Day 2019? Time will tell, but for now, it behooves us to honor the Prime Days of yore.
Plus, don't forget to stay on top of all of the Prime Day 2019 deals with our Amazon Prime Day Guide!
And if you can't wait to hop on the discounts for this year, check out one of our most popular current Amazon deals here:
Search URL: https://slickdeals.net/newsearch.php?firstonly=1&pp=20&sort=newest&rating=frontpage&filter%5B%5D=12029&forumid%5B%5D=9&hideexpired=1&r=1
The Best Prime Day 2018 Dog Tweets
Amazon Prime Day 2019 is just around the corner and, while we don't know yet whether a server glitch will cause the same online panic as it did in 2018, one can only hope if the worst happens, Amazon will have a new roster of dog photos — or maybe even a few cat GIFs — to temporarily distract the masses.
With that said, we're looking back at some of the top tweets from Prime Day 2018. They include a timeless roundup of relatable humor, good old boys and memorable comments culled from angsty Amazon Prime shoppers.
Here's all the stuff that I've bought this #PrimeDay pic.twitter.com/zAkTJlJr4R

— Angel (@AngelBlabber) July 16, 2018
Should be working. Planned on shopping, but currently scrolling through tweets about #PrimeDay pic.twitter.com/UocbNw3CSK

— Amy Hertsenberg (@amyhertsenberg) July 16, 2018
Am I the only one that had a dog doing this show up on while trying to buy from Amazon?#PrimeDay pic.twitter.com/oeeIh83UVz

— binary cipher (@binarycipher) July 16, 2018
@amazon wanna borrow my 3 dogs for your error page? Seams you've run out pic.twitter.com/BGiD06TcJZ

— carol wittenhagen (@carol777777) July 16, 2018
Build-a-Bear Workshop: We had the biggest promotion fail of 2018
Amazon Prime: Hold my beer#PrimeDay⁠ ⁠#PrimeDay pic.twitter.com/Ldp99pWLzW

— KristinDeLuciaMorgan (@kmorgan76) July 16, 2018
Yeah, I'm way better looking than all those silly dogs Dad saw on @amazon when he tried to buy prime day stuff 😜😳😉 #amazon #amazonprime #primeday #amazonprimeday #primeday2018 #dealoftheday https://t.co/sfiaLFvSNW pic.twitter.com/lTQEexCODl

— MissDakotaTheBerner (@DakotaTheBerner) July 18, 2018
Had a great Prime Day! Thanks @amazon #PrimeDay #dog #AmazonDay pic.twitter.com/B5iSoxfuFI

— eric swanson (@eswanson87) July 12, 2016
Spying on my puppy from work 😂😂 This dog cam (that shoots out treats!!) was the best prime day purchase 😍 pic.twitter.com/Kf6ZFI111B

— Jessica (@Dacchei) August 2, 2018
Bad news: Amazon seems to be crashing from demand for Prime Day sales. Good news: Amazon's error page is amazing. pic.twitter.com/lhUcipHTZX

— Seth Fiegerman (@sfiegerman) July 16, 2018
We feel the same way about these @Amazon smartphone deals. #PrimeDay https://t.co/GCS6LuurqH pic.twitter.com/LDiIwyyCnO

— Digital Trends (@DigitalTrends) July 17, 2018
#Amazon This is Woodstock – he was a foster dog we decided we couldn't live without. #primedayfail #utahrocks pic.twitter.com/k1zlG9LRDb

— Amy Donaldson (@adonsports) July 16, 2018
We think Finbarr would've made a great addition to the #Amazon #PrimeDay dog page. Don't you think so too? #UTSA pic.twitter.com/HUSSS0eNv3

— UTSA (@UTSA) July 17, 2018
A while back I tweeted about buying a dog helmet on Amazon Prime Day… it was received. Penelope is ready. pic.twitter.com/vVoUNSMSjr

— Sydney Leroux Dwyer (@sydneyleroux) October 24, 2017
---
Any product or service prices/offers that appear in this article are accurate at time of publish, and are subject to change without notice. Please verify the actual selling price and offer details on the merchant's site before making a purchase.