Watch the Slickdeals Livestream on Prime Day for the Dealsiest Show on the Internet
Hang with Johan, Andrew and special guests on July 16th at 11 a.m. PT to make your Prime Day even better!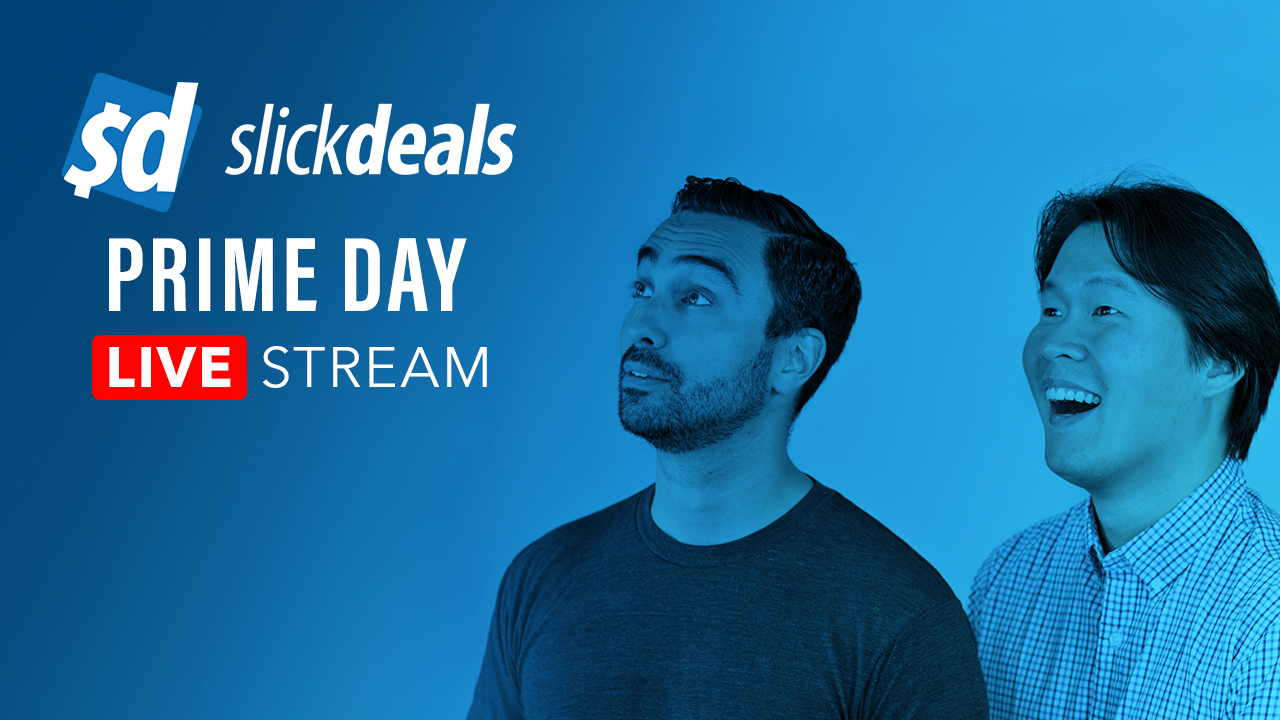 Amazon Prime Day is back for the fifth year in a row. And if past Prime Days are any indication, Amazon will be releasing an extremely small, well-curated list of exclusively excellent deals. Oh, wait, no. We meant literally the exact opposite of that.
RELATED: Leaked Deals for Amazon Prime Day 2019
Realistically, you'd have to sort through thousands of mediocre deals on Prime Day before finding anything good. But we're here to help you find the best deals for Prime Day 2019 and have fun along the way.
Join us on July 16th at 11:00 a.m. PST for the Official Slickdeals Prime Day Livestream Save-stravaganza, where we'll cover the best Prime Day deals you may have missed, give away prizes to lucky winners and much more.
You'll also learn how to make the most out of your Prime Day experience with our exclusive Amazon Prime Day Shopping Guide.
Visit Slickdeals' Facebook page starting at 11:00 a.m. PT on July 16th to watch the stream and chat with us!
Watch the Prime Day Livestream
Slickdeals Prime Day Livestream F.A.Q.
1. Will there be games?
1,000%. We'll have games and audience interaction galore. Have you ever wanted strangers to say your name on a livestream? Now's your chance.
2. What about Black Friday in July deals?
First of all, we're not a fan of the phrase "Black Friday in July." Secondly, yes. We'll highlight some of the best deals from retailers like Dell, Walmart, Target and more.
3. I've heard there will be fantastic prizes and giveaways. True or False?
True! In fact, you probably read that in this very article! We'll reveal the prizes during the livestream.
4. Are there going to be puppies?
Yes, but only if you bring treats and hold them in front of your screen.
5. And what about other surprises?
Shhhhhhh. Who told you about those?
Enter the Slickdeals Prime Day Giveaway!
To celebrate Amazon Prime Day 2019, we're giving away lots of prizes from Slickdeals-favorite brands and retailers like Razer, Groupon, ViewSonic, B&H Photo, Aukey and more. You'll have to tune in to the livestream on July 16th to find out the specific prizes being offered, but trust us, they're really good because we picked them ourselves.
How do you enter to win? Come back to this article on July 16th at 11:00 a.m. PT and log in to the Gleam widget below. That's it, you're automatically entered!
Slickdeals Livestream Prime Day Giveaway
And don't forget to watch the (self-declared) premier Prime Day Live Show on the internet on Slickdeals' Facebook page!
If you can't wait to shop, check out one of our most popular current Amazon deals here:
Search URL: https://slickdeals.net/newsearch.php?firstonly=1&pp=20&sort=newest&rating=frontpage&filter%5B%5D=12029&forumid%5B%5D=9&hideexpired=1&r=1
Our editors strive to ensure that the information in this article is accurate as of the date published, but please keep in mind that offers can change. We encourage you to verify all terms and conditions of any product before you apply.