Upgrade Your Home or Car for Less with Deals on Anker Tech
From power strips to wall chargers to headphones, these are our favorite deals on Anker products this week.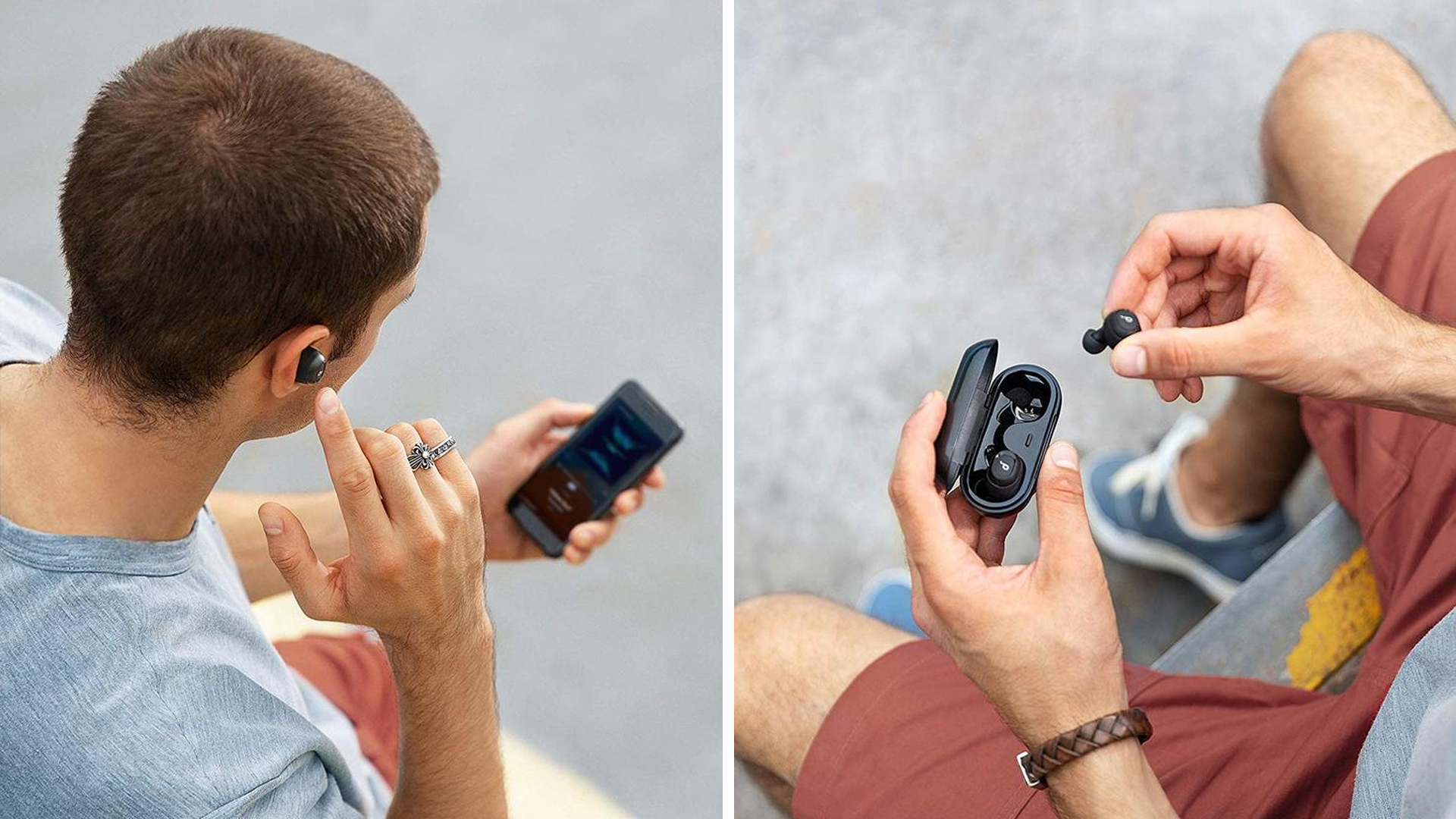 If you frequently browse the Slickdeals Frontpage, the name Anker probably rings a bell. This brand has become one of the most popular computer and mobile peripheral producers in the past decade, and there's a reason why our site's users get so excited about its sale products.
From cables to power banks to headphones, Anker has repeatedly swayed consumers by offering intuitive functionality paired with affordable prices. On top of that, they have superb customer service which is proven time and again on Amazon and other retailers. The company takes every review you write to heart and also regularly follows up with purchasers to ensure they are satisfied.
Best of all, Anker is not shy about discounts—especially for its best-selling items. To help you prepare for future savings, here are some of the best Anker products you should be setting Deal Alerts for in 2020.
Anker 5-in-1 USB-C Adapter

Sale Price: $21.99 | Regular Price: $32.99
2 USB 3.0 Ports, 1 HDMI Port, 1 Micro SD card slot and 1 SD card slot
Mirror or extend your screen in a variety of resolutions up to 4K at 30Hz via the HDMI port
With the Anker 5-in-1 USB-C Adapter, you can utilize your laptop's USB-C port for fast data transfers, screen mirroring, or internet connectivity. This device is an easy, inexpensive way to expand your computer's ports and connect non-USB-C devices like USB-A cables and Micro SD cards.
---
Anker Roav Dual Dash Cam Duo

Sale Price: $97.49 | Regular Price: $129.99
A 155° wide-angle front camera and a 110° interior camera simultaneously capture the road ahead and your vehicle's interior in 1080p Full HD
Dual 323 Sony sensors with world-class F 1.8 lenses and NightHawk Vision technology deliver razor-sharp night-time clarity
Built-in GPS automatically records your driving route, location and speed, ensuring you have all the information for every journey you take
The Anker Roav Dual Dash Cam gives you almost all-around coverage by capturing a combined 265° of video. While most dashboard cameras only cover you while driving, this device has a "parking mode" to sense any unexpected activity while you are away from the vehicle.
---
Upgraded Anker Soundcore Liberty Neo True Wireless Earbuds

Sale Price: $34.99 | Regular Price: $39.99
Expertly Tuned Graphene Drivers for exceptional accuracy and a wider soundstage
Exclusive BassUp Technology that provides 43% more bass
Unbreakable Connectivity with Bluetooth 5.0
IPX7 Water Resistance
5 Hours of Playtime with 15 more additional hours with compact charging case
Anker is a favorite among Amazon shoppers as the company is known for affordable, quality electronics. Currently, the Soundcore Liberty Neo True Wireless Earbuds are setting off Deal Alerts with their discounted price of $32.99 (reg. $39.99). Though an 18% markdown isn't tremendous, these headphones are already offer great bang for your buck at full price.
These compact wireless earbuds offer an advertised five hours of use time per charge, which should be plenty for your workout session. With IPX7 water protection, you can work up a sweat without worrying about accidental damage. The GripFit technology allows earbuds to sit securely and comfortably in your ears no matter how intense your exercise may be. And it comes with four sets of EarTips and EarWings to customize the perfect fit.
---
Anker Elite Dual Port 24W USB Wall Charger

Best Current Price: $8.99 | Regular Price: $12.99
Patented Power and VoltageBoost Technology
Travel-friendly foldable plug design with 100-240 Volt Input
18-Month Warranty
With Anker's Elite Dual Port USB Wall Charger, you can easily charge multiple devices from the same plug. The VoltageBoost and PowerIQ technology ensures full-speed charging to get you back on the go quicker. Anker has also implanted several security components like temperature control, surge protection, short circuit prevention and a current stabilizer.
---
Anker PowerCore Essential 20000 PD USB C Portable Charger

Best Current Price: $49.99 | Regular Price: $59.99
20,000 mAh Capacity Provides Up to 5 Charges for Today's Flagship Phones
Qualcomm Quick-Charge Enabled USB Port
Certified Safe with a Worry-Free 18-Month Warranty
Released in September 2019, this power bank is essential for anyone with an active lifestyle. Despite the battery capacity, the portable charger is quite compact and won't be much of a burden in your pocket or purse. With the advancements in technology, charging things keeps getting better. The USB-C port supports both input and output so you can charge your devices and your PowerCore simultaneously.
---
Anker's product catalog is vast, so make sure to set up a Deal Alert if we didn't mention something you're looking for. Also, be sure to check out the Anker Store Page for other active coupons or promotions.
UP NEXT:
Here's a popular Anker deal from our Frontpage:
Search URL: https://slickdeals.net/newsearch.php?firstonly=1&pp=20&sort=newest&rating=frontpage&filter%5B%5D=516020&forumid%5B%5D=9&hideexpired=1&r=1
All images courtesy of Anker.
While we work hard on our research, we do not always provide a complete listing of all available offers from credit-card companies and banks. And because offers can change, we cannot guarantee that our information will always be up to date, so we encourage you to verify all the terms and conditions of any financial product before you apply.