The Best Affordable Coolers for Your Summer 2020 Outdoor Needs
Whether you are camping or throwing a summer BBQ, we've got the cooler for you.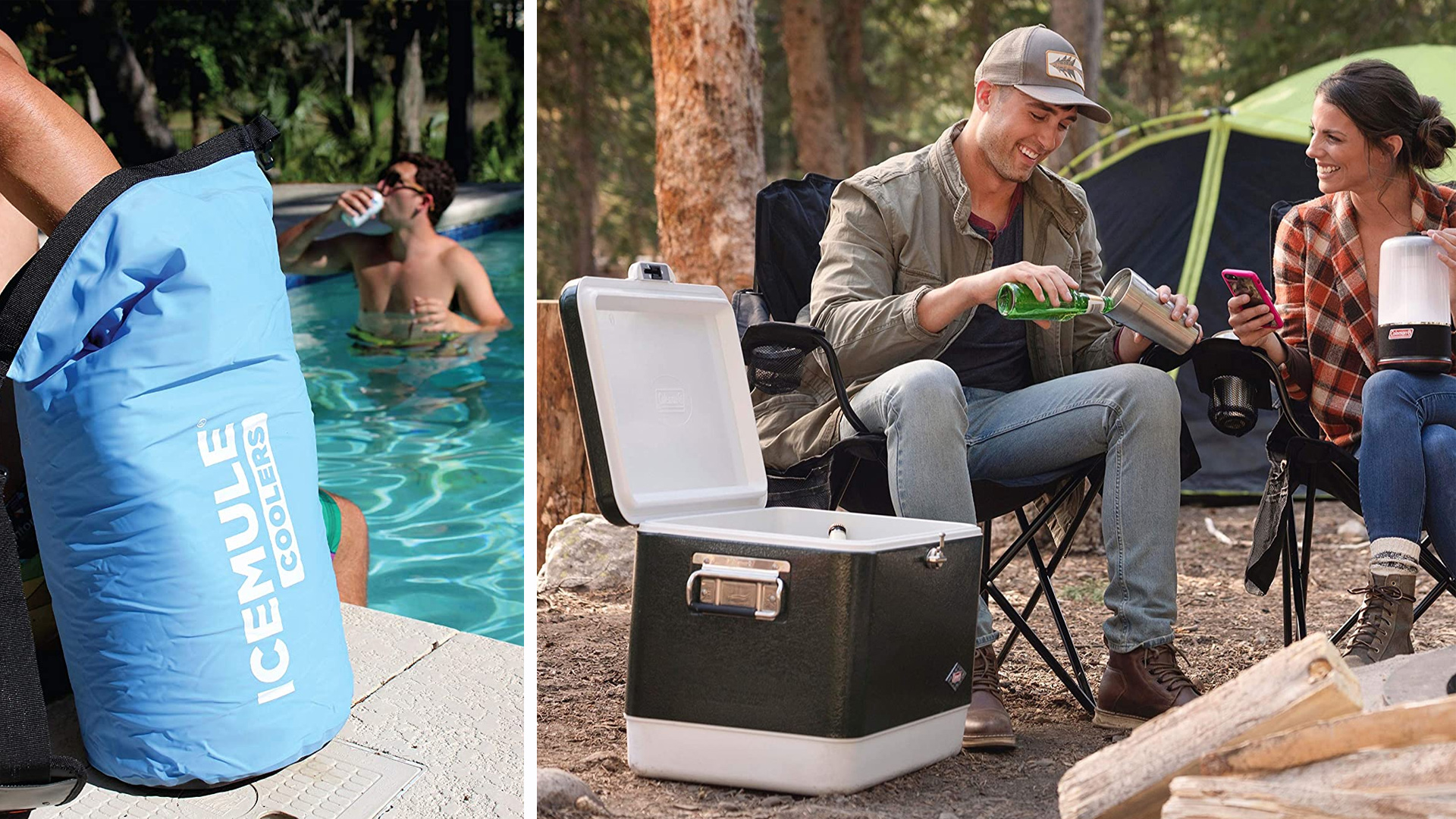 Summer is in full swing, and your bucket list is full of amazing adventures or relaxing day trips (with the appropriate social distancing measures, of course). Whether you feel like hitting the hiking trail for some one-on-one time with nature or would rather soak up the waves, the right cooler can be your best friend.
We've gathered the best coolers for every occasion, so you can enjoy your summer outings and parties even more.
Best Coolers for the Beach Under $50

Keep your sunbathing going on for hours with a reliable cooler next to you during your next beach trip. Whether you are tanning with roommates or enjoying a family day out, these coolers will make it easier to bring your "mini-fridge" close to the shore.
Igloo MaxCold Cool Fusion 48qt Cooler
Reg. Price: $49.99 (plus free shipping)
Make life easier with this rolling cooler that keeps your perishables cool and stores extra non-perishables on the sides. The top comes with four cup holder-slots, so you don't have to risk getting sand in your drink.
Member's Mark Leakproof Rolling Tote Cooler
Member Price: $29.98 | Non-Member Price: $32.98
This affordable cooler from Sam's Club has a lot of perks. It can hold up to 46 cans, has a separate insulated zip-top and is on wheels. The plastic bin can also be removed for easy cleaning.
Deal Tip: Sam's Plus Members receive free shipping.
Arctic Zone Titan Deep Freeze Zipperless Hardbody Cooler
Reg. Price: $49.03 for 48 can-sized bag (plus free shipping with prime)
No need to worry about a zipper wearing out on the Titan Deep Freeze — it's a flip-top. In addition, a removable SmartShelf allows you to keep your sandwiches and salad containers separated.
With over 3,800 five-star reviews, this bag also comes in three smaller sizes, but the 48-can bag is the best deal for the price.
Best Coolers for Backpacking Under $60

There is nothing appealing about a mushy sandwich and lukewarm water after a long hike. These two coolers can carry quite a bit while still keeping your backpacking load light.
IceMule Classic Insulated Backpack Cooler Bag
Reg. Price: $59.95 (plus free shipping with prime)
This sling-style waterproof backpack can keep up to 9 liters of drinks and food cold for over 24 hours. When not in use, the IceMule compacts to a fourth of its size. Best of all, it floats!
SEEHONOR Insulated Cooler Backpack
Reg. Price: $35.99 (plus free shipping with prime)
Stay comfortable and hold up to 25 cans or lots of food while you scale a mountain or enjoy a leisurely hike. This cooler backpack comes with additional storage pockets for serving ware and non-perishables.
Best Coolers for Camping Under $100

You want your cooler to perform two tasks when out in the wilderness. First, your food must stay fridge-level cold for multiple days, and second, your goods must be hard to access for all your new furry animal neighbors. These three coolers will do the trick:
Coleman Steel-Belted Cooler
Regular Price: $99.78 (plus free shipping with prime)
We had to share this pro tip for keeping your food from getting wet and staying cooler longer from an Amazon review, "Buy two blocks of ice, put them in a cooler. Next line the inside of the cooler with a black garbage bag. Now, line it with a second one. The ice should be sitting below the garbage bags (outside of them). Place your food inside the garbage bags."
The 54-quart capacity leaves you plenty of room for ice and food and drinks. Plus, the lid doubles as a seat, supporting up to 250 pounds.
Igloo Polar Cooler – 120 Qts.
Sale Price: $57 (plus free shipping with prime) | Reg. Price: $94.99
The Igloo Polar Cooler is huge and can keep your food cold for up to five days if you are staying in a place with temps 90 degrees or less.
One reviewer said the Igloo Wire Basket fits in the cooler perfectly, making it easier to keep your food organized on your trip for less than $20.
Lifetime 55 Quart High Performance Cooler
Reg. Price: $97 (plus free shipping)
Get up to seven days of ice retention with this Lifetime cooler. Unlike many hard coolers, this cooler comes with a drain spot for easy clean up. It is also certified by the Interagency Grizzly Bear Committee Testing facility, meaning bears can't get in for up to one hour.
Best Coolers for Parties Under $200

Hard plastic coolers are great for the beach, but at a party, they can scream, "kegger," which is great if you are still in your 20s. For a classier look, these coolers will make great statement pieces in your yard.
Suncast 72-Can Cooler
Sale Price: $163.19 with code DADSDAY through June 21 (plus free shipping) | Reg. Price: $254.99
The Suncast 72-Can Cooler does not take up much room on your patio but gives you ample space for drinks. Not only can the cooler portion hold over 70 cans, but there are other storage areas too for all of your party needs.
Grab this cooler from Kohl's during a coupon and Kohl's cash promo for the lowest price possible.
80 Qt. Patio Rolling Cooler in Lime Green
Reg. Price: $160.99 (plus free shipping) | Compared Price: $239.99
This cooler with a retro look keeps your drinks cold for up to 36 hours. It also features a bottle opener and cap catcher, making opening a beer super convenient.
If lime green doesn't suit you, the cooler also comes in red for a buck more. But steer clear of the orange option unless you want to pay more than $200.
---
Wherever your summer plans may take you, don't forget to set a Deal Alert for all of your hot-weather needs. And if you are a Yeti lover but can't stand the price, don't miss our six Yeti alternatives for half the cost.
Up Next:
---
Any product or service prices/offers that appear in this article are accurate at time of publish, and are subject to change without notice. Please verify the actual selling price and offer details on the merchant's site before making a purchase.