10 Affordable Hotels in Los Angeles That are Still Worth Staying In
If you're visiting the City of Angels, these affordable hotels can make you feel like a celebrity.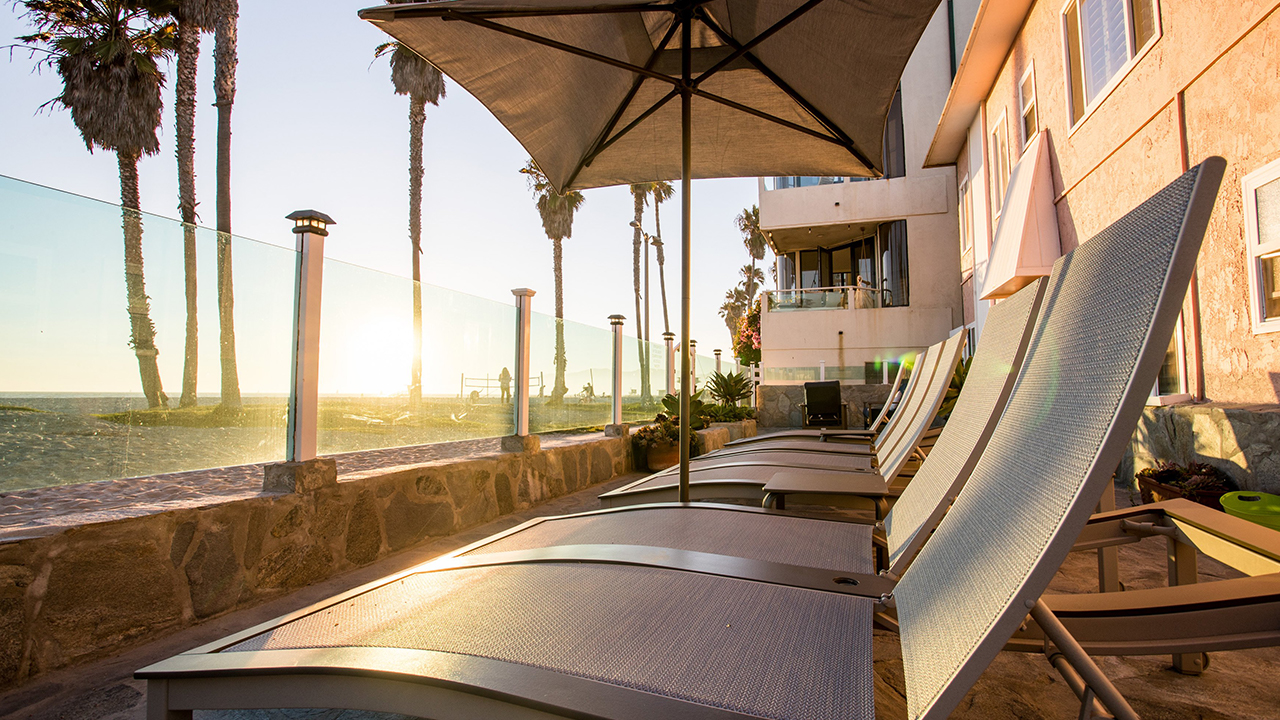 Los Angeles is one of the most expensive cities in the country, and it can be pretty hard on a tourist's wallet. Visiting LA doesn't have to break your bank, though. There are affordable, nice hotel options outside of cheap chains like Motel 6, you just need to know where to look.
If you're looking for an authentic and unique hotel experience in Los Angeles, we're rounding up some of the cheapest — but still comfortable — options in the city. We're covering hotels from all different neighborhoods as well, so you'll be able to find a place to lay your head no matter where you're visiting.
Affordable (and Decent) Hotels In Los Angeles
1. Hotel Normandie
Typical Weekday Rate: $135 per night
Typical Weekend Rate: $135 per night
Built in 1926, Hotel Normandie can be found in the heart of Koreatown. The entire building was restored in 2010, bringing the art-deco stylings of the hotel back to its 1920s glory.
The entire building is dripping in style, and its central location makes it a good base camp for exploring Los Angeles. Amenities include in-hotel restaurants, complimentary breakfast and daily wine receptions.
2. Venice on the Beach

Typical Weekday Rate: $230 per night
Typical Weekend Rate: $250 per night
If you're looking to enjoy LA's sandy shores, you won't find a hotel closer than Venice on the Beach. Located in Venice Beach, you can enjoy beautiful views of the Pacific Ocean from the hotel's rooftop deck and beachfront patio. This is a solid choice for travelers who just want to relax with a stiff drink and a nice view.
3. The LINE Hotel

Typical Weekday Rate: $259 per night
Typical Weekend Rate: $279 per night
One of the more expensive options on the list, this mid-century modern hotel can be found in Koreatown. The LINE offers a high-quality urban experience including multiple bars, an open-air pool and a boutique art and design shop. Plus, you can occasionally find much cheaper rates on rooms when you book through last-minute deal sites like Hotels.com.
This is a solid choice if you're looking to find some unique experiences without leaving your hotel. Enjoy the funky '80s style bar, or drop in for some morning Tai Chi on Sundays.
4. Mama Shelter Los Angeles

Typical Weekday Rate: $218 per night
Typical Weekend Rate: $218 per night
The Mama Shelter is a fun and funky hotel that is all about its modern aesthetic. Located in the heart of Hollywood, the hotel is smack in the middle of Hollywood and Sunset. Pretty much everything Hollywood has to offer is within walking distance, but you might be more enamored by the hotel itself than its surroundings.
The unique atmosphere and trendy dining options are the major selling point. Note that prices on Mama Shelter's website are listed in Euros, not US dollars.
5. The Queen Mary Hotel

Typical Weekday Rate: $99 per night
Typical Weekend Rate: $129 per night
You're probably not going to find a more unique hotel experience in all of Southern California. The RMS Queen Mary was once an ocean liner that ferried passengers from the United Kingdom to the United States, and it also served as a troop transport during WWII. It has since been retired and permanently docked in Long Beach, California, where it acts as a museum and hotel.
Accommodations are fairly cheap considering that you're staying in an early 20th-century ocean liner, including rooms that look exactly like they did when it was still sailing the seas. Note that Long Beach is a good drive south of Los Angeles, so you'll have to make some travel accommodations if you want to visit Hollywood.
6. Magic Castle Hotel

Typical Weekday Rate: $239 per night
Typical Weekend Rate: $249 per night
If you're a fan of magicians, the Magic Castle might be the hotel for you. Located in Hollywood, the Magic Castle is renowned for its stunning magic shows and unique exterior.
The Magic Castle also functions as a hotel and restaurant, with accommodations resembling typical Hollywood apartment buildings. Amenities include a heated pool, free snacks and a "popsicle hotline" that you can call and receive a free popsicle within minutes.
7. Brentwood Inn

Typical Weekday Rate: $179 per night
Typical Weekend Rate: $179 per night
The Brentwood Inn is sandwiched between Beverly Hills and Santa Monica, two neighborhoods known for being fairly expensive. This intimate, 21-room inn is within walking distance of Brentwood Village and is one of the more affordable options in the area.
The most exciting feature about the Brentwood Inn is its location, as it's fairly close to the beach and the more urban areas of Los Angeles.
8. Sea Shore Motel

Typical Weekday Rate: $150 per night
Typical Weekend Rate: $150 per night
Nestled between Santa Monica and Venice Beach, the Sea Shore Motel is truly in a great location. Less than five minutes from the beach, the motel is surrounded by trendy shops, hip restaurants and lots of beach-themed activities.
While there aren't a ton of amenities to brag about, this is a solid option if you're looking for a beachside getaway.
9. Hotel Angeleno

Typical Weekday Rate: $203 per night
Typical Weekend Rate: $203 per night
One of the more interesting-looking hotels in Los Angeles, the Hotel Angeleno is located off the 405 Freeway near the Getty Center. While the location is a bit out of the way, it's still relatively close to neighborhoods like Santa Monica and Beverly Hills.
If you're interested in visiting the Getty Center, which is free save for parking, the Hotel Angeleno is only a few minutes away by car.
10. Ace Hotel Downtown

Typical Weekday Rate: $230 per night
Typical Weekend Rate: $280 per night
The Ace Hotel in downtown Los Angeles offers hip, comfortable lodging at a decent price. The building features a restored 1920s theater inside that hosts concerts, movie screenings and more. The hotel sits in the heart of Los Angeles and is close to both the financial and fashion districts.
Remember to set a Deal Alert if you're interested in staying up to date on the latest hotel and travel deals.
Our editors strive to ensure that the information in this article is accurate as of the date published, but please keep in mind that offers can change. We encourage you to verify all terms and conditions of any product before you apply.