11 Affordable Hotels in New York That are Surprisingly Nice
Sticking to a budget in NYC isn't always easy, but these hotels may help.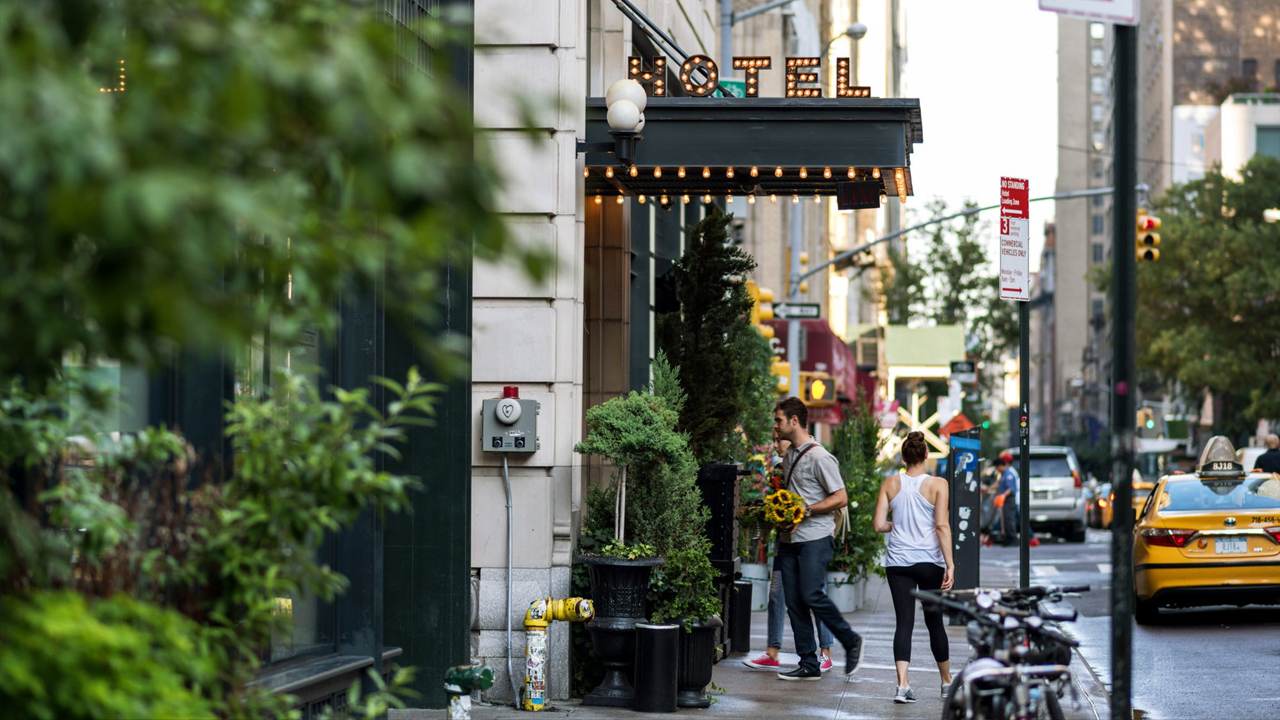 When it comes to finding cheap hotels in New York City, you really don't want to go with the absolute cheapest. There are some hotels you just don't want to stay in, even if you're on a tight budget. Instead, look for hotels that will help you save money in other ways. For example, options with free WiFi and breakfast perks, or that are within walking distance to many attractions could offer a better value for your money.
To help you out, we did some digging for you and found not only cheap hotels in NYC, but hotels that offer a little more pizazz than other, run-of-the-mill accommodations.
Cheap NY Hotels in Chelsea — Near Times Square
Enjoying Times Square up close can be costly. But if you're planning to ditch the car and enjoy the heart of New York, these hotels will save you money since you won't need to pay for a rental car or other private transportation.
1. Cambria Hotel New York – Times Square

Average Price: $203 weeknights | $271 weekend
Rooms at the Cambria Hotel come with free Wi-Fi and a mini-fridge, microwave and coffee maker. While no breakfast is served, one reviewer mentioned that they offer complimentary grab-and-go coffee and light snacks. The Cambria Hotel does not allow pets, and parking starts at $55 per day.
2. Ace Hotel New York

Average Price: $164 weeknights | $209 weekend
A boutique hotel without the boutique price, the Ace Hotel is a pet-friendly hotel that also comes with free Wi-Fi. Plus, you can pass by the Empire State Building on your walk to get breakfast each morning.
The Ace Hotel has an ambient lobby connected to a bar and coffee shop, so if you have to work on your trip, at least you'll have a nice atmosphere.
3. Crowne Plaza Times Square Manhattan

Average Price: $145 weeknight | $210 weekend
If you need an affordable hotel that is also family and pet-friendly, the Crowne Plaza Times Square Manhattan is a good fit. The hotel offers family rooms and suites, and it's a seven-minute walk to Rockefeller Center and Radio City Music Hall.
And if you do come with kids, be sure to stop at the nearby M&M'S World New York, which is three stories of chocolate heaven.
4. Hotel Pennsylvania

Average Price: $107 weeknights | $122 weekend
The Hotel Pennsylvania encompasses the New York City lifestyle with 24-hour front desk assistance and a coffee shop. Booking a room here means that you are in the middle of the city's action and within steps of some of the best shows, shops and restaurants of New York.
The hotel also comes with 24-hour security, free Wi-Fi and a continental breakfast.
Affordable NYC Hotels in Lower Manhattan
Want to see the other side of New York City? Little Italy and Chinatown offer numerous original restaurant choices here, which will serve you well after strolling through Wall Street and Battery Park or visiting the 9/11 Memorial.
1. Leon Hotel

Average Price: $207 weeknights | $270 weekends
Located in the center of Chinatown, Leon Hotel has a modern, romantic vibe. Foodies can rejoice because not only are you close to great eats in Chinatown, like Great NY Noodletown, but you are also less than a mile from Little Italy.
2. Millennium Hilton New York Downtown

Average Price: $144 weeknights | $205 weekends
It's hard to find a 4-star hotel at this price. The Millennium Hilton New York Downtown is right next to One World Trade Center and SoHo. And for a slightly higher per-night fee, you can receive daily breakfast, premium Wi-Fi and late checkout.
3. The Sohotel

Average Price: $127 weeknights | $151 weekends
Get a taste of the SoHo district with this charmingly unique hotel. You can enjoy free Wi-Fi, plus the Sohotel lists children's activities under its amenities. While we aren't sure exactly what that entails, the hotel is close to the Children's Museum of the Arts.
Affordable Hotels in Brooklyn
Brooklyn offers its own downtown vibe that you don't want to miss. Full of history and fascinating attractions, you will not run out of things to experience in this area of the city.
1. Hampton Inn Brooklyn/Downtown

Average Price: $249 weeknights | $269 weekends
Located at the foot of the Manhattan Bridge, this Hampton Inn does not look like a typical hotel chain. Instead, it features sleek, modern furnishings to complement its location in downtown Brooklyn.
You'll also find the amenities you love, like free breakfast and Wi-Fi. The hotel is also one and a half miles from Barclays Center, where the Brooklyn Nets and NY Islanders play.
2. Pod Brooklyn Hotel

Average Price: $75 weeknights | $81 weekend
The stylish yet simple rooms at the Pod Brooklyn Hotel will save you money if you're looking for a nice place to rest your head in between tours and attractions. Plus, it's just a five-minute walk to the closest subway station and a nine-minute walk to the Music Hall of Williamsburg.
Cheap Hotels in Hell's Kitchen
Hell's Kitchen is not the scene you might see displayed in Daredevil and the other Defenders shows. Instead, it's a melting pot of cultures, meaning you get a little bit of everything there.
1. YOTEL New York

Average Price: $236 weeknights and weekends
If you are looking for trendy yet affordable, YOTEL New York checks all the boxes with its hip rooftop terrace, relaxing rain showers and free super-fast Wi-Fi. Don't miss out on Gotham West Market, a well-curated list of artisan vendors and restaurants that's open almost all hours of the day.
2. Midtown Convention Center Hotel NYC

Average Price: $169 for weeknights and weekends
Staying at the Midtown Convention Center Hotel means you will have a quick 10 to 15-minute walk to Times Square and Penn Station, while also remaining close to the cultural art vibe that comes with the Hell's Kitchen area. Enjoy free breakfast and Wi-Fi daily.
---
Be sure to visit our huge list of travel discounts to save even more on your NYC trip.
---
ncKxk_Yhu_A
Our editors strive to ensure that the information in this article is accurate as of the date published, but please keep in mind that offers can change. We encourage you to verify all terms and conditions of any product before you apply.