The Affordable Mirror Upgrades that Will Make You See Your Space Differently
It's time for a change.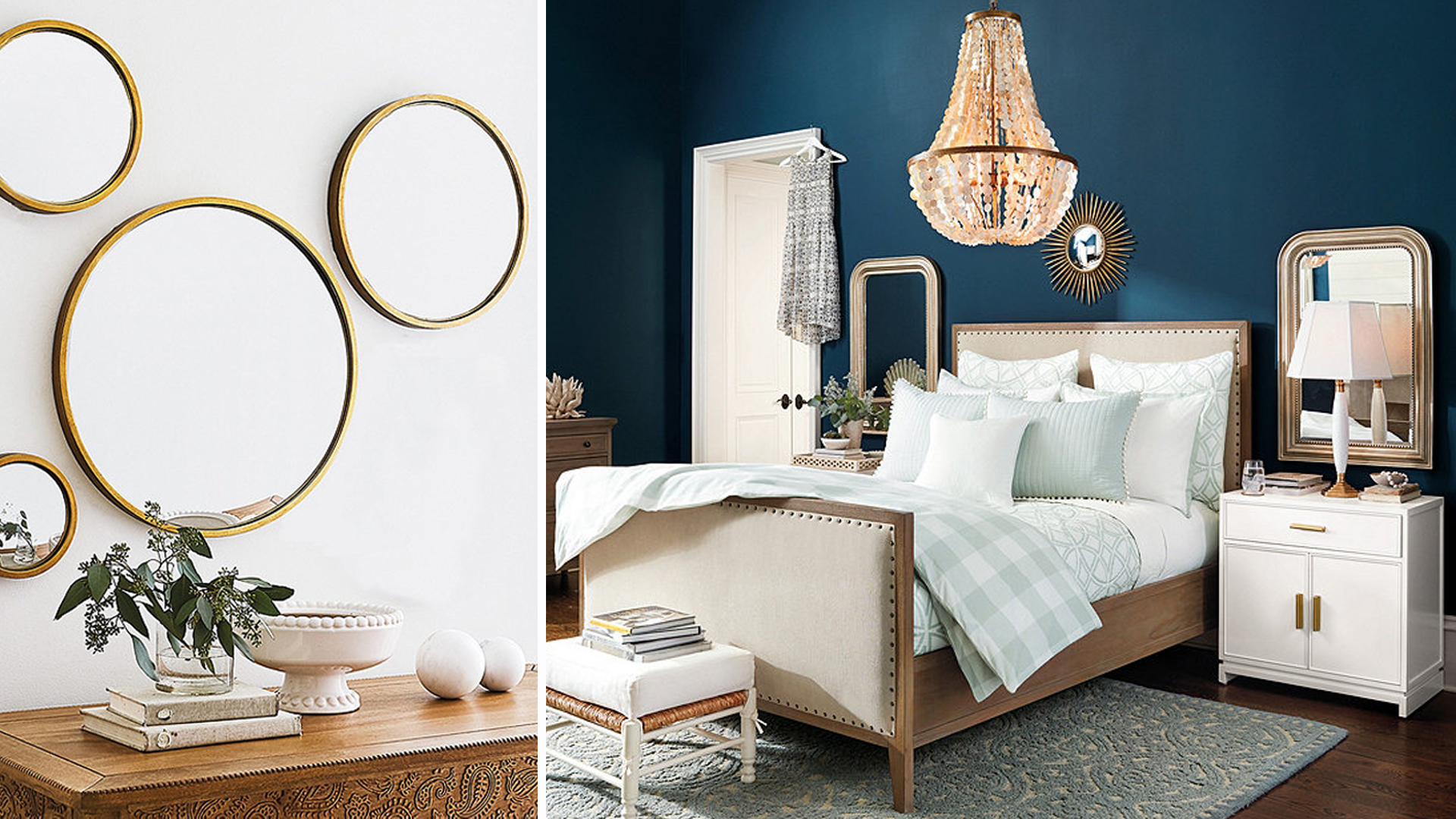 If the only mirror in your home is in the bathroom, now is the time to make a change. This home accessory is a simple upgrade that can make a major difference in any space. Depending on the size, shape and style, a mirror can bring new life into a room, make things appear bigger and so much more. Who knew all of these benefits could come from one piece of glass?
Are you ready to step up your mirror game? Head over to Ballard Designs ASAP and don't miss out on the site's huge mirror sale going on right now. From standout frames that resemble the sun to items that work with all kinds of decor, we picked out several of our favorites courtesy of the online furniture retailer.
And don't sweat your bank account because everything on the list costs no more than $250 (one style is even going for as low as $50).
Ballard Designs' Under $250 Mirror Deals
It's Like Wall Art

Suzanne Kasler Sunburst Mirror #1
Sale Price: $109.65 | Regular Price: $129
You don't have to get just one mirror. Make a statement on your walls by grouping several medium sized mirrors together. Ballard Designs' Sunburst Mirror collection looks great with one style in a bundle or the different designs huddled close.
Either way, don't hesitate to add brightness into your home.
Size Matters
Sale Price: Starting at $237.15 | Regular Price: Starting at $279
For those who want to make a mirror the new focal point of a space, go for the biggest option. This Mirror Gallery XVI silhouette spans a little more than three feet and will surely get the job done.
Remember, the reflection will also be part of the room, so make sure you position the mirror across from an elegant, uncluttered area.
Order, Order, On the Wall

Sale Price: $203.15 | Regular Price: $239
Rectangular shapes should be brought in for a sleek, orderly look. If you have too much going on in your home, consider a rectangle or square mirror as your fresh start. The boxy shape will immediately ground a room and, ironically, bring your area full circle.
Make it Catch the Eye
Suzanne Kasler Willow Branch Mirror
Sale Price: $220.15 | Regular Price: $259
On the flip side, if your pad has too much of the same design, step outside of your comfort zone and go with a completely brand new shape, like this one-of-a-kind Suzanne Kasler Willow Branch Mirror. It's a modest price tag for a style that not many can say they have on their walls.
Forget the Frame

Sale Price: Starting at $126.65 | Regular Price: Starting at $194.65
Rather than drawing attention, large mirrors like the Cadence Frameless collection have a way of blending into the background, resulting in the illusion of space. Moreover, the lack of a frame allows for a more natural flow of light, which also contributes to making a room seem bigger.
On the Horizon
Sale Price: $237.15 | Regular Price: $279
Another way to trick the eye is by snagging a shiny horizontal mirror. This Bedford Mirror will instantly lengthen a wall, and that's a true advantage for anyone who lives in a small apartment like me.
Accentuate Your Style

Sale Price: $211.65| Regular Price: $249
Whether you chose a modern or eclectic motif, mimic it with your mirror. For example, this distressed Ogden Mirror was definitely made for someone with a country style space.
At the same time, you could be bold and complement a room with a mirror of the opposite vibe. I currently have a distressed mirror in my contemporary apartment, and it adds an extra layer of style in my living room.
In the end, a mirror is an accent piece, so the only thing you need to prioritize when buying one is balance.
A Little Goes a Long Way
Sale Price: $50.15 | Regular Price: $59
The majority of the selections above are giant mirrors, but don't forget about the little ones. Smaller mirrors can catch interesting reflections you may not have noticed before, adding extra points of intrigue in your crib.
Additionally, a tinier purchase will bring some relief to your wallet. This 9-inch Ava Convex Mirror has been marked down to only a little over $50 — now that's a deal.
---
Any product or service prices/offers that appear in this article are accurate at time of publish, and are subject to change without notice. Please verify the actual selling price and offer details on the merchant's site before making a purchase.