Outdoor Summer DIY Projects It's Cheap and Easy For You to Tackle Yourself
No need to hire a professional for these projects. Save money and DIY with just a few basic tools.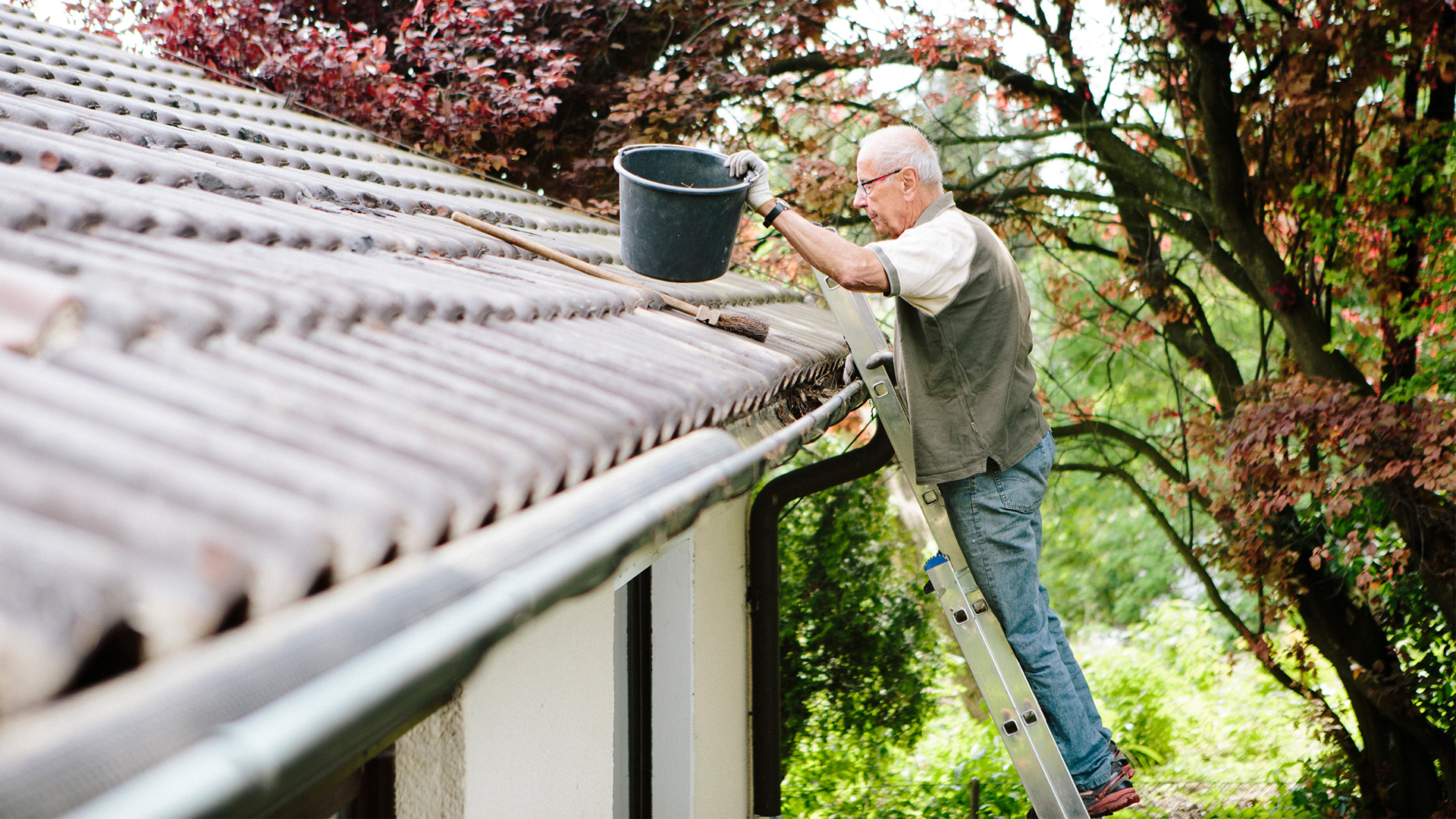 Summer days are made for spending time outdoors — the ample sunshine, fresh air and (socially distanced) time with friends and family draws everyone outside. Whether you're hosting guests or simply want to enjoy your backyard space more, there are definitely a few outdoor summer DIY projects to tick off your honey-do list to ensure your space is looking its best.
Not only are these outdoor summer projects really easy to tackle yourself, but you'll also save money over hiring a professional or handyman and add plenty of beauty to your space all summer long.
Fence Repair

A fence is one of those outdoor features that benefits from a little bit of upkeep every year. By nailing down any loose boards, replacing damaged sections, and applying a fresh coat of paint or stain, your fence can last for a good 10 years or longer.
Professional fence repair costs can vary wildly, depending on the amount of work involved. There's a big price difference between fixing small areas with wood rot versus painting or staining your entire fence. The length, height and material of your fence will also impact the repair cost. Chain link and wood fence repair is typically the least expensive, while vinyl and lattice fences carry a higher price.
To repair a wooden fence, HomeAdvisor estimates that hiring a professional will cost about $560 on average. But, if you're willing to put in the elbow grease yourself, you can cut that down to just the cost of materials and your time. And with wood fence pickets starting at around $2, that means big savings on most minor repairs.
You'll also need a few basic tools to complete this project. A quality hammer with a lifetime warranty – such as the Stanley Hickory Handle Nailing Hammer – and a $5 box of nails should be in every homeowner's toolbox, and will be essential for this and many other household projects.
Finally, wood stain and outdoor paint are often at their lowest price in July, making it a perfect time to tackle this outdoor summer DIY project.
Be sure to set a Deal Alert so you don't miss a good paint sale.
Deck Maintenance

Like fences, decks benefit from a bit of annual maintenance to keep them at their best. Check for any loose or damaged boards, and secure or replace them if necessary.
The cost to repair a deck will depend on its size, but HomeAdvisor estimates it could set you back anywhere from $735 to $2,638 if you bring in a professional. Lumber, stain/sealer and your time are going to be the biggest investments in getting your deck back in tip top shape, but are well worth the cost savings.
Staining and sealing your deck should also be done each year. Doing so protects the wood by repelling water while also allowing it to breathe and transfer moisture. If you want to stretch your budget, you could push this chore to every other year, but don't go beyond three years or you may experience more costly damage.
Start by cleaning your deck with a cleaner like Mold Armor E-Z Deck and Fence Wash. Be sure to let it dry thoroughly afterwards. Replace any missing or popped nails and screws before giving the deck a slight sand. Apply your stain and/or sealer according to the manufacturer's directions. PPG ProLuxe is a stain brand that's often on sale through Home Depot, and requires just a single coat for long-lasting protection.
If you do decide to bring in a contractor to repair your deck, see if you can pick up the materials yourself. Alternatively, have an account opened for them at your local hardware store that you can pay at the end of the project. This way, you can avoid paying the 10 to 15% markup many contractors charge on materials like lumber. And if you have a store credit card through Lowe's or Home Depot, make sure to take advantage of special interest rates, financing options, and rewards offers, such as 24 months special financing.
Window Cleaning

If you find yourself trying to admire your outdoor space through cloudy or dingy windowpanes, it's time to give them a good cleaning. Angie's List members report paying an average of $266 for a full house window cleaning, with the price varying by the number of panes, if screens are included and ease of accessing the windows.
You can easily clean your windows yourself though, with a few simple tools. First, use a medium-sized bucket with a solid handle to hold warm, soapy water, and a sponge to get the really stuck on grime off — including from the frames. You can then spray the glass with a window cleaner, using a squeegee to ensure a streak-free sparkle.
Take extra care when cleaning windows above the first story, and don't forget about the screens! You can remove them, spray or scrub them clean on the lawn, and leave them to dry while you tackle the frames and glass. And if you'd rather avoid using a ladder to reach higher windows, a hose-end window spray or telescopic washer/squeegee combo tool is a great option.
Clean Gutters

Keeping your gutters clean of debris helps prevent overflow and flooding back into your house. HomeGuide found that people spend $150 on average to have their gutters professionally cleaned.
Overall costs depend on things such as the length of gutters and level of cleaning required. You'll likely need to clean your gutters several times throughout the summer — especially if there are any trees above your home — meaning costs can quickly multiply.
Thankfully, all you need to clean your gutters yourself is a ladder and a sturdy pair of gloves. Werner is a highly-rated extension ladder brand with plenty of size options and safety certifications. Plus, its ladders are often on sale.
Simply lean the ladder against the house, starting at the downspout, and climb up until you can see into the gutters. Reach in and pull out any debris using your hands or a small plastic scoop. You can toss this debris below and sweep it up afterwards.
Once the gutters are clear of debris, give them a flush with water from your garden hose. After cleaning your gutters, you should also go around and tighten any loose fasteners, reseal end caps and outlets, and repair any leaks or other problems.
You might also consider installing a gutter guard system to keep debris from building up in your gutters. These vary in price from $4 to $12 per linear foot. For the average home with 200 linear feet of gutters, that adds up to $570 to $1,529.
Clean Stonework

The last outdoor summer DIY project to tackle yourself is to clean any stonework around your property — whether that's your driveway, walkway or backyard sitting area. Companies will typically charge anywhere from $150 to $300 for this service.
However, you can easily invest about $100 into a 1,500-2,000 PSI electric pressure washer – such as the Greenworks 1700-PSI 1.2-GPM Cold Water Electric Pressure Washer – and learn to do it yourself.
Many major retailers have excellent Christmas in July sales where you can score a pressure washer for up to 40% off retail. Set a Deal Alert for pressure washers so you get the best price possible.
Start off with an easy spray, working up in intensity slowly as you learn how concentrated the spray needs to be and how much is too much. For especially dirty spots or tough stains, a specially formulated cleaner like Simple Green Oxy Solve can help.
---
Be sure to visit our Home & Home Improvement Deals page to find all the current offers on tools and outdoor home improvement supplies from a variety of retailers.
Up Next:
---
Any product or service prices/offers that appear in this article are accurate at time of publish, and are subject to change without notice. Please verify the actual selling price and offer details on the merchant's site before making a purchase.