Booze on Board: How Much You Can Save on BYOB Cruises
Enjoy a drink — and save money doing it.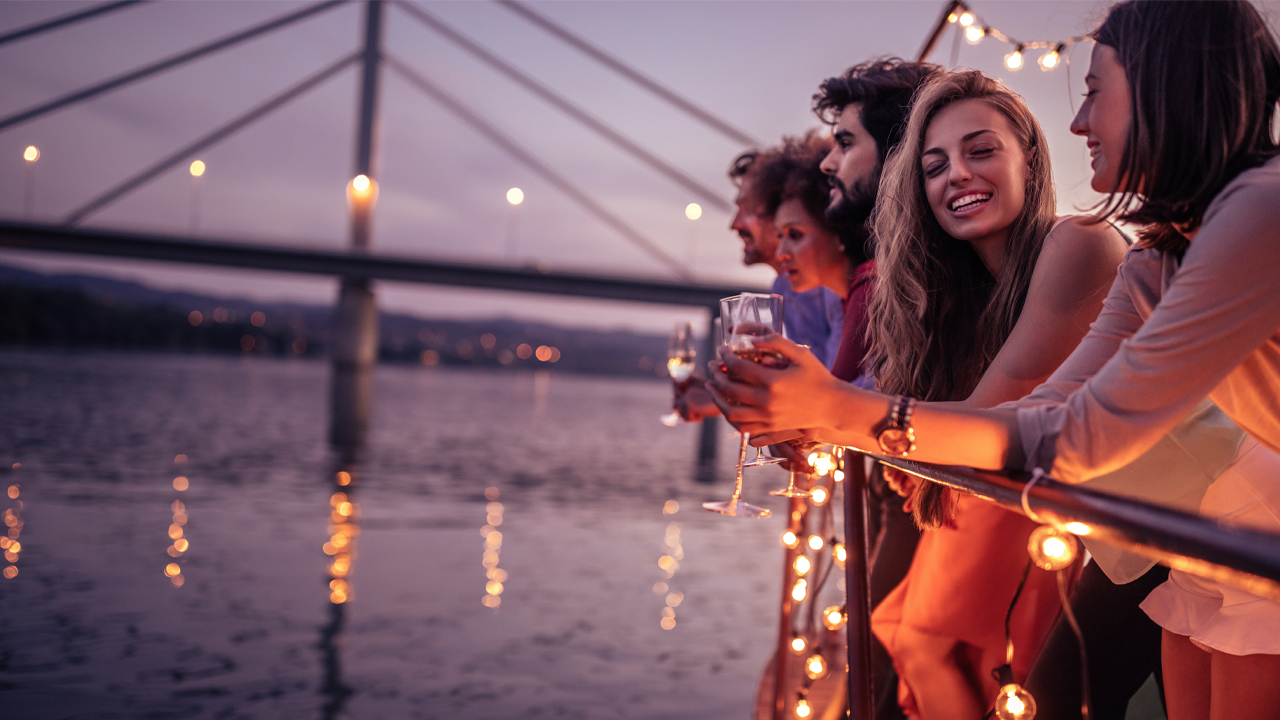 As you may know, Wave Season 2020 has finally arrived, and it's here to stay until March 15th. That means travelers still have plenty of time to take advantage of all the promotional sales going on. However, if you enjoy some good beer or wine when you're on vacation, there are a few factors you'll need to take into consideration when choosing your cruise line.
RELATED: Black Friday for Cruises is Here and These Deals are Too Good to Pass Up
Cruises are notoriously strict when it comes to bringing alcohol on board, but there are a few that allow passengers to bring their own booze on-board. And depending on the exact rules of the ship, this could save you a lot of money. Then again, these vessels typically have drink packages of their own that could offer a better deal.
Regardless of what you decide, you'll want to make note of the following cruise drink deals designed to let people have a good time and make the most of their days in paradise.
Cruise Lines That Allow Alcohol On Board
1. Royal Caribbean International

At Royal Caribbean, guests can have up to two 750 ml bottles of wine or champagne (with a $15 corkage fee each) per stateroom. For those who need a little more bubbly than that, there's a deluxe drink package available priced at $70 per person per day, but it only includes drinks of up to $12.
All in all, it's highly unlikely you'll be getting top-shelf anything at that price tag. If you want to save $140 as a couple and know you'll be drinking something you like, waive the deluxe option and pack your go-to bottles for your getaway.
Browse Royal Caribbean Cruises
2. Carnival Cruise

It's down to just one bottle of wine or champagne at Carnival, but its alcohol bundle is a bit cheaper and sells for $51.95. Sadly, the deal isn't worth as much as you might hope because it only offers discounts on beverages. Therefore, you can't go wrong with opting for your own outside bottle.
3. Norwegian Cruise Line

Norwegian Cruise Line's policy is somewhat ambiguous as it doesn't indicate a limit to the amount of wine or champagne people can bring with them. The one thing they do make clear is that the corkage fee is dependent on size and can be up to $30. Also, box wines aren't allowed.
Nevertheless, you may not need to waste time filling up your suitcase with bottles as an unlimited open bar is one of the perks people can pick for their cruise. In total, it's valued at up to $1,400 in savings — now that's a steal.
Browse Norwegian Cruise Line Cruises
4. Azamara

Azamara is a small luxury cruise line and it's the place to be if you don't want to be burdened with bottle limits. You can bring all the alcohol you want on board, and the only catch is that you have to pay $10 to drink it at the ship's restaurants and bars.
As if that's not enticing enough, the line boasts myriad free drinks that change daily. Plus, there are various packages tailored to the kind of alcohol you prefer available for as little as $15.95 a day per person.
5. Crystal Cruises

The luxury Crystal Cruises recently announced a new 2022 River Collection, offering a variety of trips throughout Europe. If you're interested in any of its itineraries, you should know that personal alcohol is solely permitted in your cabin.
While that gives you a green light to enjoy whatever spirit you want in the comfort of your personal space, there's truly no need for it as their cruises are all-inclusive. Don't be picky and just go all-in on the drink options — it's part of the experience.
6. Disney Cruise Line

It seems your drink dreams won't come true on the Disney Cruise Line. Everyone's allowed two bottles of wine or champagne, or six bottles or cans of beer per person, and they must be consumed in your room unless you want to pay a $25 corking fee per bottle.
If you want to quench your thirst beyond that, it's going to cost you. The best option costs $15.25, and gets you a 20-ounce mug with refills for the price of 16 ounces.
Browse Disney Cruise Line Cruises
7. Regent Cruises

The trend with luxury cruises like Regent is that everything is included. As a result, you don't need to bother with smuggling in your own booze. In fact, even the alcohol within the in-room minibars is complimentary and part of the cruise experience. If you're particular about what you drink, you're allowed to bring what you want and drink it in your cabin.
Alcohol aside, Regent is really taking care of its customers by including roundtrip business class seats on intercontinental flights, unlimited shore excursions, free pre-paid gratuities, transfers to and from the airport and so much more.
What's the Best Deal?
Before I dove deep into the drink deals on cruises, I thought for sure that bringing all your refreshments would be cheaper. When it comes to certain ships, that's definitely not the case. There are certain all-inclusive experiences, like Regent, you can't forget about and those corkage fees can add up.
At the same time, you can avoid spending more on nicer, higher quality bottles of wine or champagne if you take the cruise up on their offer to take a limited amount with you.
In short, the amount you save is contingent on whether or not you're a fan of what they're serving on the boat. Keep all this in mind next time you're creating a budget for the next time you hit the open seas.
---
Whether you book your next getaway on land or sea, don't forget to check out our Travel Deals for all the latest flight offers or set a Deal Alert for your airline or hotel of choice.
UP NEXT:
Our editors strive to ensure that the information in this article is accurate as of the date published, but please keep in mind that offers can change. We encourage you to verify all terms and conditions of any product before you apply.