Start Your At-Home Yoga Practice with These Tips and Yoga Gear Deals
Doing yoga at home doesn't have to be intimidating or expensive.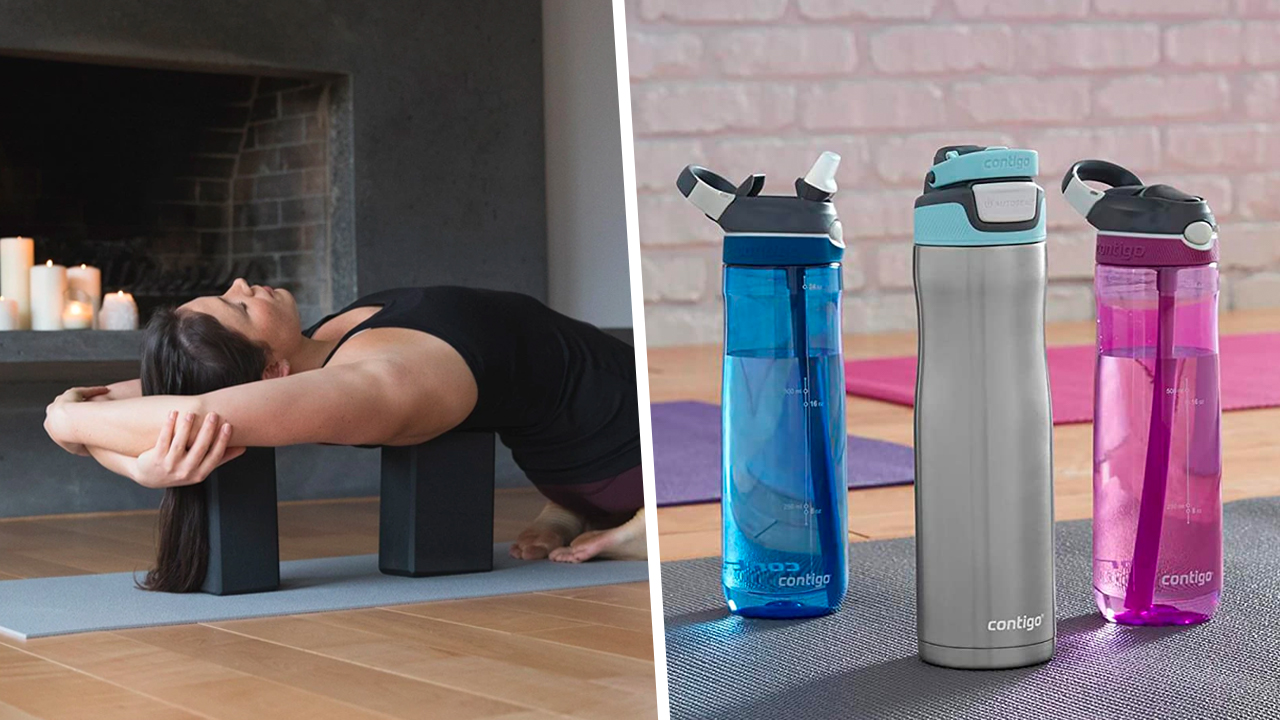 Incorporating a yoga practice into your daily routine can not only help you to increase strength and flexibility, but also reduce symptoms of stress, depression and anxiety — something many of us are dealing with during the COVID-19 pandemic.
But just where do you start when taking up a yoga practice? And what type of gear do you need? We've got you covered with our handy, affordable guide.
Talk to Your Doctor
The first step in adding yoga to your at-home fitness routine is to get clearance from your family doctor that it's safe to exercise. While most types of yoga aren't considered too physically stressful, it never hurts to get a professional opinion about whether a particular type of exercise is right for you.
Find a Space
Once you've gotten the a-OK from your doc to go ahead and start practicing, find yourself a space where you can strike a pose. Thankfully, you don't need a ton of room to perform most yoga sequences. Generally, the amount of space that a mat takes up is about all you need, but a 6'x6' space is ideal.
Some people find that they like to practice in a dimly lit space, while others prefer to practice outdoors. Feel free to change things up day to day as you see fit. Just make sure that there are no obstacles in your way or things you might trip over.
Related: How to Assemble an Affordable Gym in Even the Smallest Space

Gear Up
Technically speaking, yoga doesn't really require any special gear aside from some comfortable clothes. However, there are some items that will certainly make the experience much more enjoyable.
Yoga Mats
A decent mat will offer support to your joints as you move through seated, kneeling and floor poses. It will also offer some traction to your standing poses. Look for one that has enough space that you can comfortably lie down on it.
Your mat is likely to be the most expensive item for your practice, but a quality purchase will last you for years. Here are some of our favorites:
Lululemon's The Reversible Mat – Reg. Price: $68 – $78. This mat is a cult favorite, and you can save about $10 if you opt for a less popular color choice. There's also currently a promo running where Amex cardholders get a $20 credit if they spend $100+ at lululemon.com through June 29th, 2020.
Select Gaiam 4mm Yoga Mats – Sale Price: $15.98 – $17.58 | Reg. Price: $21.98. Gaiam currently has a small selection of printed non-slip yoga mats on sale for about 20% off, bringing the final price to less than $20.
Liforme Original Yoga Mat – Reg. Price: $149.95. If you're ready to make a serious investment in your at-home yoga practice, the Liforme Original Yoga Mat is the very best there is, with a larger size, unmatched grip and integrated markers that ensure your poses are spot-on. The price tag is substantial, but Amazon is offering $70 off if you apply and are approved for an Amazon Rewards Visa Card. You can also find discounted bundles on the Liforme website.
Yoga Blocks and Straps
Yoga blocks and straps can make relaxing into poses more comfortable. A block can provide support under your hips, head or knees. And yoga straps are used to help you really sink into your poses.

Towel
Towels are handy for those practicing more intense styles of yoga, or those who are particularly sweaty. You don't want to slip moving into your warrior pose, or lie in a puddle of sweat during savasana. Look for towels that are made of absorbent materials and are easy to clean. Some options we like include:
Water Bottle
Hydration is key with any type of exercise, including yoga, so make sure you have a water bottle on standby. It should be easy to clean and hold a decent amount of fluid. Here are some affordable favorites to consider:
Contigo Stainless Steel Water Bottle 20 oz. — Sale Price: $11.69 | Reg. Price: $19.99. This Contigo water bottle is great because it comes with a lifetime warranty and is dishwasher safe. Plus, it's currently 42% off regular price.
Ciara 32 oz. Water Bottle  — Sale Price: $15.99 | Reg. Price: $34.99. This option from Wayfair features an integrated infuser and it's being offered for 54% off.

Find a Teacher
Once you're geared up and ready to go, spend some time trying out different styles of yoga. Additionally, check out a few different teachers. Not everyone is ready for the fast paced flow of hatha yoga, whereas others might struggle with the relaxed pace of a restorative practice.
While there are several paid apps and subscriptions for yoga such as Alo Moves, Gaia and Glo, there are also many free resources available.
Some of our favorite free yoga resources include:
There are also countless DVDs for purchase if you want to build your own collection.

Clean and Store
When your session is over, don't forget to clean your gear before putting it away. Sweat can cause your mat to stink and break down. You can use cleaning sprays or disinfecting wipes on your mat, but you can also make your own wallet-friendly cleaning solution at home.
Simply fill a small spray bottle about three quarters of the way with water, then fill it the rest of the way with witch hazel or white vinegar.  And remember to always dry your mat completely before rolling it up.
Make it Routine
Finally, perhaps the most important step in becoming an at-home yogi is to make your practice a regular part of your schedule. While you'd ideally be able to get in a practice nearly every day (even just 10 minutes is enough!) that might not be realistic for your life. Aim for two to three sessions per week and then work up from there.
---
Don't miss out on any of the latest at -home yoga deals. Set a Deal Alert and check out all of the current Fitness Equipment Deals currently available on our forums.
Up Next:
Our editors strive to ensure that the information in this article is accurate as of the date published, but please keep in mind that offers can change. We encourage you to verify all terms and conditions of any product before you apply.