9 Affordable Essentials That Should Be in Every Homeowner's Toolkit
These homeowner essentials could save you a ton of money on repairs and professional contractors.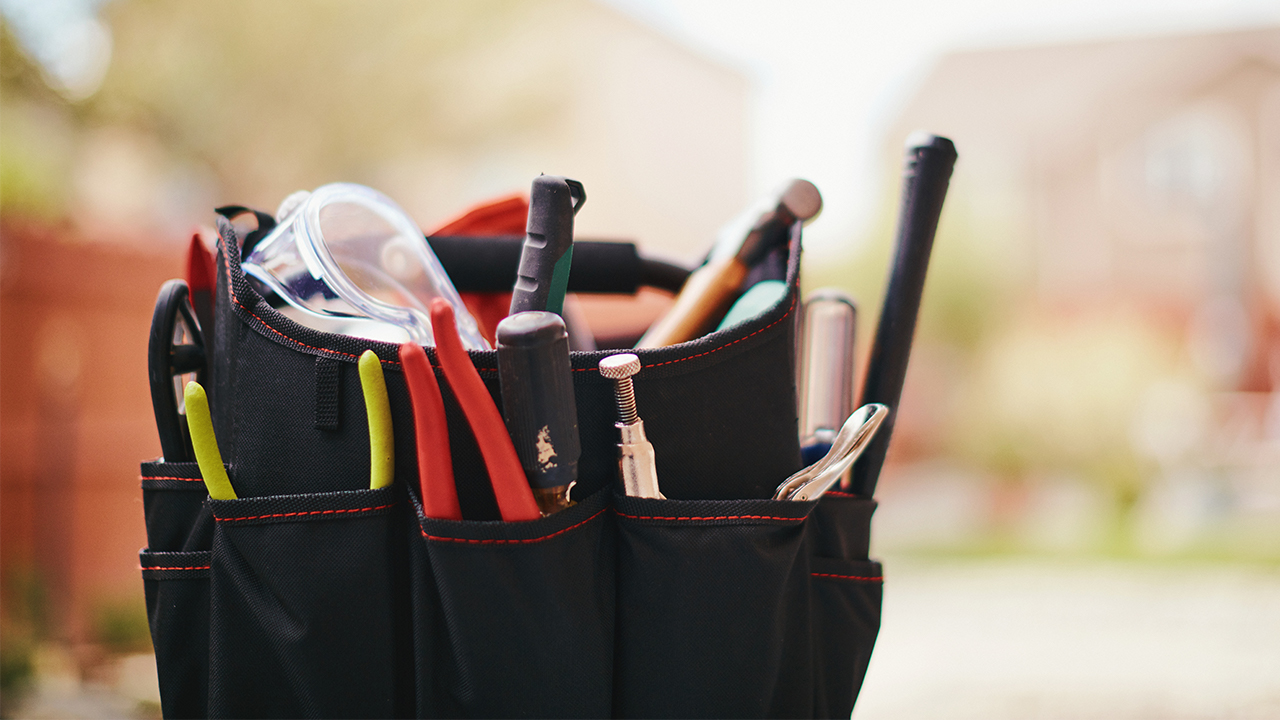 All homeowners, both new and seasoned, should have a well-stocked toolkit to take care of any repairs or home improvements that pop up. With a few basic skills and the right tools, you'll be able to take on both minor home repairs and basic projects around the house, saving you hundreds, and potentially thousands, of dollars on handyman and professional contractor costs, as well as on expensive tool rentals.
While you could easily spend a fortune building up your toolkit, there are a few items that are really key. These essential tools typically get the most use around the house and offer the best value for your investment.
Hammer and Nails
An essential for every homeowner's toolbox, a hammer and a pack of nails in varying sizes is always good to have on hand. From hanging things on walls, to repairing loose deck boards to building your own furniture, a hammer is likely to be one of your most useful tools.
This framing hammer from Estwing, which costs just under $30, is forged from a single piece of steel for outstanding longevity and durability. The rip claw design is great for pulling nails or demolition work. Plus, it comes complete with the brand's patented blue Shock Reduction Grip for reduced vibrations.
If you want an even more budget-friendly option, this fiberglass hammer from trusted tool company Stanley is a solid choice, at $16.49. The head of this hammer is constructed from high-carbon steel, and the ergonomic grip means it's comfortable for all-day use.
Finally, don't forget the nails. You can typically find sets of nails in assorted sizes for less than $5 at most local hardware stores.

Level
Great for ensuring things are, well, level, a quality level that is at least 2 feet long also provides a straight, measured edge for ease of marking. This tool is a homeowner essential for completing projects like installing new kitchen cabinets or hanging items such as mirrors or picture frames.
While there are many types of levels available, including high tech laser levels, opting for a low-tech model with a floating bubble is often the better choice. This type of level is incredibly accurate and much less expensive than those fancy versions.
The Box Beam CRAFTSMAN Level is currently priced at less than $20 for the 24-inch version. And, thanks to the company's full lifetime warranty, you won't need to worry about buying another level ever again.
Measuring Tape
A measuring tape will help with checking the size of any openings your furniture or appliances need to pass through, or even a room's diameter to make calculations for products, such as carpeting or paint supplies.
The Milwaukee Tool Magnetic Tape Measure is a great choice thanks to its nylon bond blade protection, five-point reinforced frame and integrated finger stop, which protects your finger during blade retraction. It claims to have a blade life up to 10 times longer than average and is currently priced at $37.99 with free shipping on Amazon.
A pocket-size tape measure is another helpful item to keep on hand, especially for measuring items at a store. This 10-Foot PowerLock Pocket Tape model from Stanley fits the bill, coming in at under $8 and with a lifetime warranty.

Needle Nose Pliers
Pliers are great for holding tiny objects firmly, and can also pull, pinch or bend metal into shape. While there are many different types of pliers, including combination pliers and locking pliers, opting for a decent pair of needle nose (also commonly referred to as long nose) would be a good start.
The IRWIN VISE-GRIP Long Nose Pliers are a solid option, and are nearly 50% off right now at just $13.
These Channellock 317 8-Inch Long Nose Pliers are another good choice, but this made-in-the-USA option comes with a higher $20 price tag.
For even greater value, consider buying a small tool kit. The Stalwart 9 Piece Tool Kit, which includes two different pliers along with a screwdriver, tape measure and box cutter. This kit checks multiple homeowner essentials off your list, and is currently 40% off on Wayfair at just $23.99.
Screwdrivers
Having a variety of screwdriver types and sizes on hand is a must for every homeowner's toolkit. A flathead (straight line), Phillips (x-shaped), and Robertson (square) are all sure to get plenty of use.
You could buy these individually, but the best bang for your buck is to get a screwdriver set like the Stalwart 30 Bit Precision Screwdriver Set with Flex Shaft, which offers excellent value at 25% off its retail price of $20.
Alternatively, check out this CREMAX 10-Piece Magnetic Screwdriver Set, which retails for $19.99.

Cordless Drill
A cordless drill (and bits) is likely to be one of the most used tools in your collection, and makes quick work of lots of small projects where a screwdriver might not be practical or comfortable.
The RIGID Compact Drill/Driver 21-Piece Kit from Home Depot retails for around $220, but is currently 64% off, at just $79.97.  It comes with a 21-piece drill bit set, tool bag and a lifetime service agreement.
If you miss the sale on the RIDID drill, consider this MAX Lithium-Ion Brushless Cordless Compact from Dewalt (a trusted name in quality home tools). It is currently priced at just $99.
Wrench
Crucial for plumbing and other jobs around the house, an adjustable wrench is another homeowner essential that should be in every toolkit.
This Adjustable Cushion Grip Wrench Set from Crescent includes three different sized adjustable wrenches, and comes with the brand's lifetime warranty for even more value. It is currently on sale for 29% off at $34.97

Utility Knife
A quality utility knife is the Jack of all trades of your toolbox. It's useful for everything from opening boxes to cutting carpet, and even scraping paint off a stuck window.
The Milwaukee Fastback Flip Utility Knife with Blade Storage offers tremendous value from a trusted brand in the construction space. Regularly priced at $27.99 and currently $8 off, not only does it include the brand's lifetime replacement warranty, it also comes with 50 dual-tipped replacement blades to tackle plenty of projects around the home for a long time to come.
Plunger
You don't want to be caught in a bathroom emergency without a plunger at the ready. They are also helpful for basement flooding or clearing clogs from your shower or kitchen sink, while limiting costly flooding damage. Plus, you can save yourself having to wait for a plumber and paying for a service call.
The Waxman Mini Free Standing Plunger would be a great option to hide under your kitchen sink, and is currently 42% off regular price, at just $13.99. Meanwhile, the Supply Guru Heavy Duty Toilet Plunger is a bargain at just $7.95. You can easily equip every bathroom in your home without breaking the bank.
---
Don't miss a good deal on your next purchase of homeowner essentials. Set a Deal Alert for the tool or retailer of your choice and we'll keep you updated on all the latest offers. You can also find all the current tool deals here.
UP NEXT:
Our editors strive to ensure that the information in this article is accurate as of the date published, but please keep in mind that offers can change. We encourage you to verify all terms and conditions of any product before you apply.