Now's a Great Time to Smother Your Anxiety With a Weighted Blanket
You won't want to leave your bed.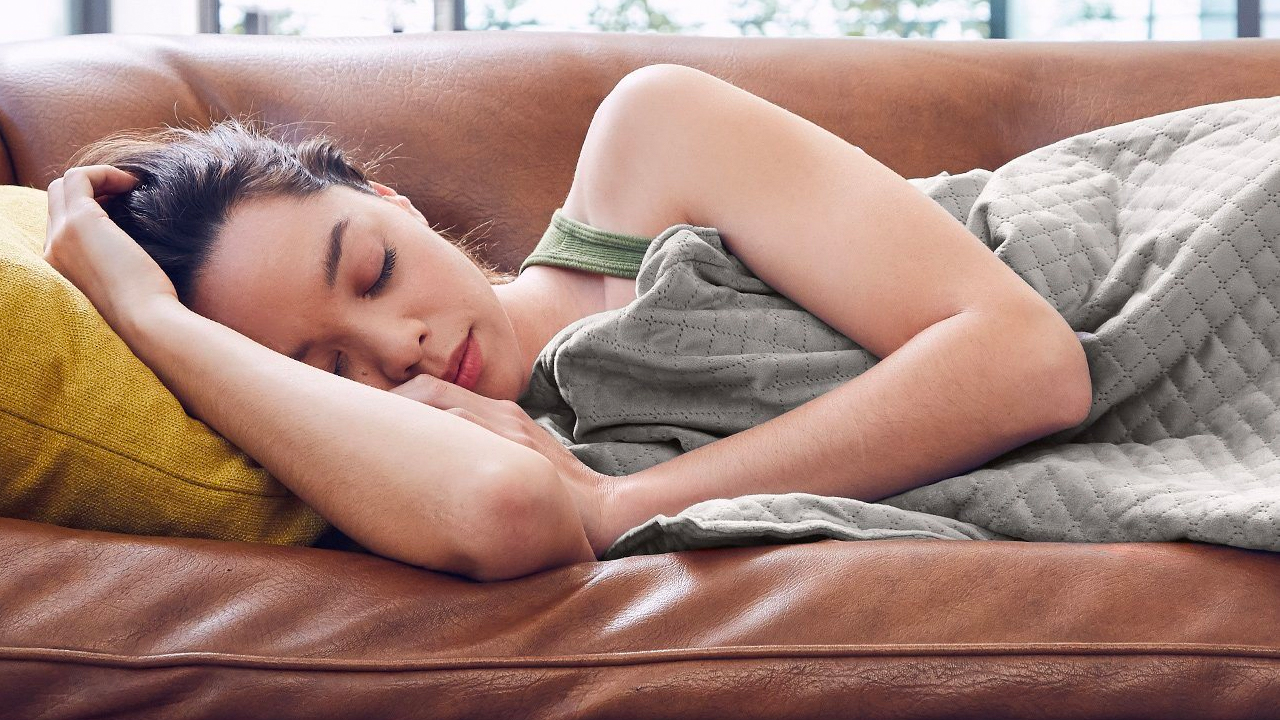 Nothing beats a good night's sleep, and if there's an item out there that promises that, it's definitely worth the investment. Weighted blankets are a major trend right now, and according to experts, they have an overall calming effect, which can eliminate stress, anxiety and sleepless nights.
With that said, they can be on the expensive side. You want to make sure you're not only getting a good deal, but also getting a quality product that will last. To that end, we're covering everything you need to know about weighted blankets, including where to find the best prices.
What Is a Weighted Blanket? 
How, you ask, do weighted blankets work and how are they different from your average blanket? Weighted blankets utilize the idea of deep touch pressure to help your body relax.
"Deep touch pressure is one of the primary kinds of sensory information that is calming and organizing to our sensory nervous system," occupational therapist Teresa May-Benson explained to Good Housekeeping.
Each blanket is soft on the outside, but filled with discs, poly pellets, glass or polypropylene beads to help weigh it down. As soon as you put it over yourself, many say it basically feels like getting a hug. And this pressure is the key to the positive effects that set it apart from your standard blankets and sheets.
If you've looked into weighted blankets in the past and aren't sure what weight to get — there are often a lot of options — there's a simple calculation that can help. Just take 10% of your body weight and go with the blanket that is closest to that number. So, for example, a 150-pound person would typically benefit from a 15-pound blanket
The Best Weighted Blanket Deals 
There are weighted blankets for all budgets. Whether you want to get something ASAP from Target or you want to support a small startup like Corala, find out what works for you.
YnM Weighted Blanket

Reg. Price: Starting at $64.90
This weighted blanket from YnM comes in a range of weights and sizes. It also comes in different prints, allowing it to work in homes of all styles. In addition, the company offers cooling weighted blankets made with 100% bamboo viscose fabrics, travel versions and kid's weighted blankets.
Shipping is free, and as an added bonus, you can currently get 25% off with code YNM25.
Tranquility Essentials 12lb Weighted Blanket – Gray

Reg. Price: $25
This weighted blanket from Target is simply a can't-miss bargain. If too many options is overwhelming for you, this Tranquility Essentials blanket makes things simple. It's gray, 12 pounds and priced at $25.
Even though it's extremely affordable, the item doesn't lack in quality as it's filled with glass beads and not plastic pellets. The glass is smoother in texture, machine washable and an environmentally friendly alternative to plastic.
Buy a Tranquility Essentials 12lb Weighted Blanket
Nectar Weighted Blanket

Reg. Price: Starting at $159
Nectar has a 15-pound blanket for $159 and another 20-pound option for $169. You get what you pay for with this weighted blanket, as it's designed to provide top of the line "Deep Pressure Therapy" that Nectar claims will drastically improve one's sleep and increase relaxation.
With your purchase, you'll also receive a plushy soft quilt-like cover that you can easily remove for cleaning purposes.
Deal Tip: On top of the weighted blanket, consider upgrading your sleep situation even further with a new Nectar mattress. With code GWFIT100, customers can receive $100 off any mattress. The site also has a huge promotion that includes a complimentary mattress protector, sheets set and premium pillows with every mattress purchase.
NEX Weighted Blanket

Sale Price: Starting at $29.99 | Reg. Price: From $59.99
You can always find a steal at Walmart. Right now, there's a NEX weighted blanket on sale for 50% off, bringing the price down to less than $30. The affordable blanket is made entirely out of cotton and comes with hypoallergenic, fragrance-free beads.
Do note that Walmart suggests purchasing a duvet cover for the NEX weighted blanket to make laundering easier.
Corala Blanket

Slickdeals Users Exclusive Price: $99 | Reg. Price: From $254
During these times of uncertainty, it's crucial to support small businesses. If you go with Corala, you'll get a premium 20-pound weighted blanket that includes a winter and summer duvet cover with your purchase. It has gotten rave reviews from users saying how much it has improved their sleep.
Deal Tip: Corala is hooking Slickdeals users up with a special offer. Enter the coupon code SD99 to get your Corala blanket for just $99 with free shipping.
How Do You Wash Weighted Blankets? 
You can't just throw heavy duty bedding filled with glass beads into the washer without a game plan.
First things first, read the detailed instructions that come with the item. Generally speaking, anything that's over 20 pounds should be taken to a laundromat to avoid damaging your machine. If your blanket weighs less, you should be fine washing it on a gentle cycle at home. "Blankets with both glass micro beads and plastic poly pellets should be safe in a machine, but it's a good idea to consult the care tag on your blanket just to be sure," founder of weighted blankets by Baloo Living Elizabeth Grojean suggested to Real Simple.
Grojean also emphasized the importance of avoiding bleach and fabric softeners, as they will ruin the weighted blanket. Once it's ready to dry, opt for low heat in your dryer, or allow it to air dry on a large surface. These methods will keep the blanket intact and maintain its quality. Don't worry, it'll dry faster than you think as the beads inside won't absorb as much water.
---
Make sure you're getting the best deal on all the products you love by setting a Deal Alert. We'll let you know whenever a new offer is posted so you can ensure you're paying the lowest price possible.
Up Next:
Our editors strive to ensure that the information in this article is accurate as of the date published, but please keep in mind that offers can change. We encourage you to verify all terms and conditions of any product before you apply.